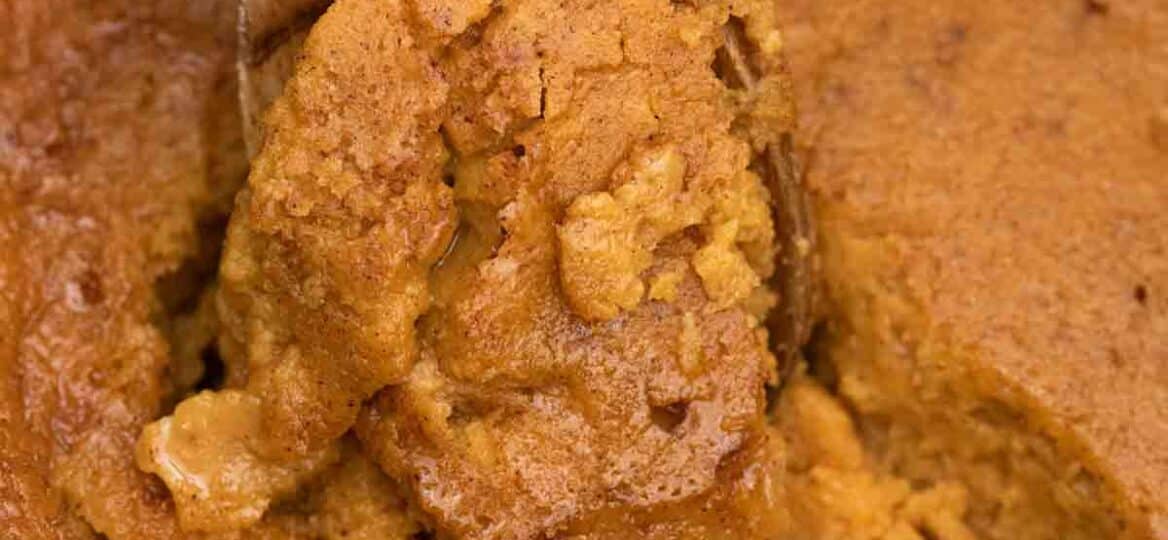 Slow Cooker Pumpkin Pie Pudding [Video]
Slow Cooker Pumpkin Pie Pudding is a decadent treat with big fall flavors. This easy and delicious dessert is a holiday classic. Simply throw the ingredients together in the crockpot, then top it with ice cream or whipped cream, and serve.
Don't you just love effortless desserts? The kind you can put together in a jiffy when surprise guests come over during the holidays, or you're just craving something sweet. For more easy Thanksgiving treats, check out our Pumpkin Pie, Pecan Pumpkin Cheesecake, or Sweet Potato Casserole.
This Slow Cooker Pumpkin Pie Pudding is a warm and festive twist on a classic favorite dessert. There's nothing better than the smell of pumpkin and various spices cooked in the crockpot during the fall season. You know that the holiday season is around the corner, and it is the time of the year to relax and spend with friends and family.
If you're like me, the best part of the pie is the filling. With this recipe, I get to enjoy that without having to deal with the crust! It's creamy, perfectly sweet, and absolutely divine with different toppings like the homemade whipped cream.
Aside from being delicious, this dessert reduces the stress of holiday cooking. Just mix up the ingredients, throw them in the pot, and after a few hours, you've got an amazing pudding waiting for you. It's also easy if you're making it for a potluck because you can take the entire pot and go.
How to make pumpkin pie pudding in the crockpot?
Prepare the slow cooker: First, start by coating the pot with vegetable spray to prevent sticking.
Get the ingredients ready: Next, you'll need your puree. Then, prepare eggs and biscuit mix (I use Bisquick) which will help the pudding set. The butter and evaporated milk add richness to the dish. You'll also need sugar. Don't forget your spices and vanilla extract!
Combine the ingredients: In a large bowl, mix up all ingredients until smooth.
Cook it: Transfer pudding mix into the crockpot. Cover with the lid and set to low (4-6 hrs).
Serve: Top it with ice cream or whipped cream and serve warm.
Variations and substitutions:
Add some crunch: Top with ginger snaps or candied pecans.
Use pancake mix: Don't have a biscuit mix? Pancake or waffle mix is a good substitute.
Reduce the sweetness: Feel free to cut down the sugar to taste. Also, you can use honey instead.
Make it vegan: Use non-dairy alternatives such as almond milk or coconut milk. Also, go with egg substitutes such as flax eggs.
Gluten-free: Just use gluten-free biscuit mix.
Sweet potatoes: Alternatively, turn this into crockpot sweet potato pudding by simply swapping out the pumpkin for sweet potatoes puree. Serve it with some toasted nuts, pecans, and brown sugar.
Toppings: Experiment with toppings: aside from whipped cream, top with vanilla ice cream, chocolate shavings, or caramel sauce.
How long to cook the pudding in the slow cooker?
At low heat, it takes around four to six hours. You may check the pudding at the four-hour mark.
Also, it is important to remember: DO NOT COOK ON HIGH.
We need that slow cooking process to meld the flavors and achieve that velvety texture. I promise the long cook time is worth it!
How to make homemade pumpkin puree?
Say goodbye to canned puree! Try homemade puree once and you'll never look back. Also, it's healthier because you know exactly what's in it, and you can adjust the levels of sugar and spice. In addition, it is much tastier than puree from a can.
The steps are:
Roast your pumpkins: First, halve them, remove the insides, then roast at 450F until tender and caramelized.
Process into puree: Chop the roasted flesh, then process until pureed.
Aside from pudding, use it for other dishes like pie, soups, muffins, cookies, and more.
How to keep dishes from getting soggy in the slow cooker?
Put a few sheets of kitchen roll or a clean tea towel between the top and lid of your crockpot. This will absorb excess moisture and prevent sogginess.
How to make homemade pumpkin pie spice?
Simply combine 4 teaspoons of ground cinnamon with 2 teaspoons of ground ginger, 1 teaspoon of ground cloves, and half a teaspoon of ground nutmeg.
Then, simply gently whisk together!
What's the difference between a slow cooker and a crockpot?
A slow cooker is a type of kitchen appliance. Crock-Pot may have become synonymous with this appliance over years, but it's actually a brand name.
You can buy slow cookers from other manufacturers like Cuisinart.
Storing instructions:
Refrigerate: First, cool the dish completely before transferring to an airtight container. Also, this dessert will taste even better after refrigeration as the flavors will get together. Refrigerate for up to five days.
Freeze: Use a freezer-safe dish and freeze it for up to three months.
More delicious Thanksgiving recipes:
Cooking Tips:
Remember to cook this dish on LOW.
If making the puree from scratch, don't use the big pumpkins for carving. You want the smaller ones meant for baking.
Also, avoid the skin forming on top of the dessert by covering the surface directly with plastic wrap.
Feel free to use other holiday spices such as allspice, peppermint, etc.
In addition, always cook with the lid on, unless otherwise stated.
Deliciousness to your inbox
Enjoy weekly hand picked recipes and recommendations