Pumpkin Cornbread Recipe [Video]
Pumpkin Cornbread is moist, fluffy, and kissed with subtle autumn pumpkin flavor. The cinnamon honey butter completes this delicious fall treat with sweet spices!
This dish is perfect for anything you like eating classic cornbread with. Serve it with a hot bowl of The Best Classic Chili for a comforting meal. It's also a great side for Fried Chicken and the Best Honey Butter Ham!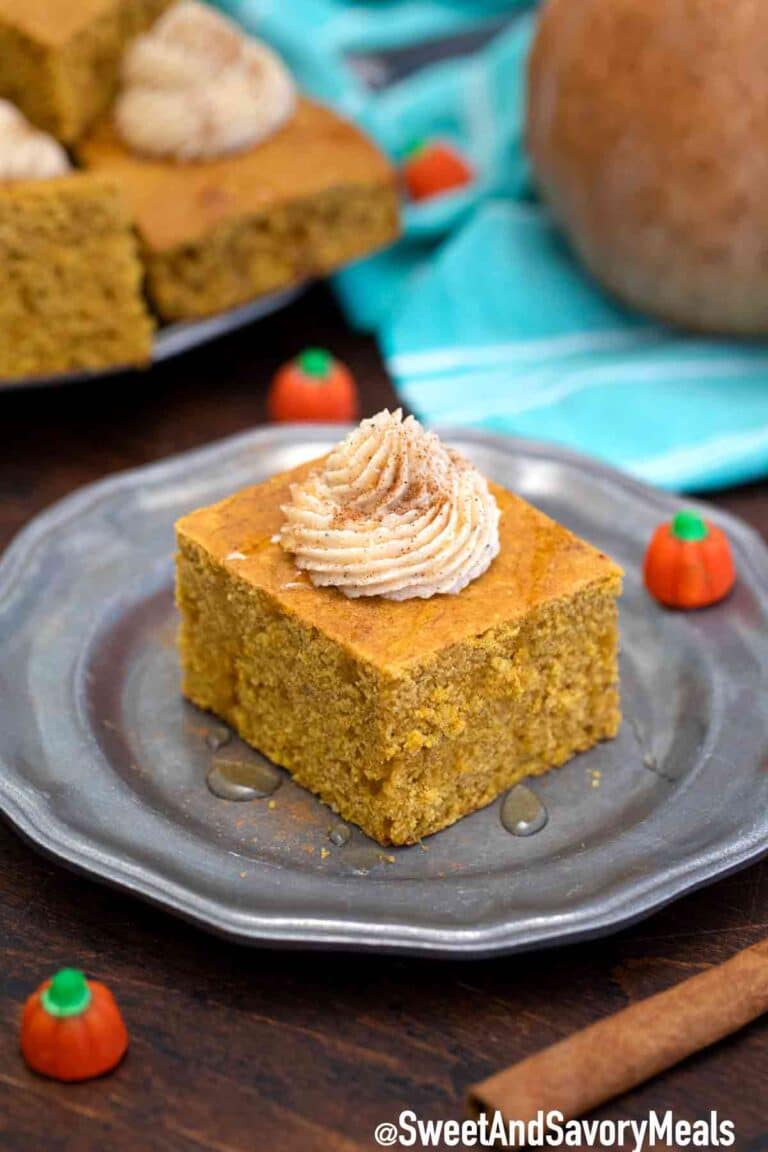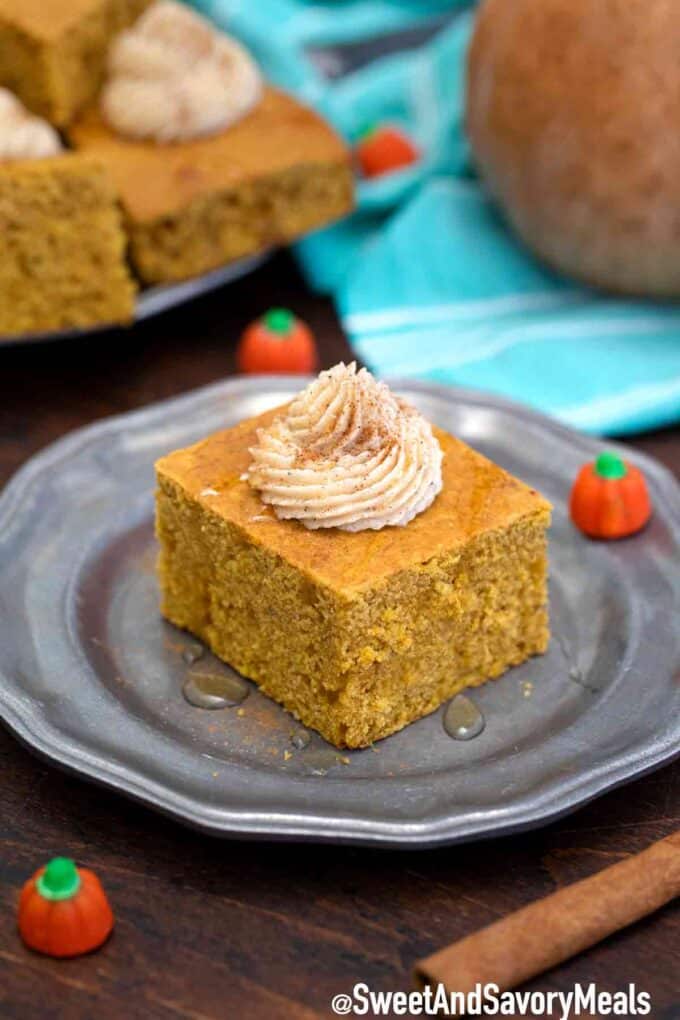 The Best Pumpkin Cornbread
Pumpkin Cornbread is so tender and moist thanks to the canned puree. When it comes to the fall season, this delicious dish is on top of our list. Made with autumn pumpkin, sweet spices and finished with a delicious cinnamon honey butter
It packs serious flavor without having to boil and mash anything. Absolutely flavorful on its own, but also ideal as part of a meal. Try it with soups, roast turkey, roast chicken, pork chops, and chili. It also works as stuffing and part of your holiday table.
Since it's so moist, it's also terrific for breakfast the day after. Top it with the whipped cinnamon honey butter for the perfect morning treat with hot coffee. Here's a tip: bake a double batch so you can just grab and reheat whenever the craving hits!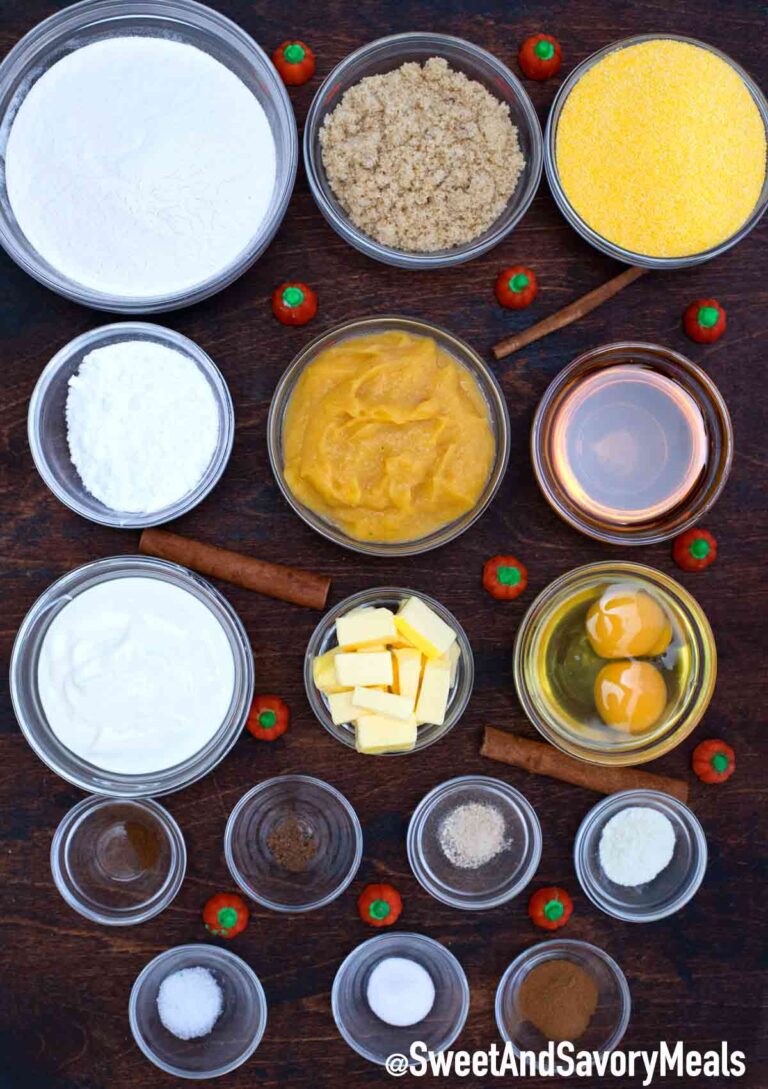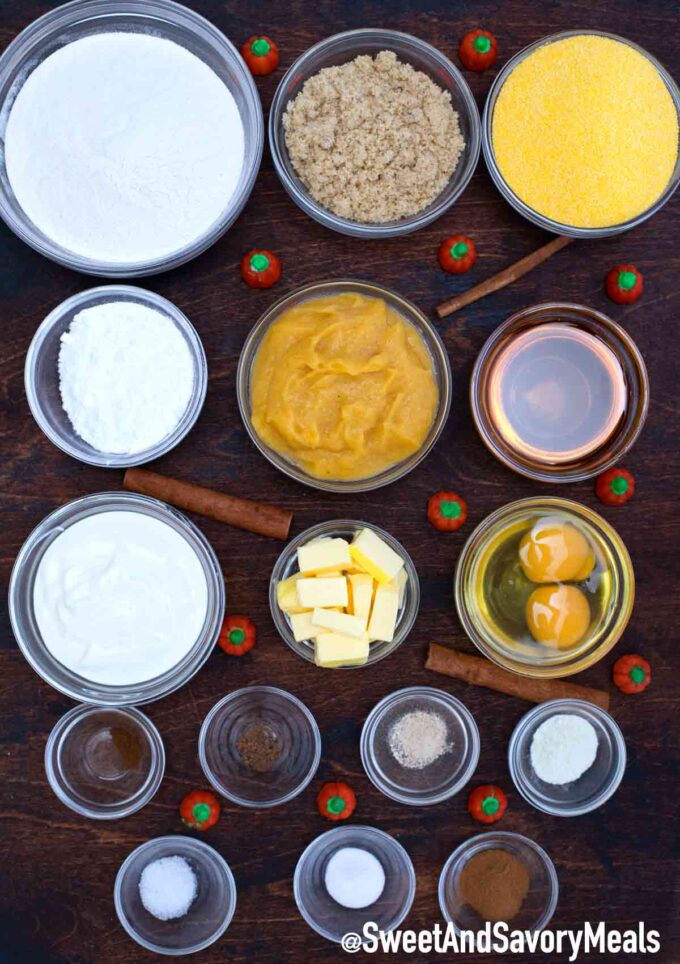 What is pumpkin cornbread?
It's very similar to the classic recipe but with a definite autumn twist. I added the puree to the batter for flavor, extra richness, and moisture.
Also, all the spices: nutmeg, cinnamon, cloves, and ginger make it stand out from the usual cornbread. Instead of just honey and butter, I've added some cinnamon and nutmeg to the sweet whipped butter to take it over the top!
The flavors of fall squash and spices are clear, but they're light as well. This makes the dish kid-friendly and great for adults who are not too fond of spice.
P.S. If you'd like to try the traditional version as well, my buttery Southern Cornbread Dressing is always a winner.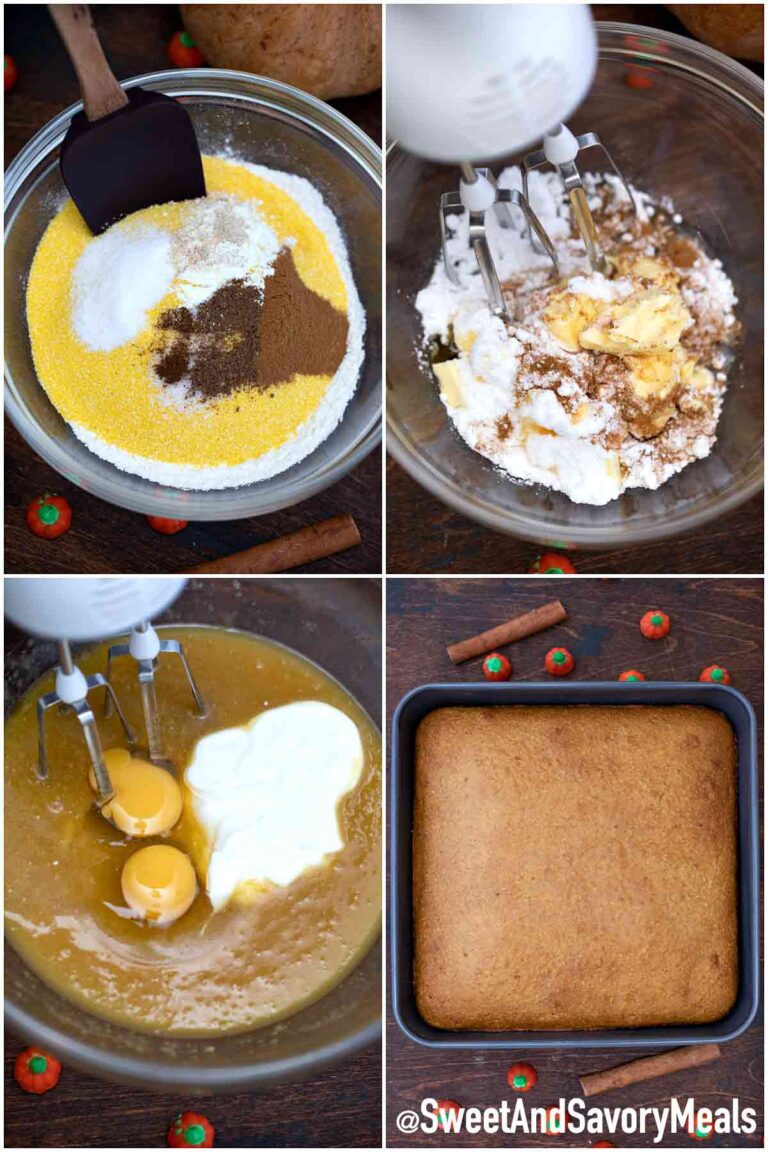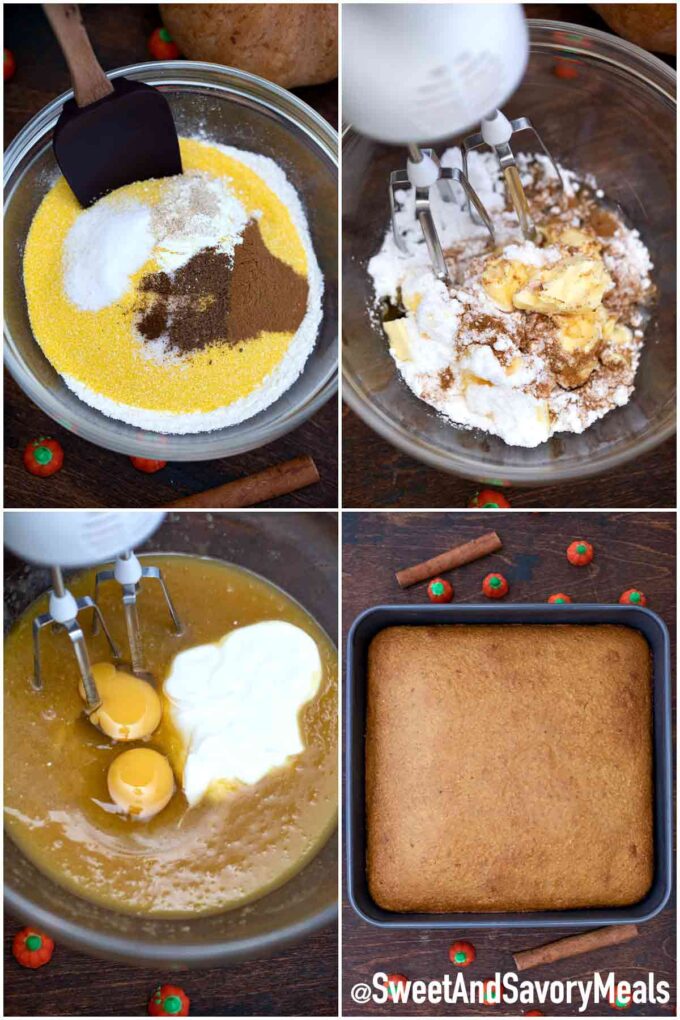 How to make Homemade Pumpkin Cornbread?
Preheat your oven, prepare your baking dish, then measure and prep your ingredients. Follow these steps after:
For the cornbread:
Make the flour mixture: Whisk the cornmeal, flour, leaveners, spices, and salt together. Set aside.
Combine the wet ingredients: Remove clumps from the brown sugar by breaking it up. Then, whisk in the honey, melted butter, and puree. Blend in the eggs and sour cream.
Make the batter: Fold the dry and wet ingredient gently just until combined. Don't overmix. A few dry pockets are fine.
Bake: Pour into the pan in an even layer. Bake for 25-30 minutes. Test for doneness by inserting a toothpick or cake tester into the center. If it comes out clean, it's done.
Cut into squares: Transfer to a wire rack. Once it's slightly cool, cut into squares.
For the Whipped Cinnamon Honey Butter:
Whip the butter until smooth. Add the rest of the ingredients and whip at high speed until light and fluffy.
Top the slices with the sweet spiced butter and serve. I love serving it warm!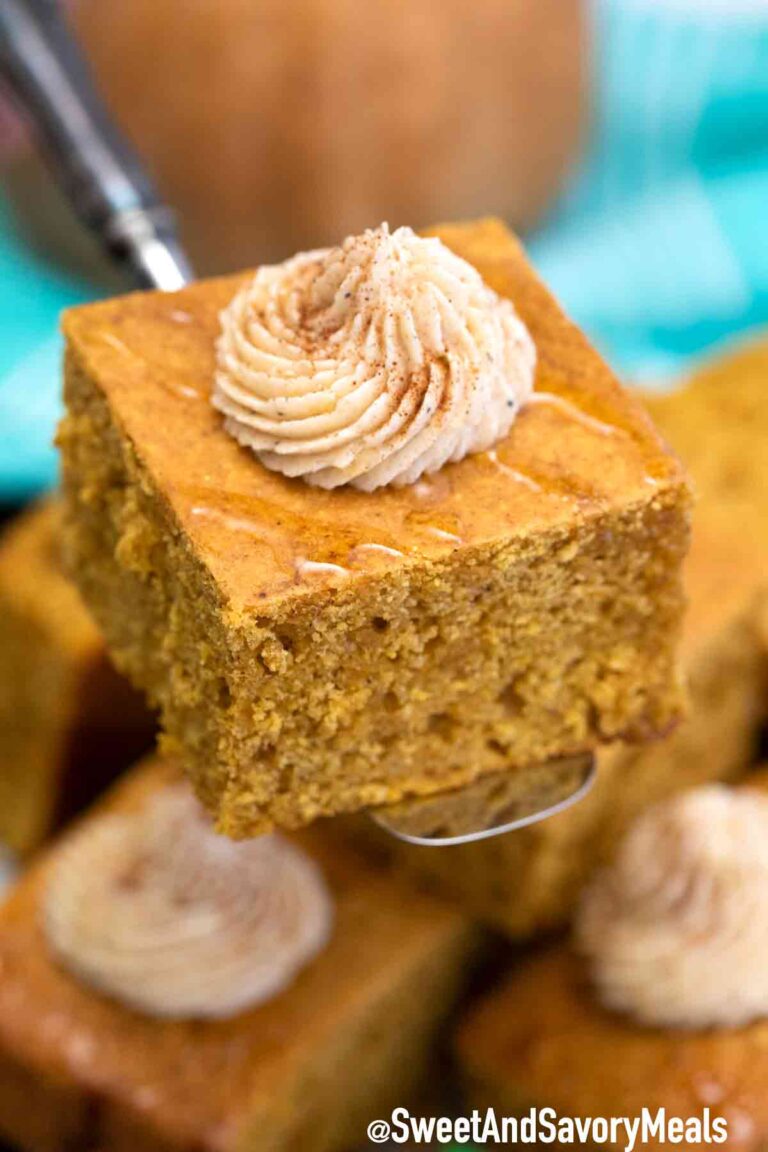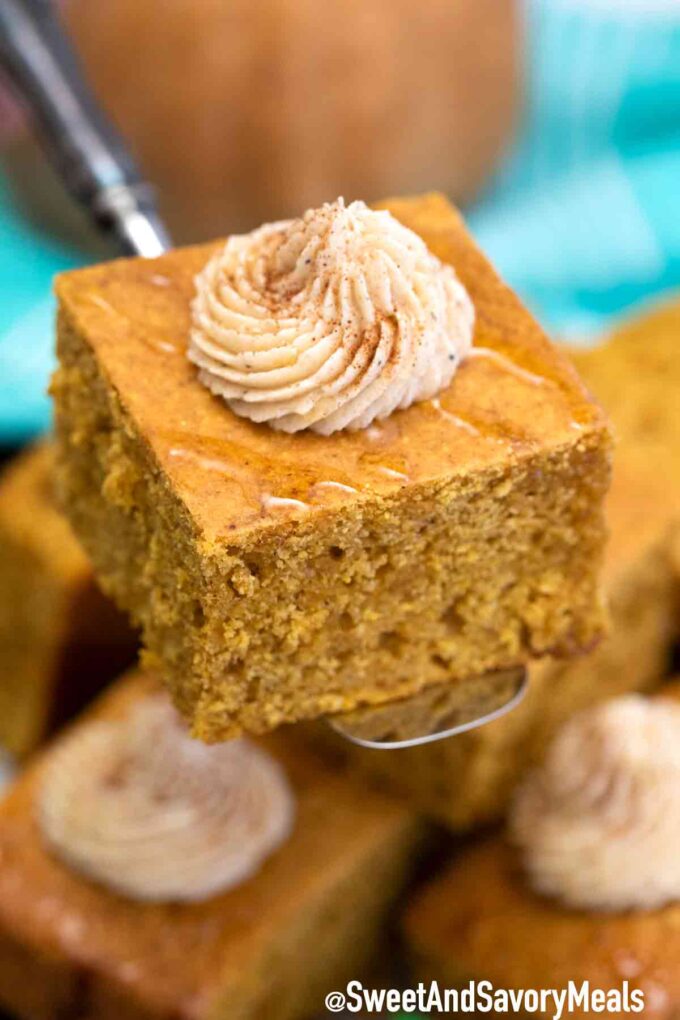 Some Pumpkin Cornbread Substitution:
Brown the butter to infuse the dish with fragrant nuttiness.
Use maple syrup instead of honey for the whipped topping.
Add your favorite berries like blueberry and strawberries.
Also, jalapenos make a spicy and tasty addition!
Add some creamed corn kernels to the batter.
For a gluten-free version, swap out the flour with a gluten-free flour blend.
Egg-free version: swap out the eggs with applesauce or powdered egg replacer
Use vegetable or any neutral-tasting oil.
If you have a huge sweet tooth, top this with chocolate sauce or caramel sauce instead.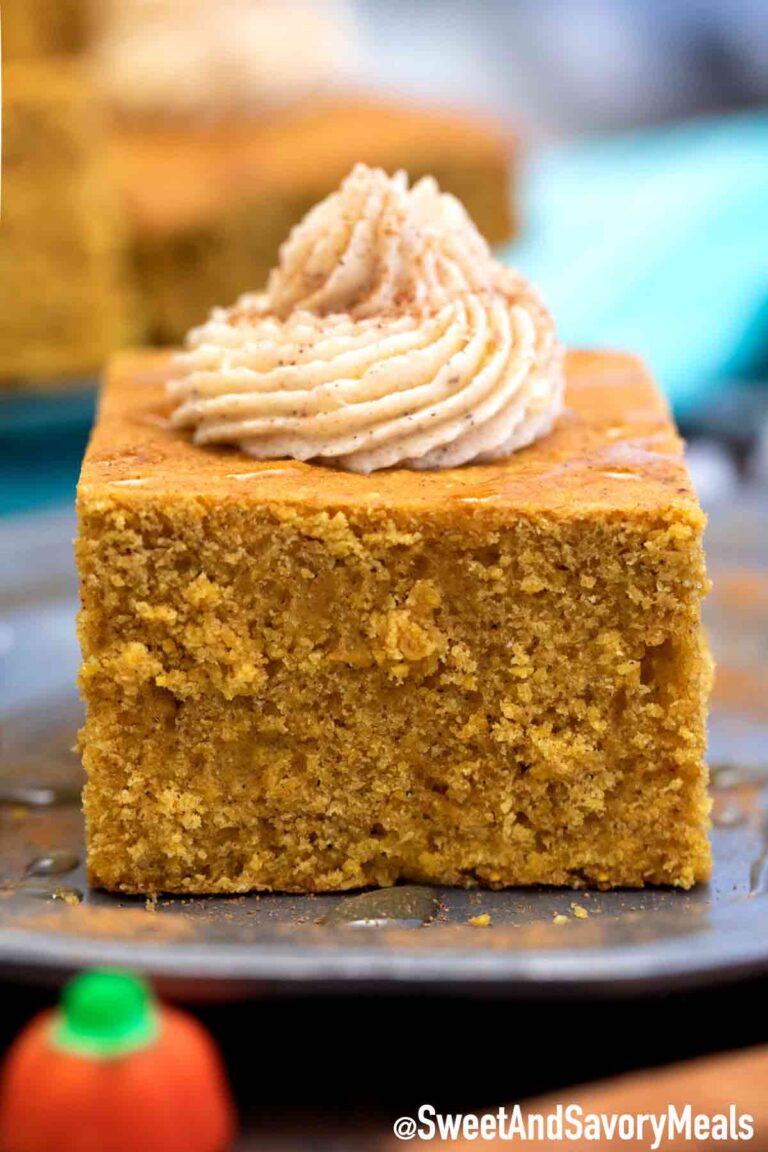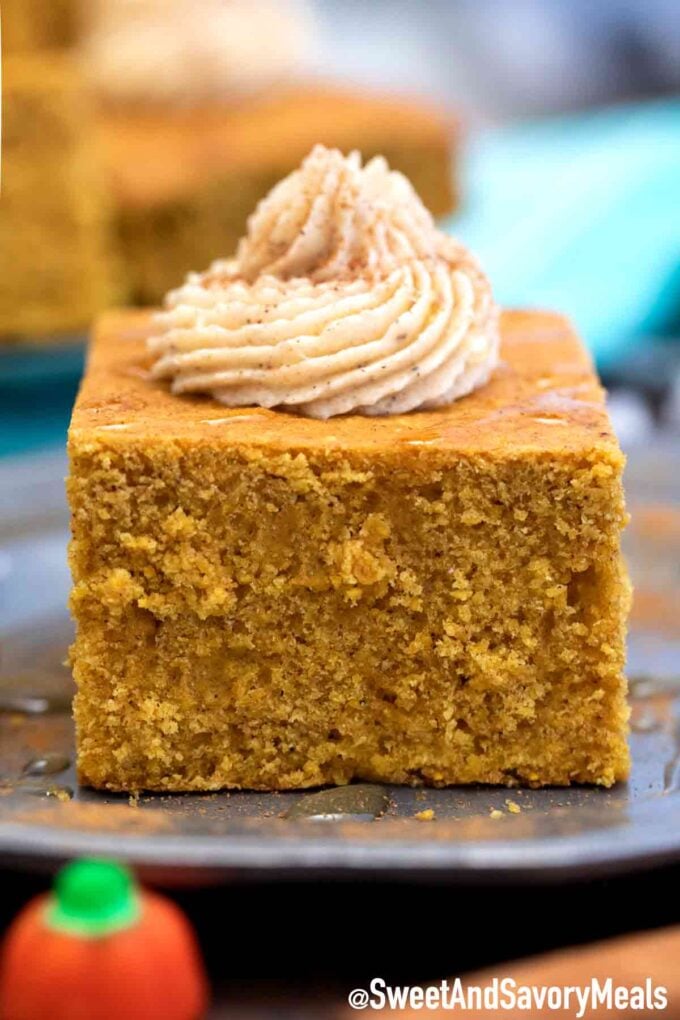 Can I substitute pumpkin spice instead?
Yes! Use around 1/12 tsp of the spice mix in place of the spices listed.
How to store Pumpkin Cornbread?
Cool the slices completely. Then, store in an airtight container. It keeps in the fridge for a few days, but they also freeze beautifully for up to six weeks. To reheat, thaw the slices to room temperature. Heat in the oven or microwave until hot.
More pumpkin recipes: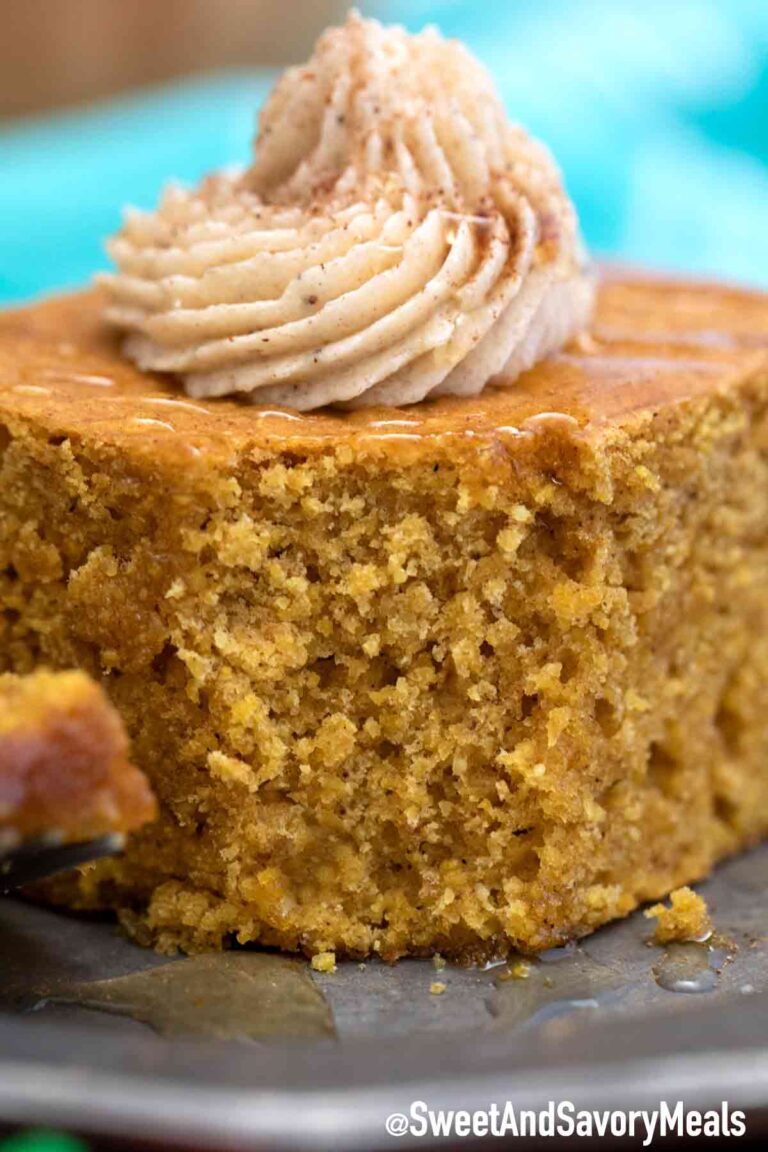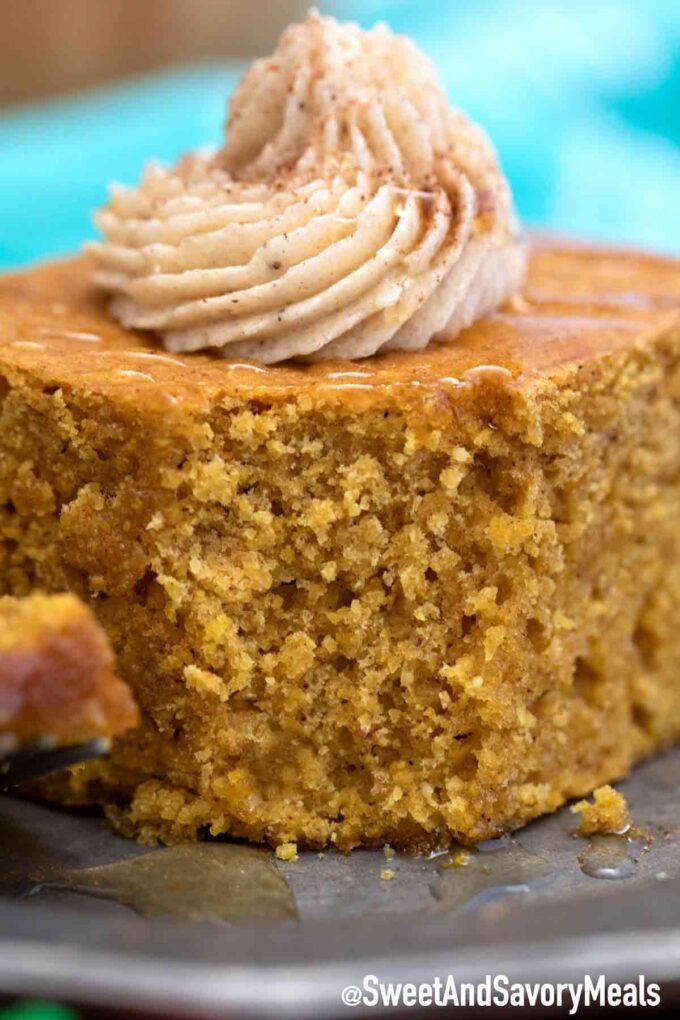 Recipe Tips:
You can easily make it as muffins or as a loaf.
Serve with honey or butter, if desired.
Also, you can bake this in a cast-iron skillet if you prefer it crusty.
Fold the batter by hand to avoid overmixing. It's okay to have a few lumps.
Work quickly. Don't let the batter sit on the counter before baking for best results.
If using for stuffing, you can make it up to three days in advance. Crumble the cornbread and keep in the fridge until ready to use.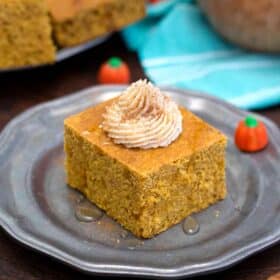 Pumpkin Cornbread Recipe
Pumpkin Cornbread is moist, fluffy, and kissed with subtle autumn pumpkin flavor. The cinnamon honey butter completes this delicious fall treat with sweet spices!
Save
Share
Print
Pin
Rate
Ingredients
Cornbread:
1

cup

all-purpose flour

1

cup

cornmeal

1

teaspoon

baking powder

1/2

teaspoon

baking soda

1/2

teaspoon

salt

1

teaspoon

ground cinnamon

1/2

teaspoon

ground ginger

1/4

teaspoon

ground nutmeg

1/4

teaspoon

ground cloves

1/2

cup

light brown sugar

(packed)

1/4

cup

honey

1/4

cup

unsalted butter

(melted)

1

cup

canned pumpkin puree

1/2

cup

sour cream

2

large eggs
Whipped Cinnamon Honey Butter:
1

cup

unsalted butter

1/4

cup

honey

1/4

cup

powdered sugar

1/2

teaspoon

ground cinnamon

1/4

teaspoon

ground nutmeg
Instructions
Preheat oven to 375 degrees.

Spray an 8 by an 8-inch baking dish with non-stick cooking spray.
Make the Cornbread:
In a mixing bowl whisk together flour, cornmeal, baking powder, baking soda, salt, cinnamon, ginger, nutmeg, and cloves. Make a well in the center and set aside.

In another medium mixing bowl, add brown sugar, melted butter, honey, and pumpkin puree, with the mixer on medium speed whisk to combine.

Add sour cream and eggs and mix until well blended.

Pour mixture into the well in the flour mixture then gently fold with a rubber spatula just until all well combined.

Pour batter into the prepared pan in an even layer.

Bake in the preheated oven until a toothpick inserted into the center comes out free of batter, it will take about 25 - 30 minutes.

Cool on a wire rack then cut into squares. It can be served warm.
Cinnamon Honey Butter:
In a medium mixing bowl whip butter with an electric hand mixer until smooth.

Add in honey, powdered sugar, and cinnamon and mix on low speed until combined. Increase speed to medium-high and whip until light and fluffy, about 2 - 3 minutes.

Serve on top of the cornbread or on the side.
Nutrition
Calories:
450
kcal
|
Carbohydrates:
57
g
|
Protein:
5
g
|
Fat:
30
g
|
Saturated Fat:
18
g
|
Cholesterol:
109
mg
|
Sodium:
446
mg
|
Potassium:
264
mg
|
Fiber:
3
g
|
Sugar:
32
g
|
Vitamin A:
5146
IU
|
Vitamin C:
1
mg
|
Calcium:
87
mg
|
Iron:
2
mg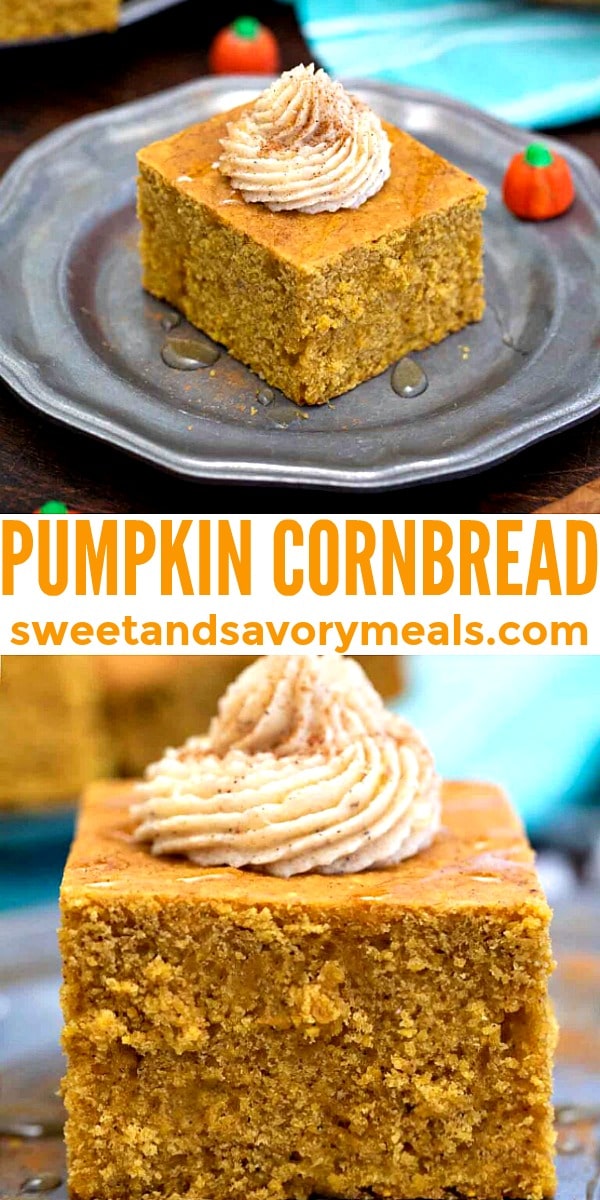 More recipes you might love