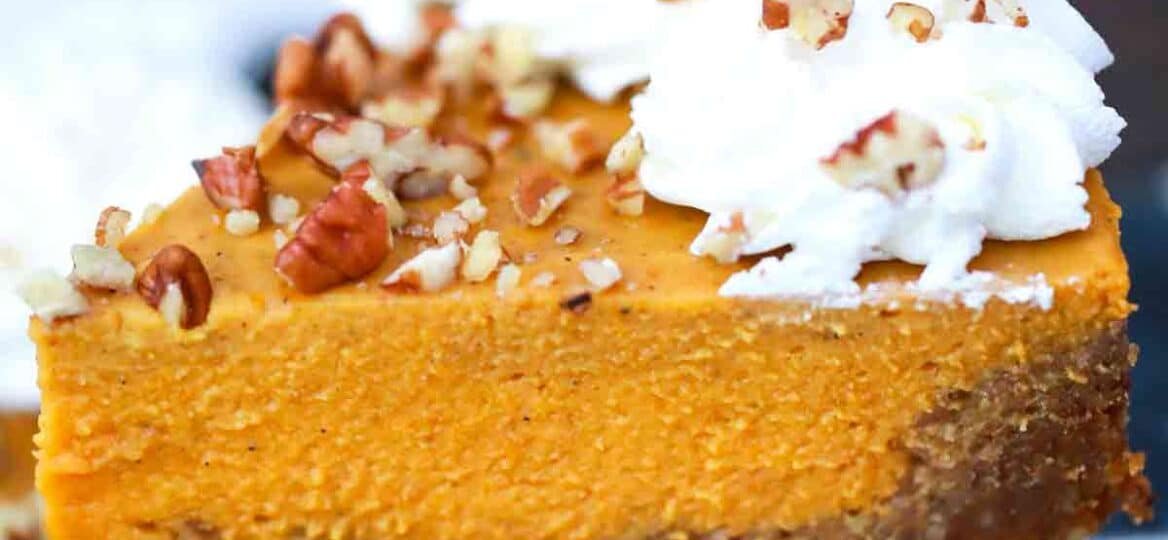 Instant Pot Pumpkin Pie [Video]
Instant Pot Pumpkin Pie is creamy and smooth, with the perfect balance of fall spices and a buttery gingersnap crust. After all, this is one of the easiest ways to make homemade pumpkin pie. A fool-proof recipe that will win you over with its fantastic flavor and texture.
This easy recipe is a great way to make a rich and creamy pumpkin pie quickly. If you are looking for other pumpkin desserts to try in your instant pot, make this decadent Instant Pot Pumpkin Cheesecake. Or if you want the pumpkin flavor but not the sweetness, you can't go wrong with Instant Pot Pumpkin Soup.
Instant Pot Pumpkin Pie
Instant pot desserts are always fantastically easy and have a short cook time. All you need is some real pumpkin puree, butter, sugar, salt, pumpkin pie spice, an egg, and a bit of cornstarch for the pumpkin pie filling. For the crust, use crushed gingersnap cookies, butter, and toasted pecans chopped in the food processor. No need for a water bath.
You will also need a springform pan and a trivet to put in the bottom of the instant pot pressure cooker as well as a sling to get your pan in and out of the pot. This is a really easy recipe and does not include any hard work at all.
Just the art of great cooking and a little of your time and you will be impressing your family members with the best instant pot pumpkin pie they will ever taste.
Pressure cooker pumpkin pie is one of my favorite instant pot recipes, especially as the leaves start to turn and the weather starts getting chilly. In fact, it is actually one of my favorite pumpkin recipes of all. If your pressure cooker is not available, try these Ultimate Pumpkin Cheesecake Bars you can bake in the oven.
Ingredients needed:
Your home is probably already stocked for holiday season baking so you may already have most (if not all) of these simple ingredients for this dessert. The detailed instructions can be found below but here are the basics you will need:
For the pie crust:
Crushed gingersnap cookies: In addition, can use graham crackers or even a graham cracker crust from the store.
Pecans: Toasted and chopped in your food processor.
Melted butter: Salted or unsalted are both fine.
For the pie filling:
Homemade pumpkin puree: Not pumpkin pie filling, pumpkin pie mix, or pumpkin filling in a can.
Evaporated milk: Not sweetened condensed milk.
Brown sugar: Light or dark brown sugar will both work.
Cornstarch: Important for thickening.

Egg: Room temperature and beaten.
Salt: Just a touch.
Whipped cream: Try making your own with this whipped cream recipe All you need is some heavy whipping cream or cream cheese, sugar, and vanilla.
Caramel sauce: You can also make your own caramel sauce.
How do you make instant pot pumpkin pie recipe?
Spray: First, spray your spring form pan with cooking spray.

Combine: Then, combine cookie crumbs, pecans, and butter in a small bowl.

Press: Next, put the mixture into the bottom of the pan and press it evenly on bottom and about an inch up along the sides of the pan.

Chill: Immediately, put the baking pan in the freezer to chill for 10 minutes.

Mix the filling: Meanwhile, using a large bowl, mix the pumpkin spice, cornstarch, salt, and sugar. Add the milk, pumpkin, and egg and whisk thoroughly.
Pour: After, pour the filling into the chilled pie crust and cover it with aluminum foil.
Water: Then, add about 1 ½ cups of water to the bottom of the pot and put your trivet inside.
Place: Finally, use your baking sling to lower the cake pan carefully on the trivet and fold the sling down.

Lock and cook: Lastly, lock the lid and choose 35 minutes of cook time on high pressure.

Release: Afterward, when the cooking time ends, turn off the pot and use the natural release for 10 minutes. Then use a quick release to allow the remaining pressure to come out.

Check: When the steam valve drops, remove the lid carefully and check the pie to see if the middle is set. If it is not, cook for another five minutes.

Remove: Use oven mitts to remove the pan and let it cool on a wire rack. Don't forget to remove the foil.

Cool: After it cools, refrigerate it for at least four hours to completely set. Be sure to cover it with plastic wrap.
Serve: Use heavy whipping cream to decorate the pie and top with chopped pecans.

Drizzle: Also, drizzle a bit of caramel on top of each slice as you serve it.
Recipe variations:
Syrup: Use maple syrup instead of brown sugar.

Keto: Make this a keto pumpkin pie by using a sugar-sweetener.
Different cookies: For an alternative to your crust, use pecan sandies or vanilla wafers.
No crust: Another way to make this pie is crustless by omitting the pie crust.

Oven version: Make this classic pumpkin pie that you can bake the traditional way.
How to serve:
We recommend you chill your pie for at least four hours and then serve with a dollop of whipped cream and caramel sauce. But here are some other ideas:
Sprinkle some graham cracker crumbs or cookie crumbs on top.
Serve with this herb-roasted turkey and mashed potatoes for a holiday meal.

Another topping that would be great on this pie is vanilla ice cream.

Place some candy pumpkins and candy corn on top of the whipped cream for a more festive pie.
Frequently asked questions
Is a pressure cooker the same as an instant pot?
An electric pressure cooker is an old-fashioned version of the instant pot. Or you could say that the instant pot is a better, improved version of the pressure cooker. Either way, the instant pot does the same thing, but it does it safer and easier.
A pressure cooker uses very hot water and vapor sealed in an enclosed pot to speed up the cook time with high pressure. An instant pot does the same thing, but with better technology and safety mechanisms. It can make anything from apple pie to yogurt and it is up to six times faster than regular cooking.
How do I make my pie less mushy?
Cooking at too high of a temperature or cooking it too long can both make a pie runny or mushy. Similarly, putting the pie in the refrigerator before it is cooled off to room temperature can also cause this issue. Be sure to cook at the right temperature, remove it when the middle is still jiggly, and do not refrigerate until it is cooled off.
You may also benefit from using cornstarch or thickening your pumpkin puree. Use a colander with a cheesecloth to drain the excess liquid. Keep it in the fridge for at least one but up to eight hours to let the liquid evaporate.
How can I keep my pumpkin pie from cracking?
Even professional bakers sometimes have a cracked pumpkin pie. It happens. Sometimes it is because of overcooking or cooking at too high of a temperature, just like having a runny or mushy pie. It can also happen if you cool it too quickly by chilling too soon.
If your pie is already cracked and you want to fix it, try using a metal spatula or spoon dipped in hot water to smooth over the cracks after the pie is cool.
If this does not work, just add whipped cream or some other topping to cover the crack. Now nobody will see it, so the problem is solved.
How to store leftovers:
Store: Put your pie in an airtight container in the fridge and it will stay good for up to four days.

Freeze: If you know you are not going to eat it all within three days, you can freeze the leftovers before you top it with anything. Just wrap it with plastic wrap or aluminum foil and put it in a freezer bag where it will stay fresh for up to three months.

Thaw: Thaw the pie in the fridge overnight before serving.

Reheat: Use a microwave to warm it up or it tastes great cold too!
More Instant Pot Recipes:
Recipe tips:
Be sure to add at least one of cup water to the instant pot before putting the pie in on top of the trivet.
As an option, use a sling to remove the pie after cooking.

If you do not have a sling, make one by tearing a long strip of foil and folding it. Then place it under the pie and use it to lower the pie into the pan. Leave the strips of foil on top of the pie to easily remove it when it is done.

Make sure the pie is all the way done or it will sink in the middle. If that happens, don't cook it more, just cover it with whipped topping.
If you do not have a spring form pan, put parchment paper at the bottom of a cake pan to make it easy to remove.

In addition, you may have to adjust the cooking time depending on the size and strength of your instant pot.
Also, use a paper towel to blot excess moisture from the pie before topping it.
Instant Pot Pumpkin Pie
Ingredients
Crust:
1/2

cup

crushed gingersnap cookies

1/2

cup

toasted pecans

chopped in the food processor, plus more for garnish

2

tablespoons

unsalted butter

melted
Filling:
1/3

cup

brown sugar

1/2

teaspoon

salt

1 1/2

teaspoon

pumpkin pie spice

1

teaspoon

cornstarch

1

egg

beaten

1 1/2

cups

pure pumpkin puree

1/2

cup

evaporated milk

Whipped cream and caramel sauce

for serving
Instructions
Crust:
Spray a 7-inch springform pan with nonstick cooking spray.

In a small bowl, combine the crust ingredients.

Press the mixture evenly into the bottom and about an inch up the sides of the prepared springform pan.

Chill in the freezer for 10-15 minutes.
Filling:
In a large bowl, combine the sugar, salt, cornstarch, and pumpkin pie spice.

After that, whisk in the egg, pumpkin puree, and evaporated milk.

Pour the mixture into the prepared pie crust.

Cover the top of the springform pan with aluminum foil tightly.

Add 1 ½ cup of water to the pressure cooker, and place a trivet on the bottom.

Either using an aluminum sling or if your trivet has handles, lower the pan onto the trivet in the pot.
Pressure Cook:
Lock the lid and point valve to sealing.

Cook on High Pressure for 35 minutes.

When the cooking time ends, allow the pressure to release naturally for 10 minutes, then release the remaining pressure with a quick pressure release.

When the valve drops carefully remove the lid and check the pie for doneness.

If the middle is set it's done, if not, pressure cook for an additional 5 minutes.

Remove the aluminum foil cover and place the springform pan on a wire rack to cool. After that, refrigerate covered with plastic wrap for at least 6 hours or overnight.

Serve with whipped cream and additional chopped pecans, if desired.

Drizzle each slice with caramel sauce.
Deliciousness to your inbox
Enjoy weekly hand picked recipes and recommendations