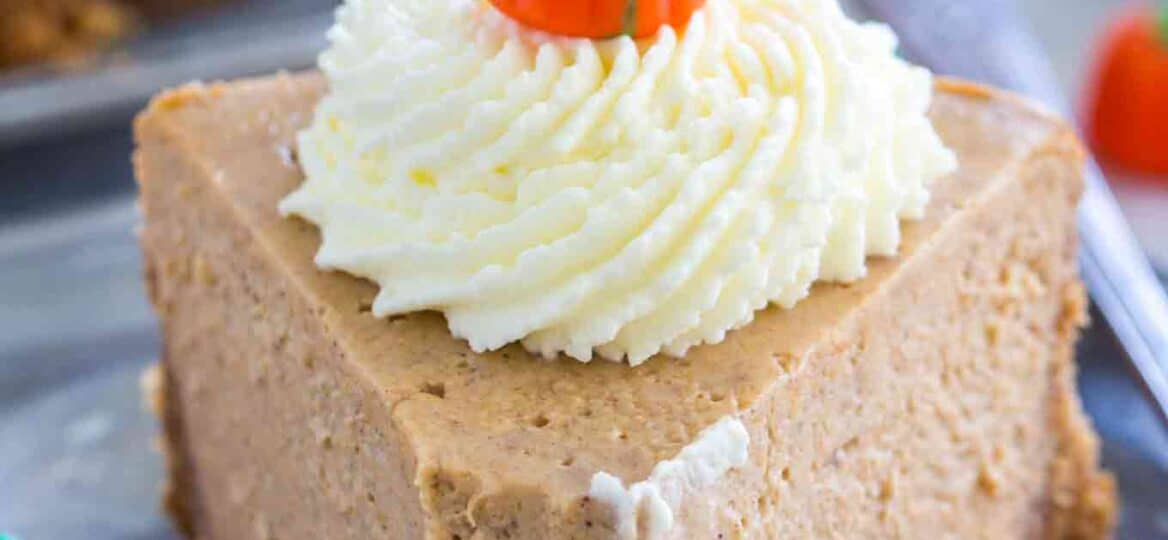 Instant Pot Pumpkin Cheesecake [Video]
Instant Pot Pumpkin Cheesecake is rich, creamy, and bursting with pumpkin flavor that is impossible to resist. Perfectly cooked in the Instant Pot this is the best dessert for the holiday season.
I can't stop making Instant Pot cheesecake recipes, they are so easy and they turn out amazing all the time. Check our collection and you will find one for every occasion! There is a strawberry one, Oreo and even Pina Colada! No more water-baths, no more cracked cheesecakes, no stressing about messing something with these easy fool-proof recipes!
Making a delicious Pumpkin Cheesecake in the Instant Pot is one of the easiest tasks. The pressure cooker will cook it uniformly and it also is the perfect environment to avoid cracks, as it has the right amount of moisture, creating the effect of a water bath.
You don't have to pick through the oven window anymore, you set up the timer, and once it's done all you have to do is chill it and enjoy it.
This recipe is full of fall flavors and it will be a great addition to the Thanksgiving table! Serve it chilled, topped with whipped cream, pumpkin candies, and a drizzle of warm caramel sauce.
Ingredients Needed:
For the crust:
Cookies: To make the crust we use graham crackers crumbs, however, any digestion cookies will work, just pulse them in a food processor to make fine crumbs.
Spices: We add extra flavor to the buttery crust by mixing in some cinnamon, nutmeg, and ginger.
Sugar: Also, we add a bit of brown sugar for a caramel flavor.
Nuts: While this is optional, we like to add ground nuts, it makes the dessert richer.
Melted Butter: Unsalted butter works fine, however, you can also use coconut oil.
Pumpkin cheesecake filling:
Dairy: You will need room temperature cream cheese and heavy cream.
Sweetener: For the filling, we prefer white granulated sugar.
Spices: Cinnamon, nutmeg, ginger, pumpkin pie spice, a pinch of allspice, and cloves.
Eggs: Also make sure you use room temperature large eggs.
Pumpkin puree: Either make your own pumpkin puree or get canned pumpkin puree.
Cornstarch
Vanilla extract: It is the perfect addition to balance the flavors from the other spices.
Tools:
How do you make Instant Pot Pumpkin Cheesecake recipe from scratch?
Graham Cracker Crust: First, in a large bowl mix the cookie crumbs with the rest of the ingredients. After that, press the mixture into the bottom of the pan and up the sides. Chill it in the freezer while you make the creamy pumpkin cheesecake filling.
Make the Filling: Next, in a large mixing bowl add cream cheese and sugar, and using an electric hand mixer or stand mixer beat until fluffy. Add the rest of the ingredients and beat until combined.
Transfer to the spring form pan: After that, add the cheesecake batter to the prepared 7-inch pan and cover tightly the top of the pan with foil.
Pressure Cook: Now, add water to the inner pot of the instant pot and place the trivet and the pan into the pot. After that, close the lid of the instant pot and cook on high pressure for 40 minutes.
Natural Release: Once done cooking, do a Natural Pressure Release for 30 minutes.
Quick Release: Open the valve to release the remaining steam. Open the pressure cooker and remove the push pan.
Cool: Afterward, place it on a wire rack to fully cool, and after that refrigerate for 5 hours or better overnight, before serving.
Garnish: Using cold heavy whipping cream and powder sugar make some homemade whipped cream and pipe it onto the dessert. Top with pumpkin candies before serving.
Recipe Variations:
The Crust: Make a gingersnap crust by using gingersnap cookies.
Sour cream: As an option, for a very creamy cheesecake, stir in 1/3 cup of sour cream into the batter.
Gluten-free: Use gluten-free cookie crumbs for the crust, to make this pressure cooker pumpkin cheesecake gluten-free.
Crustless: Another option is to make a crustless pumpkin cheesecake by fully omitting the crust. But make sure to use a pan that does not leak, hence a bundt pan would also work.
Caramel: Stir in some caramel sauce or dulce de leche into the batter for a caramel-flavored dessert.
Oven version: If you do not own a pressure cooker, make this easy recipe in the oven. Check our famous Pumpkin Bars or Classic Pumpkin Cheesecake.
How do you make Pumpkin Spice?
You can make your own homemade pumpkin pie spice blend pretty easily, here is what you will need:
3 tablespoons ground cinnamon
2 teaspoons ground ginger
2 teaspoons ground nutmeg
1 teaspoon ground allspice
1 teaspoon ground cloves
Directions: In a small bowl, mix all the spices together. Transfer to a small jar or spice container and store in the pantry for 6 months.
How to remove a cheesecake from the springform pan:
First, make sure the cheesecake has been properly chilled and is still cold.
Next, carefully run a small butter knife around the inside edge of the pan, starting all the way up and working your way down. This is how you loosen any bits that stuck to the pan.
After that, unbuckle the springform pan and remove the circular band.
To transfer the cheesecake to a serving dish, place it on a flat surface and run a long, thin spatula between the crust and the pan bottom. Afterward, gently slide the cheesecake onto the serving dish.
How to store:
Refrigerate: First, make sure the cheesecake has fully cooled, after that add plastic wrap on top of the cheesecake and store it in the fridge for 4-5 days. Another option is to slice it and add it to an airtight container.
Prep for freezing: We recommend freezing the pumpkin pie cheesecake WITHOUT whipped cream or any other sauces on top. Before freezing, make sure the cheesecake has fully cooled and also was refrigerated for at least 6 hours.
Freeze: After that, wrap it tightly in plastic wrap and after that in aluminum foil, or place in a heavy-duty freezer bag. Properly stored, it will maintain the best quality for about 2 to 3 months.
Thaw: Finally, when ready to serve, plan in advance and transfer it from the freezer to the fridge to thaw overnight.
Cooking tips:
Also, if your trivet does not have handles, make a foil sling using a piece of aluminum foil and place the cheesecake pan on it before lowering it into the pot.
Use full-fat cream cheese for a richer and creamier dessert.
Beat the ingredients on medium or low speed and avoid overbeating.
Also, make sure to remove the air bubbles from the cheesecake batter.
If your cake has cracks on it, refer to this post on how to fix cracks on a cheesecake.
More delicious Pumpkin recipes:
Deliciousness to your inbox
Enjoy weekly hand picked recipes and recommendations