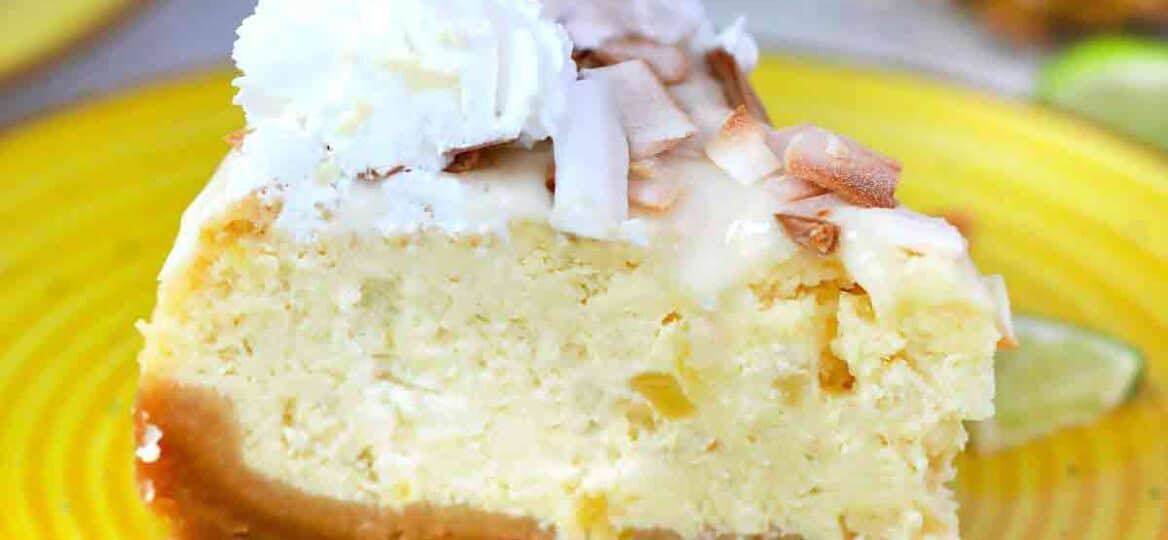 Instant Pot Pina Colada Cheesecake
Instant Pot Pina Colada Cheesecake is infused with lime, rum, coconut, and packed with juicy bits of pineapple! Then, it's finished with lime-infused cream cheese frosting plus toasted coconut. Perfect for the summer and all year long!
If you want to try other fruity cheesecakes, you have to make our famous Banana Cream Cheesecake, Meyer Lemon Cheesecake, and Cranberry Cheesecake!
Instant Pot Pina Colada Cheesecake
Instant Pot Pina Colada Cheesecake transforms the popular cocktail into a creamy, refreshing, and tropical dessert!
We're taking the key parts of a colada – creamy coconut, sweet pineapples, plus rum – and turn it into a dessert that tastes like summer in every bite. Later on, we're also sharing a few delicious variations so you can get creative with the recipe!
This Pressure Cooker Pina Colada Cheesecake is the perfect summer desseert, its light, sweet, creamy and refreshing. Making it in the IP means you don't have to turn on your oven, eespecially when is getting hot outside.
The texture of this cake is perfect, dense and creamy, and with lots of fresh citrus and tropical flavors. It is a delightful desseert that is fit for any occasion.
What goes into Pina Colada Cheesecake
For the crust:
We're combining crushed Grahams, sugar for sweetness, a little butter to bind the crust, plus lime zest to complement the pineapple flavor.
For the filling:
Cream cheese: Make sure it's the block type and is at room temp before using.

Sugar: Balances out the tangy cheese and adds sweetness.
Cornstarch and eggs: These two are what give our cake its structure.
Pineapples: Drain the crushed fruit from the can.
Cream of coconut: Makes our cake extra creamy!
Flavorings: To complete our tropical flavors, we're combining rum extract, both lime juice, and zest, coconut extract, plus sour cream.
Topping:
To finish the cake, we're combining more cream cheese with coconut milk, butter, plus powdered sugar to bring it all together. For the flavors, we're adding both coconut and rum extracts, lime juice, plus toasted coconut.
How to make Instant Pot Pina Colada Cheesecake from scratch
Prep and freeze the crust. Combine all of the crust components, press very firmly into your pan, and freeze.
Mix the filling. Beat the sugar with the softened cheese, then add in the cornstarch before mixing in one egg at a time. After that, add all crushed pineapples and all the flavorings. Pour this into your frozen crust and seal tightly with foil.
Cook. Pour water into the IP, and carefully place the trivet with the pan on it. Cook on high for 45 mins. Afterward, leave it for 10 minutes to relieve pressure, and release the remaining by unsealing the valve.
Cool. For an hour, let this cook on a rack. Next, chill in the fridge overnight to firm up.
Mix the topping. Whip everything together, except the toasted coconut. Spread this all over the chilled cake, then dust with the toasted coconut, slices of lime, and roses. Chill for several hours more.
Serve. Slice and enjoy!
Recipe variations and substitutions:
Mango-Pineapple: Mix in chunks of sweet mangoes into the batter.
Strawberry: Replace the pineapples with crushed strawberries.
Mixed Berries: You can also sub the pineapples with blueberries, raspberries, and blackberries. Feel free to use frozen and thawed fruits.
Other alcohol: Instead of rum, you can use orange liqueur, sherry, or brandy extract.
Other mix-ins: We love adding some chopped cherries, raisins, kiwi, and other fruity add-ins to this cake!
Frequently Asked Questions
Can you make this cheesecake in the oven?
Sure! Make sure to double-wrap the pan in foil, then place in a roasting pan with an inch of water to create a water bath.
Bake for about an hour and 15 mins., then proceed with the chilling and topping instructions.
Can I make pina colada cheesecake in advance?
Yes, this is actually a dessert you have to make in advance. You cannot serve this on the day you make it, because it needs to chill in order to become perfectly firm.
In addition, those delicious creamy and fruity flavors continue to develop as it cools down.
What is the best pineapple to use?
We prefer using canned pineapples for both convenience and taste. These are picked and canned at the peak of sweetness and freshness, so you don't have to worry about the quality.
Freezing instructions:
If you plan to freeze this, we suggest doing so without the topping because it can get messy. Instead, you can make the topping on the day you plan to serve it.
To freeze, make sure it already had time to chill and set up. Then, wrap it in cling wrap and foil. Freeze for up to three months.
When you're ready to enjoy, defrost in the fridge and serve with the topping.
More dessert recipes to try:
Deliciousness to your inbox
Enjoy weekly hand picked recipes and recommendations