Instant Pot Meyer Lemon Cheesecake [Video]
Last updated on July 12th, 2021 at 04:28 pm
Instant Pot Meyer Lemon Cheesecake is delightfully tangy with a rich and silky lemon-flavored cheesecake base. A beautiful and elegant dessert fit for company!
Fruit cheesecakes are the ultimate desserts! They're indulgent and refreshing at the same time, just like our Cranberry Cheesecake, Banana Cream Cheesecake, and Instant Pot Key Lime Cheesecake.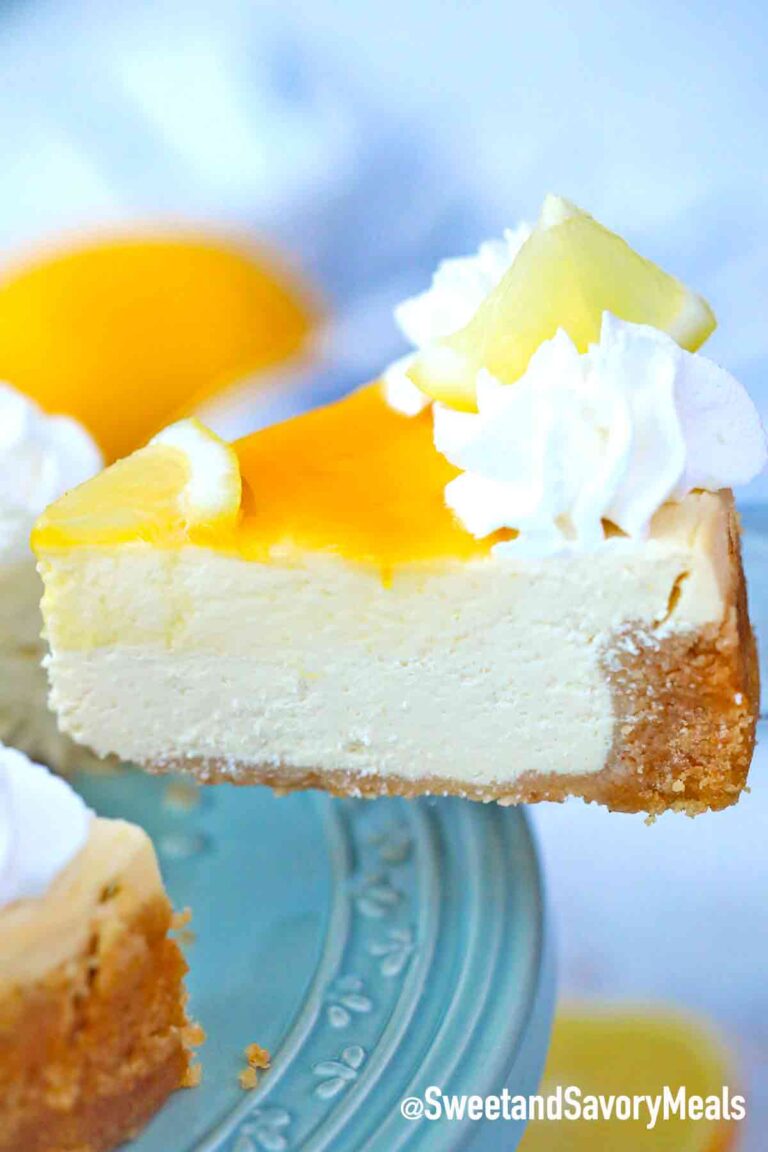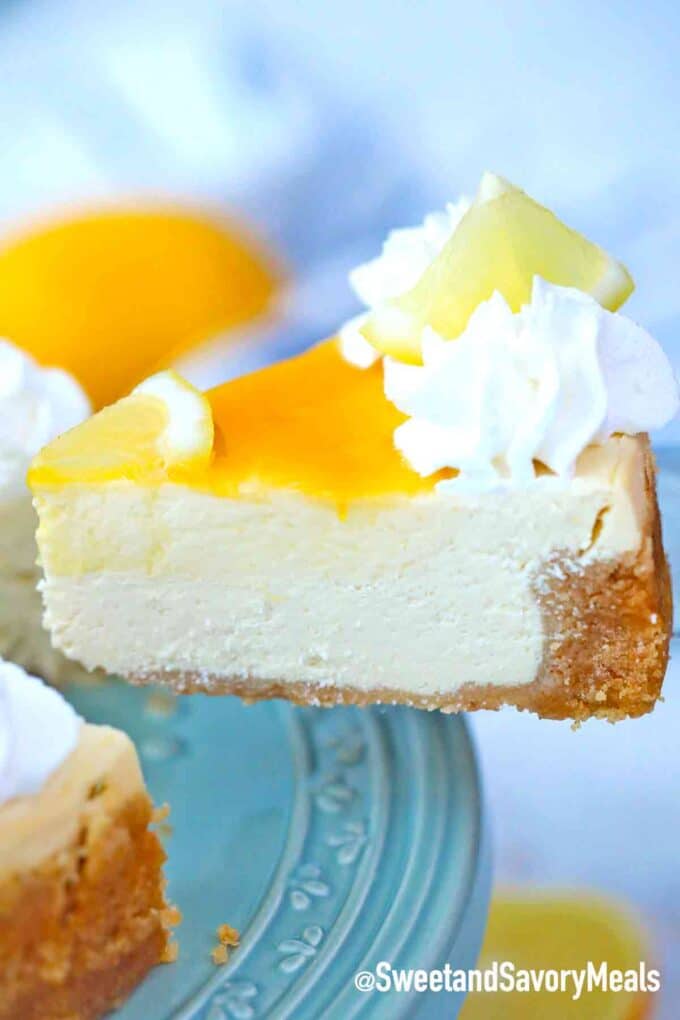 Pressure Cooker Meyer Lemon Cheesecake
Meyer Lemon Cheesecake made in the Instant Pot is the ultimate dessert to enjoy with friends and family. This cake is a gorgeous blend of tart lemons and the creamiest cheesecake with a lovely, buttery crust.
Since we're "baking" it in the Instant Pot, the moisture inside gives the cake a velvety and tender consistency. Also, it is quite easy and quick to prepare it. This is an amazing dessert you'll be proud to serve your guests and family.
What are Meyer lemons?
It's actually hybrid citrus, which is a combo of citron + pomelo/mandarin orange.
What makes regular different versus Meyer lemons?
It's actually easy to tell them apart! The regular ones are bright yellow, have rougher skin, and are much tarter than Meyers.
On the other hand, Meyers are smaller and have smoother skin with a slight orange tint. Taste-wise, they're less tart and are sweeter than the regular kind.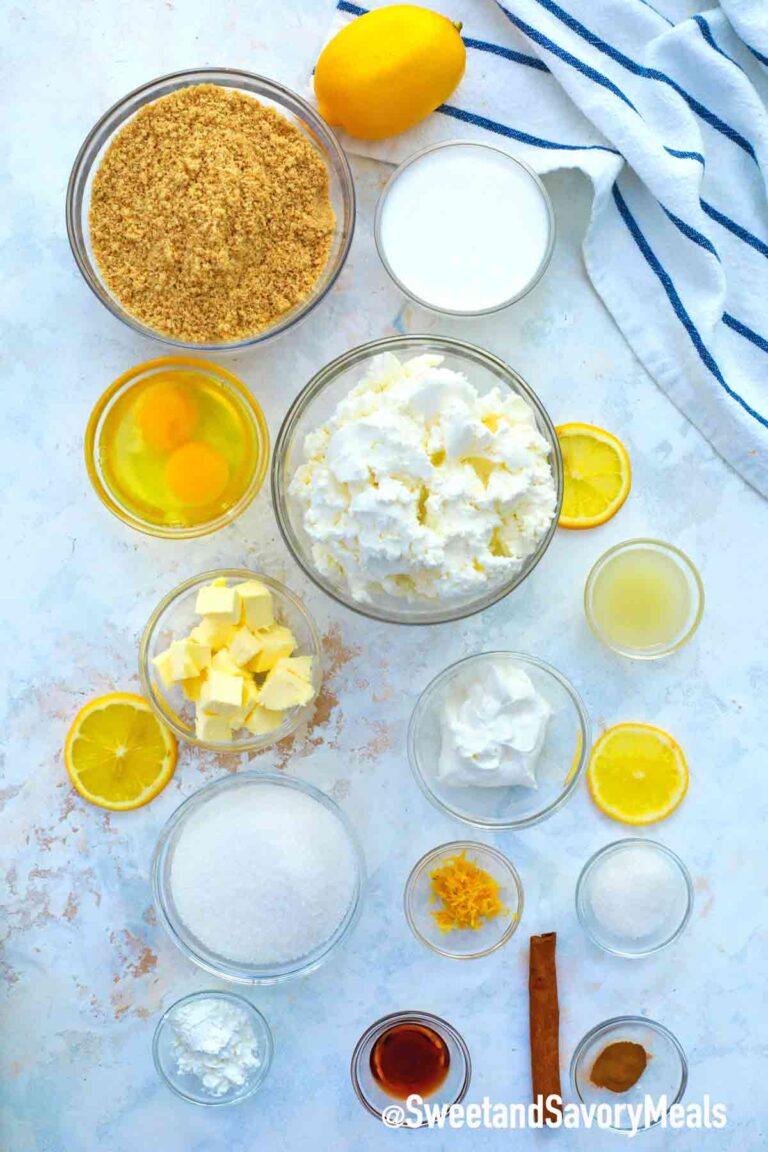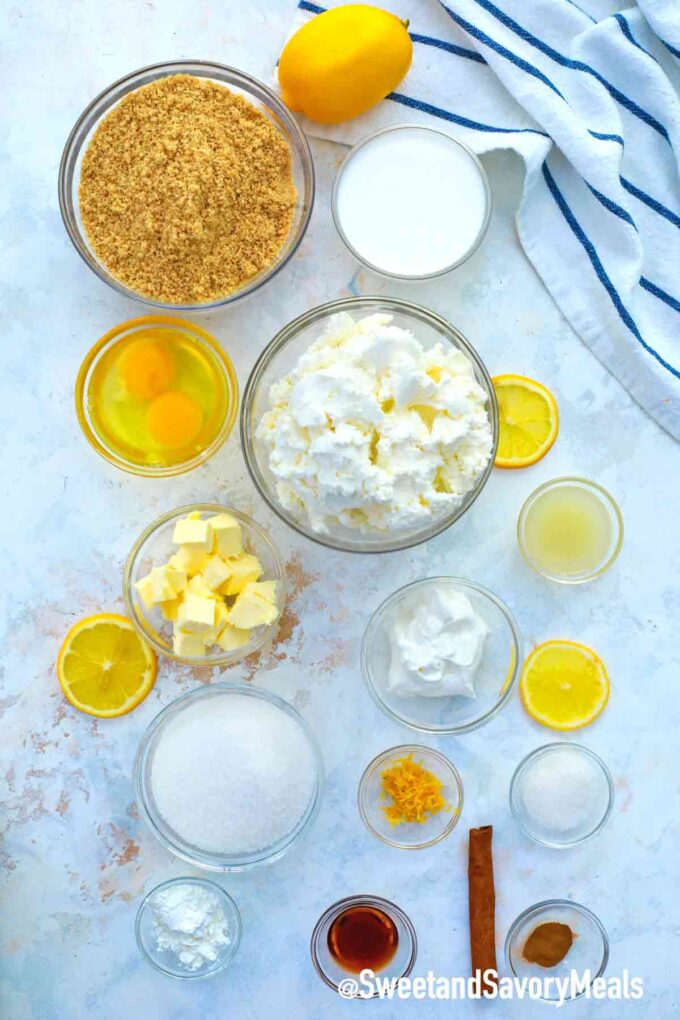 What goes into homemade Lemon Cheesecake?
For the crust:
Measure out 1.5 cups of finely crushed Graham crackers, a dash of cinnamon and sugar for flavor, plus melted butter to bring it all together.
For the batter:
Cream cheese: It should be the block kind, not spreadable. Also, it is best to leave it out for a while until it becomes room-temp and soft.
Sour cream: It adds extra tang with a creamy boost.
Sweetener: To balance out the tartness, we're using white sugar to sweeten things up.
Eggs: This is what gives our cake the structure it needs.
Heavy cream: Makes our dessert extra creamy with a silky-smooth texture.
Flavorings: A little vanilla extract plus the zest and juice of a Meyer lemon are our primary flavors.
For the topping:
Prepare more Meyer zest and slices, plus chilled whip cream.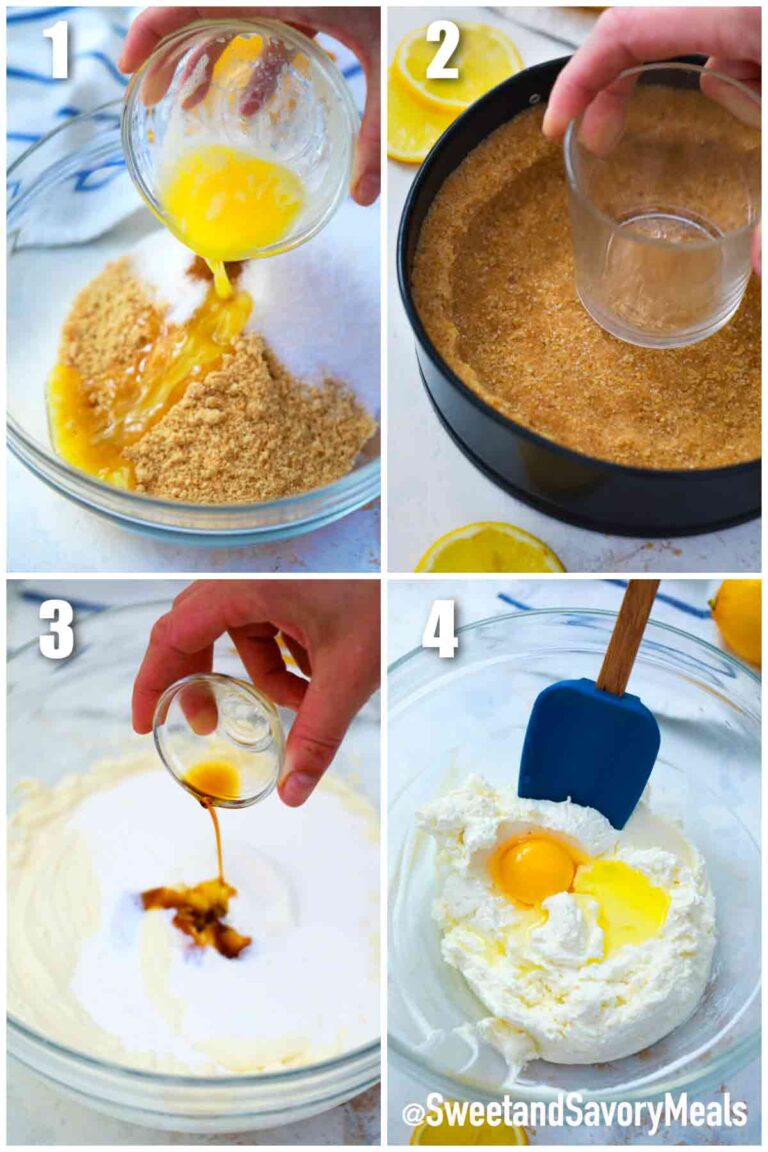 How to cook Meyer Lemon Cheesecake from scratch in the Instant Pot?
Prep the crust base. Start by mixing all of the crust components, then firmly press onto your pan. Freeze this for at least 20 mins.
Mix the batter. Next, beat your room-temp cream cheese until it becomes fluffy and light. Then, beat in your cornstarch, followed by the sugar. Add one egg, mix, then add the next. Finally, finish the batter with the flavorings, sour cream, and your thick heavy cream. Fill the frozen crust with the batter.
Cook. Pour water into your IP before placing the trivet. Arrange the filled crust carefully on top of it. Cook on High for 30 mins., then let the steam release by itself for 20 to 30 mins.
Let it cool. Take the cake out of the pressure cooker, and let it cool for an hour on a rack. Then, loosen the edges with a knife. Finally, chill for at least 6 hrs. up to overnight (highly recommended) in the refrigerator.
Decorate and serve. Load the top with fresh whip cream, decorate with lemon pieces, and enjoy.
Recipe variations:
Use other lemons: You can use the regular kind or even limes if that is all you have.
Other biscuits: Similarly, feel free to use Oreos, chocolate crackers, and gingersnaps for the crust.
Blueberry: Love blueberry? We have a Meyer-blueberry version right here!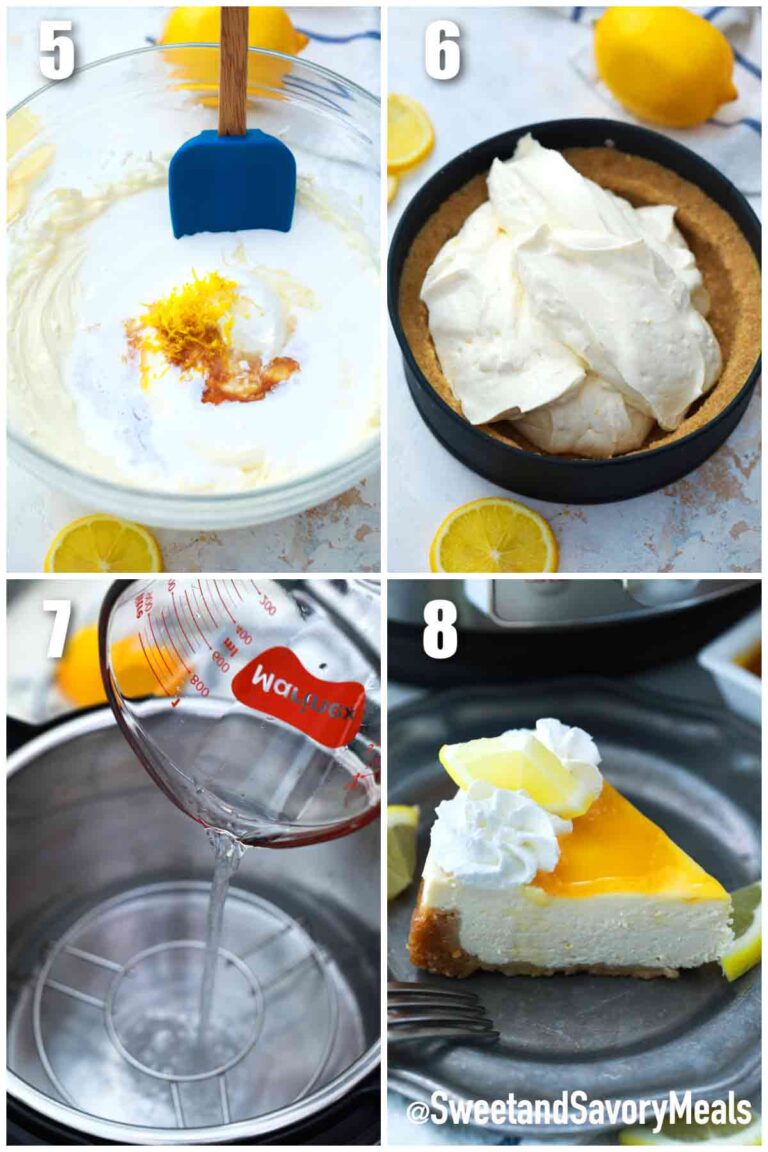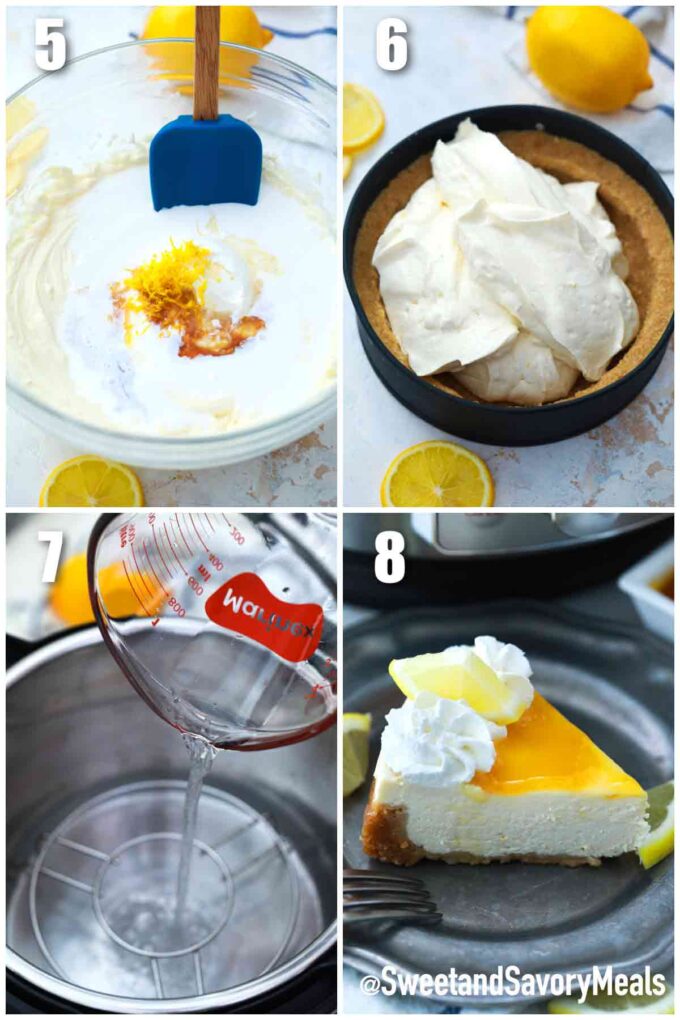 How long should cream cheese be beaten for cheesecake?
On med-low speed, it generally takes about 5-7 mins. to reach that light, fluffy stage. However, this will only happen if your cheese is at proper room temp. If it's still cold, you'll end up with lumps of cheese even after that time.
What's the reason behind a cheesecake that's soft and gooey?
It's likely underbaked. Another reason is that you overmixed it. If so, it will end up super soft and not set up correctly.
How to firm up a cheesecake?
To create a firm cake, we add cornstarch to the recipe. Some also call for flour, but we find cornstarch gets the job done without leaving a floury taste.
Do note that this fix will only work before cooking the cake. In addition, make sure to chill it, preferably overnight.
How to fix an uncooked Instant Pot Cheesecake?
Give it more time in the IP. Around 10 to 15 minutes more of cooking can help fix it up.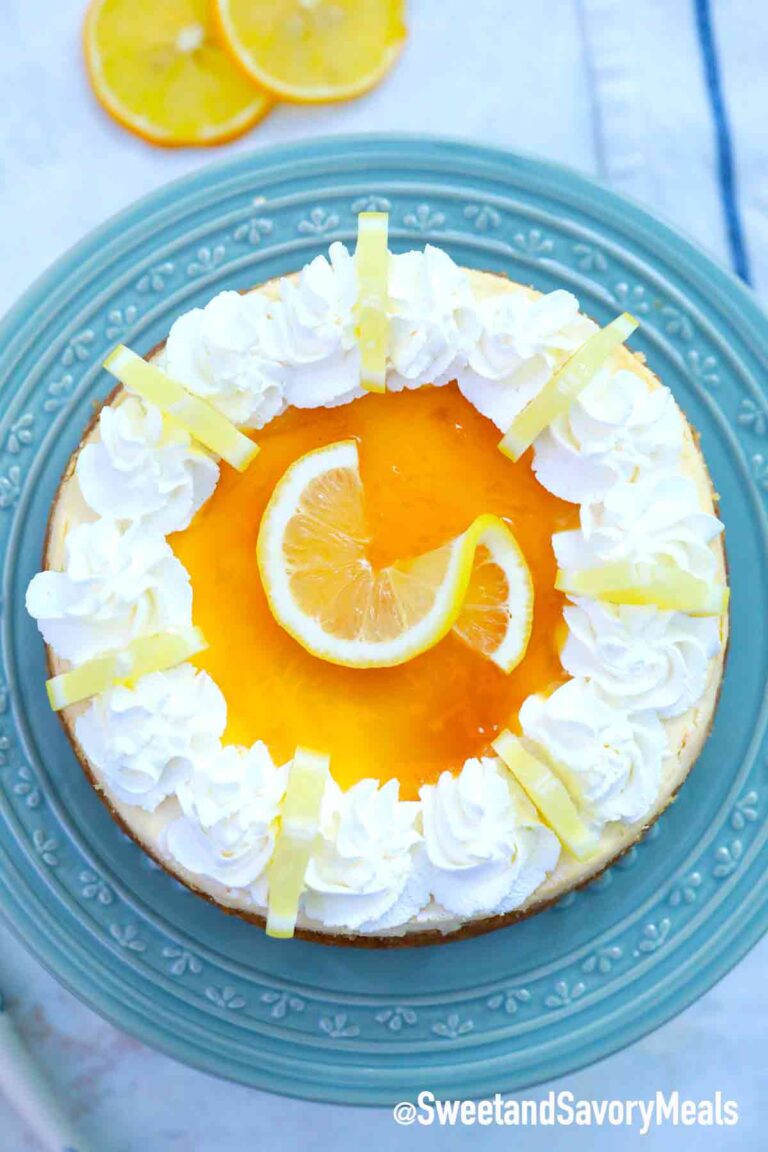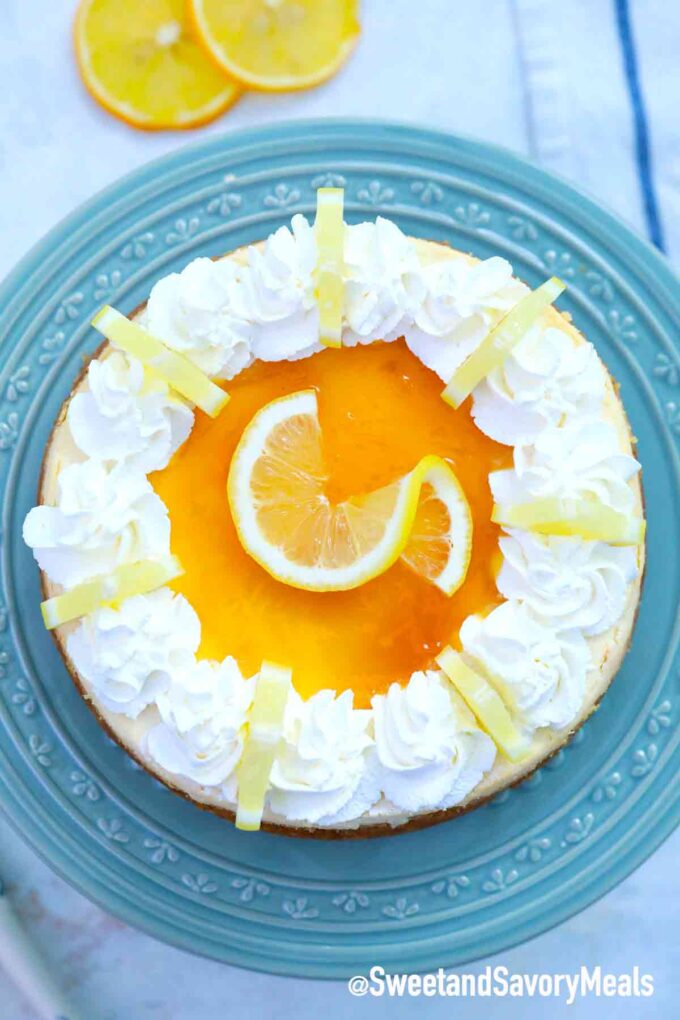 How to fix cracks on top of a cheesecake?
Cracks are usually due to overbaking, so the very first step is not to overcook it! If the finished cake has cracks, you can push it together and use a hot knife to seal the cracks up. Let it chill, then smoothen with a spatula.
Another way is to cover up those gaps with toppings! Cracks don't make a cake any less delicious. Therefore, you can simply pile up more cream and décor on top to make the cracks "disappear."
How to serve this cake?
For pretty slices, dip your large knife in hot water after every single cut. We love topping this with mounds of whip cream, then grating some zest over it, or arranging these beautiful Chocolate Dipped Candied Lemon on top.
You can also drizzle caramel sauce, chocolate sauce, or rich dulce de leche over it. If you want to make it extra fruity, blueberry sauce and cranberry sauce are excellent options.
Furthermore, jams are another wonderful topping. Our favorites are persimmon, plum, and strawberry! Want it tarter? Spread some lemon curd or lime curd on top!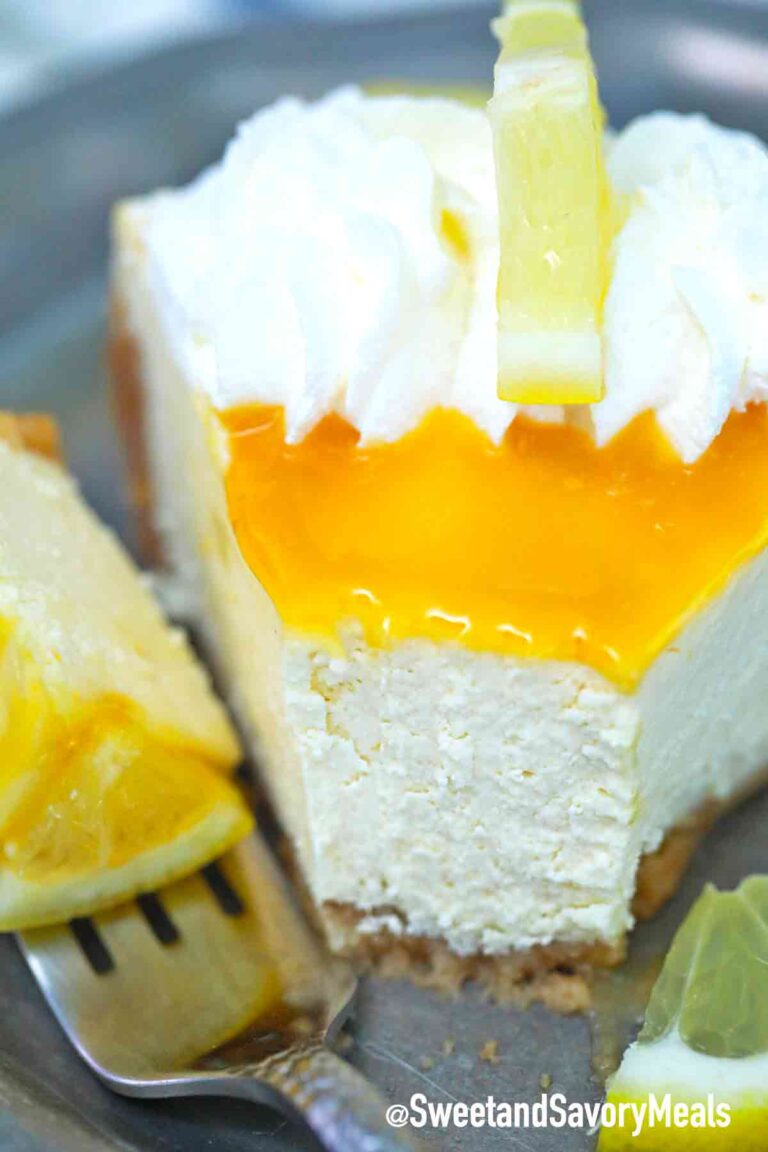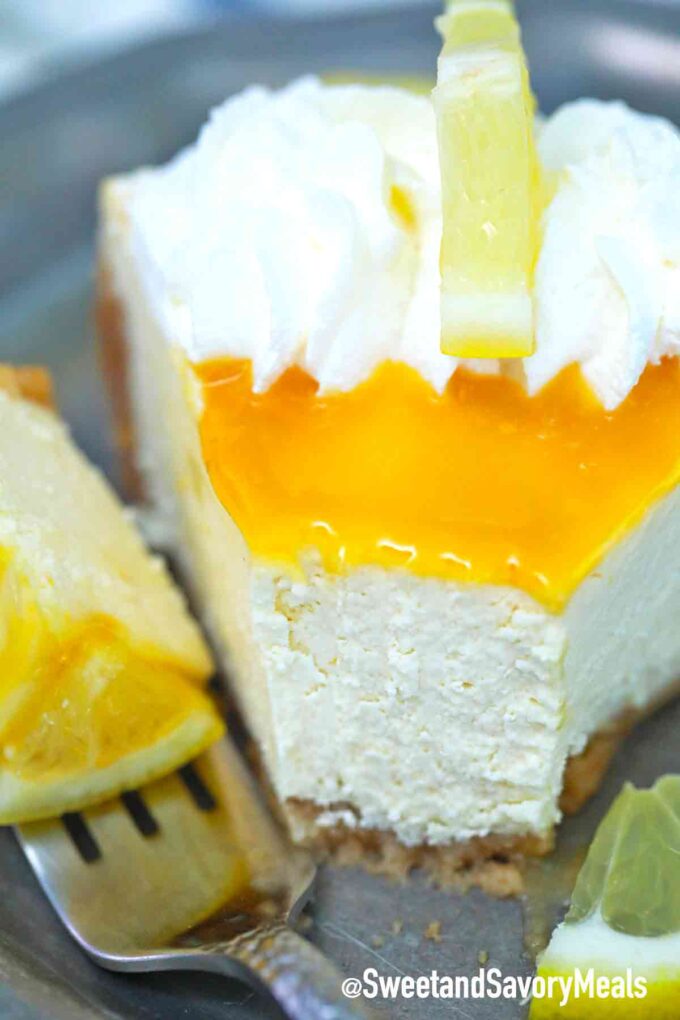 How to store leftovers?
Store Instant Pot Meyer Lemon Cheesecake in a large container with a tight seal to prevent moisture from getting soggy. Try to finish within 5 days.
How to freeze it?
Slice, then flash freeze for about 2-3 hrs. Then, cover the frozen slices with cling and foil. Store it frozen for up to 3 months.
When ready to eat, defrost on the counter, or thaw overnight in the lower part of the fridge.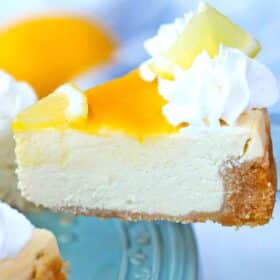 Instant Pot Meyer Lemon Cheesecake
Instant Pot Meyer Lemon Cheesecake is delightfully tangy with a rich and silky lemon-flavored cheesecake base.
Save
Share
Print
Pin
Rate
Ingredients
Crust:
1 1/2

cups

graham crackers crumbs

1

tablespoon

sugar

1/2

teaspoon

ground cinnamon

6

tablespoons

unsalted butter melted
Batter:
16

ounces

cream cheese

(at room temperature)

3/4

cup

white granulated sugar

1

tablespoon

cornstarch

2

large eggs at room temperature

1/2

cup

heavy cream at room temperature

1/4

cup

sour cream

1

teaspoon

vanilla extract

2

tablespoons

Meyer lemon juice

Zest of 1 Meyer lemon
Topping:
Whipped cream

Meyer Lemon slices

Meyer Lemon zest
Instructions
Cheesecake Crust:
Lightly coat a 7x3-inch springform pan with nonstick spray and set it aside.

Add all the crust ingredients to a large bowl and stir until well combined.

Press the mixture into the prepared springform pan. Press the crust and try to line the sides about to the middle of the pan edges.

Freeze for at least 20 minutes.
Cheesecake Batter:
In a large bowl using a hand mixer, beat the cream cheese until light and fluffy on medium-low speed.

Add the sugar and cornstarch and continue beating until well combined. Scrape the sides and bottom of the bowl.

Add the eggs one at a time and beat after each addition until well combined.

Add heavy cream, sour cream, vanilla extract, lime juice, and lime zest. Beat until just combined.

Remove crust from the freezer and pour cheesecake batter mixture into the prepared pan. Cover the top with foil.
Cook:
Place metal trivet into a 6-qt Instant Pot and add 1 1/2 cups water.

Gently transfer the cheesecake pan on top of the trivet.

Select manual setting and adjust the pressure to high. Set time to 40 minutes. You can do 45 minutes for a denser cheesecake.

When finished cooking and the Instant Pot beeps, release pressure naturally for about 20-30 minutes.

Carefully open the pot and transfer the cheesecake to a cooling rack. Let it cool for 1 hour, after which run a paring knife around the edges.

Transfer cheesecake to the refrigerator for at least 6 hours or overnight.

Garnish with whipped cream and lemon slices before serving.
Notes
Block cheese, not spreadable cheese, is what should be used for this recipe.
Also, use a plane grater to zest the Meyer very finely, and don't include the white and bitter pith under the yellow skin.
ALL of your ingredients should be at room temp, or you'll have difficulty making a batter that's smooth.
Nutrition
Calories:
431
kcal
|
Carbohydrates:
42
g
|
Protein:
9
g
|
Fat:
26
g
|
Saturated Fat:
15
g
|
Trans Fat:
1
g
|
Cholesterol:
117
mg
|
Sodium:
443
mg
|
Potassium:
229
mg
|
Fiber:
1
g
|
Sugar:
25
g
|
Vitamin A:
878
IU
|
Vitamin C:
2
mg
|
Calcium:
151
mg
|
Iron:
1
mg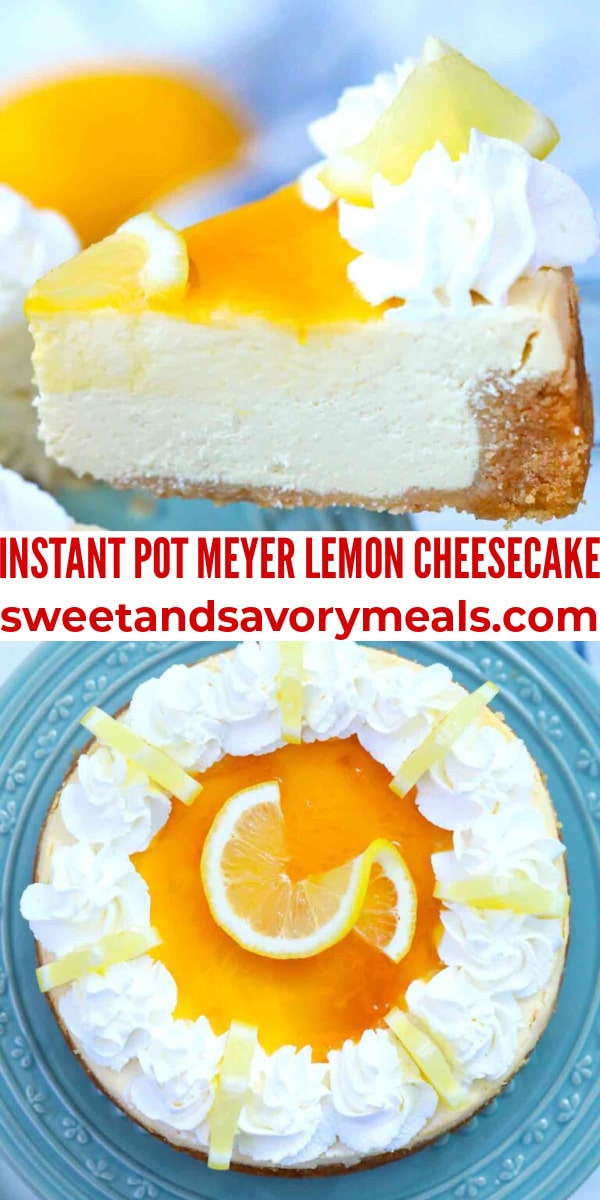 More recipes you might love