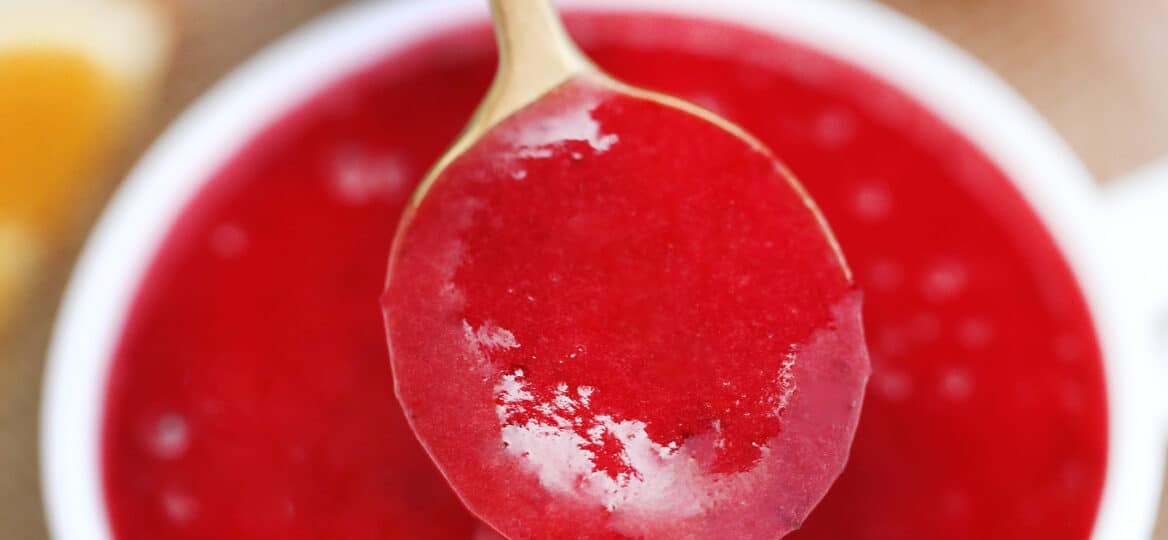 Cranberry Sauce Recipe [Video]
Cranberry Sauce is made with only 6 ingredients in a matter of minutes! It is that easy to prepare this amazing side dish for your Thanksgiving turkey dinner!
If you are not yet decided on what to serve in your Thanksgiving dinner, then, it is time to learn how to cook this side dish. This makes for a great partner for your Dry Brined Turkey along with Roasted Sweet Potato and some sweet Pecan Pie Bars for dessert!
Homemade Cranberry Sauce Recipe
Cranberry Sauce is a traditional favorite during Thanksgiving. It is a classic condiment to the turkey and everyone loves it!
The tartness balances well with the sweetness of the sugar. The complementing citrus flavor also adds another dimension to it.
Did you know that the berry has been part of the American diet as early as the 1500s? This fruit has a long history and being cultivated further made it even more popular throughout the country.
That says a lot about this fruit. It is healthful, delicious, and versatile. Want to make it into a relish? A pastry? A beverage, maybe? It can be all that and more!
And the best part is that you can make it at home! It is a lot cheaper and a lot safer if you know what goes into your food, and so, this recipe will help you achieve that. No more canned sauces this time!
Are cranberries healthy?
Yes, they certainly are! Just like any other berry, it has fiber and is rich in vitamins and minerals. It is said that the intake of this fruit can prevent urinary tract infections.
Its polyphenols are highly beneficial for health, especially in dealing with stomach and heart problems. These antioxidants can also prevent cancer. You can read about the other health benefits of this berry by following this link.
What is Cranberry Sauce made of?
For this recipe, you will need a saucepan and these ingredients:
cranberries
sugar
orange juice
orange zest
water
vanilla
How to make Cranberry Sauce from scratch?
For exact steps, please see the recipe card below. Also, I have attached a short video to make it easier to follow. The general steps are as follows:
Boil: Put the first 5 ingredients in the list above in a saucepan. Allow the mixture to boil and cook for about 8 minutes until the berries pop and the mixture viscous. Then, add the last ingredient which is the vanilla and then, turn off the stove.
Cool: Set the pan aside and let the mixture cool for about 20 minutes.
Serve: Pulse in the food processor for a minute or so until smooth, then, serve.
What do you eat with Cranberry Sauce?
It is almost exclusively eaten with the Thanksgiving turkey, but it's delicious on other types of meat, like chicken or roasted pork.
Can Cranberry Sauce be made in advance?
Yes! This is an added bonus since it is fairly quick and easy to prepare, you will save more time on your busy Thanksgiving Day by making this in advance.
Just follow the recommended storage guidelines if you will make this before your event.
How many cups is a 12 oz. bag of cranberries?
A 12 oz bag is equivalent to about 3 cups of the berries. If you will slice them, then, 12 oz will just be around 2 1/4 cups.
Recipe Variations:
We do have an Instant Pot recipe for this. Be sure to check that out.
How to Store Cranberry Sauce?
Refrigerate: You can keep this in the fridge, stored in an airtight container, for up to 2 weeks.
Freezer: Keep it frozen in a freezer bag and consume it anytime within 2 months.
Recipe Tips:
If you have leftovers, use them as a topping on pancakes, or on ice cream.
Do not be alarmed if you hear popping sounds when cooking the sauce. Those are just created by the boiling berries. Be careful of splashes though.
A dash of cinnamon makes a difference, you can try that, too!