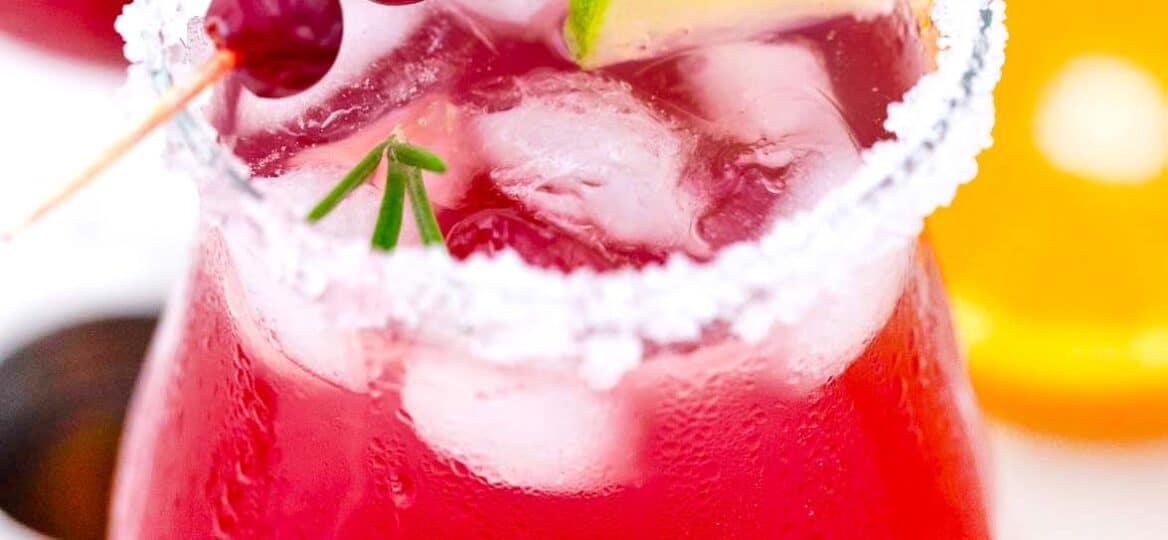 Cranberry Margarita Recipe
Cranberry Margarita is the perfect holiday cocktail with the sweet, tart, and tangy flavors of cranberry, lime, and orange juices combined with tequila and triple sec. You can add your favorite juice, forget the salted rim, or try it with other types of tequila to make it your own. You can also garnish it any way you like. This is a very versatile drink perfect for a Christmas or Thanksgiving cocktail table.
Many say it was Pancho Morales who created the margarita in Mexico in 1942. He was working at a bar in Ciudad Juarez called Tommy's Place when he tried to make a magnolia cocktail. He could not remember all the ingredients, so he just mixed lime juice, Cointreau, and tequila. Others say it was made by Danny Negrete in 1936 when working at the bar in Hotel Garci Crespo in Puebla, Mexico.
Ingredients needed:
100% unsweetened cranberry juice: If you can only find cranberry juice cocktail or sweetened cranberry juice, just cut the simple syrup amount in half.
Orange juice: Similarly, use unsweetened orange juice if you have it. Otherwise, cut down the sugar mix to about a quarter of what the recipe calls for.
Tequila Blanco: Either tequila blanco or tequila reposado will work for this drink. You can use any kind of tequila you like.
Cointreau: Cointreau is a brand name of triple sec orange liqueur that I prefer. You can use your favorite triple sec if you like.
Simple syrup: Just sugar and water, the amount of simple syrup can be changed per your taste.
Freshly squeezed lime juice: This is optional but it gives your drink a special tanginess similar to a classic margarita.
Kosher salt: This is optional, but is another way to make it more like a classic margarita.
Ice: This is just for serving. You can use it however much you like.
For the garnish: You can garnish with fresh cranberries, fresh limes or lime wedges, rosemary sprigs, lemon wedges, or whatever you like.
How to make cranberry margarita from scratch?
Prep the glass: First, cut a lime wedge and run it around the rim of your glass. Then, dip the rim into a plate of kosher salt or margarita salt, if using.
Shake it up: Next, add ice and all the ingredients to a cocktail shaker and shake to combine.
Pour it in: Now, use a strainer to pour the mixture into your prepared glass.
Fill and serve: Last, fill the glass with ice, garnish whatever you like, and serve.
Recipe variations:
Another juice: Feel free to use another juice you like instead of orange. Apple juice is so good.
Mix it up: You can make many other cranberry cocktails with this recipe. Just add or replace one of the ingredients with vodka, rum, gin, or bourbon.
Make it a cosmo: The most popular cranberry cocktail is the tart, sweet Cosmopolitan cranberry cocktail. All you need is lime juice, cranberry juice, triple sec, and citron vodka.
Try it tropical: For a tropical sea breeze cranberry cocktail, add grapefruit juice.
Add bubbles: If you want a bubbly cranberry margarita, add some soda water or club soda.
No sugar: Also, you can use honey or maple syrup instead of simple syrup.
Christmas: Add some peppermint schnapps and a candy cane for the perfect Christmas Eve cocktail.
Frequently asked questions
What's the best tequila for cranberry margaritas?
This cranberry margarita tastes delicious with any tequila and is perfect for this holiday season. However, the higher the quality of liquor you use, the better your favorite drinks will taste. Tequila Blanco, also known as new tequila, has been aged less than two months and has a stronger taste. Reposado has been aged longer so it has other flavors like vanilla and oak.
What is the difference between gold and silver tequila?
Similar to Blanco and Reposado, these two differ by how long they have been aged. Gold tequila has been aged longer than silver, so it has a milder taste. If you want the kick of bold tequila taste, you will want to use silver. Most people use silver tequila for cocktail recipes when making mixed drinks and gold tequila for taking shots.
Why do margaritas have a salted rim?
Some people say the salt is for looks while others choose to salt the rim of their glass for the salty taste. It is also about the texture and color if you use margarita salt. It can even out the sweetness without making the drink too salty. Scientists have done studies and found that salt stimulates your taste buds, so your drink tastes better.
How to store leftovers:
Store: You can store your leftover cranberry margarita in a pitcher in the fridge for 24 to 48 hours.
Freeze: You cannot freeze this because of the tequila but you can make it a slushy. Just put it in a freezer-safe container or freezer bag and leave it in the freezer overnight.
More cocktails to try:
Cranberry Margarita
Ingredients
4

tablespoons

100% cranberry juice

unsweetened

3

tablespoons

tequila

2

tablespoons

Cointreau

2

tablespoons

orange juice

1

tablespoon

fresh lime juice

1

tablespoon

simple syrup

or maple syrup if you don't have simple syrup on hand

Kosher salt or flaky sea salt

for the rim

Ice

for serving
Garnish:
lime wedges

cranberries, rosemary sprig
Instructions
Take a lime wedge, make a small incision in the center, and then run the lime around the rim of a glass to wet it.

After that, dip the edge of the rim into a plate of salt.

Next, add all of the cocktail ingredients to a cocktail shaker and fill it with ice. Shake well until the mixture is refreshingly cold.

Strain the cranberry margarita into the serving cocktail glasses with the salted rim and fill the glass with ice.

Garnish with cranberries, lime wedges, and a rosemary sprig. Serve.

Feel free to double or triple the recipe.
Recipe tips:
If you cannot find 100% cranberry juice, why not make your homemade cranberry juice? Store-bought cranberry juice always has additives that you do not need anyway. All you need are some fresh cranberries. They have a natural sweetness on their own.
For shorter prep time, use store-bought lime juice and maple syrup instead of making simple syrup. Just remember, fresh juices have more flavor than store-bought juices.
Want to make a pitcher? To make a large pitcher of this cranberry drink, mix 1 cup Cointreau, 1/2 cup lime juice, 1 1/2 cups tequila, 1/4 cup orange juice, 1 1/2 cups 100 cranberry juice, and 1/2 cup simple syrup. Add ice and stir until cold before pouring into prepared glasses.
Making this for holiday parties is the best. I always get a 5-star recipe rating.
Are you looking for more holiday cocktail recipes? We have plenty of them on our food blog.
Do not let your phone go dark. Instructions will stay on the screen as long as you like using cook mode.