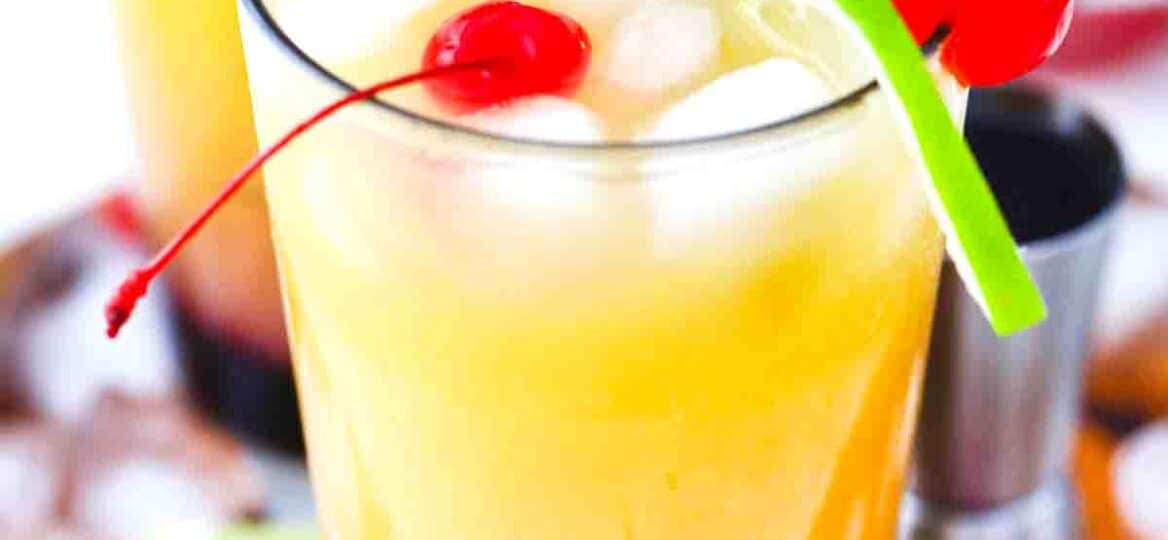 Summer Breeze Cocktail Recipe
Summer Breeze is the perfect cocktail for a Friday night barbecue or a hot day at the pool, lightly sweet, refreshing, and with tropical flavors. With the light and refreshing taste of lemon vodka mixed with the tangy tastes of orange juice and grenadine, there is a burst of flavor in every sip. It is easy to make in just a few minutes with only five ingredients.
It was famous bartender Dick Bradsell from the Isle of Wight in London, England who first made this tasty drink in 1998. He started mixing fruit into alcoholic drinks in the 1980s and invented the Bramble in 1984 when he was working at Fred's Bar in Soho. Some of his other famous cocktails include the espresso martini, the wobble, and the treacle.
You do not need much to make a summer breeze cocktail. If you have a full bar and some fresh orange juice, you should be set. You will need vodka, tequila, and triple sec as well as grenadine and juice. Add some ice and you have a summer breeze. Make sure you do not stir it after adding the grenadine for that summery look.
Ingredients needed:
To make this delicious summer breeze, gather the ingredients shown here. You may already have these in your kitchen if you are a cocktail drinker. Then, go down to the bottom of the page to find the step-by-step directions and precise measurements when you are ready.
Ice cubes
Orange juice
Grenadine
Triple Sec
Absolut Citron Vodka
Tequila
How to make summer breeze from scratch?
Add ice: First, add ice cubes to a tall glass like a highball glass.
Add the liquors: Then, pour in the tequila, vodka, and triple sec.

Pour in the orange juice: After that, add your orange juice and stir lightly.

Add grenadine and serve: Last, pour in the grenadine but do not stir. It will sink to the bottom and make your summer breeze cocktail beautiful.
Recipe variations:
Other juices: Feel free to use a different juice besides orange. You can try lime, lemon, mango, apple, cherry, or even pomegranate juice for a tasty variation.
Add soda: Pour in a splash of club soda or ginger ale if you do not like your drink too sweet.

Sea Breeze: Make a sea breeze cocktail by adding some cranberry juice and grapefruit juice to your drink.

Another breeze: Similarly, a Bay Breeze cocktail is made with cranberry and pineapple juice instead of grapefruit juice. It is much sweeter.

Different alcohol: You can also change the alcohol. Instead of vodka, try bourbon or whiskey. But remember, some of them have more alcohol in them.
Sweeten your drink: If you really love sweet cocktails, add a tablespoon or two of simple syrup. It is simple to make with equal parts of each one. That must be why it is called simple syrup.

Spice it up: Instead of sweetening your summer breeze cocktail, add a dash of Tabasco sauce to give it a kick of spiciness.
How to serve:
Whether you are at the beach, in the backyard, or hanging out on the couch, the summer breeze is the perfect adult beverage for summer. In fact, it is great in the winter too. Try one of our serving ideas or share one of your own with us in the comments section.
Garnish with a maraschino cherry resting on top and orange slices balanced on the side of the glass. You could also use lemon or lime slices.
For an even sweeter summer breeze cocktail, add a dollop of whipped cream on top. We have an easy recipe for rich homemade whipped cream you can try.

Fruit pairs well with this cocktail. Serve a variety of fresh fruits on a platter for your guests to pick from. If it is a hot day, place the platter on top of a larger platter or bowl of ice.
Another way to top this is with a small scoop of ice cream. Try our no-churn cherry ice cream recipe for an indulgent treat.

Another thing that goes great with this cocktail is a salad. We have a variety of salads to choose from on our blog.

If you are looking for different flavored summer cocktails, try our four-way fruit mojitos.
Top your delicious cocktail with a few fresh mint leaves or sprigs for a subtle refreshing mint flavor.
Frequently asked questions
What is the best glass for this drink?
When serving alcoholic beverages, it is a good idea to do your research and find out the type of glass to use. Because they are all different sizes, it can be confusing. Wine is usually served in a wine glass with a wide mouth for the aromas. Cocktails without ice are typically served in cocktail glasses. But the highball is best for a mixed drink.
What is grenadine?
Similar to cherry syrup but made with pomegranate juice, grenadine is a fruity non-alcoholic beverage typically used for its deep red color. It gives any beverage a tint of pink or red so it is often used in making mixed cocktails. Grenadine is very sweet with a little bit of tartness sort of like a sweet and sour mix.
Does Triple Sec have alcohol in it?
Yes. This is another fruity beverage but this one tastes like oranges. It is popular in mixed drinks and cocktails like mai tais, cosmopolitans, and margaritas. Depending on the brand, it has between 15 and 40 percent alcohol by volume (ABV). It is made of orange peel and sugar beets, which gives it a sweet and bitter flavor.
How much alcohol is in each serving?
According to the labels, an ounce of Absolut Citron Vodka has 9.5% alcohol. Triple Sec has 15% per ounce, and we used just a half ounce so that is 7.5%. And tequila has about 10% depending on the brand you use. However, when blended with the juice and grenadine, the alcohol percentage drops to about 18%.
What are the nutrition facts in this recipe?
Each serving has 284 calories and 1 gram of fat, which is saturated fat. There are also 30 grams of carbohydrates, 5 mg of sodium, and 24 mg of sugar. But it also has vitamins and minerals including 28 mg of calcium, 125 mg of vitamin C, 500 units of vitamin A, 498 mg of potassium, 1 mg of iron, 1 mg of fiber, and 2 grams of protein.
More homemade cocktails to try:
How to store leftovers:
Store: Did you make too much? It will save nicely in a pitcher or jar with a lid. Keep it in the fridge for up to three days.
Freeze: If you made a really big batch of summer breeze cocktail, you could freeze it in a freezer bag for about 30 days.

Thaw: You can thaw your leftovers in the fridge or just serve them as slushies.
Recipe tips:
Be sure to stir before adding the grenadine for the gorgeous summer sunrise look. The grenadine is heavy and will automatically sink to the bottom of the glass.
This is a fairly strong drink with quite a bit of alcohol so drink responsibly.
For non-drinkers, just leave out the alcohol. Add some seltzer water or soda to the juice and grenadine.

There is very little fat in this recipe but if you want, you can use low-fat juice.
You can also cut the sugar by using sugar-free juice and grenadine.

The nutrition, calories, and fat contents are just general nutrition advice and are not exact. The daily value tells you how much a nutrient in a serving of food contributes to a daily diet.
If you are looking for more cocktail recipes, we have many of them in our food blog. Take a look!
Summer Breeze Cocktail
Ingredients
2

oz

Tequila

2

oz

Vodka

1

oz

Triple Sec

2

cups

orange juice

Grenadine

to taste

Ice cubes
Instructions
Fill two tall glasses 2/3 with glass with ice cubes.

Next, add liquors to the glasses, dividing them equally.

After that, add to each glass a cut of orange juice and lightly stir the mixture.

Pour in the grenadine and serve.
Deliciousness to your inbox
Enjoy weekly hand picked recipes and recommendations