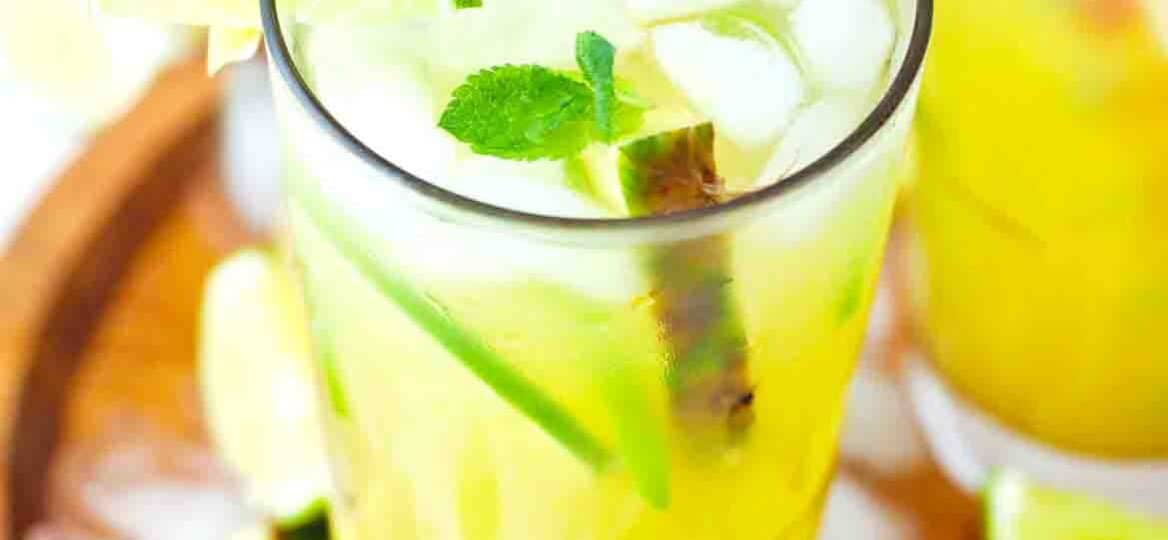 Pineapple Mojito is a totally refreshing drink and the perfect cocktail for a hot summer day, made with fresh sweet pineapple and mint. It is a fun twist on the classic cocktail. Just add pineapple juice, lime, and fresh mint, and top with club soda before pouring in some rum and simple syrup. This easy pineapple mojito recipe is perfect if you love pineapple.
The Mojito was born in Havana, Cuba although nobody is quite sure of who was the inventor or when it was invented. Some say that it was the South American Indians who invented it when using sugar rum as medicine while others say it was the African slaves who helped invent the drink. Whoever made it first, it is one of the most popular cocktails in the world.
For this yummy pineapple mojito, you will just need a few ingredients including lime juice, pineapple juice and chunks, rum, club soda, and mint leaves. Plus, a little simple syrup for added sweetness. Simple syrup is just a mixture of equal parts water and sugar. You could also use honey or maple syrup instead.
Follow us on Pinterest for more delicious recipes!
Ingredients needed:
To make this pineapple mojito cocktail recipe, you will need the ingredients listed below. Then, scroll down to our recipe card at the bottom of the page for the complete instructions and exact measurements.
Fresh pineapple chunks
Pineapple juice
Freshly squeezed lime juice
Simple syrup: To taste.
White rum
Club soda
Chopped fresh mint leaves
Fresh ice cubes
How to make pineapple mojito from scratch?
Mash the pineapple: First, add lime juice, mint leaves, and pineapple in a large mortar and pestle. Then, smash the ingredients together gently with the pestle, until the pineapple is creamy, and the mint leaves are limp. You want to make sure you get all the oils from the mint leaves.
Pour it into a pitcher: Then, add pineapple and sugar syrup to a pitcher or large mason jar.
Add rum, juice, and mix: Next add the pineapple juice, rum, and club soda. Stir with a wooden spoon or shake vigorously in a cocktail shaker. Taste and add more sugar if desired.
Fill your glass: Lastly, fill the glass with ice cubes and then add the pineapple mojito mixture.
Garnish and serve: Finally, garnish with mint sprigs, lime wedges, and pineapple.
Recipe variations:
Gold rum: You could also use gold rum, coconut rum, or whichever you prefer.
Lemon juice: If you do not have (or do not like) lime juice, you can use lemon juice instead.
Other juice: In fact, any juice would be great with pineapple juice like apple, orange, or cherry juice.
Mint: Instead of using simple syrup, you can use mint syrup for an even more minty flavor.
No alcohol: For kids or those who do not drink alcohol, you can make this a pineapple mojito mocktail instead. Just leave out the rum.
Pineapple syrup: Add a teaspoon of pineapple syrup to get a seriously intense pineapple taste.
Other flavors: Try adding other flavors with syrups or extract such as strawberry, vanilla, or whatever else you like.
How to serve:
You can serve these super refreshing pineapple mojitos any time you want some cocktails with a little more sweetness. If you love mojitos, you are going to absolutely adore this sweet and delicious recipe. Try one of these fun serving ideas or share some of your own ideas in the comments section below.
Add a lime wedge, pineapple wedge, and diced pineapple to a highball glass filled with pineapple mojito.
Looking for different flavors to try? Check out our four-way fruit mojito recipes.
Grill a few slices of pineapple over medium heat for a smoky flavor.
For a sweeter drink, add a dollop of whipped cream. You can try our easy homemade whipped cream recipe.
Toss a few extra pieces of fresh pineapple in your drink along with other fruit like maraschino cherries, mandarin oranges, and strawberries.
You can use leftovers to make a boozy smoothie. Try it with our best tropical smoothie recipe.
Chocolate lovers will appreciate a bit of chocolate syrup and chocolate chips on top.
Frequently asked questions
What is a classic mojito?
A mojito is a traditional highball drink that was started in Cuba, which is why it uses so many ingredients native to the area. The main ingredients are rum, mint, lime, sugar, and soda water or seltzer. Over the years, many different flavors have been tried, including this pineapple mojito.
What is a cocktail muddler?
A modern form of mortar and pestle, the cocktail muddler is a bartending tool used for mashing the drink ingredients like fruit and herbs. It is most often used in alcoholic beverages, but it can also be used for other drinks and recipes. This is what to use when you want to muddle the mint leaves.
What kind of glass should I use?
We used a highball glass, but you can use any tall glass. Some bars or restaurants serve them in a pint glass or a Tom Collins glass. The traditional glass size is 10 ounces, but you can make them larger with a taller or wider glass to make 12 to 14 ounces. If you want a single serving, try a five- or six-ounce glass instead.
What can I use instead of a cocktail shaker?
Shaken cocktails can be made with just about anything with a lid. A spillproof coffee mug, mason jar, or any kind of jar will work. In fact, you could also just use a whisk or wooden spoon to stir your drink. Another way is to use a blender or food processor.
What is the difference between sparkling water, soda water, and club soda?
Sparkling water, also known as sparkling mineral water, is naturally carbonated water that comes from a natural spring or well. It is mineral water because it contains magnesium, sodium, and calcium. Club soda gets its carbonation and minerals added afterward so they are not natural. Soda water, or seltzer, is carbonated afterward but does not contain any minerals.
What are the nutrition facts in this recipe?
Each serving of this pineapple mojito has 155 calories, 55 mg sodium, 18 grams sugar, and 21 grams carbohydrates. However, it has no fat or cholesterol at all. Also, you get 1 mg iron, 177 mg potassium, 35 mg calcium, 25 mg vitamin C, and 650 units vitamin A.
More cocktails to try:
How to store leftovers:
Store: You can store your leftover pineapple mojito in a mason jar or another airtight container for three days in the fridge.
Freeze: Want to save your delicious cocktails even longer? Pour leftovers into a freezer bag and freeze them. They can stay frozen for up to three months.
Thaw: You can thaw your mojitos overnight in the fridge or serve them as frozen pineapple mojitos.
Recipe tips:
This recipe will serve two to four people, depending on the size of the glasses you use.
If you are looking for more related recipes, you can find them on our food blog.
Shorten prep time by using premade lime juice, mint extract, and canned pineapple chunks.
You can also speed things up by using a blender instead of a mortar and pestle and cocktail shaker.
The nutrition, calories, and fat content of these pineapple mojitos are estimates.
You can use diet or sugar-free juices and a sugar substitute for a sugarless drink that is still deliciously sweet.
These make great frozen drinks for summer. Use frozen pineapple chunks to make them thicker.
Pineapple Mojito
Ingredients
1/2

cup

fresh pineapple chunks

make sure the pineapple is ripe

1

tablespoon

sugar

or simple syrup, or use brown sugar for a deeper taste

8

mint leaves

chopped

1

lime

juiced

2

cups

pineapple juice

2

cups

club soda

4

ounces

white

or coconut rum for a more tropical taste

ice cubes
Instructions
In a large mortar and pestle or a sturdier bowl, add pineapple, sugar (or simple syrup), mint leaves, and lime juice. Smash ingredients together with the pestle, until creamy and the mint leaves are well combined with the other ingredients.

Add the mixture to a small pitcher and add pineapple juice, club soda, and rum. Stir together to combine. Taste and adjust for sweetness.

Fill two large glasses 2/3 with ice cubes and pour the cocktail over the ice.

Garnish with fresh mint sprigs, and lime wedges pieces of fresh pineapple.