Last updated on April 17th, 2023 at 04:04 pm
Tequila Sunrise is a popular cocktail that is perfect for summer parties, made with orange juice, tequila, and grenadine syrup. It is often served in a highball glass or another tall glass to show off the beautiful color mixture that gives it the name tequila sunrise. This recipe can be switched up to satisfy every taste including switching the orange juice for grapefruit juice or another tangy citrus drink. Tequila and orange juice are often the main ingredients though for this popular adult drink.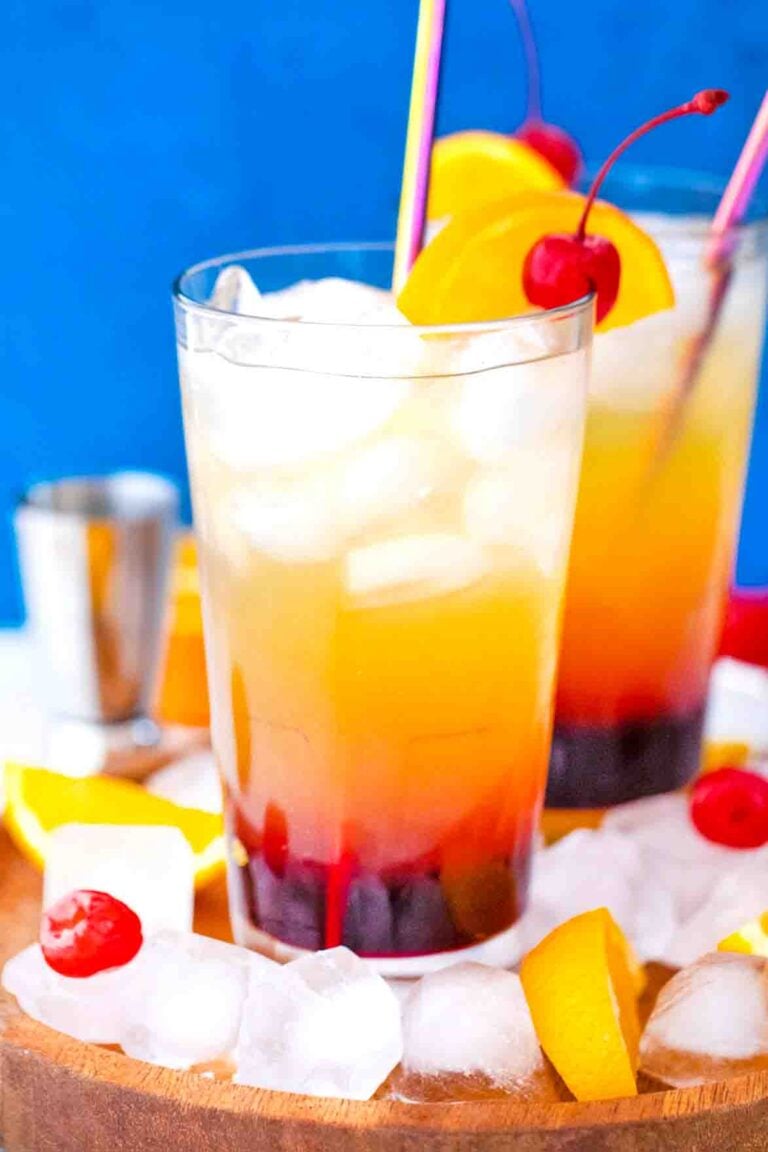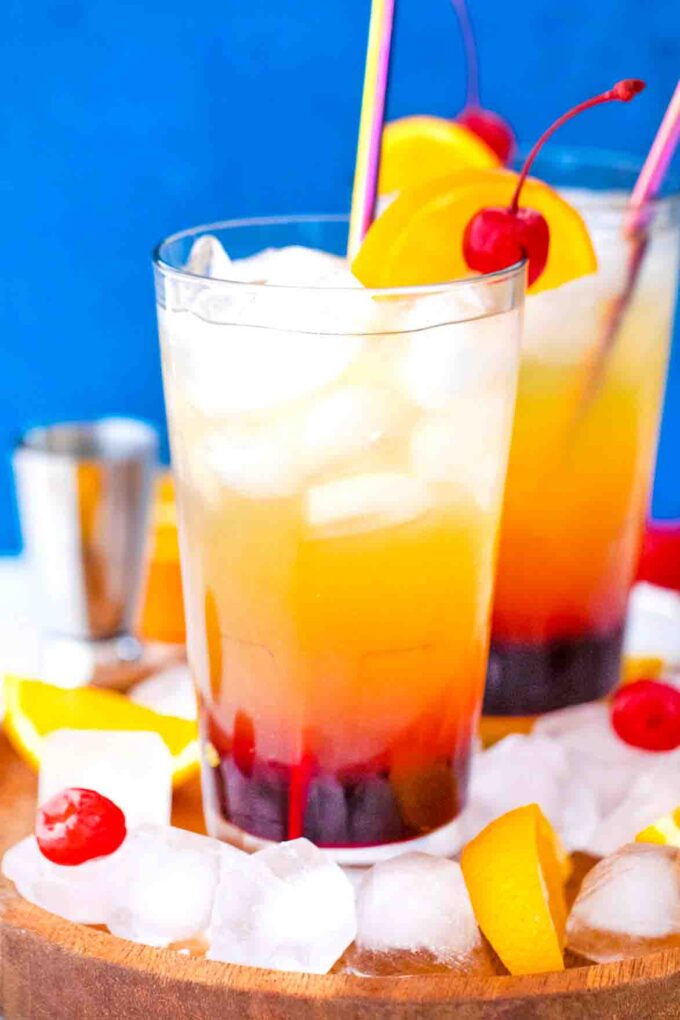 Are you looking for more cocktails you can make for your next gathering? We have plenty. Our Kiwi Margarita recipe is a tropical adult beverage made with tequila, orange liquor, simple syrup, lime, and kiwi. The homemade simple syrup has lemon and vanilla for a special flavor. If you want something more chilled, this Pineapple Mango Daiquiri is a frozen drink with pineapple, mango, rum, lime juice, pineapple juice, and sugar syrup.
The original tequila sunrise dates back to the 1930s. However, if you enjoy rock n roll history, you will love this. It is said that Mick Jagger became a fan after trying it on his Rolling Stones 72 tour. It was made by two bartenders, Bobby Lozoff and Billy Rice at the Trident bar in Sausalito, California near San Francisco.
For this yummy tequila sunrise recipe, all you need are a few ingredients and you do not have to have any fancy bar equipment. In fact, tequila sunrise ingredients vary from person to person and bar to bar. The one thing that has to stay the same is to pour the grenadine syrup last, so it sinks to the bottom of the glass and then slowly rises.
If you enjoy the orange flavor of this drink, you may enjoy our crispy orange shrimp. This Asian dish uses fresh shrimp soaked in an orange juice sauce and then fried to crispy perfection. It is great for an appetizer, snack, or a side dish. For dessert, try this orange pound cake flavored with orange zest and extract. It also has a creamy cheesecake swirl to make it even more decadent.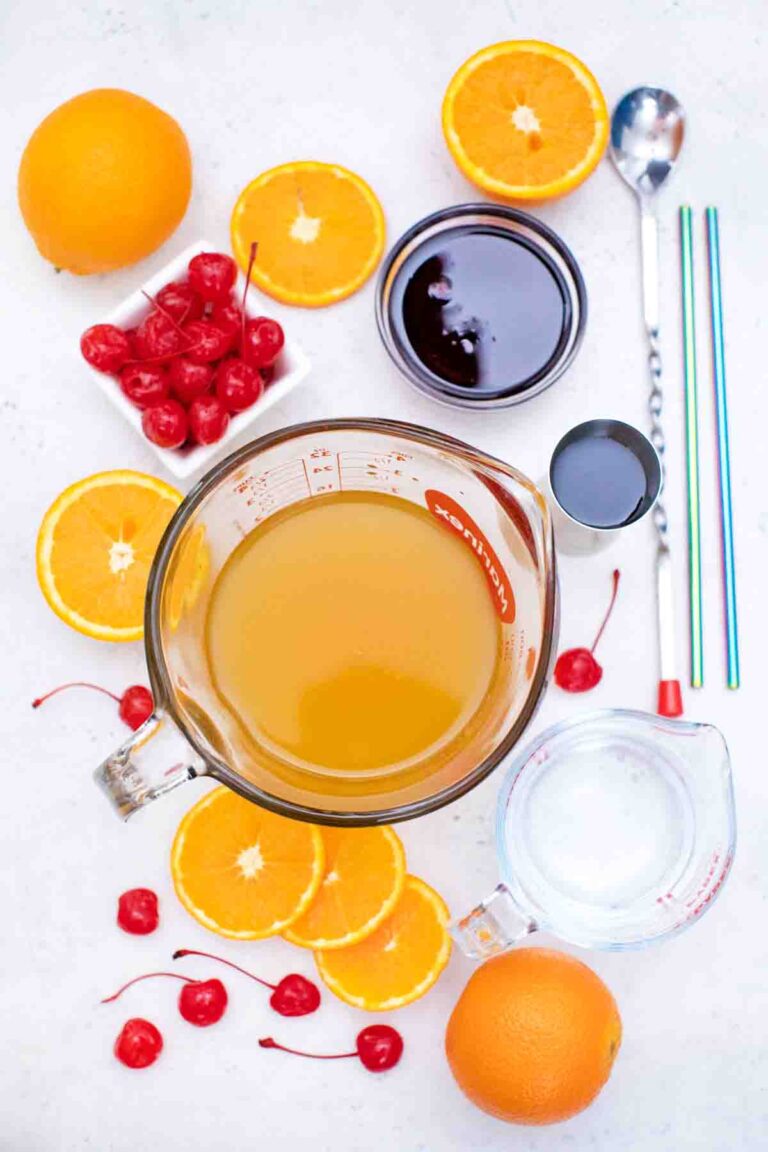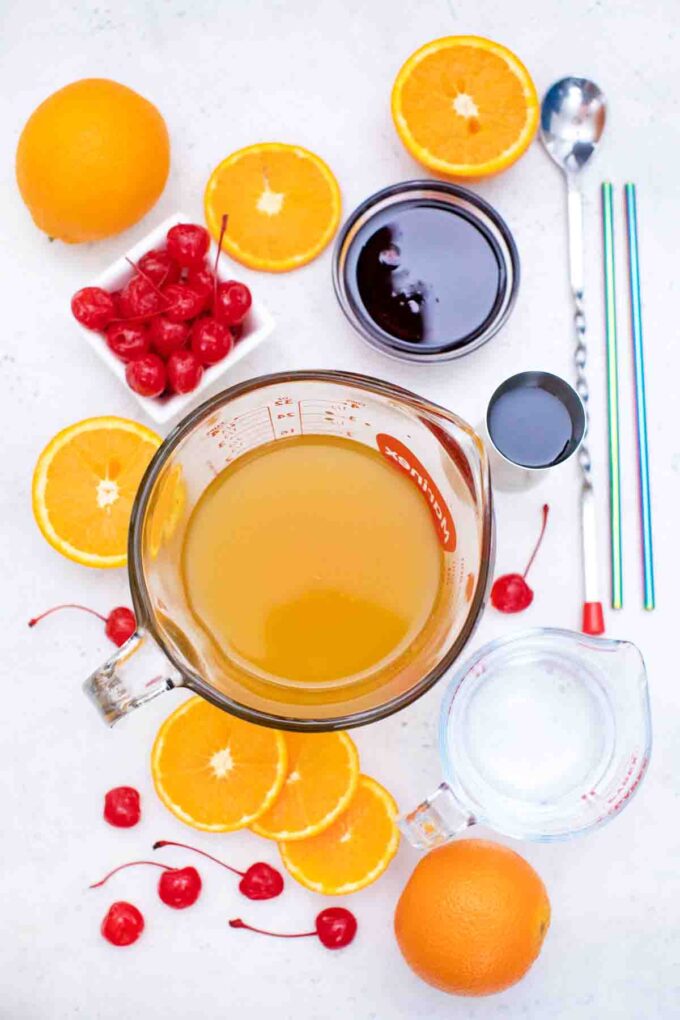 Ingredients needed:
You do not have to be a bartender to make this tequila sunrise cocktail recipe perfectly. Just gather these simple ingredients and then go to the bottom of the page to find our recipe card. That is where you will get the exact measurements and step-by-step ingredient notes.
Orange juice
Grenadine
Tequila
Maraschino cherries or orange slices
Ice cubes
How to make tequila sunrise from scratch?
Chill and ice the glass: To begin, get a chilled highball glass filled with ice cubes and add the tequila and then orange juice. It has to be in a specific order to get the right color combination.

Do not stir: Next, slowly pour the grenadine syrup down the side of the glass, and do not stir. You want the syrup to stay on top to give it that sunrise effect.

Add the fruit garnish: Then, garnish with an orange slice or maraschino cherry before serving.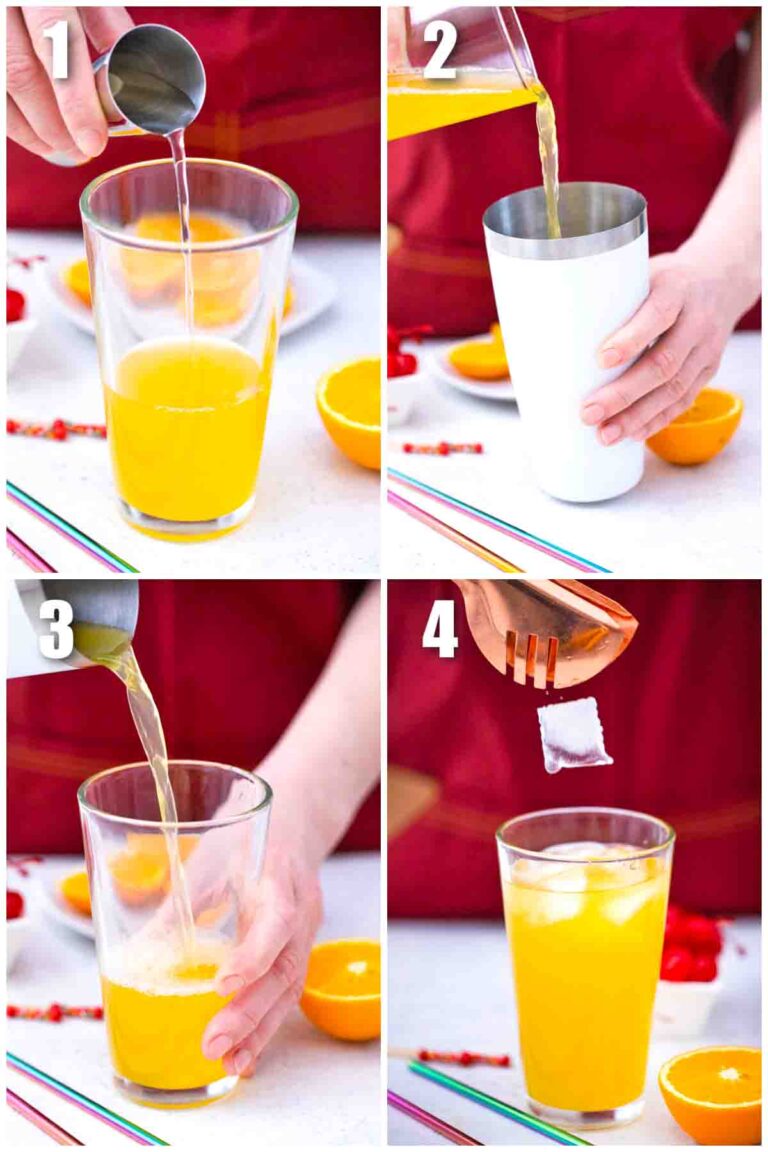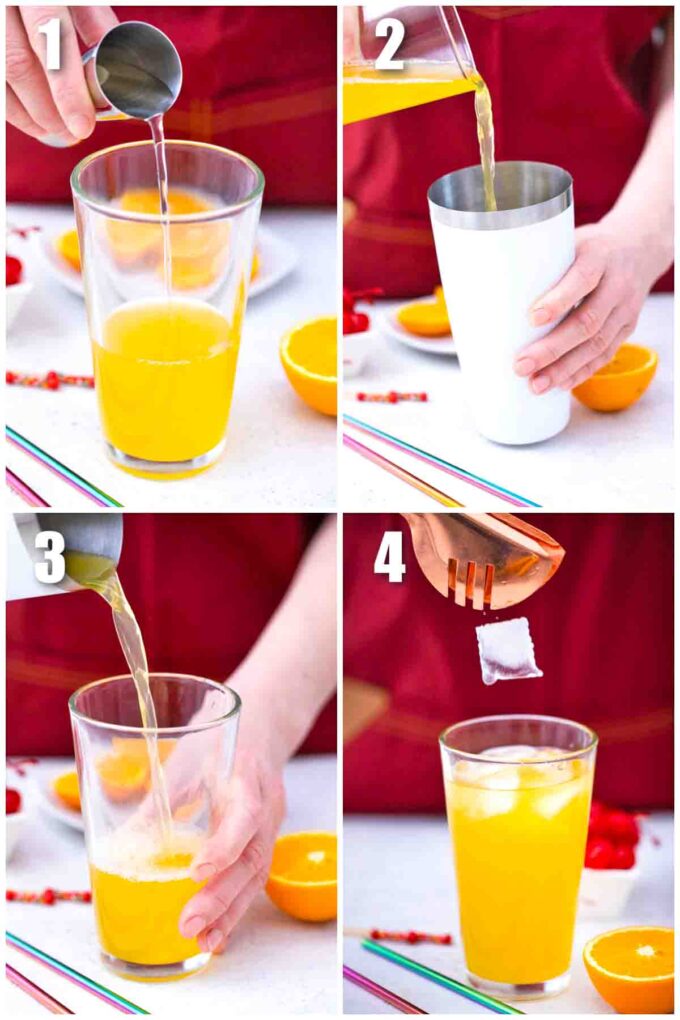 Recipe variations:
Mandarin oranges: Instead of (or in addition to) the maraschino cherry, try adding mandarin oranges.

Citrus juice and tequila: Any citrus juice will work for this tequila cocktail. Add your favorite fresh lime juice or lemon juice for extra tanginess. Grapefruit juice is also a good choice.
Pineapple juice: For those who really love sweet cocktail recipes, use pineapple juice instead of orange juice.

Pomegranate flavor: Another way to add unique flavor is to use a bit of pomegranate-flavored syrup or pomegranate juice.

Tequila sunset: For a tequila sunset instead of a sunrise, pour in the grenadine syrup first so the red layer is at the bottom of the glass.
Blackberry brandy: Another way to make a sunset effect is to use blackberry brandy instead of grenadine.
Tequila screwdriver: Try this with just orange juice and tequila for a tequila screwdriver.

Spice it up: Put a dash of hot sauce on top for a bit of heat.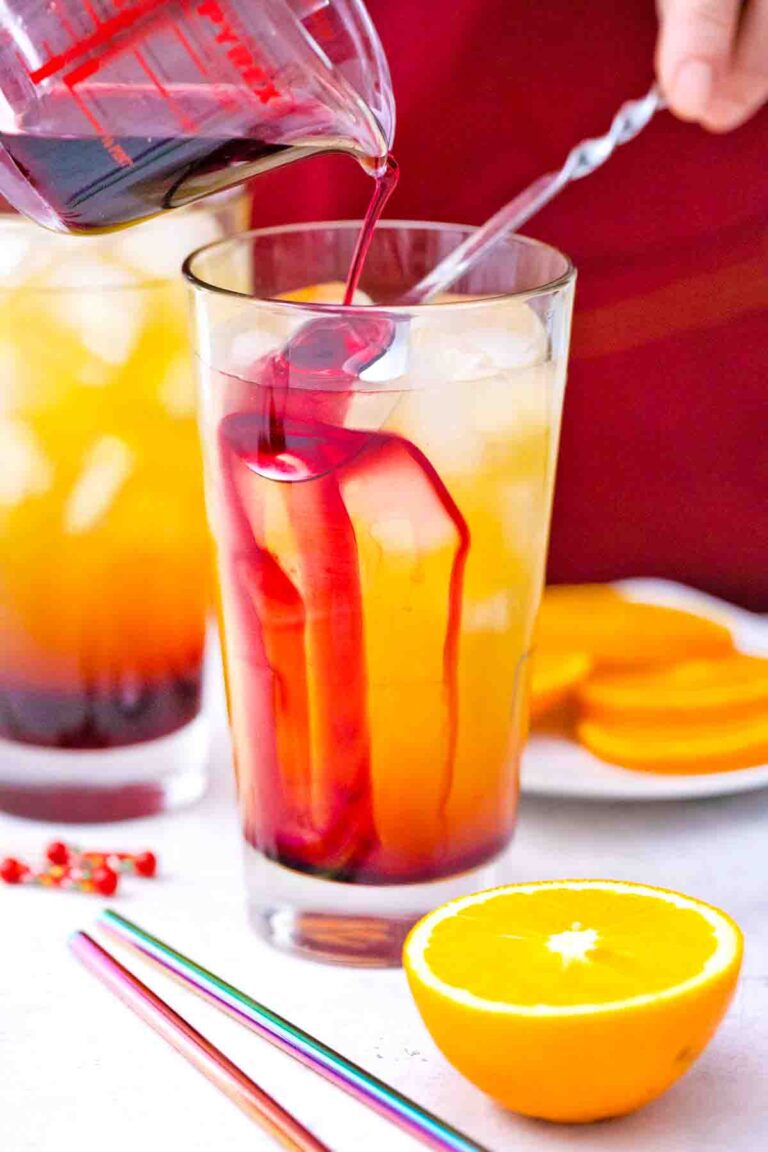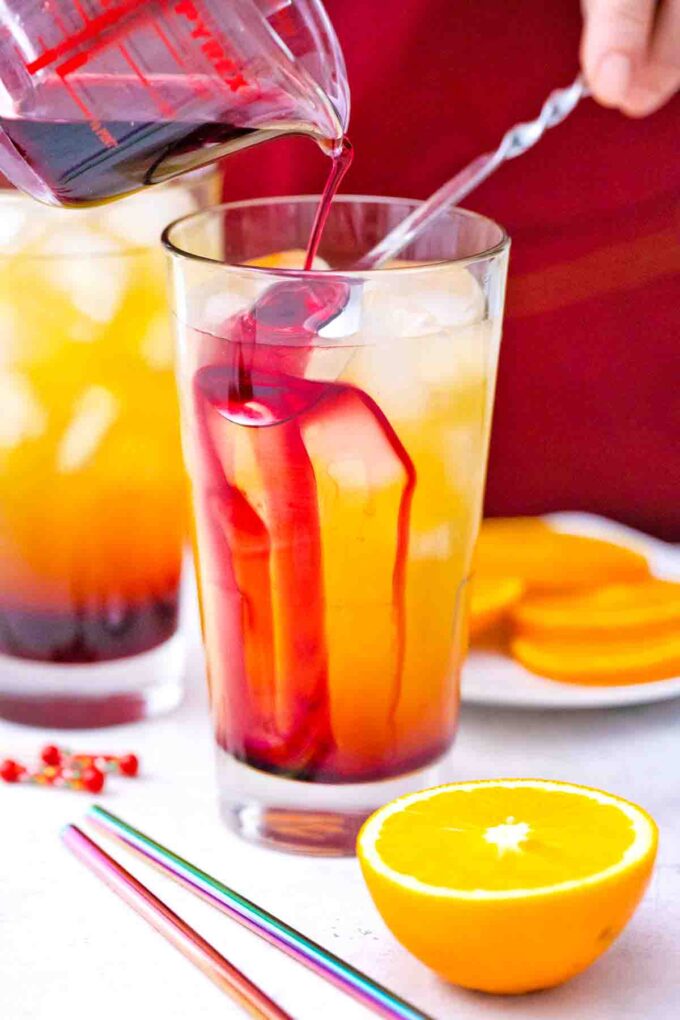 How to serve:
This refreshingly fruity cocktail is popular around the world in many different forms and recipes. You can mix it up by using different juices or syrups, making it taste however you like. Try one of these interesting serving suggestions or share some of your own in the comments section at the bottom of this page. We love to hear from you!
This is the kind of drink that works well with any type of citrusy taste. Add some lemon wedges or an orange slice to the rim when serving for extra flavor.
A dollop of whipped cream on top of this delightfully sweet cocktail would be amazing. Try our easy and creamy recipe for whipped topping.

Add a splash of seltzer water for a bit of bubbliness in this refreshing drink.

Another way to add extra flavor and texture is to add a bit of orange marmalade. We have a terrific orange marmalade recipe that would be perfect for this.

You can always add your own favorite fruit on top like blackberries, raspberries, or even cranberries.
Leave out the tequila for a virgin tequila sunrise.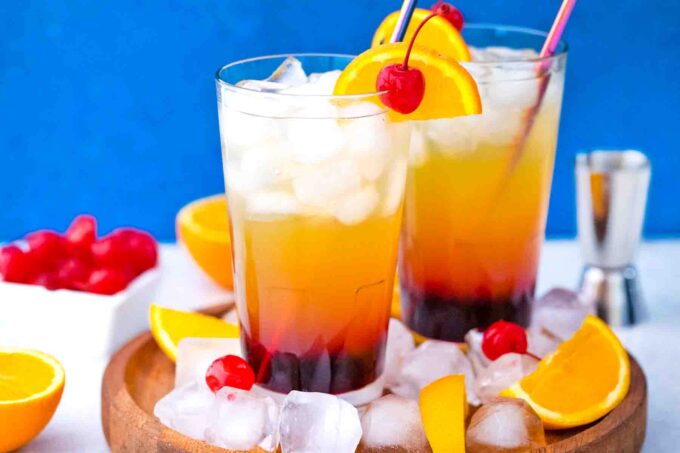 Frequently asked questions
What is the best tequila to use in this cocktail recipe?
Although there is no one perfect tequila for any drink, the most commonly used tequila for this drink is Jose Cuervo. However, that is probably because it advertised the drink back in the 1970s, making it more popular. You could also try Don Julio, Mezcal, Patrón, or Casamigos, which is supported by George Clooney.
What is the difference between a tequila sunrise and sunset?
The sunrise has the grenadine syrup on the top while the sunset pours the grenadine on the bottom of the glass. Another interesting opinion is that the sunset uses grapefruit instead of orange juice. Then, there are those who insist that a sunset is made with blackberry brandy instead of grenadine for a darker effect.
Why is there a worm in tequila?
There are many opinions on this. One is that a company that made Mezcal used them to determine if the drink was okay for human consumption. If the worm still wiggles when it hits the bottom, it is okay to drink. Another theory is that it gives the beverage an aphrodisiac effect. However, most people believe that the worm started as a marketing ploy and has kept Mezcal as one of the top sellers.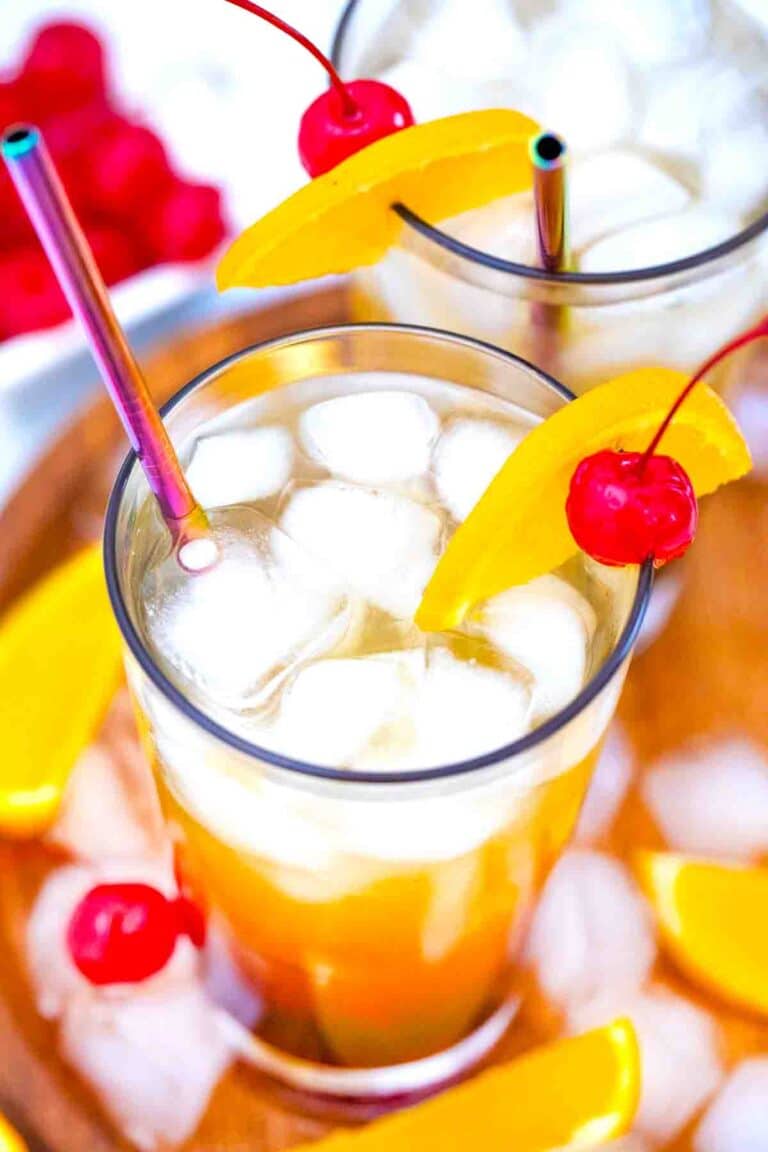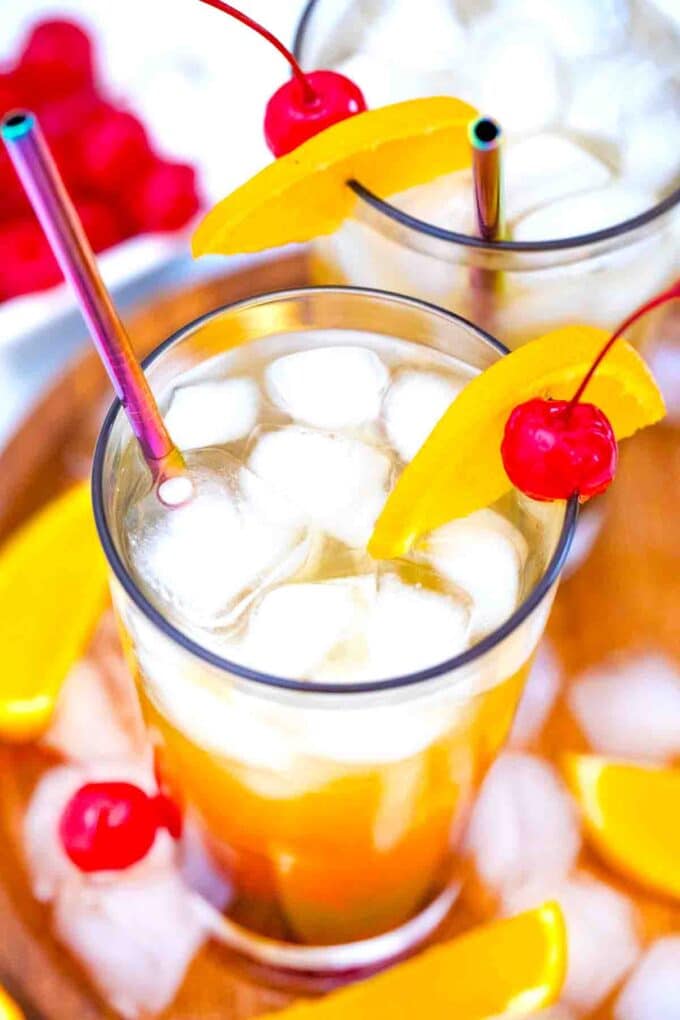 What are the nutrition facts in this recipe?
Most people who are drinking an adult beverage do not stop to consider the nutrition facts. But with this recipe, each drink has 190 calories, 2 grams fat, and 1 gram saturated fat. It also contains 7 mg sodium, 18 grams sugar, and 25 grams carbohydrates. But it also gives you 1 mg iron, 225 mg potassium, 229 units vitamin A, 12 mg calcium, and 67 mg vitamin C.
How to store leftovers:
Store: If you make too much and end up with leftovers, which rarely happens, you can store your tequila sunrise in a pitcher with a lid or even a glass jar like a mason jar. It will stay fresh in the fridge for about four or five days.

Freeze: Storing your excess tequila sunrise leftovers in the freezer is also a fine idea. If the amount of alcohol is outweighed by the other beverages in the mixture, it will freeze nicely. You can keep it in a freezer bag for easy storage for up to 90 days.

Thaw: When ready to serve, thaw your tequila sunrise cocktail in the refrigerator overnight or serve it as a slushie, which is perfect as a summer drink out at the pool or a backyard barbecue. It may not have that sunrise effect but it will be delicious anyway.
More homemade drinks to try:
Recipe tips:
Using a cocktail shaker is not recommended if you want the full sunrise effect color combination.
The orange juice and grenadine are very sweet. Try using extra tangy orange juice. Or, if you want it to be less sweet, use grapefruit juice instead of orange juice.

If the grenadine syrup is just too sweet for you, the drink can also be made with just tequila and orange juice.
Freshly squeezed juice is best but store-bought will work too.

Of course, you can shorten prep time by using premade juice.

Feel free to use any kind of glass you like such as a Collins glass, which is also a tall glass used to make the drink, Tom Collins.

Make this drink non-alcoholic by using club soda or seltzer water instead of tequila.

No grenadine? That is okay too. Just use red food dye or even some red powdered drink.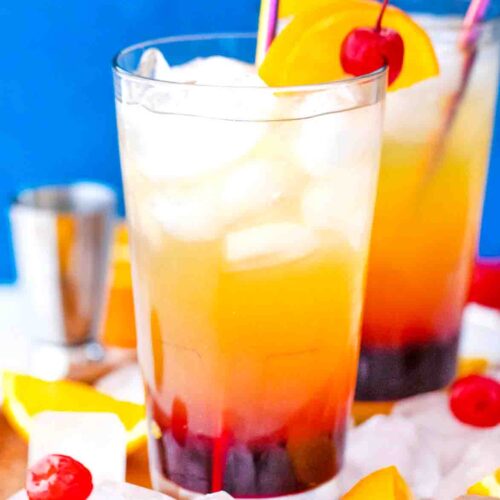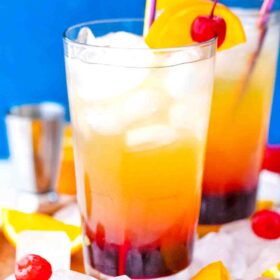 Tequila Sunrise
Tequila Sunrise is a popular cocktail that is perfect for summer parties, made with orange juice, tequila, and grenadine syrup.
Save
Share
Print
Pin
Rate
Ingredients
1

cup

ice

1

oz.

tequila

4

oz.

orange juice

(or grapefruit juice for tequila sunset)

1

oz.

grenadine
Garnish:
Orange slices

Maraschino cherries
Instructions
To a serving glass add the ice, tequila, and orange juice.

Or for best results, add these ingredients to a cocktail shaker and shake to combine, and after that pour into a serving glass.

Add the grenadine, garnish with a Maraschino cherry and orange slice, and serve.

Double or triple the recipe, as needed. Serve.
Nutrition
Calories:
193
kcal
|
Carbohydrates:
31
g
|
Protein:
1
g
|
Fat:
0.2
g
|
Saturated Fat:
0.03
g
|
Polyunsaturated Fat:
0.1
g
|
Monounsaturated Fat:
0.04
g
|
Sodium:
21
mg
|
Potassium:
235
mg
|
Fiber:
0.2
g
|
Sugar:
23
g
|
Vitamin A:
227
IU
|
Vitamin C:
57
mg
|
Calcium:
21
mg
|
Iron:
0.3
mg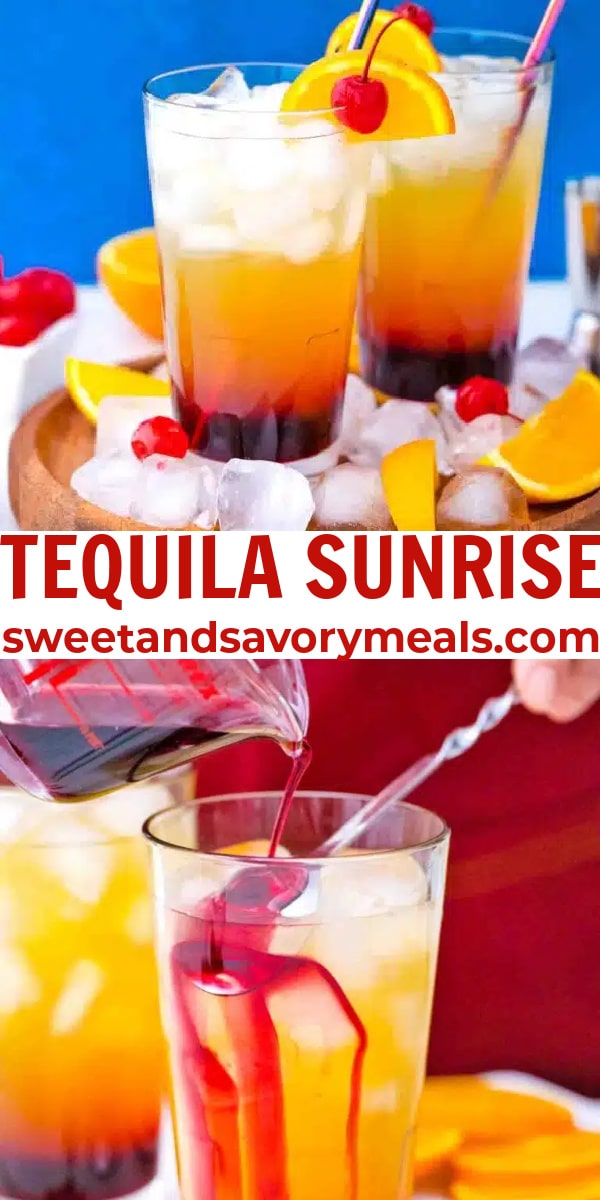 More recipes you might love