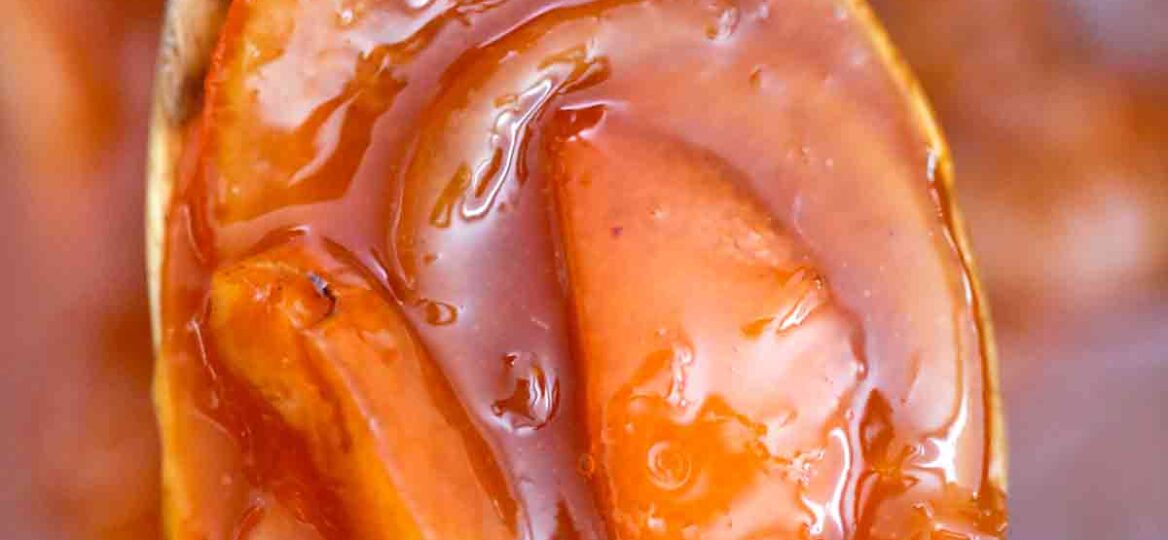 Orange Marmalade Recipe
Orange Marmalade has a sweet and tart, but slightly bitter taste that goes great on bread, desserts, or even stirred into your dinner meat. The lemon and orange mixture with sugar and extracts makes each flavor pop no matter what you use it for. If this is your first time, don't worry. It is super easy and only uses a few ingredients.
If you really like that orange flavor, try our recipe for Orange Sauce made with brown sugar, soy sauce, and orange juice. You may also enjoy one of our flavorful recipes like Instant Pot Orange Chicken made with white wine or this Cranberry Orange Chicken with balsamic vinegar and honey.
This homemade orange marmalade recipe makes about three quarts, which should fill about one dozen 8-ounce jars. Feel free to reduce or increase the recipe as needed.
Your family will love the citrus flavors of the sweet oranges and tangy lemons and you will love how easy it is to prepare. This recipe takes under one hour to make, and it can be used as a fun hostess gift during the holidays.
Ingredients needed:
There are only a handful of ingredients in this easy orange marmalade recipe, but we listed them here for easy reference. Scroll down to the bottom of the page to find our step-by-step instructions and exact measurements.
Large seedless oranges: Scrubbed clean.
Lemons: Also scrubbed clean.
Granulated sugar: Or you can use preserving sugar.

Extracts: We used orange and vanilla.
Water: We used 7 cups water.
How do you make orange marmalade?
Prepare: First, cut the oranges and lemons in half longways and then into extremely thin slices. Make sure you get rid of any seeds.

Pot: Next, put all the lemon and orange slices, orange and lemon juice, and small pieces into a large pot.
Water bath: Then, add water and bring it to a boil over high heat, stirring often as the mixture boils. Remove from heat and stir in your sugar until it dissolves. Cover, and let it sit in the water bath overnight.

Simmer: The next day, bring it back to a boil. Reduce the heat to low and simmer it uncovered for two hours. Then turn it to medium and let it boil for another 30 minutes, stirring often.

Skim: During this time, be sure to scoop any foam off the top as it forms, continuing to cook until it reaches 220 degrees F on your candy thermometer.

Test: After, check for readiness by putting a small amount onto a cold plate and put it in the fridge until it is cool. If it is firm, but not hard, it is done. If it is hard, add more water. At this time, it should be an orange-gold color. Stir in the extracts now.

Hot jars: Last, pour the marmalade into sterilized hot mason jars and wipe them off with a damp paper towel. Seal with the canning lids and chill for 24 to 48 hours until the pectin is set up.

Serve: You can serve this delicious marmalade on a slice of bread or toast after it sets. Freeze the rest or store until ready to use. It will stay good for a long time in a cool dark place like a cabinet or pantry.
Recipe variations:
Low sugar: For a lower sugar marmalade, try using a sugar substitute or baking mix that is half the sugar and half sugar substitute.

Sweeter: Alternatively, you can increase the amount of sugar to make sweet marmalade. Some people do not like the bitter taste that is natural in this recipe. You can add up to another cup of sugar if preferred.

Blood orange marmalade: Feel free to use other oranges in this recipe such as blood oranges. These are tarter than navel oranges.

Thicker: If you prefer thicker marmalade, add cornstarch slurry. Just mix four tablespoons of hot water with two tablespoons of cornstarch until it dissolves and then add it to your spread.
How to serve:
You can serve this sweet orange marmalade on toast or as a spread on a piece of crusty French bread. Or try one of our other serving suggestions:
This makes a delicious topping to any flavor of ice cream. Try it on our decadent blackberry or strawberry homemade ice creams.

Add a spoonful of this to yogurt for a fruity flavor.

You could also add a scoop of this to a smoothie like this avocado lime smoothie drink.

Marmalade is also splendid on top of brie with crackers.
Another way to enjoy the flavor is to add it to one of your favorite meat recipes like sticky orange beef or Caribbean pot roast.
You can even use this orange mixture to make stuffed toast or tarts.
Frequently Asked Questions
What is the difference between orange jam, jelly, and marmalade?
Homemade jam recipes call for whole or cut fruit and cooked to a pulp with sugar. It makes a thick and fruity spread. Jelly recipes call for strained, cooked fruit and uses the juice of the fruit to make a clear and semi-thick spread.
Marmalade is made with citrus fruits including lemons and whole oranges. They often include cut or whole Seville oranges to make a thick chunky spread with a tangy flavor. The main difference is that marmalade is the only one that uses the fruit's peels.
What are marmalade oranges called?
Marmalade oranges are called bitter Seville oranges but are also known as sour oranges too. They originate in southeastern Asia and is thought to be a mix between the mandarin orange and the pomelo.
Today, you can find them in many areas including the Bahamas, Spain, and Florida.
Is marmalade healthier than jam?
Just one tablespoon of marmalade is a good source of your daily value of vitamin C and calcium. It has no fat and only has 49 calories and 13 grams of carbs. Jam on the other hand, has 63 calories and 16 grams of carbs as well as vitamin C, calcium, and riboflavin.
How to store leftovers:
Store: Orange marmalade can be stored in the fridge for up to one month. If you use the canning process, it will be safe for up to six months in a sterilized mason jar at room temperature or up to a month in the fridge once opened.
Freeze: You could also store your extra marmalade in the freezer where it will stay good for up to one year.

Thaw: For best results, thaw overnight in the fridge before serving.
More jams and sauces:
Cooking tips:
You will need a candy thermometer for this recipe. Do not guess at the temperature.

Our easy recipe is made with regular seedless oranges, but you could substitute Seville oranges. However, these can be difficult to find in the grocery stores any time of the year.

This marmalade takes approximately 24 to 48 hours to set so if it is still runny after it cools, check it again in the next day or two.

To check for readiness, spoon a small amount of hot marmalade onto a chilled plate and or put it on a small plate in your freezer to chill. If it wrinkles a bit when you slide a spoon or finger across it, then it should be done. If it does not, keep boiling it until it reaches 220 degrees Fahrenheit.

Use kitchen shears or a vegetable peeler to cut orange peels into thin strips or shreds for smoother spread.
Some jelly and jam recipes call for pectin but this one does not need it. The pectin is naturally concentrated in the white part under the skin, which is called the pith. When you let it soak overnight, it draws the natural pectin out into the orange juice that makes it so delicious.

If you do not have a boiling water canner for canning, you can use a big stainless-steel pot with a jar rack instead. Just add enough cups of water to submerge the jars about an inch under the surface.
Orange Marmalade Recipe
Ingredients
5

large seedless oranges

about 3 1/2 - 4 pounds, scrubbed clean

2

lemons

about 1/2 pound, scrubbed clean

8

cups

water

8

cups

white granulated sugar

1/2

teaspoon

orange extract

1/2

teaspoon

vanilla extract
Instructions
Wash the fruits and cut in half crosswise, then into very thin half-moon slices.

Discard any seeds and add the slices to a large stainless steel pot.

Add water and bring the mixture to a boil, stirring often. Boil for 2-3 minutes.

Remove the mixture from the heat and stir in the sugar until it dissolves. Cover, and let it stand overnight at room temperature.

The next day, bring the mixture back to a boil over medium heat. Reduce heat to low and simmer uncovered for 2 1/2 hours, stirring from time to time.

Skim off any foam that forms on the top.

Cook the marmalade until it reaches 220 degrees. Test if the marmalade is ready, by placing a small amount on a plate and refrigerate it until it's cool, if it's neither runny nor hard, it's ready.

If the marmalade is too runny, continue cooking it, and if it's hard, add a bit more water.

When done cooking, stir in the extracts.

Pour the marmalade into clean hot mason jars and seal with the lids.

Chill in the refrigerator for 24-48 hours before using.
Deliciousness to your inbox
Enjoy weekly hand picked recipes and recommendations