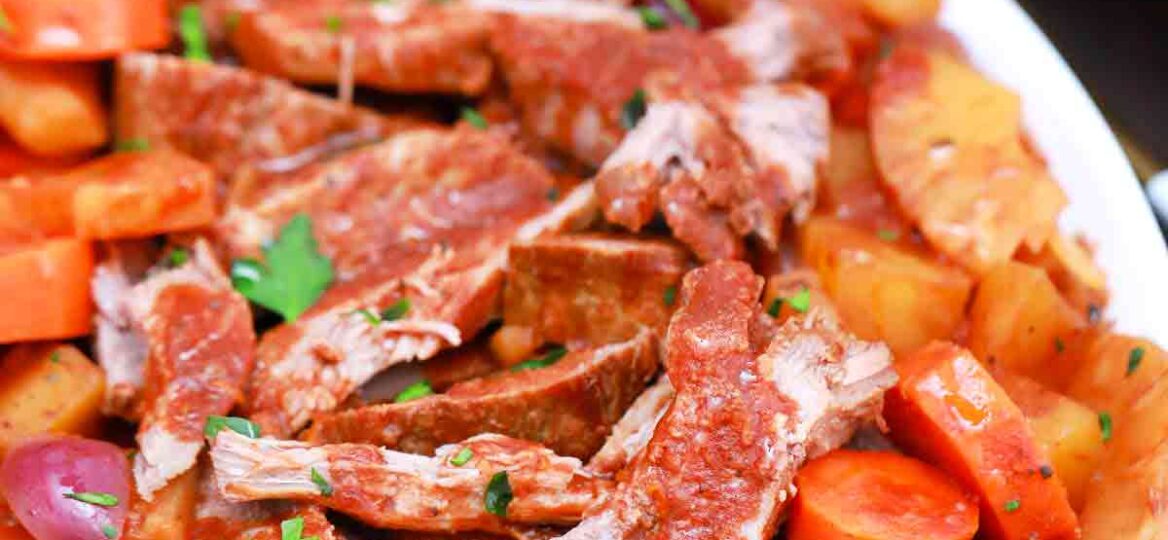 Slow Cooker Caribbean Pot Roast [Video]
Slow Cooker Caribbean Pot Roast is cooked to perfection for hours with root vegetables, pineapple, cocoa, orange zest, and spices. A bold and spicy tropical twist to the classic beef roast!
For more dishes with amazing tropical flavors, don't miss our Kalua Pork, Hawaiian Chicken, and Pineapple Pork Loin!
Crockpot Caribbean Pot Roast
Slow Cooker Caribbean Pot Roast is everything you love about pot roast – melt-in-your-mouth beef, thick gravy, and tender veggies – with the flavor and spices dialed up to 100!
This recipe takes inspiration from the tropical flavors of the Caribbean. The beef and sweet potatoes are slow-cooked in pineapple juice, orange zest, and warm tropical spices like cinnamon, chili, and cumin. Finally, a teaspoon of cocoa gives the dish such an earthy and complex profile. You're going to enjoy the bold layers of flavor in this one!
What is a Caribbean pot roast?
It's super tender beef and vegetables slow-cooked in tropical spices like cumin and cinnamon, citrus, and cocoa. Like other Caribbean dishes like jerk chicken, it's a melting pot of flavors – bold, complex, earthy, rich, and spicy all at once!
How to make Slow Cooker Caribbean Pot roast?
Sear. Salt your meat and generously sprinkle it with pepper. Brown it on all sides until a nice crust is formed.
Assemble. Arrange the veggies at the bottom of your crockpot, followed by the seared meat on top. Next, add all other ingredients and cover.
Cook. Set on low for 6 to 8 hrs., or on high for 4 to 5 hrs. until the meat and veggies are tender.
Serve. Slice or shred the beef. Enjoy immediately with the veggies, gravy, and your preferred sides.
Recipe variations and substitutions:
Use other cuts of beef: Can't find chuck? Use brisket, arm roast, chuck eye, shoulder steak, cross-rib roast, or arm steak instead.
Include more root vegetables: Try adding regular potatoes, turnips, radishes, and rutabaga.
Mild: If you like yours a bit milder in terms of spice, reduce the amounts of chili powder, coriander, and cumin.
Do you have to brown a pot roast before slow cooking?
No, you can skip that part and you will still have a really tender result. However, we cannot recommend it enough.
Not only does that seared brown crust give the dish a beautiful color, but it also seals in moisture while adding tons of flavor to the meat. Those few minutes of searing the meat can mean the difference between a roast that tastes okay, to one that will leave everyone raving!
More Slow Cooker recipes to try:
Which roast is best for the slow cooker?
You want to use cuts that get more tender the longer you cook them. We love the chuck in particular, but brisket, shoulder steak, and chuck eye are also excellent options. Try to get a cut with as much marbling as possible.
How to make a Caribbean pot roast in the instant pot?
Sear the seasoned beef on all sides first. Then, assemble all the ingredients in the IP as the recipe directs. Cook on High pressure for 75 to 100 minutes, depending on how big your meat is, with a 15-min natural release. Serve as desired.
When is pot roast safe to eat?
It should be no less than 145 degrees inside, with at least 3 minutes resting time.
What to serve with slow cooker Caribbean pot roast?
You can definitely serve it with your favorite sides like classic mashed potatoes and a nice salad, but we like going all out with the tropical theme for this one!
For instance, we love it with sweet potato fries and roasted or mashed sweet potatoes. Coconut rice is a must! You should also try it with pear salad or pomegranate salad. As for dessert, a side of Pineapple Cake is absolutely perfect!
More homemade pot roast recipes to try:
How to store leftovers?
Transfer the cooled leftovers to an air-tight container, and cover the meat and veggies with all the remaining gravy. It will stay good in the fridge for up to a week. To reheat, simply microwave until hot.
Recipe tips:
For a thicker gravy, add some cornstarch slurry to the sauce and reduce for a few minutes. You can also strain it first before reducing it for a smoother sauce.
If your beef is too big to fit the pot, feel free to slice it into half or thirds.
Look for a really well-marbled chuck. Marbling is key to tender meat!
Deliciousness to your inbox
Enjoy weekly hand picked recipes and recommendations