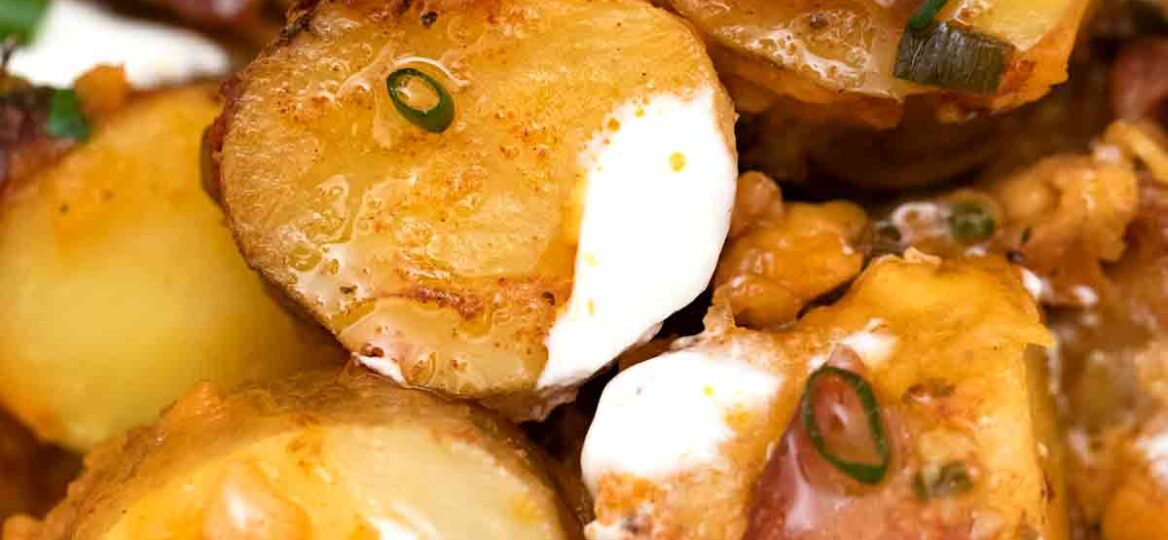 Loaded Slow Cooker Potatoes [Video]
Loaded Slow Cooker Potatoes just melt in your mouth! They are cheesy and bursting with bacon, garlic, and Italian seasonings. Takes almost no effort to make, but guaranteed to be your new favorite side dish.
Can't get enough potatoes? Try these crispy, golden Hash Browns recipe from scratch! If you've got kids, learning How to Make Homemade Tater Tots is a must. You can also switch up your usual fries with my Taco Fries and Fire Grilled Chicken!
Loaded Slow Cooker Potatoes with Bacon
Loaded Slow Cooker Potatoes are one of those dishes everyone instantly loves. It has all the elements of the ultimate comfort food – it's cheesy, topped with crunchy bacon, and has fluffy taters! The seasoning is flavorful with a hint of herbs, and the topping is cheesy and creamy.
The shredded cheddar cheese and sour cream make this dish the ultimate comfort food. So creamy, cheesy, and delicious, that you cannot get enough of it.
We're using the slow cooker for this one so you won't have a mountain of dishes to wash. If you're making it for a party or the holidays, just set the timer and forget about it! You can do other things while the crockpot takes care of the side dish. This is also a beginner-friendly recipe and such a great way to get the kids involved in the kitchen.
What are loaded potatoes?
These are usually seasoned and baked until the taters are tender. The "loaded" part refers to all the toppings you put on top of the baked potato. Classic toppings are cheese, bacon bits, sour cream, and chives.
How to make Loaded Slow Cooker Potatoes?
Once you've got your ingredients prepped, it only takes a few minutes to put this recipe together:
Use foil to cover the pot, then coat with a non-stick spray.
Next, add half of the taters, bacon, and cheese. Then, add the spices, garlic, and seasonings.
Repeat with the remaining ingredients.
Fold the foil firmly around the ingredients.
Set it on low. Slow cook for around three hours.
Top with sour cream, chopped green onions, and serve.
Recipe substitutions and variations:
Add cream of mushroom: Pour in some cream of mushroom or cream of potato.
Use other seasonings: Instead of Italian seasoning, go with ranch seasoning, or cajun seasoning.
Make it spicier: Top with sliced jalapenos for a spicier kick. Also, you can increase the cayenne pepper.
To make it vegan: Use vegan bacon and vegan cheese, and omit the sour cream.
Make it healthier: Use plain Greek yogurt for a lighter alternative to sour cream.
More toppings: Top with grilled chicken, shredded chicken, or corn.
Tex Mex version: Use taco seasoning and shredded Mexican cheese mix, then top with taco-seasoned beef.
Swap the cheeses: Experiment with cheese combinations – try pepper jack, Monterey jack, sharp or smoked cheddar, and mozzarella.
Instant Pot: If you want to try making this side dish in the pressure cooker, try my Instant Pot version of it.
How long do I slow cook loaded potatoes?
On low, it usually takes around 2-3 hours. Note that every slow cooker works differently. Therefore, check it around the 2-hour mark to see if it's done to your liking. Then, adjust accordingly.
Should I smash the potatoes or use a handheld mixer?
No need! Just cut the little taters into quarters or half and they're ready. But if you prefer that texture, go ahead.
If you want to make a mashed version with similar flavors, my Crack Mashed Potatoes are the way to go!
Best potatoes to use:
Use baby potatoes because they cook evenly and give you bite-sized pieces of goodness. As for the specific variety, any type will do.
I also like using red baby potatoes because they add such a nice color to the dish. Their high starch content also means you'll end up with fluffy results, not mushy.
More slow cooker recipes:
How to store leftovers?
First, make sure the dish is completely cool before storing. Then, use an airtight container to refrigerate. Keep leftovers in the fridge for up to two days, and in the freezer for up to a month.
To reheat, use a microwave or bake them for a few minutes to crisp them up, or until the cheese on top is melting.
Recipe Tips:
No foil? Use a slow cooker liner.
Cut your taters into larger chunks around 1 ¼ inch so they hold up to slow cooking.
Also, if you're in a hurry, feel free to use those ready-made bacon pieces used for salad toppings.
Try my method on how to cook bacon in the oven for a mess-free alternative to frying them.
Don't use any water in the recipe.
To cut down the cooking time, you may microwave the taters for 5 minutes before slow cooking.
In addition, try slicing the potatoes into similar sizes so they cook evenly.