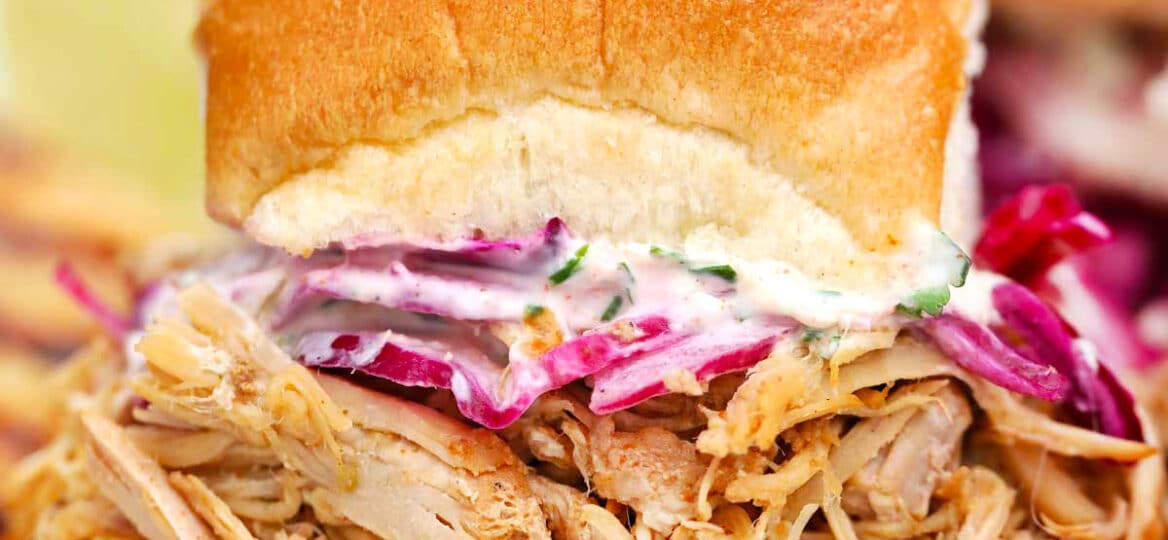 Slow Cooker Pork Carnitas Sliders [Video]
Slow Cooker Pork Carnitas Sliders are braised for 4-8 hours until fall-apart tender. Shredded, and topped with crunchy slaw, spicy lime crema, and served with grilled pineapple, it's a flavor explosion perfect for any celebration! This delicious blog post has been sponsored by AdapTable Meals, all opinions are mine.
Some great sides for these sliders are my oven-roasted Crispy Potato Wedges or Baked Sweet Potato Fries for a lighter option. In keeping with the Mexican theme, consider serving my crispy, fluffy cinnamon-sugar Churros for dessert!
Pork Carnitas Recipe
Slow Cooker Pork Carnitas Sliders are my fresh makeover on the classic sandwiches. There's nothing like the intense, meaty flavors of pork braised on low for several hours.
The slow cooker allows me to achieve that without having to keep vigil over the pot. I can just throw in all the ingredients, set the timer, go about my day, and come home to amazingly tender and savory pork.
For best results and convenience I used AdapTable Meals Carnitas Pork Roast. I like that the roast is already pre-seasoned and all I have to do is cook it and brainstorm toppings and side dishes. #AdapT2Thrive
For this recipe, I went crazy with the toppings! The slaw adds freshness and crunch, while the Spicy Lime Crema ties everything together in a creamy, zesty way. The smoky, grilled pineapples just take everything to the next level.
These Slow Cooker Pork Carnitas Sliders are sure to be a hit at your next game day, office potluck, party, and other gatherings!
What are carnitas?
The term literally means "little meats." It's a traditional Mexican dish that's very similar to pulled pork.
The meat is simmered or braised in oil for several hours until incredibly tender. Then, it's shredded and served between tacos, burritos, sandwiches, and more.
What's the difference between barbacoa and carnitas?
Both carnitas and barbacoa are authentic Mexican recipes, but the first uses pork meat, and barbacoa typically uses lamb, beef, or goat.
In addition, carnitas are milder in flavor, while barbacoa is loaded with spices and dried chilies.
What goes into Slow Cooker Pork Carnitas Sliders:
For the carnitas themselves, I only use four very common ingredients: pork roast, an onion, beer, and pineapple juice. The high-fat content of the meat keeps it from drying out, while enzymes in the beer and pineapple break down the tough fibers to tenderize and infuse it with flavor at the same time.
Use any bun you prefer for the sliders. However, for the first time you make this recipe, I encourage you to make it exactly as indicated. This will allow you to taste all those beautiful flavors together, so you can play around with them next time.
How to make the best Slow Cooker Pork Carnitas:
Prepare the carnitas. First, place meat, onion, beer, and pineapple juice inside the slow cooker. Turn on low for eight hours, or on high for four hours. Shred in the same pot. Afterward, sear to crisp up the exterior.
Prepare the slaw. Next, combine all the slaw ingredients. Set aside,
Prepare the spicy lime crema. Use a food processor to combine all spicy lime crema ingredients. Set aside.
Prepare the grilled pineapple. Brush pineapples with olive oil, then toss in brown sugar. Grill and set aside.
Assemble. Top the sliders with pork, and slaw, then drizzle with the crema. You may serve the grilled pineapples on the side along with wedges of lime.
Can you use pork chops for carnitas?
Sure, if it's the only thing you have since the slow cooker is excellent at tenderizing even leaner cuts like pork chops. However, I highly suggest using a loin or shoulder for this recipe. I love the way the fat renders down and essentially make the meat into a succulent dish.
Can you make them ahead?
Yes. The juicy meat absorbs even more flavor after a day or two. That's what makes them so great for big gatherings, or for using in different dishes throughout the week.
What to serve with?
Pork carnitas are savory, meaty, and filling. I like to balance out with light and fresh side dishes such as my Cucumber Salad or Fruit Salad with Honey Lime Dressing.
A super fun way to serve this recipe is like a buffet— along with the meat, put out bowls of Pico de Gallo, sour cream, cilantro, shredded lettuce, slaw, spicy lime crema, grilled pineapples, and cheese.
Let guests choose between tacos, tortillas, and buns to make their own creation! Don't forget the refreshing Fruity Mojitos!
More Slow Cooker Recipes:
Recipe Tips:
The pork is done if it takes minimal effort to shred. You may simmer for longer if it's not shredding easily yet.

Also, you can use this basic carnitas recipe for tacos, burritos, rice toppers, and more.

Use dark, malty beer for a deeper flavor.
Deliciousness to your inbox
Enjoy weekly hand picked recipes and recommendations