Oven Roasted Sweet Potato Fries
Oven Roasted Sweet Potato Fries are crispy and savory! With proper technique, you can have this satisfying side dish ready in no time! Enjoy it with the whole family!
I have a lot of recipes for sweet potatoes. Learn how to prepare cheesecake bars, pies, and bread in these posts. But if you want to turn it into something savory, then, read on.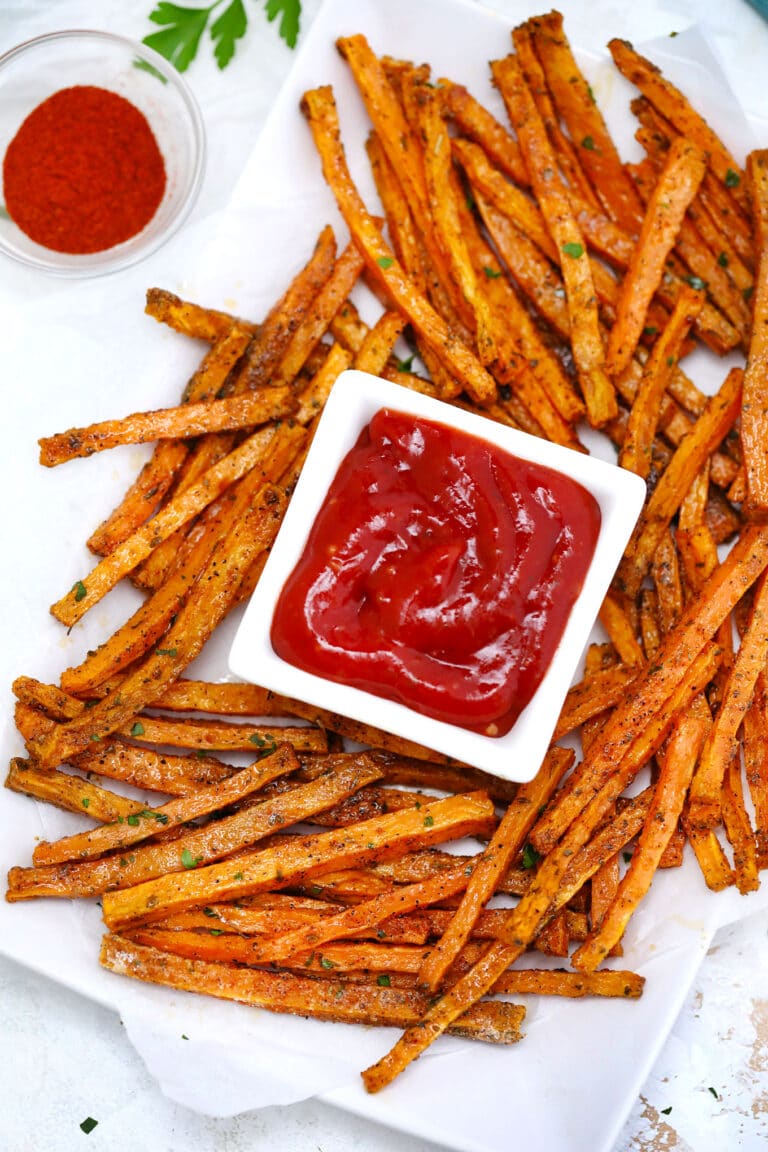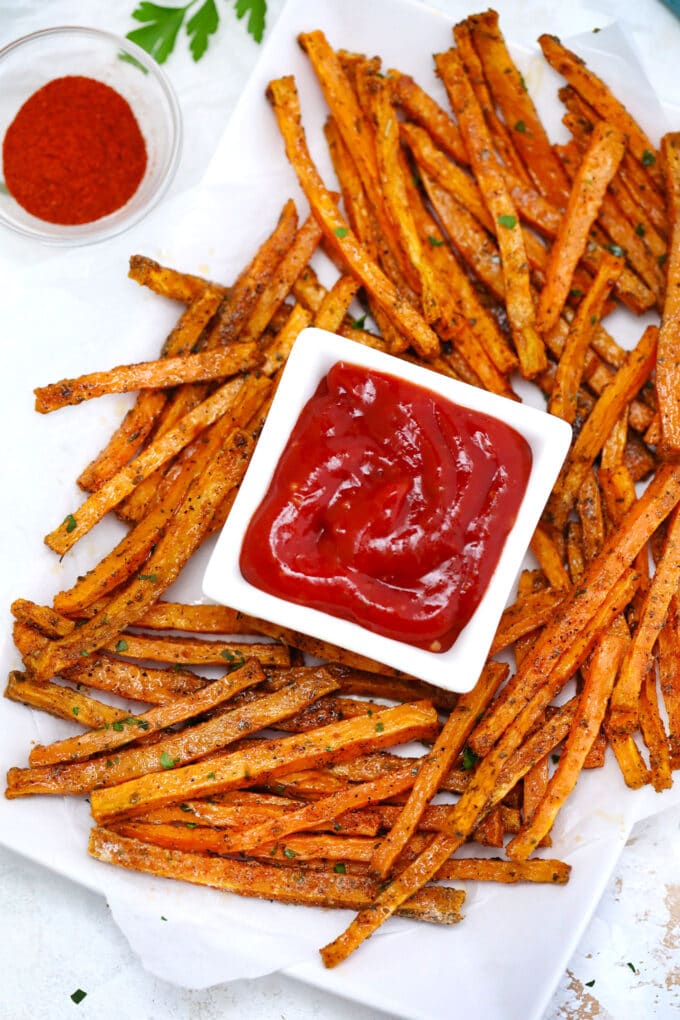 Baked Sweet Potato Fries Recipe
Baked Sweet Potato Fries are flavorful with a texture that is too additive to pass up. Kids and adults alike devour batches of this side dish, so I always remind myself to prepare extra every time.
The natural sweetness of the vegetable pairs well with the spices. And that's one thing about this vegetable that makes it so versatile.
You can easily play up the innate flavor with spices. And you can have it creamy in some recipes or crispy in others, just like in this one!
Another bonus is that this dish is a healthy version of the typical French fries that we are all familiar with. Since the spuds will be roasted instead of deep-fried, then, less oil is used. Healthy and tasty, this recipe is win-win!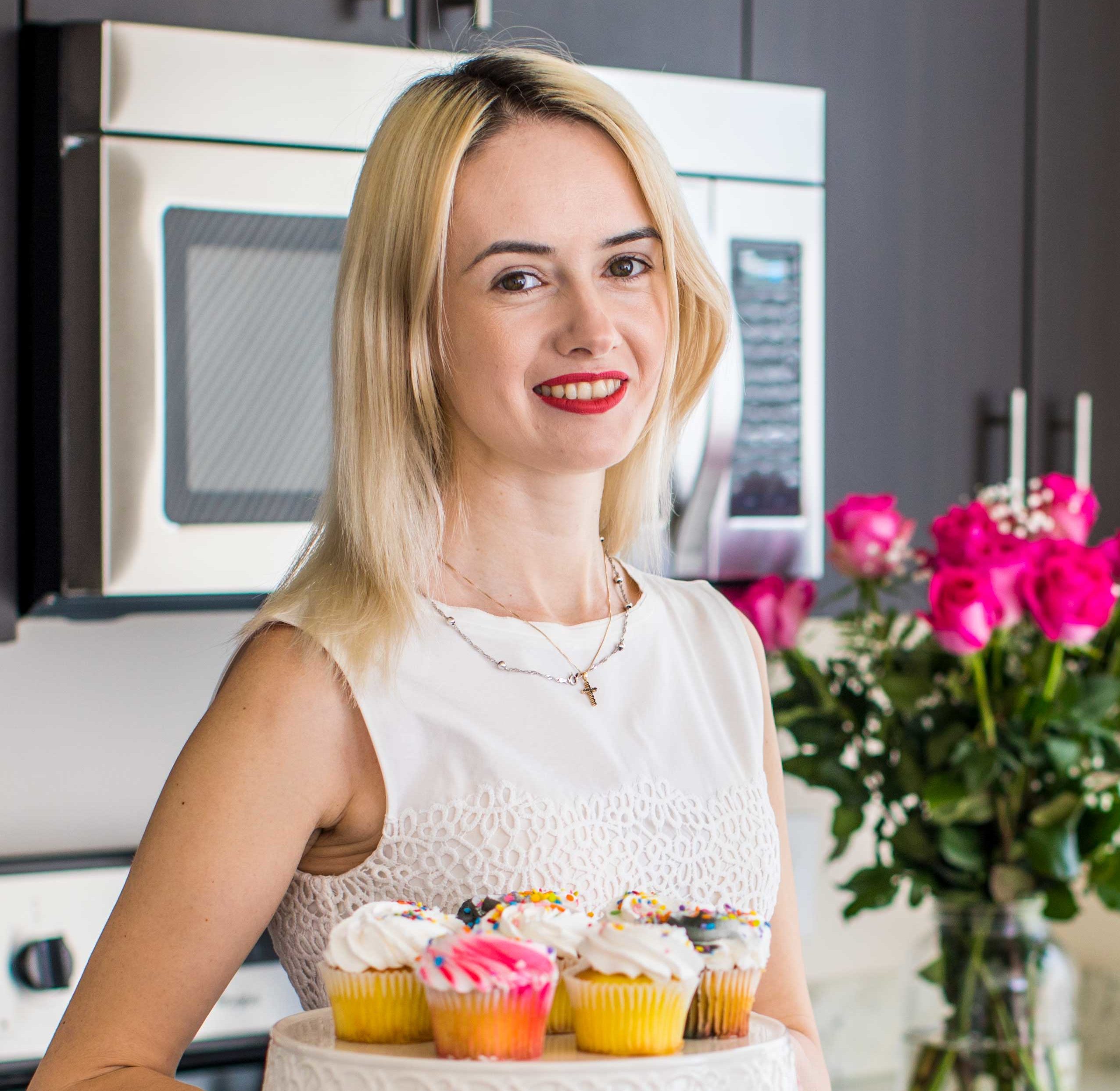 Follow us on Pinterest for more delicious recipes!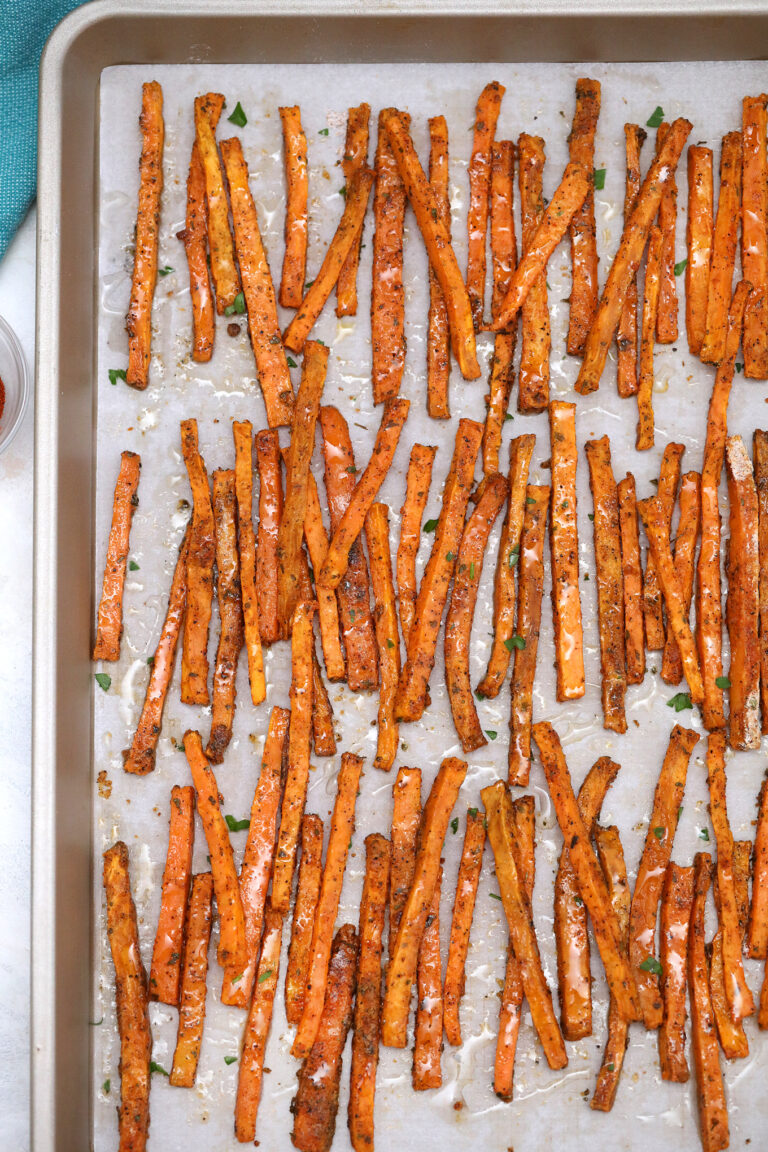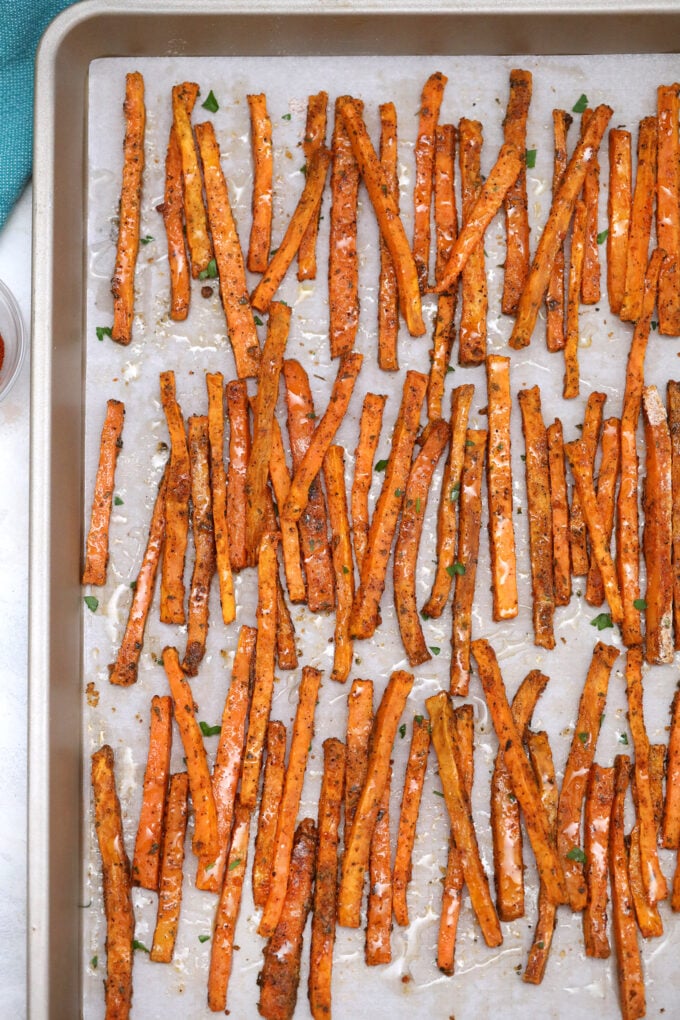 How to make the best Oven Roasted Sweet Potato Fries?
Prep the spuds: Cut the spuds evenly into 1/4-inch wide strips. Then, soak the strips in cold water for at least half an hour.
Prep the oven: Set it to 425 deg F and be ready with your paper-lined baking sheet.
Coat: Drain and dry the strips. Toss them in olive oil. In another bowl, combine all the other ingredients except for the salt. Then, sprinkle this over the oiled spuds until the starch absorbs any excess olive oil.
Roast: Arrange the strips into a single layer on the baking sheet. Put the baking sheet in the preheated oven and cook for 15 minutes. Then, flip each strip to cook the other side. Cook for 15 minutes more until brown and crispy.
Serve: Let the fries rest for a few more minutes, season with salt, and then, serve while still warm.
What is the secret for crispy sweet potato fries:
The recipe described in this post is designed to give the crispiest fries due to the following:
Removing the starch: Soaking removes as much starch as possible in the spuds that can make them soggy if you skip this process.
Cooking with cornstarch: This removes the excess fat, leaving the strips just greased and not soaked. And just in any other fried food, this adds crisp.
Adding salt in the end: If you put it before cooking, it can draw out moisture which will make the result soggy. Hence, add it towards the end just right before you feast on them.
Now, they are no longer secrets! Go ahead and try this recipe.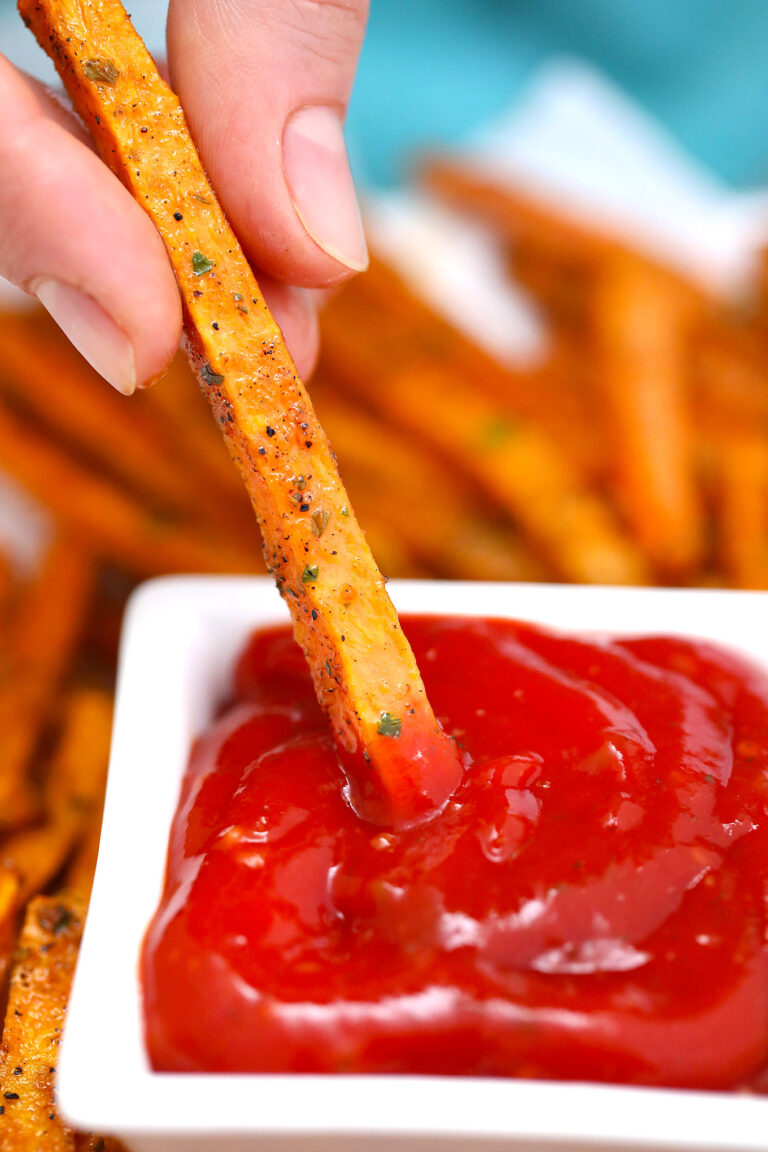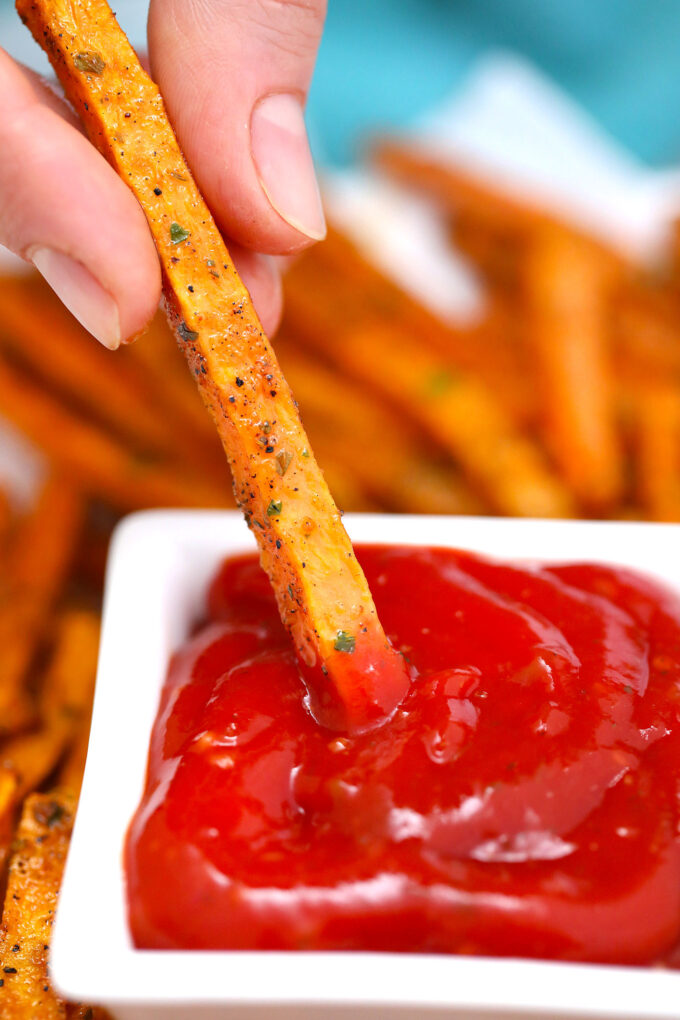 Recipe Variations:
Here are some suggestions on how you can more oomph to this dish:
Add parmesan: Do this towards the last few minutes of cooking or add any other kind of cheese if you like.
Use other veggies: Follow this recipe but adjust the cooking time on carrots, yams, the regular spuds, or yucca root. They would all taste amazing!
Customize the seasonings: Feel free to leave out the smoked paprika or add more dried herbs and spices that you like. Or, use other mixes entirely like the taco seasoning recipe that I have on the blog.
Can you make them in advance?
As in any type of fries, this will get soggy later on if left out for too long. So, it is best to not store them cooked and serve them freshly roasted every time.
But to make ahead, you can prepare the spuds in advance. Do this by cutting into thin strips, boiling them for 5 minutes, drain and flash-freeze them for an hour.
Transfer into freezer bags and freeze until you want to serve them. There is no need to thaw, you can simply season them after freezing as usual, then, roast them in the oven.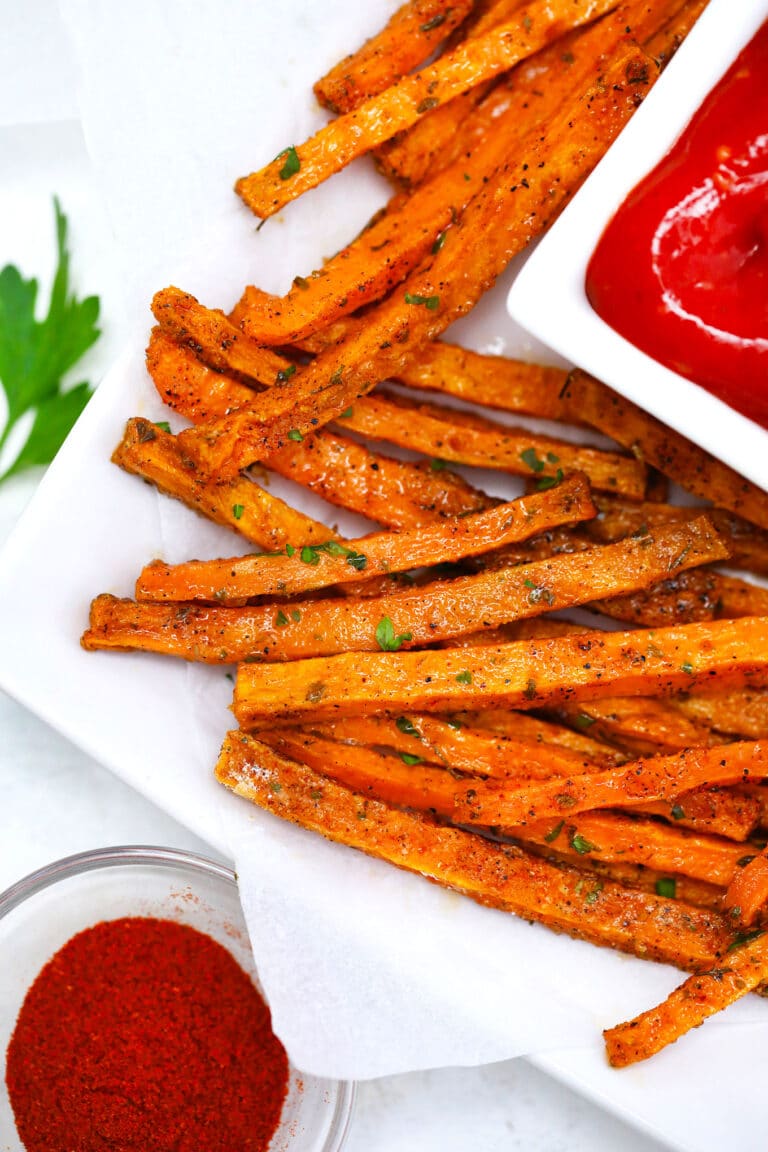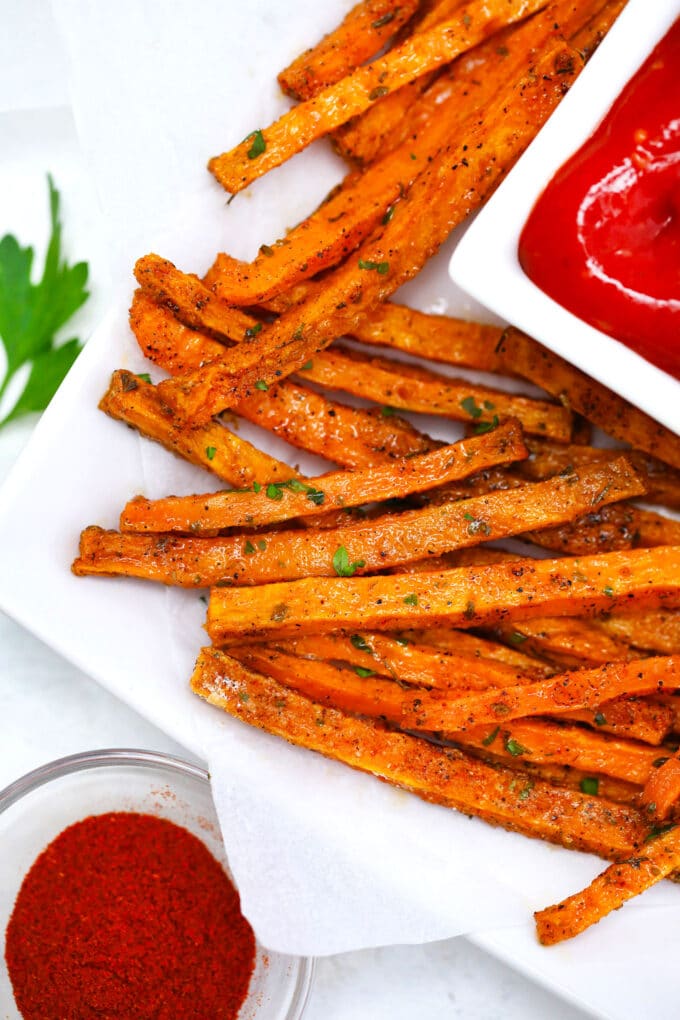 Recipe Tips:
Serve it with your favorite sandwiches, hotdogs, and burgers.
Cut the strips thinner to make them crispier.
Put the baking sheet on the top rack of the oven for a crisper result. If you are using multiple baking sheets, switch them up halfway.
Save Recipe
Oven Roasted Sweet Potato Fries
Oven Roasted Sweet Potato Fries are crispy and savory! With proper technique, you can have this satisfying side dish ready in no time!
Author: Catalina Castravet
Serves: 6 as a side dish
Prep time:

1

hour

15

minutes
Cook time:

30

minutes
Total time:

1

hr

45

mins
Nutrition information
Calories: 152 Carbohydrates: 26 Protein: 2 Fat: 5 Saturated Fat: 1 Sodium: 63 Potassium: 388 Fiber: 4 Sugar: 5 Vitamin A: 16170 Vitamin C: 3 Calcium: 34 Iron: 1
Save Recipe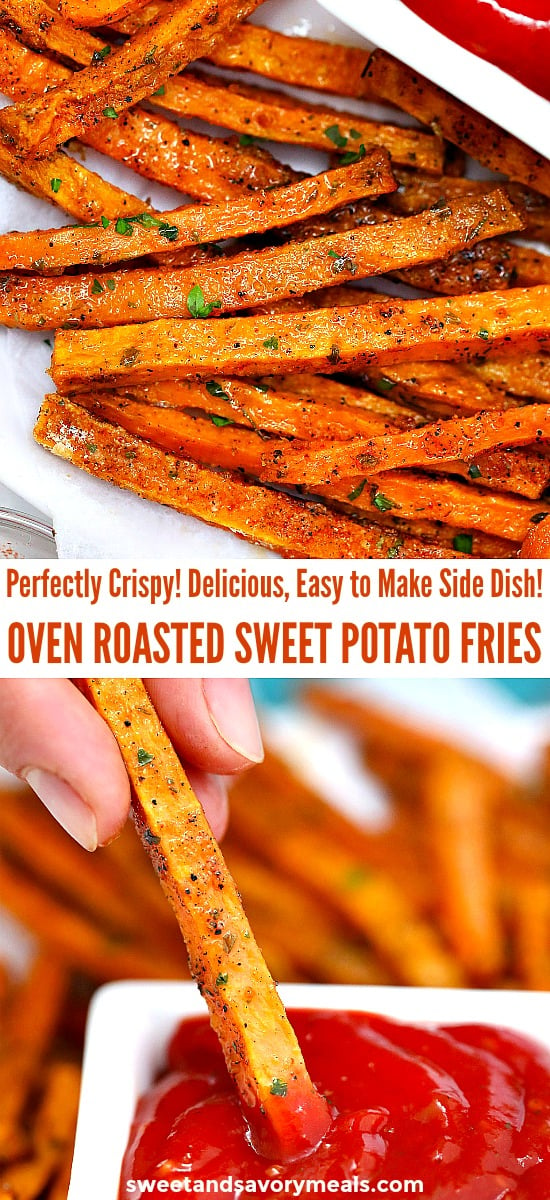 More recipes you might love
Categories: