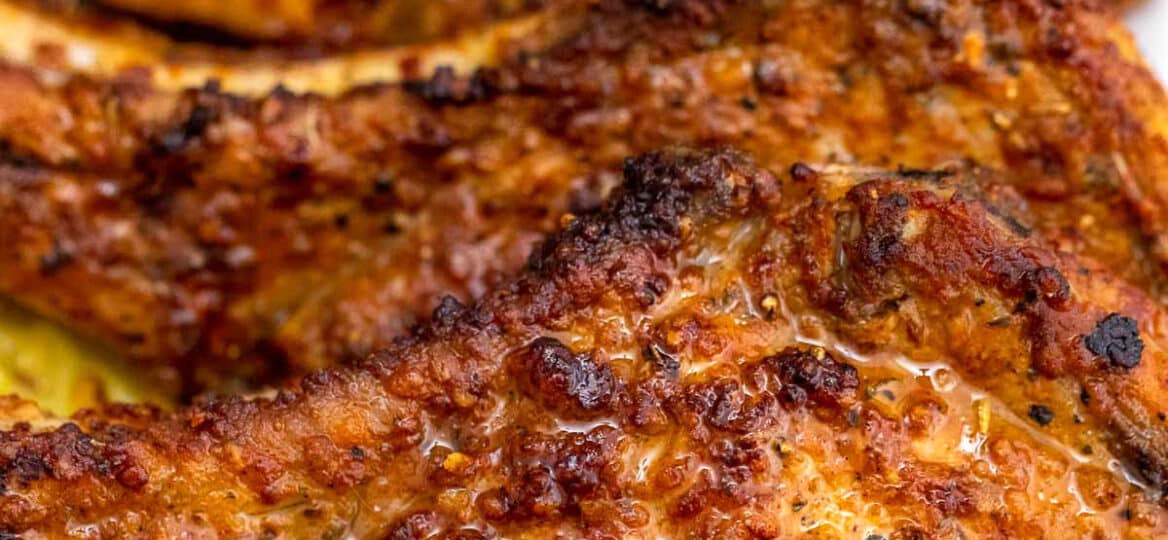 Air Fryer Pork Chops Recipe [Video]
Air Fryer Pork Chops are one of the crispiest and juiciest dishes you can make. These tender, bone-in chops with a golden Parmesan crust are ready in less than 30 minutes! A very easy recipe made with simple and budget-friendly ingredients, and perfect for busy weeknights.
This main course is a perfect pair to just about any side dish, but you want something that's equally fast yet flavorful. My Roasted Asparagus and Baked Sweet Potatoes all need less than 30 minutes of cook time with very little prep work – which means they're ready when the meat is ready! However, if you don't have an Air Fryer, try our Crispy Baked Pork Chops.
This great recipe totally changed the way I cook pork chops. Over the years, I've eaten some that were so tough, they were almost impossible to chew on. Actually, the worst was the greasy versions, which were loaded with butter and oil to cover up the dryness.
Also, I hate being splattered with hot oil to achieve that golden-brown perfection. Hence, without the air fryer, I may have sworn off this dish forever!
In addition, this recipe doesn't need fancy sauces or heavy breading to taste delicious. Therefore, I let the meat shine by using only freshly grated Parmesan and seasonings to highlight the meat. Actually, the best part is that you only need two tablespoons of olive oil versus the cupfuls you need for traditional deep-frying.
Healthier, chock-full of flavor, and incredibly moist with a nice crunch – this amazing Air Fryer recipe will soon become part of your weekly menu!
Follow us on Pinterest for more delicious recipes!
Ingredients Needed:
Bone-in pork chops – for these to turn out tender and juicy, make sure to use thick-cut meat. Actually, looks for cuts that are one inch thick. Hence, if you are using 1/2 inches thick cuts, the cooking time may be less. However, you can also use boneless chops if desired.
Extra virgin olive oil
Freshly grated Parmesan – absolutely delicious in this recipe!
Kosher salt
Smoked paprika – I like the extra flavor that it adds, but regular will work as well.
Garlic powder
Onion powder
Ground mustard
Italian dried herbs
Freshly ground black pepper
How to Make Crispy Breaded Air Fryer Pork Chops Recipe?
Prepare. First, measure out and combine the seasonings. Also, don't forget to preheat the air fryer. After that, using paper towels pat dry the meat, and brush it with oil.
Coat. Next, generously coat the meat with the seasonings mixture, if needed press it down with your hands a bit to stick to the meat.
Cook. Afterward, place the meat in the air fryer basket and cook for 12 minutes. But, after 6 minutes flipping is necessary to ensure uniform cooking and crispiness.
Serve. Next, let the meat rest for 5 minutes and after that serve with your preferred sides.
Store: Finally, if you have leftovers, store them in a sealed container in the fridge for up to 3 days.
Reheat: Similarly, reheat these air fry them for 3-4 minutes or microwave.
Recipe Variations:
Skip the cheese: Actually, you can make these without the parmesan cheese in case you don't have any on hand.
Spicier: Similarly, you can add extra ingredients to make them spicier. Therefore, add some red pot pepper flakes or ground cayenne pepper.
Ranch: Also, adding a tablespoon of Ranch seasoning into the mix is always a good idea.
Herbs: Also, if you like more flavor, mix in more dried herbs like basil, Italian seasoning, oregano, rosemary, and thyme.
Lemon: Make a lemon version of these, by adding lemon zest and rosemary to the dry rub mixture.
Asian: Skip the parmesan, add Panko bread crumbs, and a teaspoon of ground ginger.
Mexican: Add a tablespoon of Taco seasoning for some Spanish flavors.
New Orleans: Add some Southern charm to these with this Cajun Seasoning.
What to serve with juicy pork chops?
The magic of this air-fried pork chops recipe is that it already tastes delicious, but the simplicity of the seasonings means you can serve it with virtually any side dish.
Pair it with some greens for a well-rounded meal such as sautéed spinach, roasted broccoli, or your favorite salad. They're also great with spuds like baked potatoes or sweet potato mash. Grains and pasta are a winning combination too!
Here are a few of our recommendations:
More Dinner Recipes:
Frequently Asked Questions:
What are the best pork chops for the air fryer?
For this recipe, I use the bone-in version. The bones lock in the flavor and moisture of the meat. If you can find it, choose a well-marbled cut. Those bits of fat will protect the meat against drying out and will allow its natural flavors to take center stage.
Can you cook frozen chops in the Air Fryer?
Yes. Unlike the regular oven where heat concentrates on the surface of the food, the air fryer rapidly circulates hot air throughout the basket and around the food to heat it evenly. Making fried food this way also eliminates the risk of injuries through hot oil splatters.
Can you stack meat in the Air Fryer?
Avoid stacking meat in the Air Fryer, since the overlapping parts won't be able to come into contact with the hot air. Actually, stacking them will lead to uneven doneness and texture. Always arrange them in a single layer, with a bit of space between each piece.
What Temperature Do You Air Fry Pork Chops?
Cook the meat until the internal temperature reaches 145-160 degrees Fahrenheit. Then. let it rest for three minutes. Use a quick-read internal meat thermometer to make sure the meat is cooked through and safe to eat.
Can you make this recipe in the instant pot?
I love my Instant Pot as much as my Air Fryer, and it works so wonderfully for this type of recipe! Use thicker cuts that will hold up well to the internal pressure of the Instant Pot. In addition, keep in mind, that the end result won't be as crispy!
You can even use the Instant Pot to cook both your veggies and meat at the same time. But don't take my word for it. Try these pork recipes out for yourself!
Recipe Tips and Tricks:
Also, remember to use thicker cuts to keep the pork chops juicy and tender.
Similarly, you can use boneless pork chops here as well.
However, if you want a crunchier coating, you may add some Panko bread crumbs to the breading.

In addition, use freshly grated Parmesan cheese for maximum flavor.
You can follow the same recipe, and make Air Fryer chicken wings.
Lastly, check the internal temperature for doneness a few times while cooking to make sure it's cooked through.
I like cooking it to about 150-155 degrees F. because, during resting, the internal temperature will rise.
Air Fryer Pork Chops Recipe
Ingredients
4

bone-in pork chops

2

tablespoons

extra-virgin olive oil
Seasoning:
1/2

cup

freshly grated Parmesan

1

teaspoon

kosher salt

1

teaspoon

smoked paprika

2

teaspoons

garlic powder

1

teaspoon

onion powder

1

teaspoon

ground mustard

1/2

teaspoon

Italian dried herbs

1/2

teaspoon

freshly ground black pepper
Instructions
Pat dry pork chops with paper towels, then brush both sides with oil.

In a medium bowl, combine all the Seasoning ingredients, and stir to combine.

Coat both sides of the pork chops with the Parmesan mixture, pressing slightly for it to stick to the chops.

Place pork chops in the basket of the air fryer and cook at 400° for 12 minutes, flip pork chops after 6 minutes.

The pork chops should be golden brown and cooked to an internal temperature of 145-160 degrees Fahrenheit.

Arrange them on a serving plate and let them rest for 10 minutes before slicing or serving.