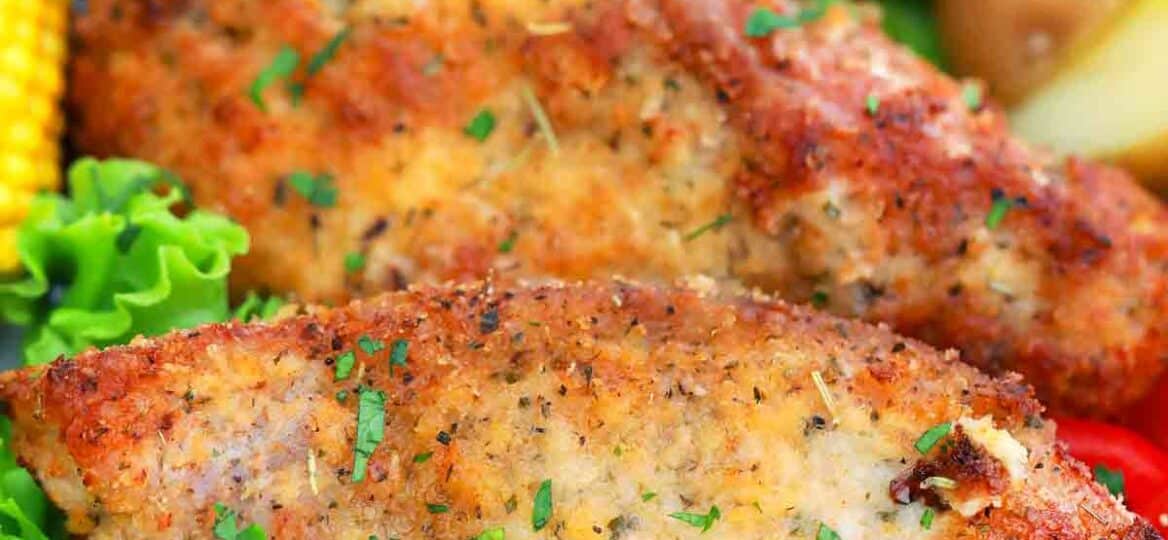 Crispy Baked Pork Chops [Video]
Crispy Baked Pork Chops is the perfect easy-to-make and hearty stand-alone dish. Crunchy and crispy on the outside and juicy on the inside!
This delicious recipe is one of my go-to dishes for family gatherings. If you want to try other oven-baked goodness, make sure you check out my recipes for Shake and Bake Pork Chops and Oven Baked Chicken Breasts.
Baked Pork Chops Recipe
Crispy Baked Pork Chops make everyone excited to gather for a meal. Aside from being crispy on the outside, its insides are so tender and juicy that one cannot just have a single bite.
Moreover, they smell so heavenly that a whiff of their scent can make my family and friends sit at the dinner table immediately. It's even more fun hearing its crunchiness when everybody starts eating.
To make this recipe, you don't even need to have a lot of experience in the kitchen. You just need fresh ingredients and an oven, then you are good to go.
I hope you enjoy making this lean, crispy, and juicy dish as much as I did. Try it and have a new go-to recipe for any family gathering.
How to bake Pork Chops?
Preparing the oven and the pan. Preheat your oven to 425F and grease the pan with cooking spray.
Season the meat. Rub olive oil generously onto the meat to achieve that crispy outer skin. Then, season according to taste.

Make the coating. Crack an egg in a bowl and beat it. In a separate container, mix breadcrumbs, parmesan, parsley, Italian herbs, paprika, garlic powder, onion powder, and black pepper.
Coat. Dip the meat in the egg and make sure that all sides are generously coated. Then, do the same in the breadcrumbs.
Bake. Place the breaded meat on the pan. Then, bake for at least 18 minutes, or more, depending on the thickness of the meat.
Serve. After it is done, let it rest for a few minutes then drizzle some sauce or garnish with desired herbs. Then, serve.
How long to bake?
It all depends on how thick the meat is. For those with an inch-thick cut, it will be ready for 20 minutes. If it is 1 ½ inch, then they are done within 25 minutes.
How to tell when Pork Chops are done?
If you have a food thermometer, it should be done when it reaches 145F. Otherwise, just observe when there is no more pink coloring or when the texture is slightly firm.
What to serve with Pork Chops?
While they are already mouthwatering alone, you can upgrade the experience by serving them with healthy greens such as the following sides:
More delicious recipes:
This meat is just so irresistibly good especially when it is cooked right. If you enjoyed this recipe, you have to check out my following dishes to satisfy hungry stomachs:
Storing instructions:
Storing: Free the coldest section of your fridge. Wrap the chops in plastic wrap, aluminum foil, or you could also place them inside a shallow container. Store it in the coldest section and consume within 4 days.

Reheating: Preheat oven to 350F. Prepare a pan with two tablespoons of water or broth, if you want added flavor. Place the leftovers inside and cover the pan with aluminum foil, bake in the oven for 10 minutes.
Recipe tips:
As with other baking tips, the thicker the meat, the better. Pork easily overcooks so in order to get that crispy skin and tender meat, try to use thicker cuts.

Don't have an oven? You can also make this recipe in a quicker way by using an Air Fryer. You should check out how I made Air Fryer Pork Chops.
Deliciousness to your inbox
Enjoy weekly hand picked recipes and recommendations