Homemade Coleslaw Recipe [Video]
Last updated on June 18th, 2021 at 09:26 pm
Homemade Coleslaw is the perfect creamy and crunchy side dish that is the perfect match for a barbecue! There is never a cookout without this simple-but-delicious salad!
The barbecue season is fast approaching, and I am surely making this recipe! I pair my Instant Pot Ribs, BBQ Pork Chops, and Slow Cooker Kalua Pork with this!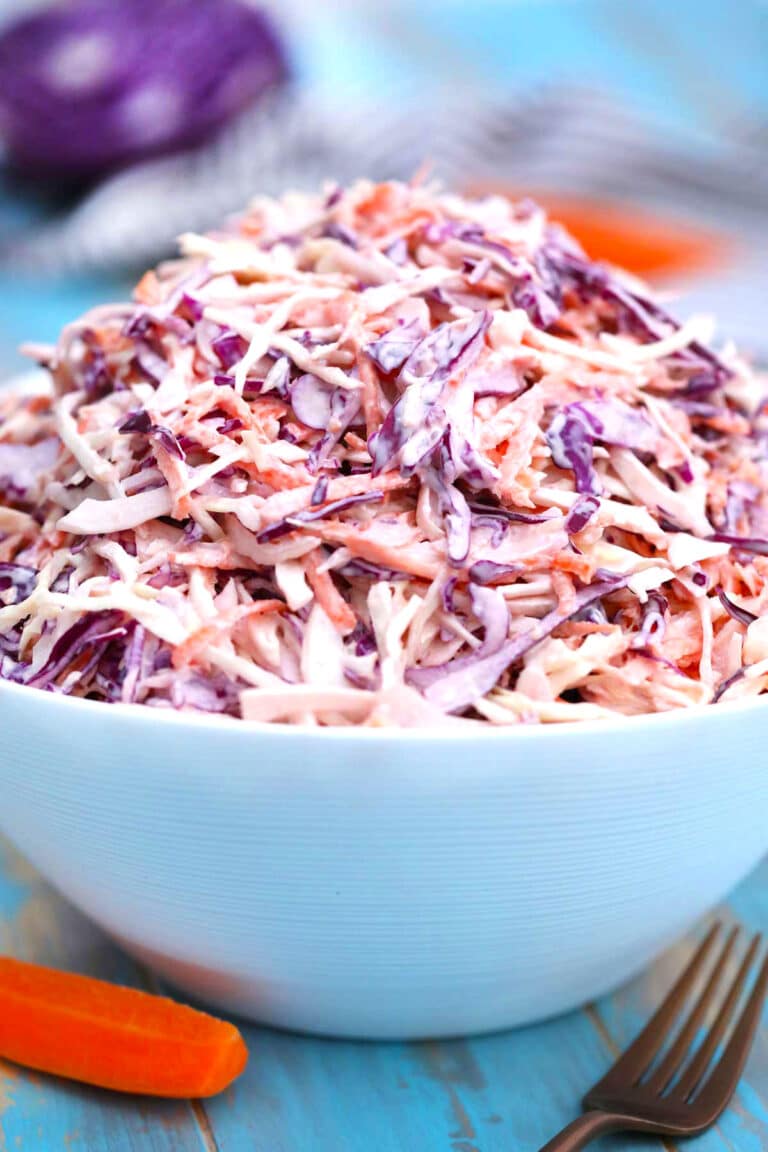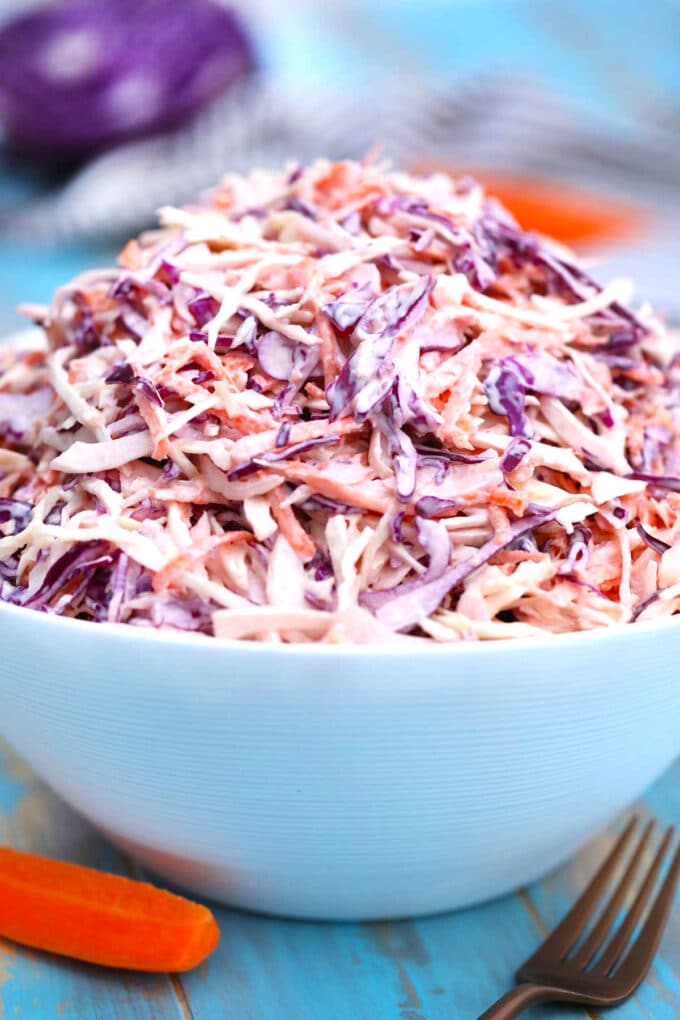 Coleslaw Salad Recipe
Coleslaw is essentially a fancy cabbage salad. Through the years, this is the only consistent ingredient. And in this recipe, I am adding a twist to the classic mayonnaise-based dressing.
What I love about this side dish is that it is so easy to prepare. The flavors are refreshing with a slightly sweet and tangy taste. The crunch from the shredded cabbage imparts freshness, too.
I usually serve this alongside meaty main dishes that are rather rich, and this salad balances that out. That is why it is perfect for anything grilled or roasted. And, since it is creamy, it is a perfect pair for anything fried, too.
Why is it called coleslaw?
Its name is derived from the Dutch word for cabbage salad which is "koolsla". It is said to be around since the 18th century which is around the same time that mayonnaise was invented. This truly is a classic dish that has survived the test of time!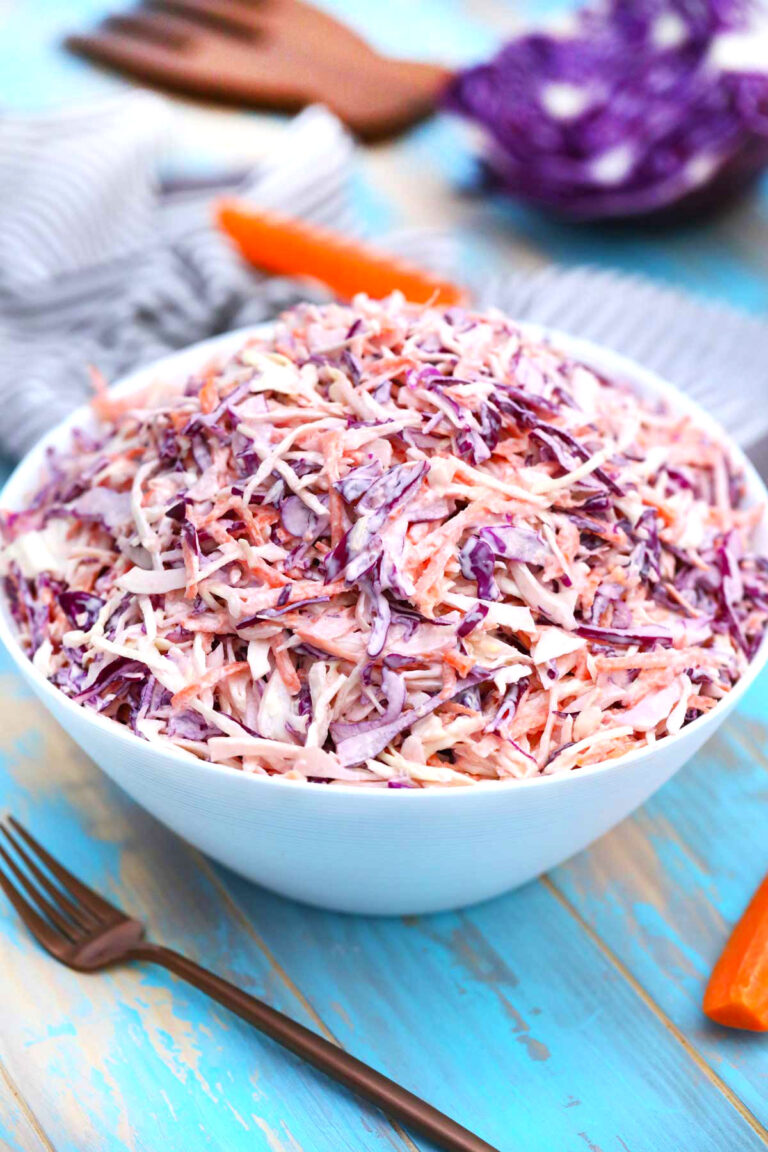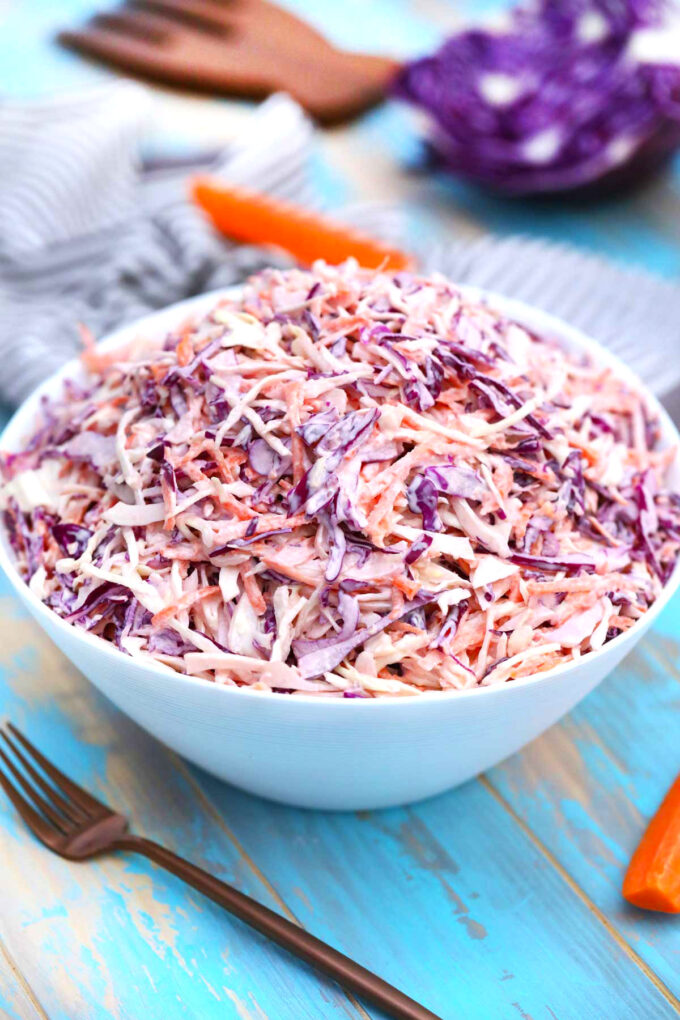 What ingredients go into coleslaw?
Typical ingredients are cabbage, carrots, and mayonnaise. These three are the constant ones. For this recipe, we are adding cider vinegar, Dijon mustard, sugar, celery seeds, salt, and pepper to the mayonnaise.
What is the difference between coleslaw and salad?
Strictly speaking, the coleslaw is a kind of salad, although it is also used as a condiment.
Just like any salad, it is made with raw vegetables, served cold, and has a dressing.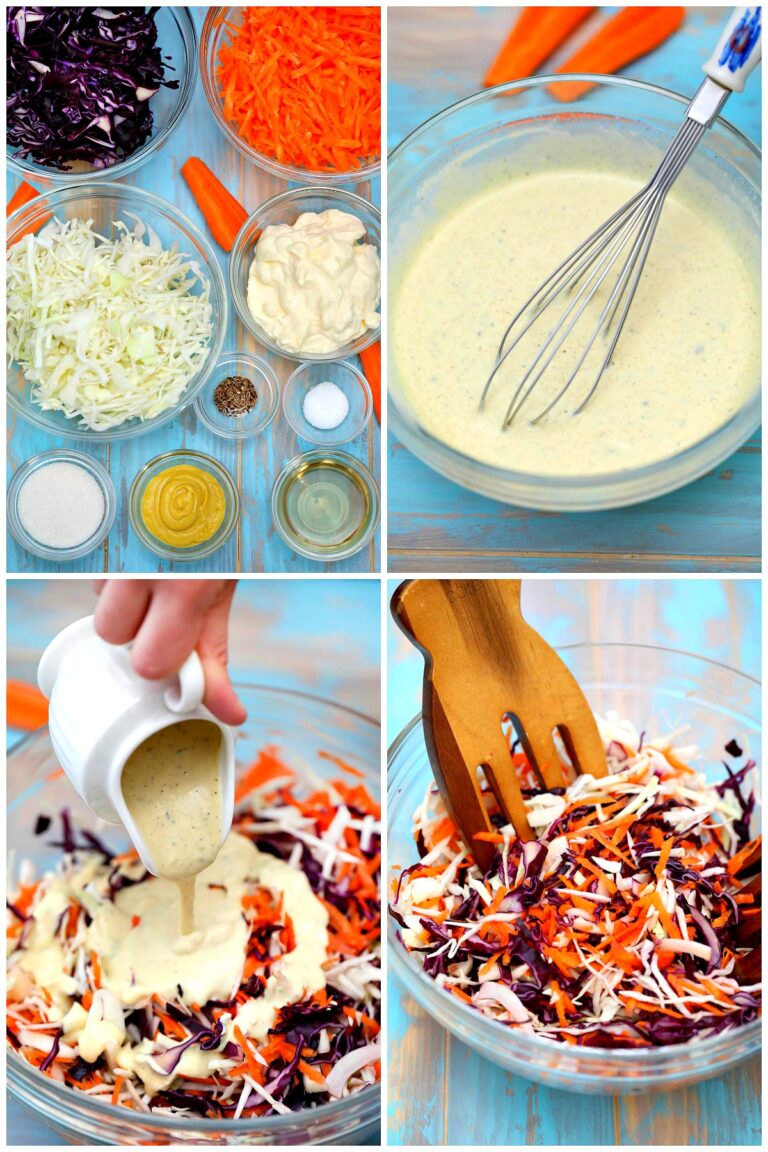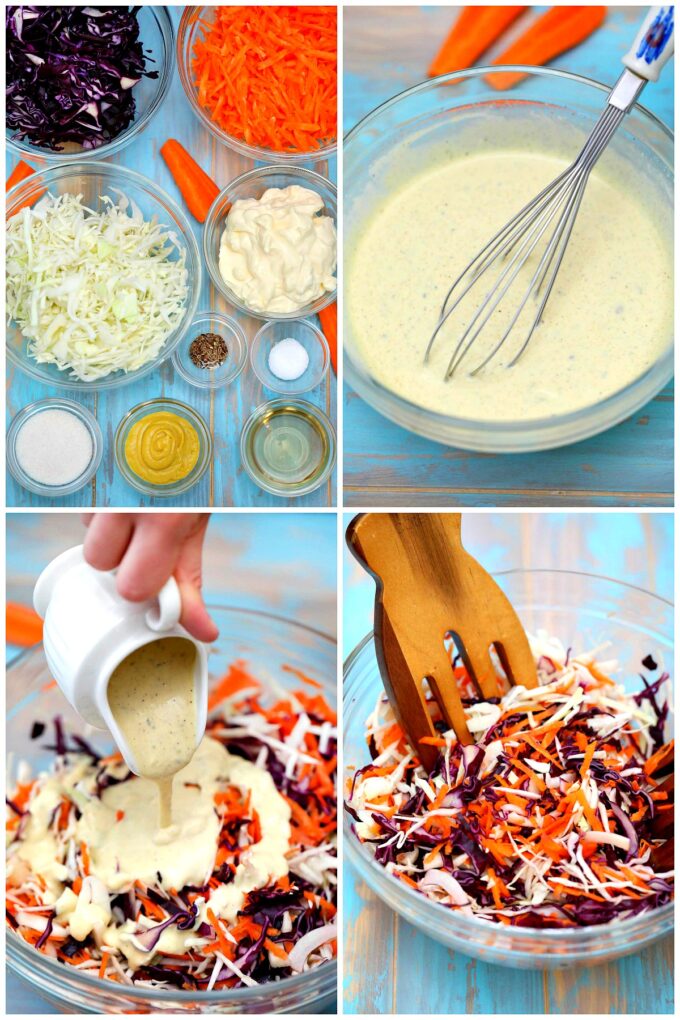 How do you make Coleslaw from scratch?
You can enjoy this at home by following these simple steps:
Prepare the veggies:
Shred the cabbage by chopping thinly. Remember to carve the core out. Shred the carrots, too. Put everything in a bowl and mix.
Make the dressing:
Combine the dressing ingredients in another bowl.
Mix:
Mix everything with about 2/3 of the dressing. If you think it is too dry, add more of the dressing.
Serve:
You can serve this right away or for best results, refrigerate for an hour before serving.
What is the best cabbage to use?
I use the green and purple kinds in this recipe.
White or Napa cabbages are also good. The best practice is to mix varieties so that you get different flavors and textures resulting in an interesting and festive dish.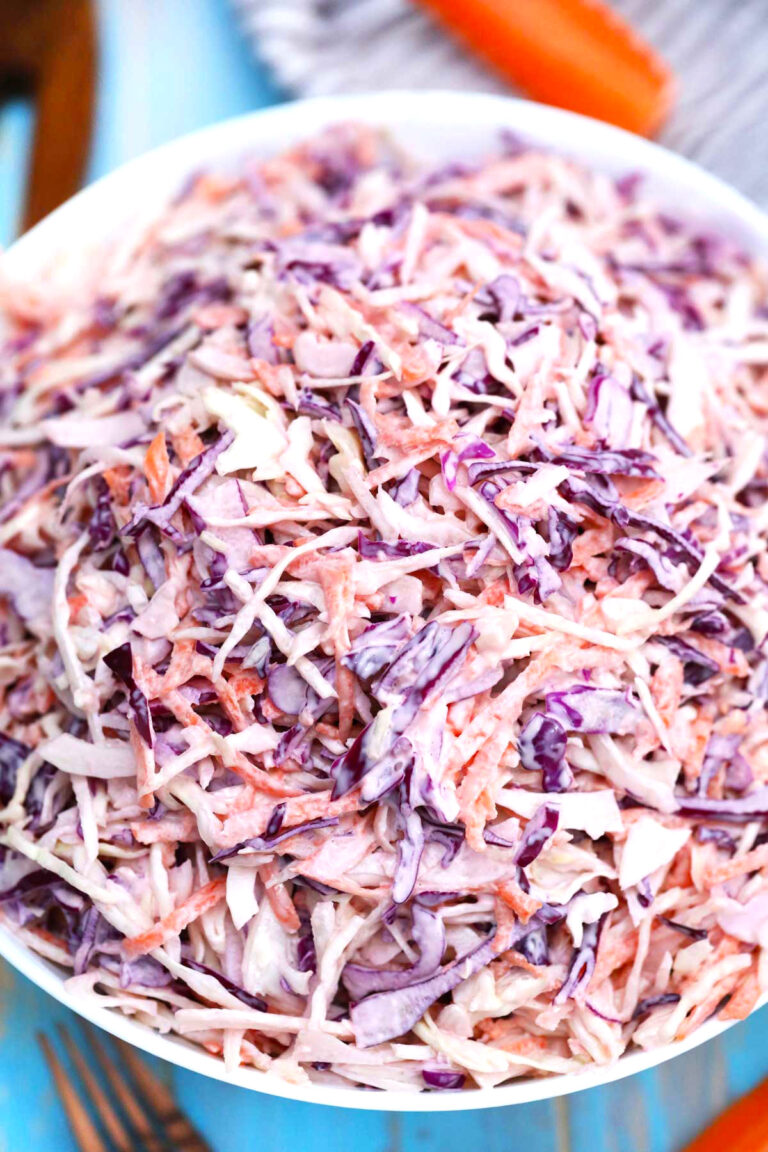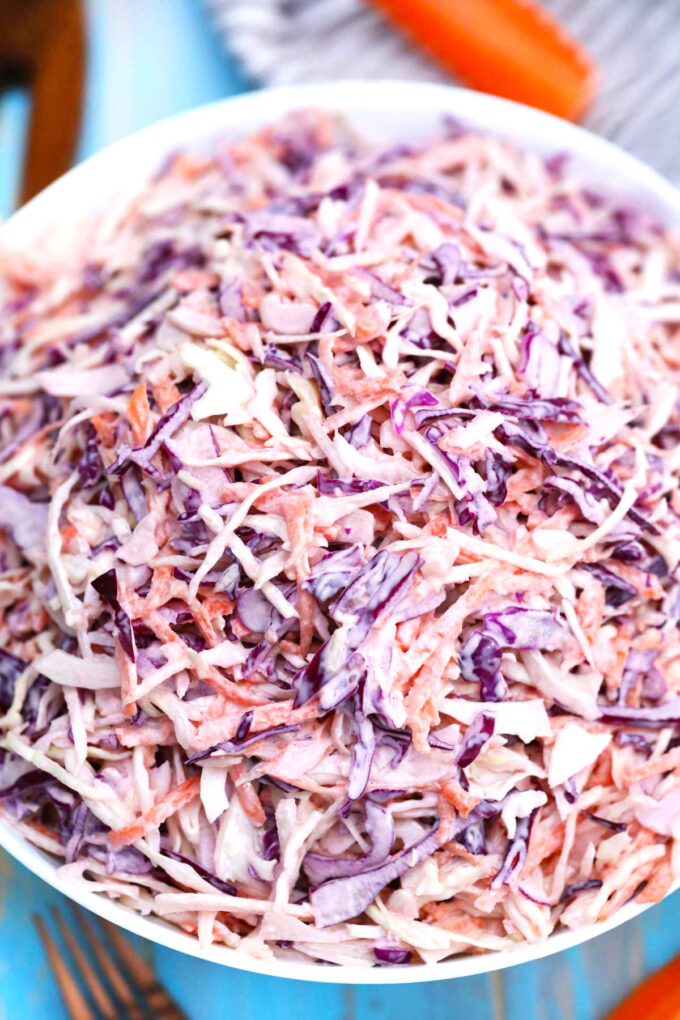 What is KFC coleslaw made of?
It has the same vegetables as this recipe except that you add some onions.
Also, the dressing contains buttermilk, milk, and lemon juice instead of Dijon mustard and celery seeds.
What to serve with Coleslaw?
Can you make it ahead?
Yes! Allow the flavors to meld by letting it sit in the fridge for at least an hour or two before serving.
At the same time, you allow the veggies to soften a bit. You can consume it within 3 to 5 days.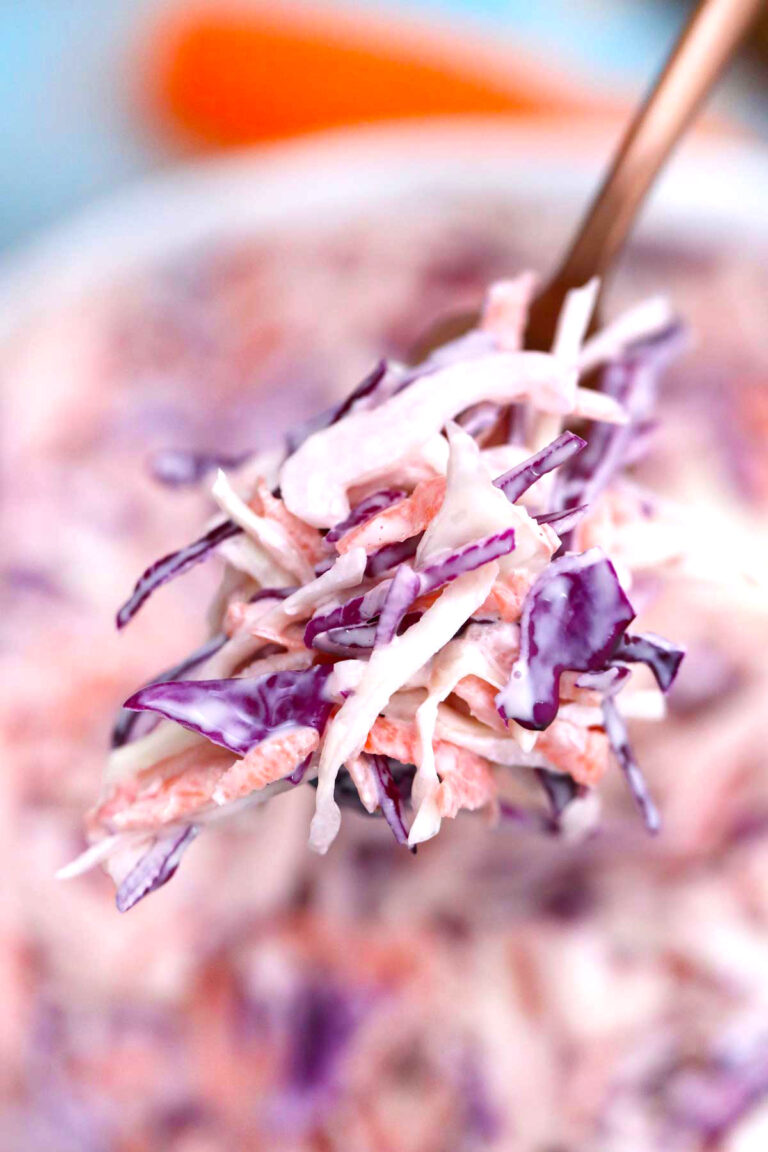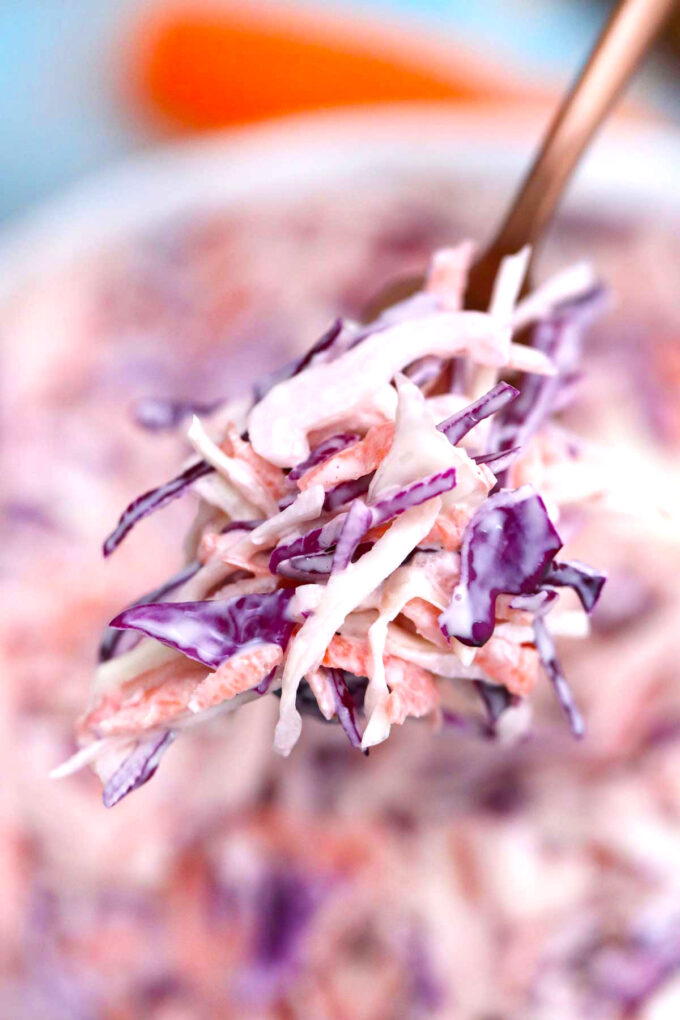 Recipe Tips
Use a food processor and its pulse function to easily shred the veggies yet not too small to be unrecognizable. You still want to have crunchy pieces for texture.
Use it in sandwiches, burgers, or tacos as in this Baja Fish Tacos recipe.
Make sure that the cabbage is dry as any excess moisture may make the whole thing too watery. You can sprinkle some salt in it after shredding. Then, let the shredded leaves stand for an hour or so, placed in a colander.
You can also make this in advance by preparing the veggies and dressing separately and storing them separately in the fridge. Just combine right before serving.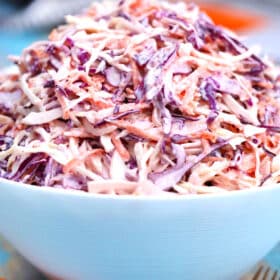 Homemade Coleslaw Recipe
Homemade Coleslaw is the perfect creamy and crunchy side dish that is the perfect match for a barbecue! There is never a cookout without this simple-but-delicious salad!
Save
Share
Print
Pin
Rate
Servings:
10
servings as a side dish, 1 cup per serving
Ingredients
4

cups

green cabbage

(finely shredded)

3

cups

purple cabbage

(finely shredded)

2

cups

carrots

(finely shredded)
Dressing:
1

cup

mayonnaise

2

tablespoons

apple cider vinegar

2

tablespoons

Dijon mustard

2

teaspoons

white sugar

1/2

teaspoon

celery seeds

Salt and pepper

(to taste)
Instructions
Prepare the green and purple cabbage by cutting them through the core into quarters. Then cut out the core and discard.

Finely shred the cabbage bu using a mandoline or a grater. Place the shredded cabbage in a very large bowl.

Add the shredded carrot to the same bowl and toss to mix.
Dressing:
Combine all the dressing ingredients in a medium bowl and stir well. Taste and adjust for salt, pepper, sweetness, and acidity.

Pour a bit more than half of the dressing over the cabbage and carrot and mix well. If you want the coleslaw creamier, add the remaining dressing and mix well.

Serve immediately or refrigerate for about an hour to let the flavors settle and the cabbage to soften.
Nutrition
Calories:
184
kcal
|
Carbohydrates:
7
g
|
Protein:
1
g
|
Fat:
17
g
|
Saturated Fat:
3
g
|
Cholesterol:
9
mg
|
Sodium:
207
mg
|
Potassium:
203
mg
|
Fiber:
2
g
|
Sugar:
4
g
|
Vitamin A:
4617
IU
|
Vitamin C:
27
mg
|
Calcium:
37
mg
|
Iron:
1
mg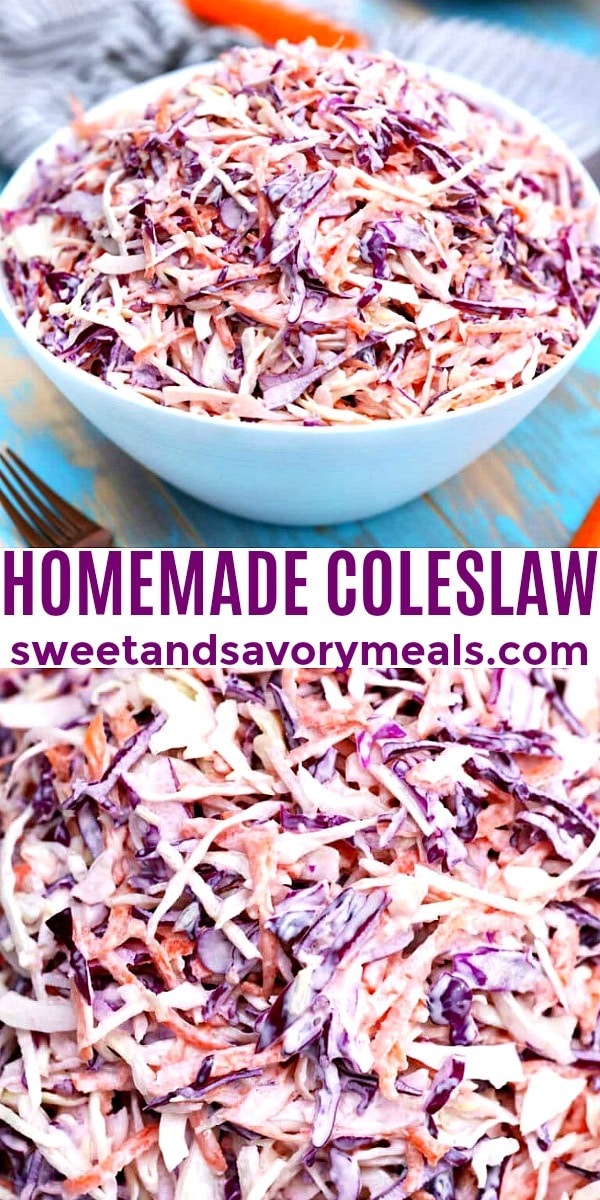 More recipes you might love