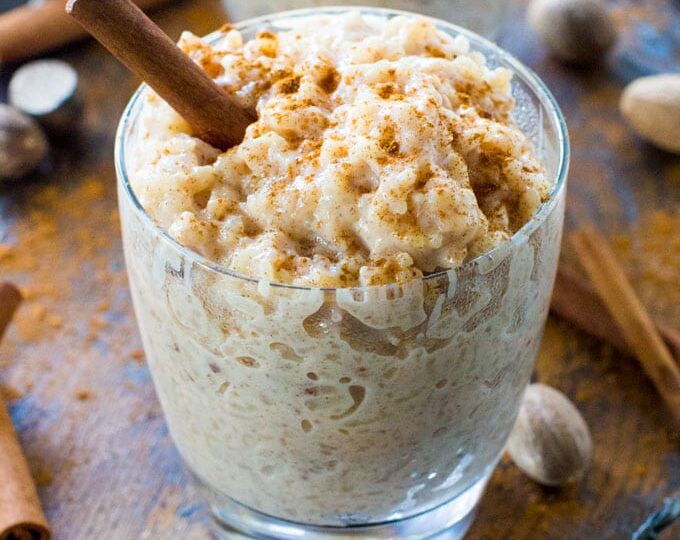 Best Instant Pot Rice Pudding [VIDEO]
Instant Pot Rice Pudding is creamy and aromatic, flavored with cinnamon and nutmeg, ready in just 30 minutes, thanks to your pressure cooker. This is the best pressure cooker rice pudding recipe you can get!
We love easy and creamy desserts to make. You can also white chocolate creme brulee, low carb keto cheesecake, and key lime pie.
Best Instant Pot Rice Pudding
Instant Pot Rice Pudding is one of the easiest ways to make the most delicious and creamy rice pudding you have ever tasted! Seriously, this rice pudding rocks my world! It reminds me of a lot of my childhood and of the endless, fun summers spend with my grandparents.
I was always excited to eat some sticky and creamy rice pudding. As a self-proclaimed milk hater (I know, weird) I actually love rice pudding, its the epitome of comfort food! I would happily eat it under a blanket rewatching my favorite movies.
Why make rice pudding in the Instant Pot?
The Instant Pot Rice Pudding is so easy to make, that now I may be in trouble and make it a few times a week. Seriously, in 30 minutes you are rewarded with rice pudding with perfect texture, sweet and fragrant from the cinnamon and nutmeg.
I love mine served with an extra sprinkle of cinnamon and a little brown sugar on top. When that sugar melts, mmm OMG, my taste buds explode! Do yourself a favor and make this!
Recipe Tips:
I used white, long-grain rice in this recipe. Basmati or sushi rice will also work well. Please note, that Jasmine rice and Basmati rice will come out less chewy compared to Arborio Rice.
Also, I haven't added any sugar, because at the end, I stir in the condensed milk and I feel that it adds enough sweetness.
I highly recommend using nutmeg and cinnamon, it will take your pudding from good to wow.
You can also mix in walnuts and raisins. I prefer to add them at the end to preserve most of the crunchiness and chewiness.
Similarly, you can use creamy canned coconut milk and sweeten the rice with sugar, and skip the condensed milk for a vegan, lower fat version.
This is my Instant Pot – I use it all the time, either the Pressure Cooker function or the Slow Cooker function. I also like that I can just sauté / brown the meat and veggies directly in the pot using the Sauté function.
How to serve rice pudding?
We like eating rice pudding warm or hot, but this is our own preference. However, many of our guests enjoy this delicious dish cold. So either way, it will be just as tasty and delicious. To serve it cold, make sure to refrigerate it before serving. In addition, you can add some raisins to it if desired.
How to refrigerate Instant Pot rice pudding?
Before refrigerating it, make sure to let it cool completely. Then, transfer to an airtight container and store in the fridge for up to 3 days. If before serving the pudding gets a little thicker than you'd like, just stir in some cold milk until it's the consistency you want.
Looking for more Instant Pot Recipes? Check my collection here: