Best Instant Pot Rice Pudding
This post may contain affiliate links. Please read my disclosure policy.
Instant Pot Rice Pudding is creamy and aromatic, flavored with cinnamon and nutmeg, ready in just 30 minutes, thanks to your Instant Pot.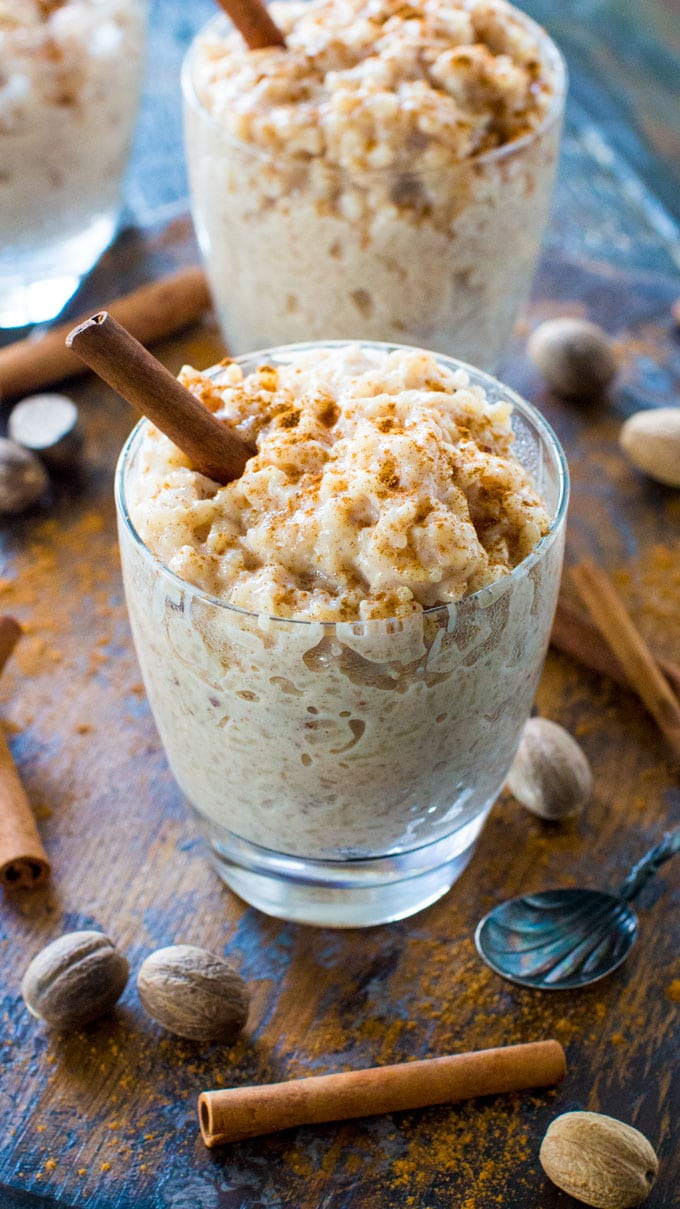 Instant Pot Rice Pudding is one of the easiest ways to make the most delicious and creamy rice pudding you have ever tasted! Seriously, this rice pudding rocks my world! It reminds me a lot of my childhood and of the endless, fun summers spend at my grandparents. I was always excited to eat some sticky and creamy rice pudding. As a self proclaimed milk hater (I know, weird) I actually love rice pudding, its the epitome of comfort food! I would happily eat it under a blanket rewatching favorite movies.
Here is a fun, 1 minute, step-by-step video of how to make this recipe!
The Instant Pot Rice Pudding is so easy to make, that now I may be in trouble and make it a few times a week. Seriously, in 30 minutes you are rewarded with a rice pudding with perfect texture, sweet and fragrant from the cinnamon and nutmeg. I love mine served with an extra sprinkle of cinnamon and a little brown sugar on top. When that sugar melts, mmm OMG, my taste buds explode! Do yourself a favor and make this!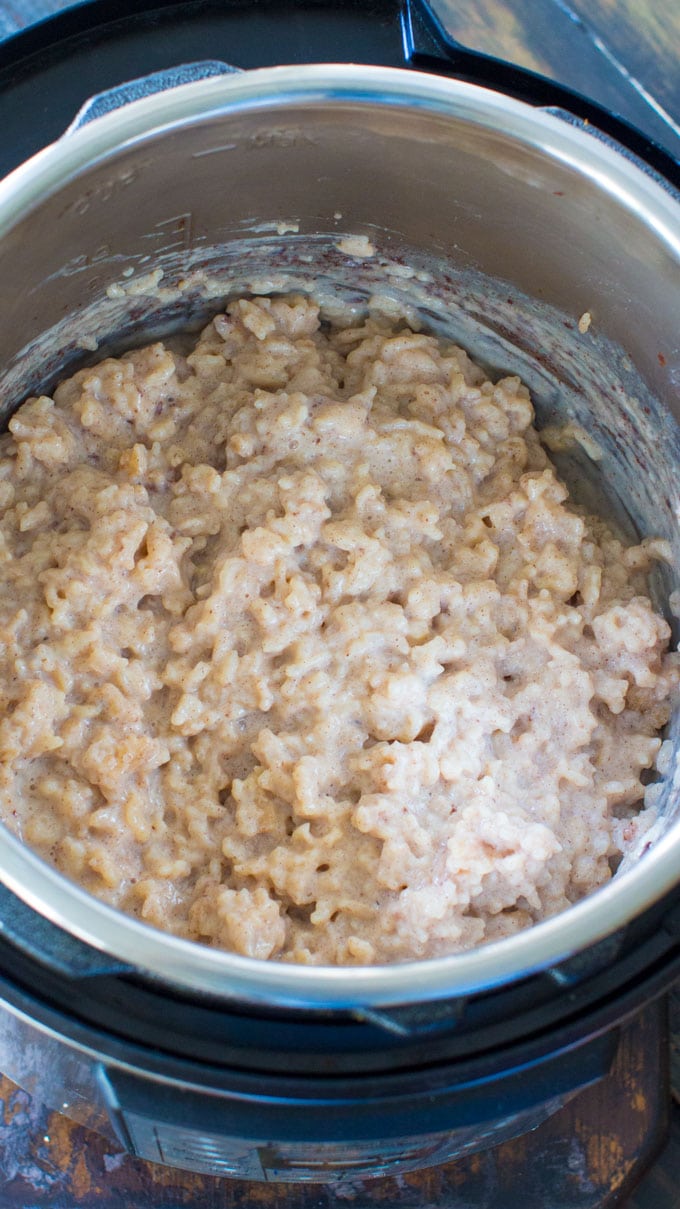 Looking for more Instant Pot Recipes? Check my collection here: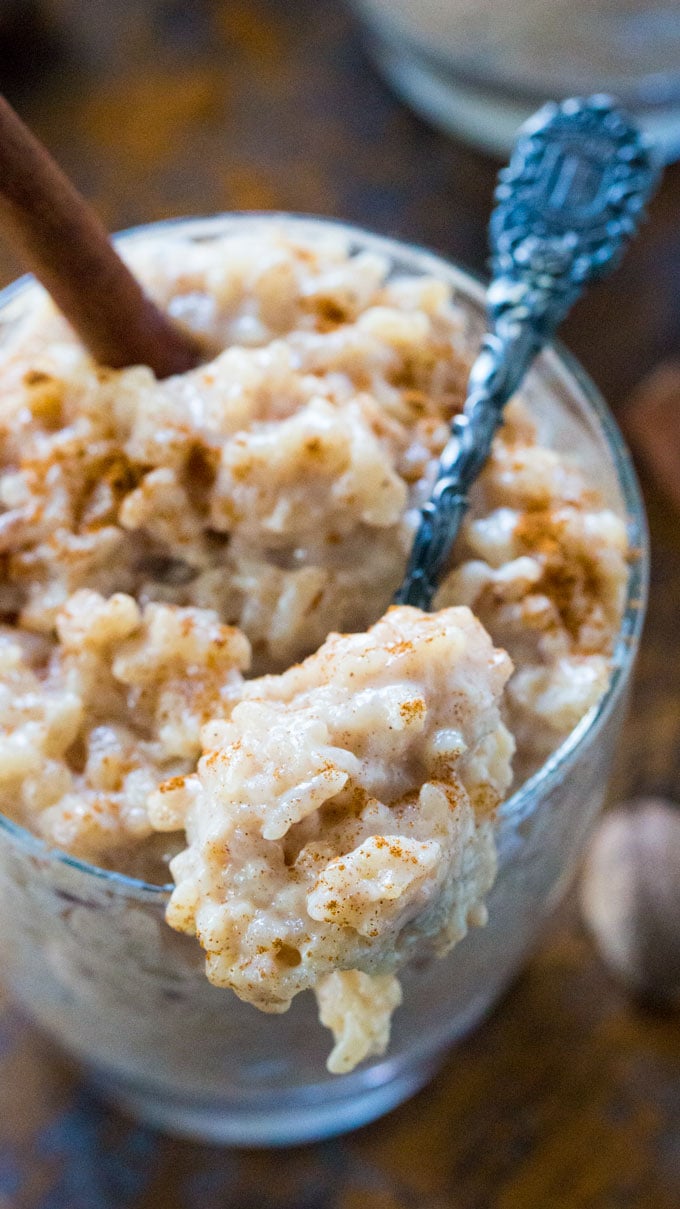 Recommendation for best Instant Pot Rice Pudding Recipe:
I used white, long grain rice in this recipe. Basmati or sushi rice will also work well.
I haven't added any sugar, because at the end, I stir in the condensed milk and I feel that it adds enough sweetness.
I highly recommend using nutmeg and cinnamon, it will take your pudding from good to wow.
You can also mix in walnuts and raisins. I prefer to add them at the end to preserve most of the crunchiness and chewiness.
You can use creamy canned coconut milk and sweeten the rice with sugar, and skip the condensed milk for a vegan, lower fat version.
This is my Instant Pot – I use it all the time, either the Pressure Cooker function or the Slow Cooker function. I also like that I can just sauté / brown the meat and veggies directly in the pot using the Sauté function.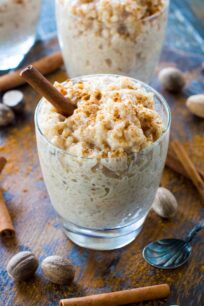 Best Instant Pot Rice Pudding
Instant Pot Rice Pudding is creamy and aromatic, flavored with cinnamon and nutmeg, ready in just 30 minutes, thanks to your Instant Pot.

MY LATEST VIDEOS
Ingredients
2

cups

whole milk*

1¼

cups

water

1

cup

long-grained rice,

basmati or shot grain white rice will also work

1

teaspoon

vanilla extract

1

teaspoon

cinnamon

1/2

teaspoon

nutmeg

freshly grated

1

can sweetened condensed milk

pinch

of salt
Instructions
inse rice well, using a fine mesh colander and let it drain well.

Add milk, water, pinch of salt, cinnamon and nutmeg to the Instant Pot.

Add rice to the Instant Pot and stir to combine.

Put the lid on, seal and make sure to close the vent.

Press the Porridge button. It is automatically set to cook for 20 minutes on this setting.

Once done, do a 10 Minutes Natural Pressure Release*.

After 10 minutes, press Cancel to turn off the Instant Pot and open the vent to release the remaining pressure.

When depressurized, open the lid and add the Sweetened Condensed milk and vanilla extract.

Stir well until fully combined and creamy.

Serve and enjoy!
Recipe Notes
*Full fat coconut milk works great too, I also tried it with soy milk and it turned out good.
*A Natural Pressure Release means that the pressure is released gradually. For a Natural Pressure Release, you click on Keep Warm, and wait 10 minutes, after which you open the valve and let any leftover pressure to release. Another option is to Turn Off/Unplug the pressure cooker, wait 10 minutes and after that open the valve. A natural release is usually used when cooking soups, meat in a large amount of sauce, pasta or steel cut oats. This method prevents for any foam from the dish to shoot out through the valve, which can happen during a Quick Pressure Release.
Calories: 249, Fat: 4g, Saturated Fat: 2g, Cholesterol: 12mg, Sodium: 59mg, Potassium: 214mg, Carbohydrates: 43g, Sugar: 6g, Protein: 7g, Vitamin A: 4%, Calcium: 15.6%, Iron: 2.1%
Made this Recipe?
Show me what you made on Instagram and tag me at @sweetnsavorymeals or hashtag it #sweetandsavorymeals.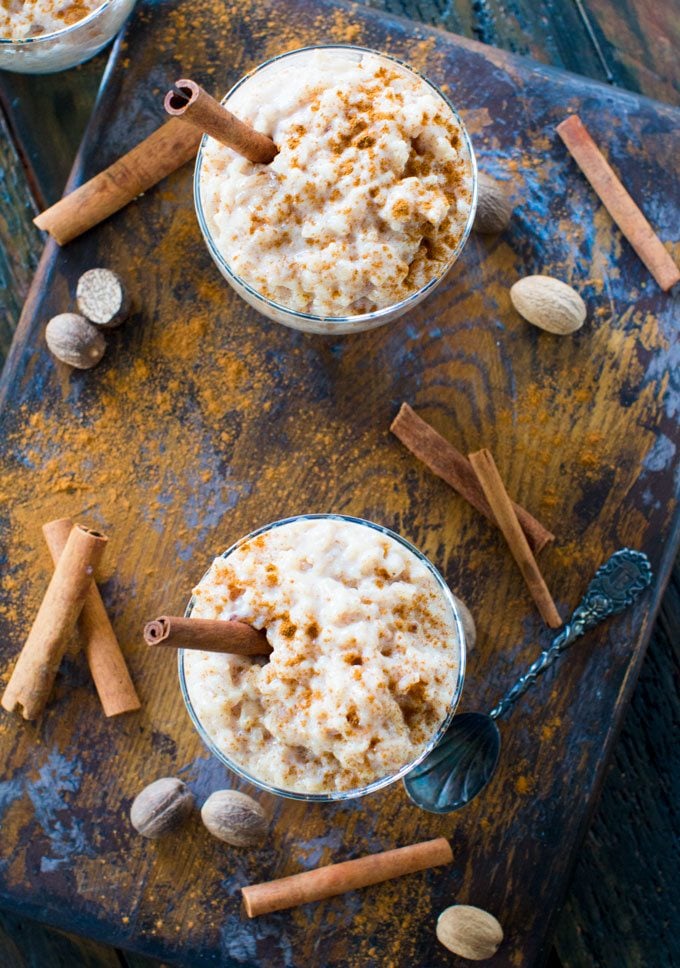 Peas and Peonies, LLC. owns the copyright on all images and text and does not allow for its original recipes and pictures to be reproduced anywhere other than at this site unless authorization is given. If you enjoyed the recipe and would like to publish it on your own site, please re-write it in your own words, and link back to my site and recipe page. Copying and/or pasting full recipes to social media or personal blogs is strictly prohibited. Sharing this recipe is very much appreciated and encouraged. Read my disclosure and privacy policy. This post may contain affiliate links.