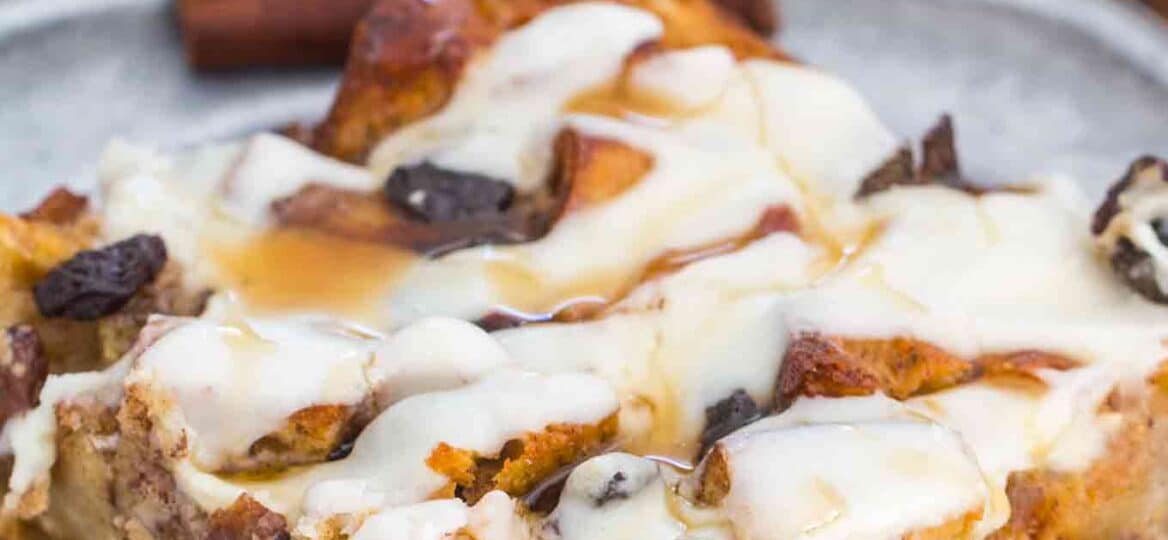 Best Bread Pudding [Video]
Bread Pudding is a classic recipe that uses simple ingredients, resulting in a moist and tender dessert. It's deliciously creamy and puffy, topped with a vanilla cream cheese glaze.
What we love about this Bread Pudding is its moisture and simplicity to make. It can be served as dessert, or for a brunch party, and it's a great way to use some leftover bread. If you are in a hunt for the perfect creamy dessert, we have a few to pick from. Like our Banana Pudding Poke Cake, Apple Pudding Cake or Brownie Trifle Pudding.
Easy Cream Cheese Bread Pudding
Bread Pudding is a great way to use some bread in a desert form, even leftover bread will work great in this recipe. You basically cut it in cubes, dry it in the oven for a few minutes, and bake it into the custard mixture. Then top it with the most delicious vanilla cream cheese glaze, for the perfect finish!
This delicious homemade breas pudding with heavy cream is perfectly sweetened and spiced. We used some raisins and cinnamon to give it a richer and denser flavor. Another great thing about this recipe is that you can assemble it a day ahead of time, and when ready just put in the oven and bake it.
Ingredients for Bread Pudding
Loaf of bread
Eggs
White sugar
Brown sugar
Vanilla
Cinnamon
Nutmeg
Whole milk
Heavy cream
Raisins
Butter
Powdered sugar
How to make Bread Pudding in 6 steps?
For exact measurements, please follow the recipe card below. Also, watch the recipe video tutorial attached and see how easy it is.
The general steps are as follows:
First, preheat oven to 350 degrees.
Cut the bread into about 1-inch cubes. Then, spray a baking pan with nonstick cooking spray, and spread the bread cubes evenly. Set aside.
Next, in a mixer bowl, combine the ingredients: eggs, sugar, milk, vanilla, nutmeg, and cinnamon and heavy cream. Mix until well combined.
Then, pour the mixture on top of the bread cubes. Add the raisins to the mixture if desired, and toss with a rubber spatula to evenly coat. Pour the melted butter evenly over the surface. Let rest for 60 minutes to 24 hours, for the bread to absorb the mixture.
After, place the pudding in the oven and bake at 350°F for 50-55 minutes, or until set in the center.
Let cool 10 minutes then top with vanilla cream cheese glaze.
The best way to serve bread pudding?
This recipe is best to be served warm or room temperature. In addition, for extra flavor, add some whipped cream or a scoop of ice cream on top.
How to store bread pudding?
Wrap the baking dish with the bread pudding with plastic wrap, or transfer to an airtight container Tupperware container and store in the refrigerator for up to 3 days.
Recipe Tips and Tricks:
The bread you use should be a little dry. If the bread is freshly baked, cut it in cubes, and spread it out on a baking pan, and put in the oven for 8-10 minutes at 250°F. This will dry it out, and you will avoid a soggy bread pudding.
Also, you can use any bread for this dessert. For example, French bread, wheat, Challah, or brioche bread, will be perfect.
We used raisins in the mixture. Best to soak the raisin in boiling water for 25-20 minutes then drain, before tossing them into the mixture. However, they can be skipped if not a raisins fan.
The bread pudding can be assembled 24 hours in advance. Cover with plastic wrap and store in the fridge until ready to bake.
Tools used to make this recipe:
Deliciousness to your inbox
Enjoy weekly hand picked recipes and recommendations