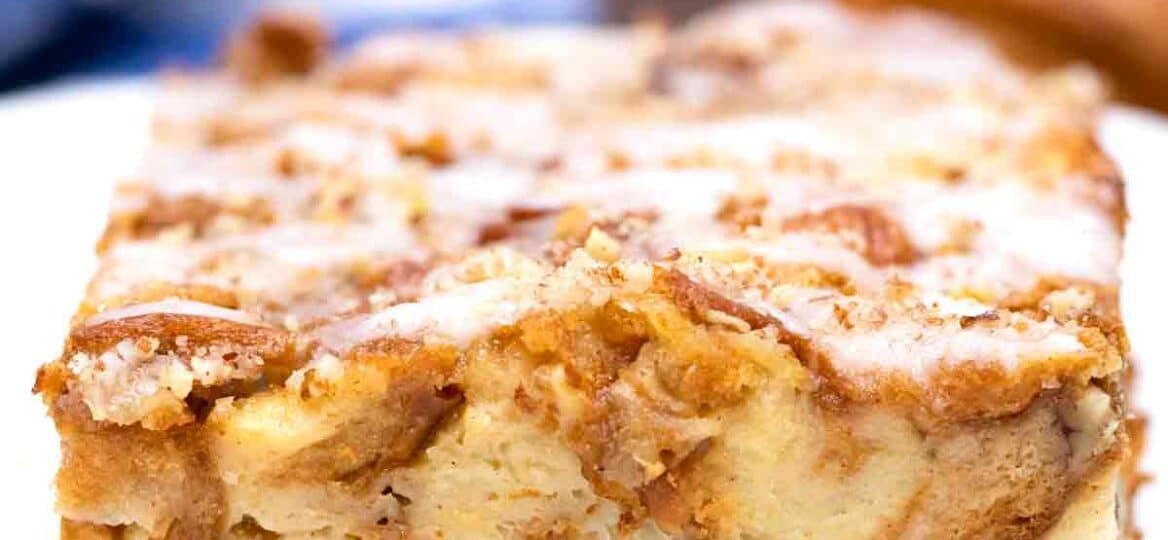 Croissant French Toast Casserole [Video]
Croissant French Toast Casserole makes breakfast an extra special affair! Cubed croissants are baked in a creamy custard infused with spices and vanilla, with pecans for crunch. A decadent treat for perfect mornings!
Take the stress out of breakfast! Learn how to cook batches of bacon without the grease and mess. Master the art of fluffy scrambled eggs, then practice your flipping skills with the Best Banana Pancakes. Enjoy better and more delicious mornings!
French Toast Casserole Recipe
Croissant French Toast Casserole is one of the best things you will ever eat, period. Imagine chunks of buttery croissants with caramelized edges, baked in a custard made with rich cream and fresh eggs.
Every bite has hints of vanilla and spices. It's perfectly sweet, with chopped pecans for texture and nuttiness. This is breakfast perfection in one super easy casserole!
Aside from being so yummy, you can also make it in advance if you're anticipating a busy morning the next day. It's also a great way to feed a crowd without much effort. And trust me, this dish will be gone in minutes. I'd make a big batch if I were you!
What can I make with a croissant for breakfast?
A lot! Split one in half, then fill with bacon and eggs for a hearty breakfast sandwich. Top with salmon and hollandaise for an elegant eggs benedict.
Stuff with cheese and sausages, fruits and jam, vanilla custard, or fill with cream cheese and marmalade for a yummy twist on the classic galette. Treat it as you would any other breakfast bread!
What is a French Toast Casserole?
It's a one-pan baked dish consisting of cubed croissants mixed with a basic custard. You may use different flavors, but for this recipe, I'm using spices, pure vanilla, and some chopped pecans.
How to make a Croissant French Toast Casserole?
Prep the dish. Whisk the custard ingredients together. Stir in the croissant cubes and pecans. Carefully stir until all the pieces of bread are soaked in the custard.
Bake. Place in a preheated 350F oven and bake until golden brown, around 40 to 45 mins.
Serve. Enjoy hot with syrup, whipped cream, and other garnishes of your choice!
Recipe variations:
Try other types of bread: Make the recipe with challah, ciabatta, or sourdough. Feeling a little crazy? Try it with some cubed doughnuts, leftover cake, or flavored pastries like cinnamon swirl bread!
Make it sweet and savory: Reduce the sugar and mix in some crispy bacon.
Make it fruity: Stir in some berries or dried fruits, add orange zest, or swirl some jam on top.
Add a splash of alcohol: For a boozy grown-up version, add a little rum or Amaretto to the custard!
Add some fruits: Mix in some blueberries raspberries or blackberries to add some freshness and tartness to the recipe. Lemon juice and lemon zest, or orange juice and zest will make a great addition as well.
Why is my French Toast Casserole soggy?
Soggy French toasts are usually the result of too much dairy in the mix, which means the custard doesn't come together. Make sure to check the heat as well. If it's not hot enough, the bread will just get mushy instead of getting crisp at the edges and firm in the center. Here is our classic recipe for French Toast Casserole.
What is the difference between French Toast Casserole and bread pudding?
They're very similar in terms of the cooking process and ingredients. However, you'll notice that bread pudding has a more "custardy" texture because the stale bread is soaked longer in the egg and cream mixture. It's often served as a dessert or snack too.
French Toast Casserole has a drier consistency because we bake the dish right after stirring in the custard. This one is more of a breakfast item than a dessert.
How to store?
Cool all leftovers completely. I like portioning it into individual servings before transferring it to a container or wrapping it tightly with foil and plastic. Consume within 2 days if you're keeping it in the fridge. If you freeze it, you may store it frozen for up to a month.
Can I make it in advance?
Yes, this is a fantastic make-ahead dish. You can soak the croissant pieces in advance and refrigerate it overnight to bake the next morning.
How to serve:
Enjoy it with a full breakfast spread that includes fried eggs, bacon, and hash browns from scratch! If you have a huge sweet tooth, try drizzling it with some chocolate syrup, honey, maple syrup, or spiced whipped cream. Also perfect with hot tea, milk, or coffee!
More recipes:
Recipe tips:
Cube the croissants in similar sizes so they all cook evenly.
Mix the custard very well so every bite is loaded with flavor.
Deliciousness to your inbox
Enjoy weekly hand picked recipes and recommendations