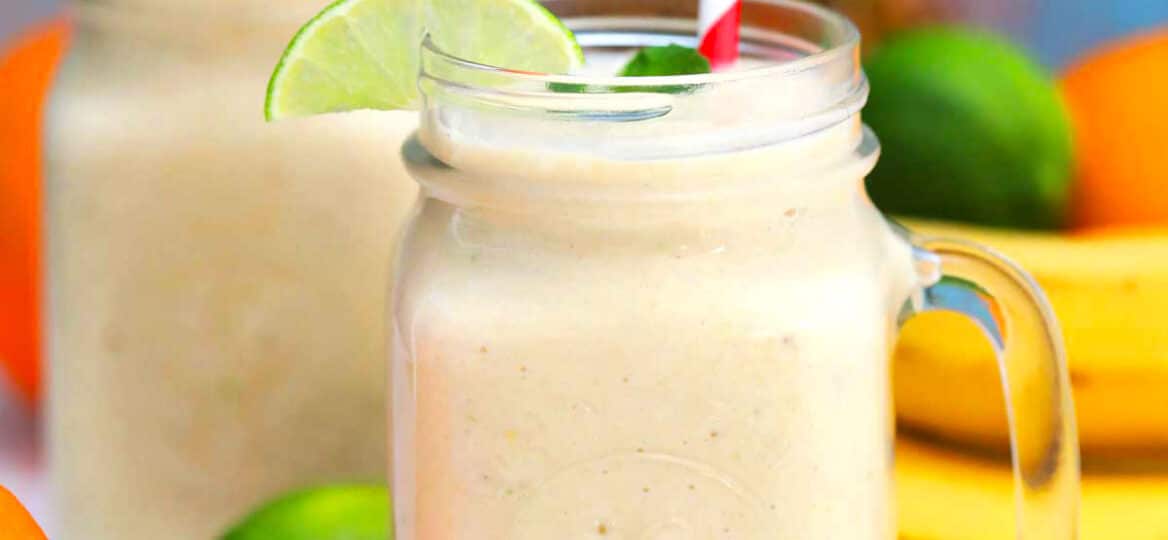 Best Tropical Smoothie [video]
Tropical Smoothie is fresh, sweet, delicious, and full of vitamins! Start your day off with this smoothie and you will be able to accomplish anything.
I love making smoothies so much, try my Pineapple Smoothie and Best Spinach Smoothie for more fresh and healthy options for any time of day!
Best Tropical Smoothie
Tropical Smoothie is the perfect way to start your day. I love starting my day with this because of how easy it is. I don't even have to cut any fruits if I choose to make it with already pre-cut frozen fruits.
This is also great because I can make large quantities of this and share it with my friends and family. Smoothies are also so good because you can leave the ingredients in the refrigerator overnight. I put my ingredients in my blender bottle overnight sometimes and just have it blend in the morning. This is a good way for me to actually eat breakfast and be nutritious at the same time!
I also feel like smoothies are just the type of thing I make when I need a real pick me up. I instantly feel more energized and refreshed. They are also so nutritious so they are great for children. If you have a kid who does not really like to eat their fruits and veggies this will be the perfect way to sneak some in and help them get all of their nutrients.
I enjoy putting this smoothie in a little mason jar and decorate it with some mint and a little tropical umbrella for when I'm feeling a little extra. Traditionally I also add a little stick of pineapple, mango, mint, and lime. This also means I get to feel like I am by the ocean or poolside in some tropical country of the world.
How does tropical smoothie make their smoothies?
They tend to use ice and a little bit of water to make the smoothies thick, but they add juice concentrate rather than normal juice so that it can balance with the ice. The concentrate is thicker than normal juice and is not as diluted as normal juice.
How healthy is a tropical smoothie?
They are very healthy, all ingredients used are natural and "better for you", but they are packed with carbohydrates as so many different fruits are used. By making this kind of smoothies at home, you are in control of what goes into your body.
Try using coconut water rather than milk so that your body can gain more nutrients and electrolytes.
What fruits to use in a tropical smoothie?
The best fruits to use are always the frozen ones, these are the best because they can never really go bad in the freezer. Unless of course, you keep them in your freezer for about five years then you will be fine.
I really like to use pineapple, banana, mango, and lime in my smoothies. I find that the line gives the drink a little extra tang.
How to make a dairy-free tropical smoothie?
The only milk used in this recipe is coconut milk. Replace yogurt with coconut milk yogurt, almond milk yogurt, soy milk yogurt, or hemp yogurt. I recommend Almond or Coconut milk. The coconut will amplify the taste of the already added coconut milk, while the almond milk yogurt will give it more of a nutty flavor.
How to make a tropical smoothie high in protein?
Adding protein powder to smoothies are a really great way to increase the protein in your smoothie. I recommend using vanilla protein so that it doesn't really take away from the flavor of the actual smoothie. Another way is by adding some more yogurt or add some oats for fiber and a bit of protein.
Looking for more delicious drinks?