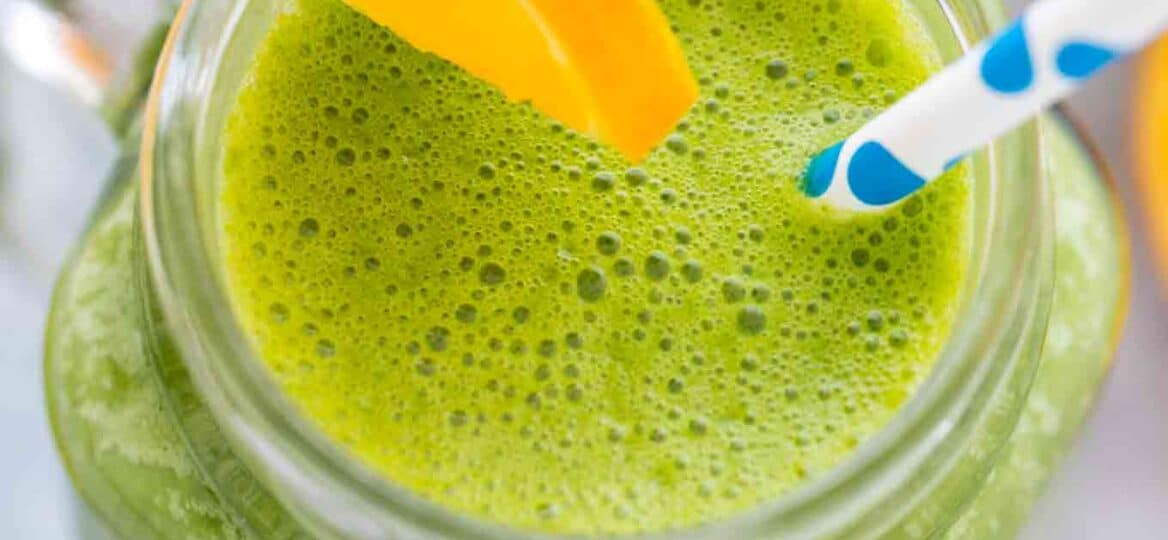 Best Spinach Smoothie [VIDEO]
Check out this healthy and delicious Spinach Smoothie made with baby spinach, almond milk, bananas, and orange juice. It is packed with vitamins and nutrients and is the perfect way to start your day.
Smoothies are perfect to start a day, as they are easy to make are very healthy. All you need is a few simple ingredients added to a blender and less than one minute of your time. You will get a delicious drink that is super healthy and nutritious.
If you are looking for the perfect detox drink, this is your best option! For a full breakfast or brunch, combine it with healthy pancakes, keto bread, or even butternut squash trifle.
Easy Spinach Banana Smoothie
This spinach smoothie is so versatile and can be modified in multiple ways. We enjoy drinking it at breakfast or before going to the gym or pilates. But in reality, you can have it at any time of the day. It has a nice texture and is perfectly sweet on its own without any added sugars.
The frozen tropical fruits mix gives it a nice and fresh taste. Also, you can add some protein into it or your favorite fruits. For an even higher nutritional boost, add some celery.
To keep it super healthy, we use organic spinach, almond milk, and fruits. This will surely keep your immune system top-notch and health in check. Whether you like yours in the morning, before workout, or dinner, this refreshing smoothie is guaranteed to make you happy.
What are the benefits of spinach smoothie?
It is probably the best and quickest way to get you the required vitamins and to replenish energy during the day. Bananas and spinach contain a lot of fiber, which makes you feel full for a longer period. Also, it allows for consuming several servings of veggies and fruits at once.
It is also a superfood that is important to skin, hair, and bone health. A smoothie made with banana, fruits, and spinach offers a number of health benefits, such as Vitamin K, Potassium, Vitamin A, Vitamin C, and many others.
How to make Spinach Smoothies?
To make it, you will need:
Fresh spinach
Banana
Lime juice
Orange juice
Lime zest
Tropical fruits (fresh or frozen)
Almond milk
Protein powder (optional)
Then simply add all the ingredients to the blender, and blend until smooth.
Want to mix it up?
Some of our favorite mixes are:
Blueberries – a good way to add some extra antioxidants.
Strawberries – are a great source of vitamin C and also help boost the immune system.
Celery – perfect antioxidant. It is also loaded with essential minerals and vitamins such as folate, potassium, vitamin B6, vitamin C, and vitamin K.
Chia Seeds – one of the best sources of omega-3. They help raise HDL cholesterol that protects against heart attack and stroke. Similarly, it contains a good amount of fiber, iron, and calcium. Simply add a teaspoon of it to the mix and enjoy all the benefits that come with it!
Can you store spinach smoothie?
One of the great things about this green drink is that you can store it in the fridge and enjoy it the next day. You can make it the night before, and transfer it into a glass container with a lid or airtight container, and store it for up to 2 days. Before serving, make sure to shake it well.
Recipe tips:
Always wash your veggies and fruits before using them in the smoothie.
For a protein boost, add some row protein powder to the mix.
You can skip the almond milk and replace it with water.
For a sweeter taste, add some honey.
More Smoothies to try: