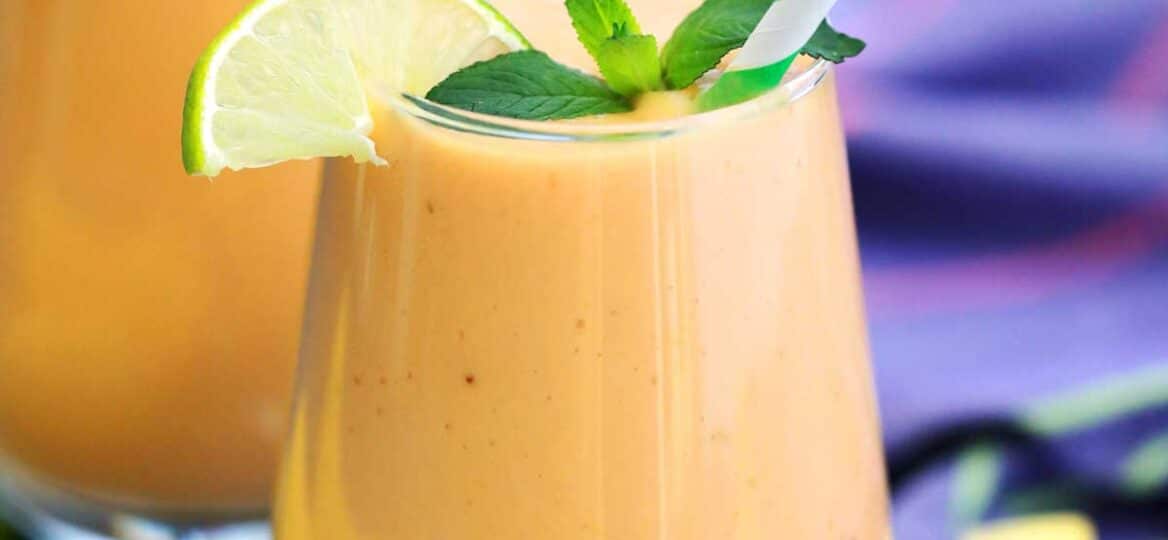 Mango Smoothie Recipe [Video]
Mango Smoothie recipe is perfect for tropical fruit-lovers! Have a naturally sweet and refreshing beverage for the family to beat the heat during the summer!
I love tropical fruits! And this beverage is one of my absolute favorites for spring and summer. Try my recipes for Homemade Lemonade, Mimosa, and Detox Water, too!
Mango Smoothie Recipe
Mango Smoothie is a summer favorite because it is cool, and its tropical flavors remind you of being on an island as you watch the waves hit the shore.
Good thing, you don't need to get out of the house and fly somewhere to experience it with this recipe. Sit back and relax at home with this homemade version.
This recipe is easy and uses only basic ingredients. Pairs well with almost anything, I serve it alongside savory dishes or when we're out grilling. This beverage perfectly cools you down as you stand under the heat of the sun and near the grill.
It doubles as a dessert sometimes because of its subtle sweetness that balances out a bit of the sourness which is a natural flavor of the fruit. And the bananas add more flavors that contribute to the tropical vibe!
And the color is vibrant. It simply reminds you of summer even when you don't make it during summer. Knowing this recipe will allow you to make it anytime!
What is Mango Smoothie made of?
Prepare these basic ingredients:
mango nectar juice and chunks
banana
vanilla Greek yogurt
vanilla extract
zest and juice of a lime
lime slices
mint sprigs
For the exact amount, refer to the recipe card below.
Is Mango Smoothie healthy?
Yes! It has no added sugar except that of the mango nectar juice. And the use of natural ingredients adds fiber, vitamins, and nutrients. Here are the key health benefits that you can get:
How to make Mango Smoothie?
Blend: Put all the ingredients in a blender. Process until smooth.
Serve: Pour in glasses and garnish with mint sprigs and lime.
Should you use fresh or frozen mango?
You can use either the fresh or frozen ones. What's good about using frozen ones is that the resulting mixture is thick and cold.
And if the fruit is not in season, you can still make this beverage out of the frozen ones. You don't need to add ice anymore.
And if you choose to use fresh ones, then, use frozen banana as the cold element.
How many mangoes to make one cup?
You only need one medium-sized fruit of about 12 ounces to make a cup.
What else can you put into a smoothie?
You can add more ingredients to add more flavor, fiber, vitamins, and nutrients. Here are some suggestions:
greens like spinach and kale
chia or flaxseeds
almonds
nut butter
protein powder or protein in the form of granola or silken tofu
dark chocolate
other fruits like avocado and berries
Can you make the smoothie vegan or dairy-free?
Yes! Just use plant-based milk like soy or almond. Or, not use any milk at all. Use natural fruit juices or plain water.
More delicious drinks:
How to store it:
Once you blend it, you can store it in the fridge for up to 2 days. Note though that layers may form due to separation and that is normal. Just stir everything again.
You can also store it in the freezer for up to 3 or 6 months by first placing it in freezer-safe containers.
Recipe Tips:
As a make-ahead tip, you can cut up the fruits and place the ingredients in a resealable freezer bag. Then, freeze everything. Each time you want to serve it, you can simply get your frozen fruits and blend.
You can add ice to make it frostier and it is quite more filling, too.
Serve it in the morning for a nice breakfast pair for your Blueberry Oatmeal Pancakes and French Crepes.