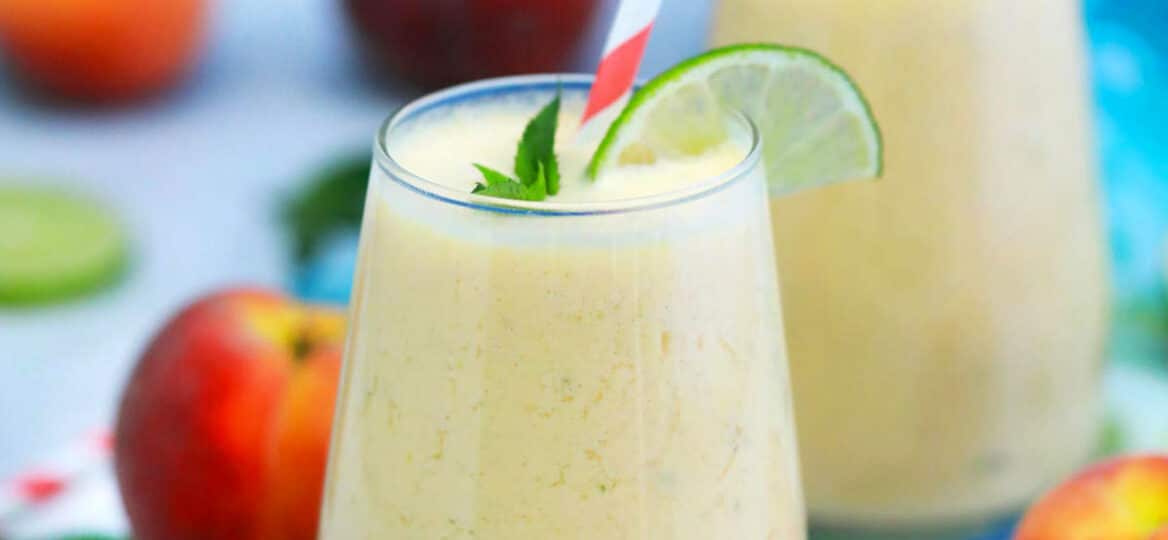 Peach Smoothie Recipe [Video]
Peach Smoothie makes a refreshing and delightful summery drink. You can enjoy this tasty drink on-the-go, for a quick snack or breakfast!
Looking for tasty summer refreshments? Check out my recipes for Mango Smoothie, Avocado Lime Smoothie, and Raspberry Coffee Smoothie!
Creamy Peach Smoothie Recipe
Peach Smoothie is one of my favorite tropical drinks especially at the prime of the summer's heat. I tend to like being lazy during the summer which is why this drink, with just a few ingredients, helps jumpstart my day.
In addition, this recipe has zero added refined sugar and uses the fruit's, natural sweeteners. This is great in ensuring that anyone, even kids, can quench their thirst without consuming too much sugar.
While there are other variants of fruits that you can use to create smoothies, this recipe is great for meal prepping. You can cut up the peaches beforehand and combine the ingredients in just minutes.
I usually also make this drink for pool parties. Kids and adults both love it as it not only looks good, but it is also absolutely delicious.
What do you need to make Peach Smoothie?
Whole Fruits. Frozen bananas and chunks of peach
Fruit juice. Peach nectar juice, coconut milk, and lime juice
Flavoring. Lime zest, Greek yogurt, and vanilla extract
How do you make Peach Smoothie
Prep garnish. Slice a piece of lime and set aside for later.

Blend. Using a blender, place all the ingredients inside. Start slow and build to a faster speed until it turns creamy and the drink smoothens as desired.

Serve. Make a slit in the lime and slide it onto the sides of the glass. Place the creamy drink and finish it with a dash of mint on top. Serve.
Can you make it in advance?
One of the best things about smoothies, in general, is how easy they are to make. Fruits can be kept in a freezer so you can skip using ice.
The smoothie ingredients also do not rot easily which is why you can add the beforehand to the blender and refrigerate.
Recipe Variations:
Every summer I usually stock up on peaches as I find them sweet and refreshing. Sometimes, I want to put the extra stock into good use which is why I researched other recipe variations.
If you also want to try out other uses of this juicy fruit, check out some of its best variation from my recipes:
On the other hand, if you like tangy drinks, you might want to check out these recipes for a fresh summer drink:
How to store:
Fruits do not spoil pretty quickly when refrigerated properly. When storing peaches, place them in a plastic bag with holes as they need to breathe.
Bananas, on the other hand, need to be stored tightly in a plastic box or Tupperware. Frozen fruits make it easier to make the smoothie.
If you have an excess of the smoothie that you made, you can let it sit in the fridge for at least two days. I also like to place it inside mason jars as it looks prettier.
Recipe Tips:
For an additional fruity flavor, you can add mangoes. Ripe mangoes make for an even sweeter taste without the added sugar.

For athletes and gym-goers, you can also place in protein powder. This would make it a great post-workout drink.

Try to invest in high-quality blenders. So many types of on-the-go drinks and meals can be made simpler with a blender.
Any type of milk will suffice as an alternative. However, I highly recommend getting the refrigerated coconut milk to get the best taste.

Greek yogurt has high protein content which makes this recipe great for breakfast. However, you can also use low-fat yogurt as an alternative.