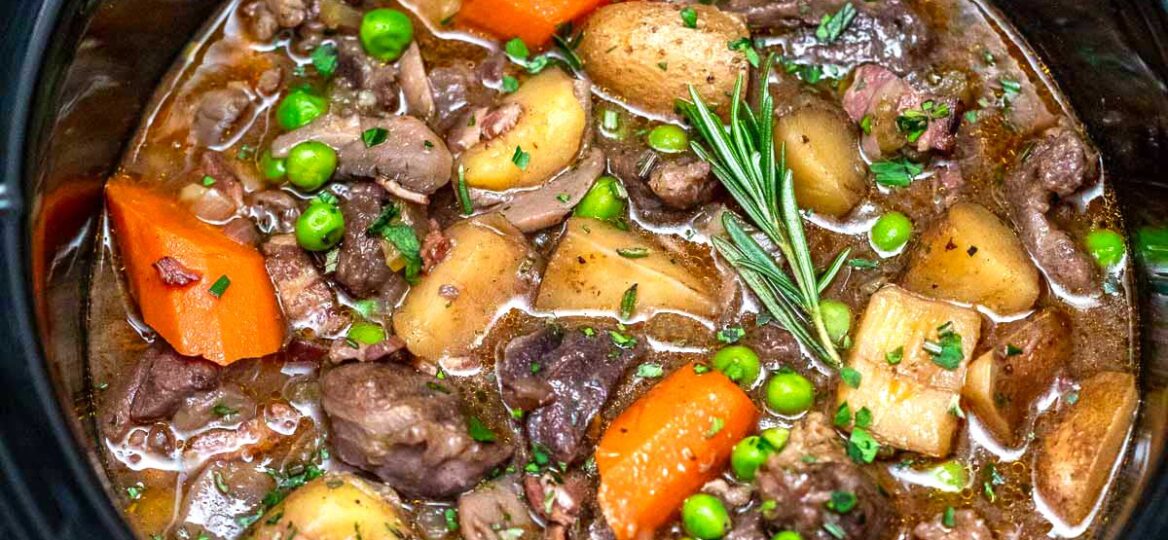 Slow Cooker Lamb Stew Recipe [Video]
Slow Cooker Lamb Stew is classic comfort food made with lamb, potatoes, vegetables, and herbs, all cooked in a rich and thick broth. The meal is slowly cooked for hours, resulting in tender, and fall-apart meat.
This dish is guaranteed to cheer and warm you up during colder winter days. Also, this is the ultimate recipe to enjoy for St. Patrick's or Easter day. Serve it along with some mashed potatoes, roasted asparagus, or arugula salad.
Slow Cooker Lamb Stew – Irish Stew recipe
This Slow Cooker Lamb Stew is very similar to our Beef Stew recipe, with some minor adjustments to it. If you haven't tried a stew yet then I highly recommend giving this recipe a try.
The dish is super flavorful thanks to the meat, veggies, and broth being cooked over such a long period of time. The meat is so tender that it almost falls apart. There is nothing better to serve during a colder winter day than a warm bowl of this delicious stew.
The benefit of making an Irish Stew in the crockpot is that you are basically dumping all the ingredients in the pot, and let it do the job. Go with your day, and when you come back, you will be rewarded with the best comfort food there is. Also, it can be made in advance and easily stored for days to come.
How to make Slow Cooker Lamb Stew?
Brown the meat
Cut the meat into about 1.5-inch pieces. Then, heat some olive oil in a skillet over medium heat, season the lamb, and brown on each side for about 3-5 minutes. Note, this step is optional, but I strongly suggest browning the meat as it locks in the flavor.
Transfer the ingredients to the Slow Cooker
Then, place all the ingredients into the crockpot, and add enough water/broth to cover the ingredients.
Cook
Coover and cook on LOW heat for 7-8 hours, or HIGH for 3-4 hours.
Serve
Garnish with some freshly chopped parsley, and serve warm!
What is the best cut of lamb for stew?
The best cut would be a boneless shoulder lamb shoulder or leg. Both cuts work great in this recipe, especially since the cooking time is longer here. The meat will be super tender, moist, and fall-apart.
Also, if you plan on using frozen meat, then it is best to thaw it overnight prior to cooking.
How to thicken a stew?
Because we use potatoes in this recipe, and we cook the ingredients over a longer time, the stew is quite thick naturally. Also, the potatoes have starch, which makes them thicker as well.
However, if you are not fully satisfied with the texture, and want it even thicker, it is quite easy to do so. In a bowl, whisk together ¼ cup of flour and ¼ cup of water or stock. Then, pour the flour mixture into the pot, and stir. I would cook the mixture for an additional 10-15 minutes, so it integrates properly in the stew.
How to make stovetop lamb stew?
If you want to make it the traditional, stovetop way, you can easily do so. Check out the stovetop lamb stew recipe.
How to make an Irish Stew in the Instant Pot (Pressure Cooker)?
Making it in the Instant Pot is equally easy and at a fraction of the time.
Using the saute function of the IP or Pressure cooker, brown the meat on both sides using oil.
Next, whisk the broth with flour and add to the pot. Add the rest of the ingredients to the pot, and cook for 35 minutes, followed by NPR (natural pressure release).
Garnish with some chopped parsley and serve warm.
What to serve with Lamb Stew?
This is a full meal on its own. But you can pair it with some following:
How to store it?
If you have leftovers or want to make it in advance, simply transfer to an airtight container and refrigerate. The stew can be refrigerated for up to 4 days.
To freeze, use a freezer-safe container, and freeze it for up to 3 months.
6 Lamb stew – slow cooker recipe tips
Browning the meat is optional, but I highly recommend this step. It takes about 5-8 minutes but it is well worth it because it locks in the juices.
This is the perfect meal to enjoy for St. Paddy's Day or Easter. However, we enjoy it year-round, so feel free to make it whenever desired.
You can make it with other broth if you prefer. Chicken or veggie broth will work as well.
Also, I love cooking it on LOW for about 7-8 hours rather than HIGH for 3-4 because it makes the meat extra tender and flavorful.
Feel free to add other veggies to the mix. For example, add sliced celery, green beans, sweet potatoes, or mushrooms as well.
The best potatoes to use would be Yukon or russet potatoes. However, if you cannot find them, go with what you have available.