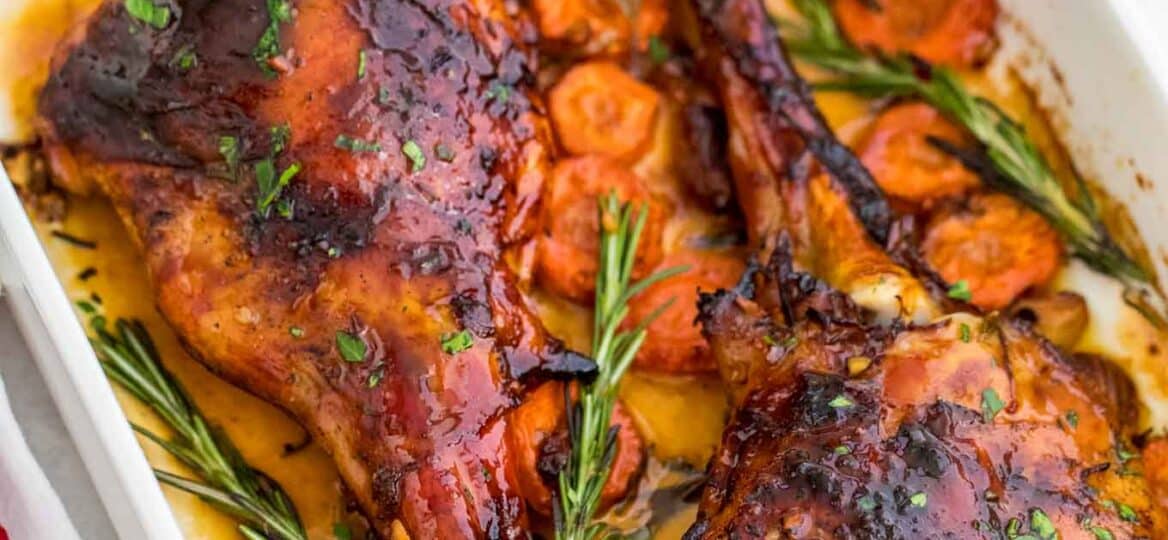 Easter Lamb Recipe [video]
Easter Lamb is the perfect main course for Easter dinner. It is extremely juicy, flavorful, and fairly easy to prepare.
Easter can be an incredibly stressful time to cook. Look no further for other dishes to cook. Try dishes such as Classic Egg Salad and Best Deviled Eggs. Or try and making Garlic Lamb Chops in the oven.
Easy Easter Roast Lamb
Everyone knows that besides Christmas and Thanksgiving, Easter is one of the biggest Christian holiday celebrations with food. This Easter Lamb recipe will leave all of your friends and family with their bellies full and wanting more food. By stuffing this lamb leg with garlic, shallots, rosemary, and thyme it will be bursting with flavor once it is taken out of the oven.
Though it takes quite a little bit of time in the oven it is always worth it. The big bonus is that the preparation is not even that hard or take that long. With about fifteen minutes of prep time, your meal will be ready to go in no time! I have had so many compliments on this recipe and it is very straightforward.
Sometimes other kinds of meats can be hard to make juicy, but luckily with this recipe that is not a concern. To ensure the juiciness is still there occasionally check the inside of the meat and make sure the internal temperature is 160 degrees F. That will guarantee your meat is done and still juicy. I highly recommend asking for a "full round" because it is easier to stuff it with ingredients and gives more flavor. Just go to your local butcher shop or deli and then you are set for Easter!
What to serve with a leg of lamb for Easter dinner?
I have found over many years of making dinner that having some sort of dish with an egg is a staple. Of course, being Easter that is a given, but deviled eggs have always been traditional for me to have and delicious to eat at this holiday dinner.
How to decorate a lamb for Easter?
Gather some thyme, basil, and any other colorful herbs and place them on top of the lamb to your style. You can also make a stuffed leg of lamb, by stuffing some rosemary and other herbs in it while roasting.
In addition, using deviled eggs and the cream inside them is a great way to decorate the plate that it is served on. However, there is no right or wrong way to decorate it, so feel free to go with other ingredients you like.
What to eat for easter if you don't eat ham or lamb?
There are many different options to use instead of lamb. Besides the examples below you can use absolutely any other variation of salmon, pork, and beef. Some are:
Pork:
Herb-Roasted Rack of Pork
Baked pork chops in a mushroom burgundy sauce
Coiled pork
Fish:
Salmon and Spring Vegetables
Snapper with charred tomatillos
Trout with Creamy Spinach
Salmon and Fresh Red Chile papillotes
Beef:
Prime rib
Braised beef brisket
What does the lamb symbolize at Easter?
The lamb symbolized the sacrifice during Jewish Passover. That also just happened to become the symbol of Jesus' sacrifice. Also, in the Bible, John the Baptist called Jesus "the Lamb of God." Thus the reason why lamb is eaten in the same way that bread is eaten to symbolize the body of Christ.
Can you freeze lamb?
Absolutely, any meat is very easy to freeze and great when you take it out to serve again. Be mindful when you are taking it out of the freezer. Put it in the refrigerator overnight and either pan sear it or place it in the oven so that it can get back to that original delicious taste.
You can also cut it into smaller pieces, and place in an airtight container and freeze for a longer period, for up to 3 months.
Stuffed Easter Lamb Leg
Ingredients
2

whole legs of lamb

2

large carrots

peeled and cut into 1/4 inch rounds

6

cloves

garlic

whole

6

sprigs fresh rosemary

whole
Stuffing:
1/4

cup

olive oil

1

tablespoon

lemon juice

Zest of 1 lemon

1/2

red bell pepper

diced

8

cloves

garlic

minced

1

cup

cashews

finely chopped

1/4

teaspoon

Kosher salt

1/4

teaspoon

ground black pepper

1/2

dried Italian herbs

2

tablespoons

parsley

chopped

2

tablespoons

fresh rosemary

chopped
Sauce:
1/4

cup

olive oil

1/4

cup

honey

2

tablespoons

lemon juice
Instructions
Preheat oven to 375 degrees F.

Pat dry meat with paper towels. Season the lamb legs with salt and pepper on both sides. Place on a chopping board and gently cut halfway down into the leg to make an incision so the meat opens out, creating a pocket.

Mix all the stuffing ingredients in a bowl.

Mix all the sauce ingredients in a bowl.

Lightly grease with olive oil a 9x13 inch baking dish.

Scoop the stuffing into the created pockets and secure the opening with toothpicks.

Transfer the legs of lamb into the prepared baking dish and top with the sauce mixture.

Add whole garlic and carrots to the baking dish, distributing evenly. Add 3 sprigs of rosemary.

Roast for about an hour and a half, basting the lamb after 30 minutes and every 15 minutes after that until the meat is cooked and golden brown.

Once cooked, discard rosemary and garnish the dish with remaining fresh rosemary sprigs and chopped parsley. Let the meat rest for 15 minutes before serving.

Enjoy!