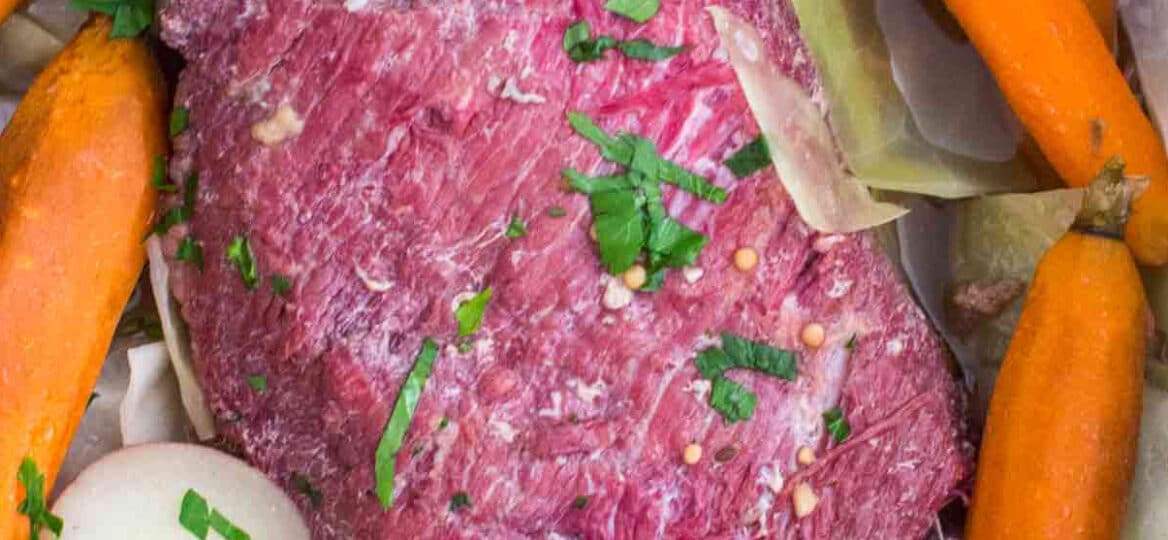 Slow Cooker Corned Beef with Cabbage [VIDEO]
Slow Cooker Corned Beef is incredibly juicy, tender, and very flavorful. Made with cabbage, potatoes, and carrots for a well-rounded meal. This dish is perfect for family weekend dinner or to feed a larger crowd.
Slow Cooker recipes are very versatile and a lifesaver during crazy weeknights. We are huge fans to make soup in our crockpot, like this Slow Cooker Baked Potato Soup and Crockpot Chicken Tortilla Soup. For a more meat-centered dinner, check our melt in your mouth Slow Cooker London Broil and Slow Cooker Yankee Pot Roast.
Cooking meat in the crockpot is always a great idea, as it comes out tender and juicy!
Slow Cooker Corned Beef and Cabbage
Slow Cooker dishes are a staple around here, and this one is among the best. This delicious homemade recipe is one of the easiest dinners you can make, easy enough to be made on a weeknight. All you have to do is add all the ingredients to the crockpot and forget about it until ready to serve.
It can't get any easier unless you order the meal at a restaurant. The beef is juicy and flavorful, slowly cooked with lots of garlic and spices. Also, you can add potatoes and carrots 2-3 hours before the corned beef is ready, to you have the sides done at the same time.
This St. Patrick's Day favorite couldn't be simpler to make. It is simply the BEST Corned Beef recipe ever! I love serving this slow cooker Irish-American classic with carrots, bacon fried cabbage, or crack mashed potatoes for St. Patrick's Day.
How To Choose The Best Cut Of Corned Beef:
It comes down to three options, the best one is considered the brisket.
The "flat" cut – leaner and features a more consistent thickness.
The "point" – it is the thicker end of the brisket, fattier, with inter-muscular fat or marbling.
A whole brisket, which includes both the flat and the point, probably is the best choice.
Should I rinse off corned beef before cooking?
It is usually not required especially when cooking it in the slow cooker or crockpot. By rinsing it, you are also likely to remove any excess salt from the meat, which might result in a milder flavor.
Also, beef brisket used straight from the plastic or that was brined overnight, has a lot of flavors absorbed in it. By rinsing it, you are likely to wash off some of the flavors.
How Long Do You Cook Corned Beef In The Crockpot?
It depends on what setting you are cooking. A 3-4 pounds corned beef brisket needs to be cooked on low, about 8 -10 hours and on high you are looking at 4-5 hours.
How Do You Cook Corned Beef Brisket In a Crockpot?
Check the recipe below. It's really easy, all you have to do is add all the ingredients and cook on the preferred setting. Similarly, you can brown the brisket on the one side before adding it to the slow cooker, this way it will have a crispier top.
How Long Does It Take To Cook Corned Beef?
This dish takes about 8-10 hours on low.
In the oven it will take about 4-6 hours, depends how big is the brisket.
Instant Pot Corned Beef should be ready in about 1.5 hours.
Can you overcook corned beef in the crockpot?
Everything can be overcooked even when using the slow cooker! Even though you are cooking the brisket on LOW heat for about 8 to 10 hours, it is still important to know when it is done. For the best outcome and extra juicy meat, I do not recommend cooking it for more than 10 hours.
How do you know when corned beef is done in the slow cooker?
The meat is ready when it is "fork-tender". This is a good indication that is properly cooked, tender, and ready for serving. In addition, I recommend using a meat thermometer to check the internal temperature. It should read a minimum of 145 degrees F.
What to serve with Corned Beef:
There are many, many delicious options:
What Does Corned Beef Taste Like?
Simply put, it tastes amazing!! It has a slightly salty taste and a bit sour, if cooked the right way it is incredibly tender!
How to make Tender Corned Beef?
Regardless of what cooking method you choose, it is good to pierce the brisket with a knife and add in some garlic cloves. This will add more flavor and also make the meat extra tender.
How to store leftover Corned Beef?
Leftovers can be stored in an airtight container for up to 3-4 days. Also, you can freeze the beef brisket in a freezer-proof container for up to 3 months. Reheat prior to serving.
Slow Cooker Corned Beef Recipe tips:
As stated above, you can use various meat cuts to make this recipe. However, brisket would work best as it always results in a tender and super juicy meal!
I love making it with cabbage, carrots, and garlic. This adds extra flavor to it. Also, the juice can be used as gravy and served over mashed potatoes.
To make this recipe in the Instant Pot, check out my Instant Pot Corned Beef and Cabbage Recipe.
Please note, when using pre-packed brisket it is usually salted and seasoned. Therefore, you do not need to add extra salt. On the other hand, if you want to reduce the saltiness, give the meat a quick rinse.
Also, if your corned beef is too fatty, feel free to cut some of it off.
Because the meat is cooked on low for a long time, it is critical to have sufficient broth/water in the pot.
I like to pierce the meat with a knife and insert a few garlic cloves. This gives it extra flavor!
Remember to always slice corned beef against the grain (rather than with it).
If you are looking for more cabbage recipes try my Stuffed Cabbage Rolls, Cabbage Soup, or Crockpot Stuffed Cabbage Rolls.
Love Slow Cooker Recipes? I have some delicious ones! Check them here:
Slow Cooker Corned Beef with Cabbage
Ingredients
1

3-4 lbs corned beef brisket, plus pickling spice packet

12

whole cloves garlic

1

large onion

peeled

2

bay leaves

1

lb

carrots

cleaned and tops trimmed

1

lb

baby potatoes

cleaned

1/2

head

cabbage

chopped

1

cup

low sodium beef broth

2

cups

water

2

tablespoons

chopped fresh parsley leaves
Instructions
Place corned beef brisket, fat side up, into a 6-qt slow cooker.

Add the pickling spice tea usually comes with corned beef on top of the brisket.

Minced 4 garlic cloves and add them to the slow cooker.

Pierce the beef with a sharp knife, and stuff with 4 garlic cloves. Add the remaining 4 whole cloves to the slow cooker.

Cut the peeled onion in 4 and add it to the crockpot.

Add the bay leaves.

Pour beef broth and the water over the brisket add more water as needed to lightly cover the brisket by about 1/2 inch.

Cover and cook on low heat for 8-10 hours, until tender.

If you want to add carrots and potatoes, add them to the slow cooker after the first 3-4 hours of cooking have passed. Cabbage is added during the last 2 hours of cooking.

Thinly slice the corned beef against the grain.

Garnish with parsley and serve with carrots and potatoes.

Enjoy!