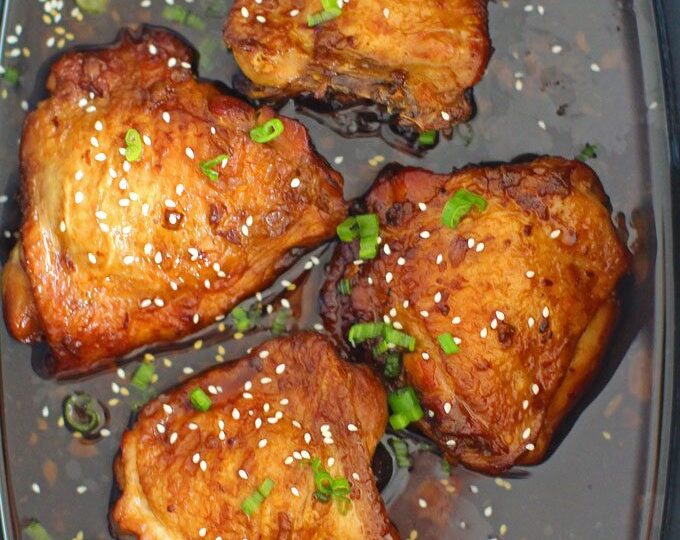 Slow Cooker Garlic Sesame Chicken [VIDEO]
Slow Cooker Garlic Sesame Chicken is very easy to make and full of flavor. Loaded with lots of garlic and perfectly juicy.
We love chicken recipes including the most popular recipe on the site, Orange Chicken and Cranberry Orange Chicken.
Easy Slow Cooker Garlic Sesame Chicken
Slow Cooker Garlic Sesame Chicken is one of the easiest dinners you can make. The chicken gets incredibly juicy and full of flavor. Cooked in sesame oil, soy sauce and LOTS of garlic, this meal is very satisfying.
Bonus points to the Slow Cooker for doing all the heavy lifting here, which means that this meal requires minimum prep time and work. I like serving the Slow Cooker Garlic Sesame Chicken over brown rice, with sesame seeds and some chopped green onions.
Pin This Slow Cooker Garlic Sesame Chicken Recipe to your Favorite Board
Slow Cooker Garlic Sesame Chicken Recipe Tips:
For the best results, please follow the recipe card instructions below. Also, there is a short recipe video attached which you can watch.
To get the chicken nice, brown and not soggy, make sure the chicken is NOT covered in liquid, for the tops to perfectly cook.
For best results, and crispier chicken on the outside, you can brown it for 2-3 minutes over high heat, before adding it to the slow cooker.
Also, if you are looking to make this recipe Gluten-Free, use Tamari sauce instead of soy sauce.
Do not replace the fresh garlic with powder garlic.
If you love garlic, add more garlic at your discretion. Similarly, use less garlic if it is not your thing.
For a spicier kick, add 1-2 teaspoons of red pepper flakes.
What to Serve with Slow Cooker Garlic Sesame Chicken?
Can I substitute pork for chicken?
Yes, pork is a great alternative for chicken in many recipes including this one. If you are going to use pork instead of chicken, I would recommend using pork chops or pork loin. The cooking time will also vary based on the cut that you choose. About 6-8 hours on low or 4 hours on high.
Can you freeze Garlic Sesame Chicken?
Yes, this dish can easily be frozen. Let the sauce from slow cooker cool completely before freezing. Transfer into freezer-safe containers or heavy-duty freezer bags and add the chicken, making sure the chicken doesn't overlap, or you may pull the skin when thawing. Label with the date, and freeze for up to 3-4 months, or longer if you use a deep freezer.
How do you thaw Garlic Sesame Chicken?
Transfer the frozen meal to your refrigerator the night before you wish to use it to allow it to thaw. Add the sauce to a saucepan and reheat it to at least 165 F before you consume it. Microwave the chicken or heat it up in the sauce, you can also put it in a hot oven until it warms up.
Looking for more crockpot recipes?
Tools/Ingredients I used to make the Best Slow Cooker Garlic Sesame Chicken Recipe:
Crockpot – very reasonably priced and definitely a kitchen must-have if you are busy.
Soy Sauce – I like using lite say sauce in my recipes, as it has less sodium and its easier for me to control the saltiness of the dish, I always buy a large bottle like this one and keep it in my pantry.
Sesame Seeds – these little guys are perfect in Asian recipes, also sprinkled on salads and fish, a jar will last you a long time.
Watch Recipe step-by-step Video: