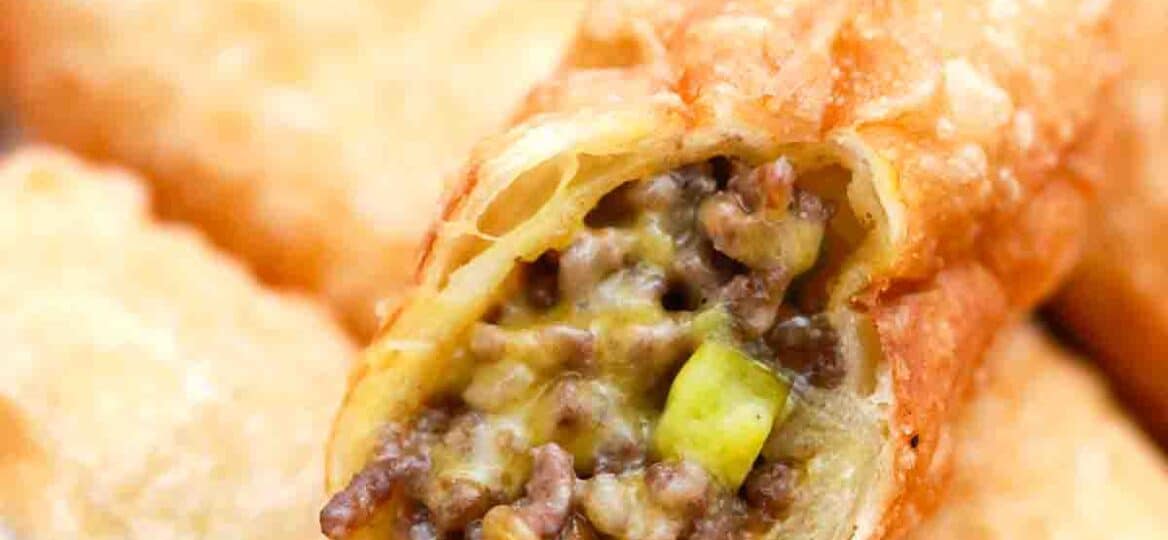 Cheeseburger Egg Rolls Recipe
Cheeseburger Egg Rolls combine two of the most popular comfort foods to make a deliciously crunchy and cheesy appetizer or scrumptious snack. You could even have it as a meal with a side of rice or noodles. In each eggroll, you get cheesy goodness and seasoned hamburger meat with pickles, so it tastes like a cheeseburger wrapped in a wonton.
These cheeseburger egg rolls would go great with One Pan Hunan Chicken made with oyster sauce, zucchini, and boneless chicken. Another dish that would be perfect with egg rolls is meatloaf. Try our Best Crockpot Meatloaf recipe made with sweet chili sauce, apple cider vinegar, and brown sugar.
Wondering why they are called egg rolls? According to experts, a dish called Dan Gun in a Chinese American cookbook was made with veggies and meat wrapped in egg. And Dan Gun actually translates to egg roll. But there is no egg in the egg roll recipe unless you count the egg wash you use to seal the rolls.
Make cheeseburger egg rolls tonight for dinner for something different. Make it an Asian night with fried rice, crab rangoon, and your other favorite Asian dishes.
If you have ever been to Cheesecake Factory or Disney World, you may have seen all their cheeseburger egg rolls stacked up and ready to sell. They are popular for a reason, but you can make your own just as delicious!
The homemade version is delicious, and you can make it in under one hour. The filling is hearty and cheesy, and the rolls are cooked to crispy golden-brown perfection and served with thousand island dipping sauce.
For a different way to enjoy a cheeseburger, try our bacon cheeseburger sloppy joes made with crispy bacon, Worcestershire sauce, and beef broth. Looking for something different? Our keto arugula salmon roll is outstanding with smoked salmon, cream cheese, pine nuts, and arugula.
Follow us on Pinterest for more delicious recipes!
Ingredients needed:
To make these delicious cheeseburger egg rolls, all you need is the ingredients listed below. Then, when you are ready to begin cooking, scroll down to our recipe card at the bottom of the page for the measurements and directions.
Ground beef: Use lean ground beef for the best results.

Medium yellow onion: Finely minced.
Diced pickles: We used dill pickles.
Shredded cheddar cheese
Egg roll wrappers: Or spring roll wrappers.

Minced garlic cloves
Worcestershire sauce
Yellow mustard
Egg white
Kosher salt
Fresh cracked black pepper
Vegetable oil for cooking
Olive oil for frying
How to make cheeseburger egg rolls from scratch?
Preheat: First, preheat a deep frying pan over medium heat, add one tablespoon of vegetable oil, and saute the minced onions until they are translucent.
Cook the meat: Next, add ground beef to the pan and break it up as much as you can before seasoning it with salt and pepper. Cover it and cook until the meat starts to brown.
Make the cheeseburger egg roll filling: Then, stir the meat mixture to keep breaking it up as it cooks, stirring in Worcestershire sauce, mustard, and garlic. Drain the grease and transfer the cooked meat into a bowl.

Add cheese and pickles: After, add cheese and mix until the cheese is melted and mixed together thoroughly before stirring in the pickles.

Preheat oil: Now, preheat the oil to 350 degrees F while you roll the egg rolls.
Make egg rolls: First, whisk the egg whites in a small bowl and put it next to you.

Fill the egg rolls wrappers: Then, put one egg roll wrapper on a flat surface covered with parchment paper spritzed with cooking spray and spoon two tablespoons of the cheeseburger egg roll filling in a line leaving one inch on each end.

Roll them up: Next, carefully take the corner that is closest to you and gently fold it over the mixture, tucking it under the filling. Fold the side corners toward the center of the roll so it looks like an open envelope. Spread some of the egg whites along the edges and tightly roll up the wrapper to seal it. Continue until all the egg rolls are done.

Fry egg rolls: Last, fry the egg rolls in batches until they are golden brown, ensuring they do not crowd each other. Turn over and let the other side brown before removing and placing them on a baking sheet covered in paper towels.

Serve: Finally, when all the cheeseburger egg rolls are done, serve them with thousand island dressing.
How to make air fryer cheeseburger egg rolls from scratch?
Cook the onions: To begin, add a tablespoon of cooking oil and your minced onions in a medium skillet. Saute over medium heat until the onions are translucent.

Brown the beef: Next, break up the ground beef in the pan before seasoning it with salt and pepper. Continue to cook while covered until it starts to brown.

Finish cooking the meat: Continue to stir as you break it up and stir in the mustard, Worcestershire sauce, and garlic. After the meat is fully cooked, drain the juices and oil and put the meat into a mixing bowl.

Mix up the filling: Now, add cheese and mix until it is all incorporated and melted before adding chopped pickles.

Air frying: After, preheat your air fryer to 350 degrees F.

Rolling the egg roll: In the meantime, whisk the egg white in a small bowl and spread an egg roll wrapper in front of you on a flat surface covered with parchment paper.
Add the filling: Add two tablespoons full of cheeseburger filling and spread it into a short line. Leave about one inch on each side to fold the ends over.

Seal the egg roll: Next, tuck the bottom corner of the egg roll wrapper under the meat firmly and then fold both ends in to make an open envelope. Spread egg whites onto the edges before rolling up all the way to keep it sealed.

Fry air fryer egg rolls: Then, place several egg rolls into the air fryer basket, seam side down. Close and cook for five minutes, flipping halfway. Both sides should be golden brown and crispy when they are done.

Cook in batches: Finally, remove the finished egg rolls and put them on a paper towel to soak up the excess oil while you finish cooking the remaining egg rolls.

Serve air fryer cheeseburger egg rolls: When they are all finished, serve with thousand island dressing or your favorite dipping sauce.
Recipe variations:
Another oil: Feel free to use other oils such as avocado oil or whatever you like cooking with.
Different meat: Instead of ground beef, you can also use ground chicken, ground turkey, or ground pork.

Bacon cheeseburger egg roll: Use chopped bacon or crumbled bacon in your egg roll filling to make bacon cheeseburger egg rolls.

Other cheese: Alternatively, you could use American cheese or pepper jack cheese instead of cheddar cheese.

No pickles: You do not have to add pickles to your cheeseburger mixture if you do not like them.

Other veggies: In fact, you can also add other veggies like sauteed onions, bell peppers, celery, cabbage, or carrots.

Spicy egg rolls: If you like spicy food, add some red pepper flakes or cayenne pepper to your cheeseburger mixture.

No cheese: Feel free to leave out the cheese if you would rather just have hamburger egg rolls.

More seasoning: Add your own favorite seasonings like smoked paprika, thyme, rosemary, or fennel.
How to serve:
You can make these easy cheeseburger egg rolls in minutes with just a handful of ingredients. Serve them for dinner with side dishes or an appetizer cuisine with your favorite dipping sauce. Try one of our serving ideas here or share one of your own below in the comments section.
These are delicious dipped in sweet and sour sauce or whatever kind of sauce you like. You could also try our tangy orange sauce recipe.

Top these with ketchup for a real cheeseburger flavor.

If you love McDonald's Big Mac, try dipping your egg rolls in our copycat McDonald's Big Mac sauce.
Spicy food lovers will enjoy dipping these in hot sauce.

For a full Asian meal, serve these cheeseburger egg rolls with egg fried rice, crab rangoon, and Chinese hot and sour soup.

These egg rolls also go great with side dishes like soba noodles or creamy coconut rice.
You could also wrap these up and put them in your kids' lunch for a nice surprise.
Frequently asked questions
Is it healthier to air fry these egg rolls?
Yes, of course, air-fried egg rolls are healthier than deep frying because you do not have to use any oil to make them. This reduces the saturated fat and overall calorie count. However, the egg roll wrapper may not be as crispy using the air fryer method. If you want crispier skin, place them in the broiler for a few minutes before serving.
What is the difference between spring roll wrappers and egg roll wrappers?
The spring roll wrappers are thinner than the egg roll wrappers. Because of this, you may notice that your spring rolls are extra crispy while the egg rolls are a bit chewier with more substance. Either way, they both work. However, spring roll wrappers are more delicate so you have to be careful.
What are some good dipping sauces for these cheeseburger egg rolls?
You could just go with the obvious ketchup or mustard sauce or something a little different like ranch dipping sauce. Yum yum sauce is also a delicious dip for these. Other sauces that would work well with your cheeseburger egg rolls are teriyaki sauce, soy sauce, Szechuan sauce, or General Tso sauce.
What are the nutrition facts in this recipe?
Each cheeseburger egg roll has 450 calories, 44 carbs, and 27 grams of fat with 10 grams of saturated fat, 2 grams of trans fat, 12 grams of monounsaturated fat, and 3 grams of polyunsaturated fat. It also has 80 milligrams of cholesterol, 659 milligrams of sodium, and 2 grams of sugar. But you also get 26 grams of protein, 4 milligrams of iron, 2 grams of fiber, 193 milligrams of calcium, and 246 units of vitamin A.
How to store leftovers:
Store: You can store your leftover cheeseburger eggrolls in the fridge wrapped in plastic and placed in an airtight container for up to five days.

Freeze: If you want to freeze them, wrap them in plastic wrap and then place them in a freezer bag. They will stay fresh in the freezer for up to 90 days.
Thaw: For the best results, thaw your leftovers in the fridge overnight.

Reheat: You can reheat one or two egg rolls in the microwave for 45 to 60 seconds depending on the size of your egg rolls and the wattage of your microwave. You could also reheat them in the air fryer for two to three minutes.
More appetizers recipes to try:
Cooking tips:
You can use garlic powder if you do not have fresh garlic.

If you need gluten-free egg rolls, use spring rolls instead. They are made from rice.

For vegetarian cheeseburger egg rolls, use a ground beef substitute.

If you are using the air fryer, make sure you leave enough room for the air to circulate.
Make sure you drain the ground beef well after cooking or your egg rolls will be greasy and soggy.

Another way to keep your egg rolls from being soggy is to cool them on a wire rack instead of a paper towel.

Also, make sure the oil is hot before you add the egg roll. To test, drip a drop of water into the oil. If it sizzles, it is ready.
Cheeseburger Egg Rolls
Ingredients
1

lb

ground beef

1/2

medium yellow onion

finely minced

4

cloves

garlic

minced

1

tablespoon

Worcestershire sauce

1

teaspoon

yellow mustard

Salt and ground black pepper

1/2

cup

shredded cheddar cheese

1/2

cup

diced pickles

13-14

egg roll wrappers

1

egg white

whisked

vegetable oil for cooking
Instructions
Preheat a medium cast iron pan or non-stick skillet over medium heat.

Add one tablespoon of oil and the minced onion. Saute until the onion is translucent.

Add the ground beef, cook it breaking it up with a wooden spoon. Season it with some salt and pepper, cover it, and cook until the meat starts to brown.

Stir in garlic, mustard, and Worcestershire sauce.

Drain off the grease and juices from the pan, and transfer the beef to a large mixing bowl.

Add the cheese to the bowl and stir until melted and evenly incorporated. Stir in the pickles.

In a deep skillet, over medium heat, heat up the oil to about 350 degrees.

Spread about 2 tablespoons of cheeseburger filling in a line on an egg roll, leaving about an inch on each side of the wrap.

Carefully, fold the corner that's closest to you over the cheeseburger mixture, and tuck under the filling.

After that, fold both side corners toward the center of the wrapper. Dip your fingers in egg white and run it along the edges of the wrapper to seal. Gently roll up the egg roll.

Fry egg rolls in batches until golden brown, about 1-2 minutes per side, turning once the bottom side turns golden.

Serve with thousand island dressing.