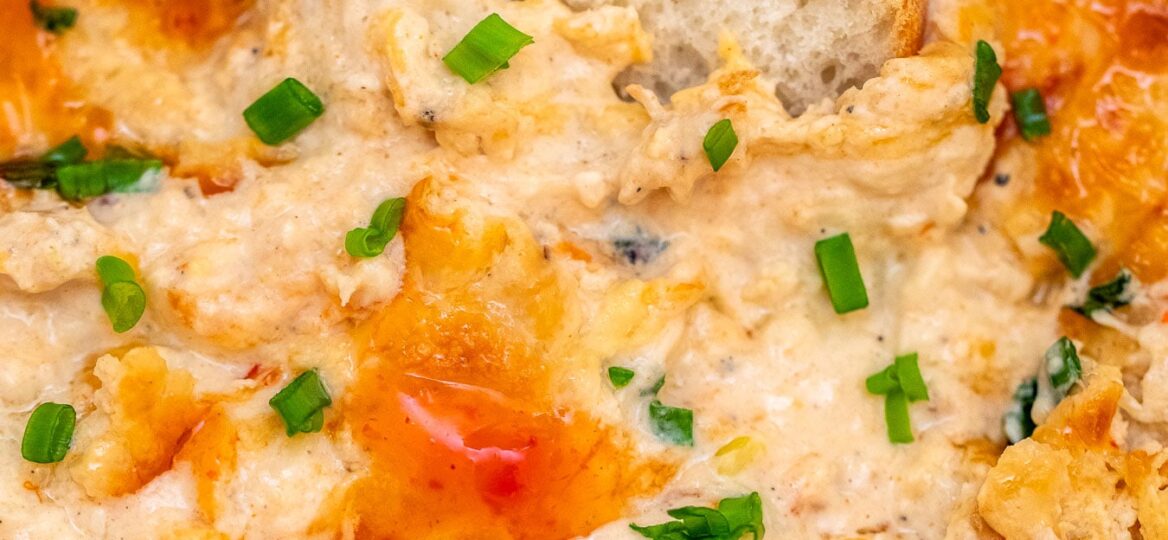 Hot Cheesy Crab Dip [Video]
Crab Dip is cheesy, hearty, savory, and tasty! This easy recipe will make every party or game night even more exciting and your guests will love it for sure!
Cocktails are better if you have a great selection of dips that goes well with chips, crackers, or vegetable sticks. And this appetizer fits the criteria of a great party-pleaser! For more party menu ideas, check out my recipes for Bacon Ranch Cheese Ball, Tuscan Chicken Pinwheels, and Jello Shots!
Cheesy Crab Dip Recipe
This Crab Dip recipe is so flavorful with different kinds of cheese and seasonings mixed together. Cheese-lover or not, your guests will definitely love this creamy appetizer!
I am not much of a fresh crab fan because I find it difficult to eat. I love the flavor but getting the meat out is simply messy and troublesome. With this recipe, I can taste and enjoy the seafood flavor minus the hassle making it a winner in my book!
That is just me, but I am sure that many of you enjoy eating this crustacean. It is a popular kind of seafood after all. That is also the reason why this appetizer is a sure hit in parties and whatnots.
This appetizer is simple, versatile, and easy to eat. Serve it at your next party!
What is Crab Dip?
It is a creamy appetizer with cream cheese, lump crab meat, mayonnaise, and various spices. It is commonly baked to bubbly perfection and served hot at parties where guests can simply dip in a piece of bread.
How to make Crab Dip:
For a quick step by step tutorial, watch the short video attached above. But the general steps are as follows:
Prepare for baking: Preheat the oven as prescribed in the recipe card below.
Mix: Combine the cream cheese, sour cream, and the mayonnaise until smooth.
Add: Stir in the cheeses, spices, and other seasonings until fully incorporated.
Fold: Combine the crab meat by folding it in the creamy mixture.
Bake: Put the mixture in a casserole dish and spread it evenly. Bake it for about 20 to 25 minutes.
Serve: Garnish with green onions, then, serve hot!
Crab Dip Variations:
You can add more dimensions to the flavor profile by adding these ingredients to this basic recipe:
bacon toppings – adds crisp
jalapenos or Tabasco – for a spicy kick
other seafood such as minced clam and shrimp – to intensify that seafood flavor
marinated artichoke or spinach – just like in spinach artichoke dip
breadcrumbs as toppings – this combination creates a crispy topping when baked, you can combine parmesan with it
Can you make it ahead of time?
Yes! You may do this ahead and simply store it in the fridge unbaked and well-covered. It can keep for about a day or two. On the day of the party, you can simply pop it in the oven to cook.
Freezing it could be an option, too, but not for longer than two weeks. The mayonnaise and the sour cream tend to not freeze well. They may separate and form lumps. So, if you can avoid it, do not freeze it.
How to reheat it?
Once it is out of the fridge, allow it to rest for another 15 to 20 minutes at room temperature before baking. Since it is cold, you will probably need to prolong the baking time. This is also true if coming from the freezer.
If frozen, you may want to stir it on the stovetop to harmonize the mayonnaise and the sour cream that could have separated with the rest of the mixture first.
Recipe Tips:
Make sure that the ingredients especially the cream cheese is at room temperature. This is to ensure that you will have a smooth mixture. If you forgot to take it out of the fridge early, you may heat it unwrapped in the microwave oven. Heat it in 10-second intervals, checking each time.
You can make a cold version of this dip by simply not baking it. Instead, just refrigerate it and serve it even after a day or two.
Serve it with flatbread, baguette, Ritz crackers, or even with vegetables like slices of cucumber, bell pepper, or celery.