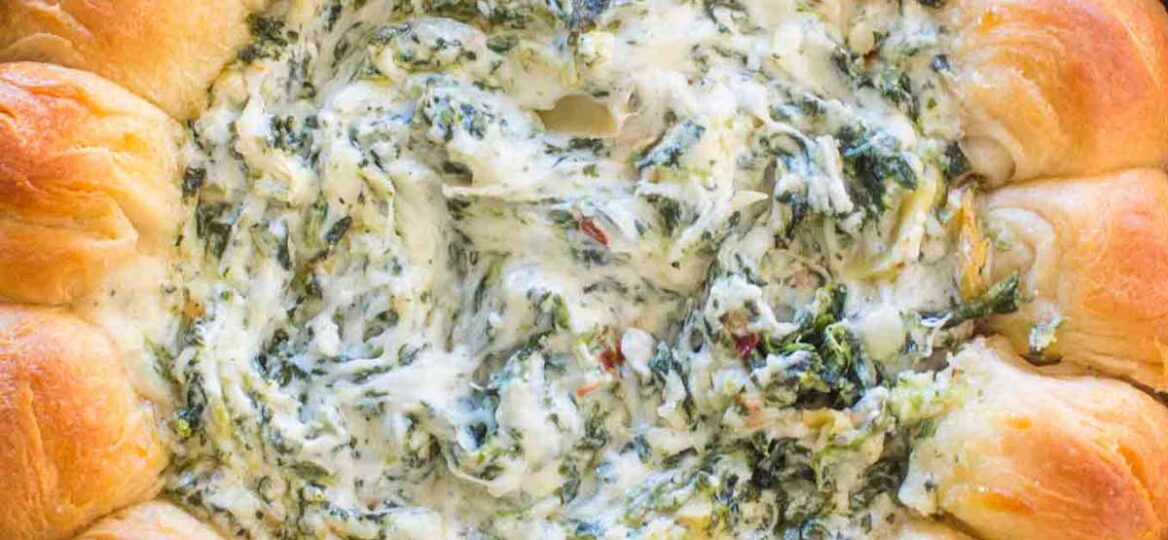 Spinach Artichoke Dip [Video]
Spinach Artichoke Dip is super gooey and cheesy, surrounded by biscuit rolls, all baked in one skillet. Loaded with spinach, marinated artichokes, and cheeses, it is the perfect bubbly and creamy appetizer.
We love making delicious and easy dips. They can be served at about any event and can feed a large crowd. This Spinach Artichoke Dip is definitely our favorite one. It is super creamy and delicious, and the best part is that it comes together with the most amazing biscuit rolls.
They are the perfect match, and this appetizer is guaranteed to be a huge winner. You can also try our other popular dips, such as Deviled Eggs Dip, Creamy Chicken Caesar Dip, and Roasted Red Pepper Tomato Feta Dip.
Best Spinach Artichoke Dip
Spinach Artichoke Dip is probably the greatest appetizer you can make. Not only is this dip delicious, but it also has a fun presentation, with the perfect little ring of biscuits surrounding the hot dip. The flaky biscuits are a huge bonus here. They are irresistible, and dipping the biscuits in the gooey dip, is pure joy and delicacy!
This dip is easily prepared and baked in about 25-30 minutes. We have used refrigerated biscuits such as Pillsbury, and they truly work great here.
The nice part is, you don't even need to thaw them out first. Cut the biscuit dough in half, and then roll into small balls. Then, arrange them in the skillet, and bake them together with the dip. The aroma is irresistible, and the gooey cheesy dip combined with the freshly baked biscuits truly makes this cheesy dip special.
This is the perfect appetizer to enjoy holiday parties, game days, and Superbowl parties.
What type of Artichoke should I use?
Marinated artichoke hearts in a jar work best for this recipe. The artichokes are already marinated with olive oil, lemon juice, and seasoning which give them a nicer flavor. Just drain and chop before adding to the cheese mix. Similarly, regular canned artichoke hearts work too.
Can you use fresh spinach for Spinach Artichoke Dip?
Yes, but using fresh spinach will require additional steps before using it in the dip. To reduce the liquid from the spinach, you will first have to cook down the fresh spinach, chop it, and then squeeze the excess liquid, or wring it out with a kitchen towel.
Alternatively, if you use frozen spinach, you simply have to thaw and squeeze out the excess liquid or drain through a fine-mesh sieve.
What do you need to make the best Spinach Artichoke Dip:
Parmesan cheese
Mozzarella cheese
Ricotta cheese
Mayo
Cream cheese
Frozen spinach
Canned or marinated artichoke hearts
Garlic powder
Onion powder
Salt and Pepper
Red pepper flakes
Biscuit dough, optional
How to make Spinach Artichoke Dip in the oven?
Preheat oven to 350°F.
Cut the biscuit dough in half, and then roll into small balls. Arrange in a ring around the skillet. Brush biscuits with olive oil and if desired, sprinkle with some grated Parmesan cheese.
Next, in a large bowl, combine mozzarella, ricotta, Parmesan cheese, cream cheese, mayonnaise, spinach, artichoke, garlic powder, onion powder, salt, and pepper, and mix until combined.
Scoop the dip mixture into the center of the skillet.
Bake for about 25-30 minutes, or until bubbly, and golden.
Brush the biscuits with a bit of olive oil before serving.
Best to serve hot.
Can I make Spinach Artichoke Dip in advance?
Yes, it is very easy to prepare ahead, and then bake before your guests arrive. The dip takes about 15 minutes to assemble together, so it is very convenient. For best results, we recommend preparing the dip one day in advance and store in the refrigerator before baking.
I would recommend however to only prepare in advance the dip part and open the can of biscuits when ready to bake.
How to make Spinach Artichoke Dip in a Slow Cooker:
Sure you can! In this case, you will not use the biscuit rolls. Mix all the ingredients for the dip. Lightly spray a 4-quart slow cooker with cooking spray.
Add the dip mix and cook on low for 3-4 hours or on high for 2 hours, or until the dip is completely warmed through and the cheese is melted. Stir a few times while cooking. Taste and adjust for salt and pepper if needed.
How long will Spinach Artichoke Dip last in the fridge?
If you want to refrigerate the dip, add it to an airtight container, it is best to refrigerate it up to 3-4 days. Preferably, heat in the oven or microwave until warm, before serving.
Can you freeze it?
Freezing this dip is not recommended. Since the dip contains mayonnaise and cream cheese, it will separate when frozen. Also, once frozen, the texture of the dip will not look as good as expected, hence best not to freeze the dip.
More delicious Appetizers:
If you are looking for other great holiday or game-day appetizers, check these out:
Recipe Tips:
To save some calories, you could swap the cream cheese for lower fat Neufchatel cheese.
Similarly, you could use half the mayo, or light mayo, which worked out great as well.
Feel free to add a can of mild diced green chilies.
Also, you could add some bacon or green onions on top to make it more festive.
For a spicier kick, add some red pepper flakes to the mixture.
Double the spinach to make it only spinach it, or use more artichokes to make it an artichoke dip.
This recipe can also be made in a baking dish without the biscuit rolls.
If you a hosting a larger gathering for a Christmas party and want to double it, simply double the ingredients, and use a larger baking dish.
It is great served with chips, crunchy veggies, or a warm baguette.