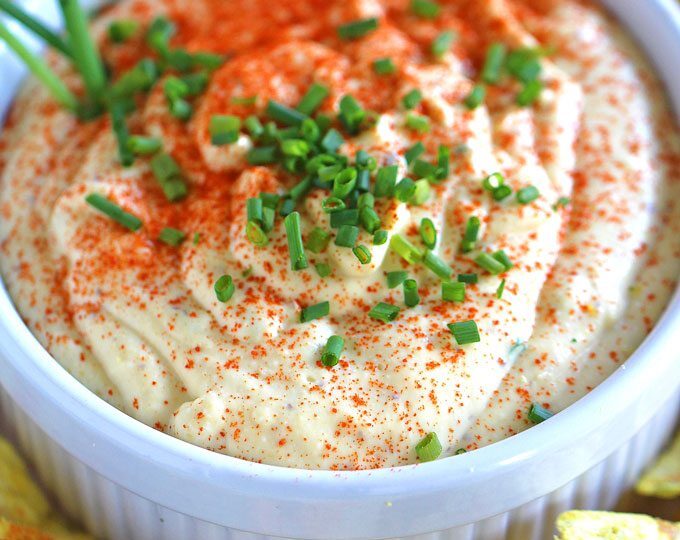 Deviled Eggs Dip with Chives and Paprika [VIDEO]
Deviled Eggs Dip with paprika and chives is a great way to use leftover eggs. Creamy, just a bit spicy, this is an easy and delicious appetizer. Watch the short video tutorial below and learn to quickly make this recipe at home!
I love Dips because they are simple to make, and can be served at about any event. Like Million Dollar Dip, Creamy Chicken Caesar Dip and Roasted Red Pepper Tomato Feta Dip, this dip will be the highlight of any party!
The Best Deviled Eggs Dip
Deviled Eggs Dip is a must-try! This Dip packs all the delicious flavors of Deviled Eggs, minus the hassle. Creamy, spicy and addictively good, the dip takes just minutes to make and is a great crowd appetizer.
If you are out of ideas on how to use leftover Easter eggs, this dip is a great option. Serve with chips, crackers or crunchy veggies, this Dip will be gone before you know it. I also tried it on toast, topped with avocado and bacon and it's pretty mind-blowing.
Why You'll Love This Easy Deviled Eggs Dip Recipe:
The dip is incredibly easy to make with minimum dishes to clean.
A great alternative to using leftover Easter eggs.
Naturally gluten-free.
The dip is creamy and rich, the perfect crowd appetizer.
It can be served with crunchy veggies, veggie sticks, chips, crackers or toasted bread.
Any leftovers are delicious and can also be served on toast.
What is Deviled Eggs?
Deviled eggs are also known as stuffed eggs, Russian eggs or dressed eggs, are hard-boiled eggs that have been shelled, cut in half, and filled with paste and other ingredients such as mustard and mayonnaise. They are generally served cold as an appetizer or side dish.
Deviled Eggs Dip Recipe Tips:
Use organic eggs, preferably from free-range chickens. Those eggs taste the best and will also have a more yellowish egg yolk.
You can substitute the cream cheese with sour cream instead.
If you decide to use sour cream please use full fat. To cut on the calories and use fat-free/reduced fat, please note that the dip will be more watery.
Also, the same applies to the mayo, I prefer to use organic, full-fat mayo.
Spicy red hot sauce can be skipped if you don't like spicy food.
Do NOT skip the mustard and please use high-quality mustard. The eggs are pretty plain in taste so the mustard is almost a predominant flavor in here.
In addition, if you can't find chives, I would suggest using green onions. A little green will add a pop of color and also some freshness to the appetizer.
I kept the dip vegetarian, but a great mix in is bacon, just crumble a few cooked bacon strips into the dip and also top it with bacon crumbs, the result is delicious.
Another great mix in suggestion is 1/4 cup of shredded cheddar cheese.
To make this even more fun you can add a bit of ranch powder mix and fresh dill.
What to serve with Deviled Eggs Dip?
Since this Dip is a great appetizer, it pairs well with:
Chips and crackers
Crunchy veggies such as celery, zucchini, cucumbers, broccoli floret and carrots
Toasted bread – for even more flavors, top it with avocado and bacon
Tools/Ingredients I used to make the Deviled Eggs Dip: