Best Pickled Eggs Recipe [VIDEO]
Pickled Eggs are an appetizing and mouth-watering, ready-to-serve snack made from hard-boiled eggs preserved in vinegar and brine. Watch the short recipe video tutorial below and learn how to make this easy and delicious meal!
This is another great addition to our collection of snacks and appetizers like the Best Deviled Eggs, Vegan Roasted Eggplant Spread, or Deviled Eggs Dip with Chives and Paprika.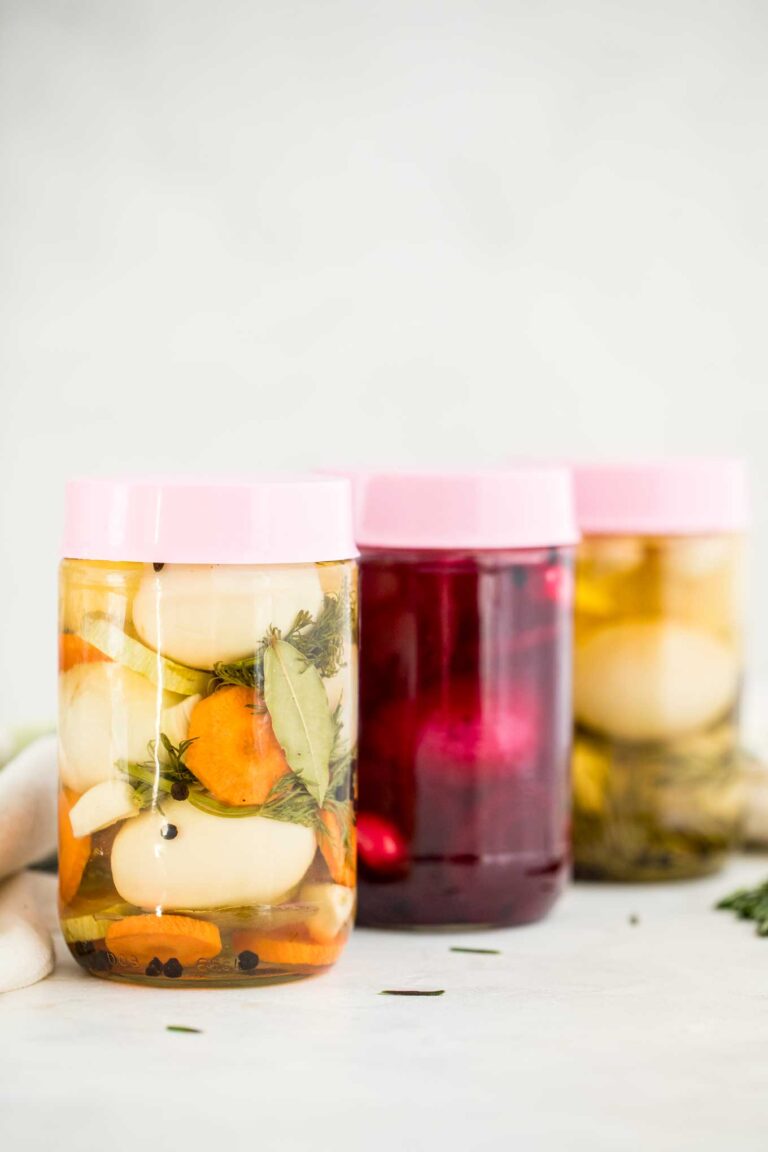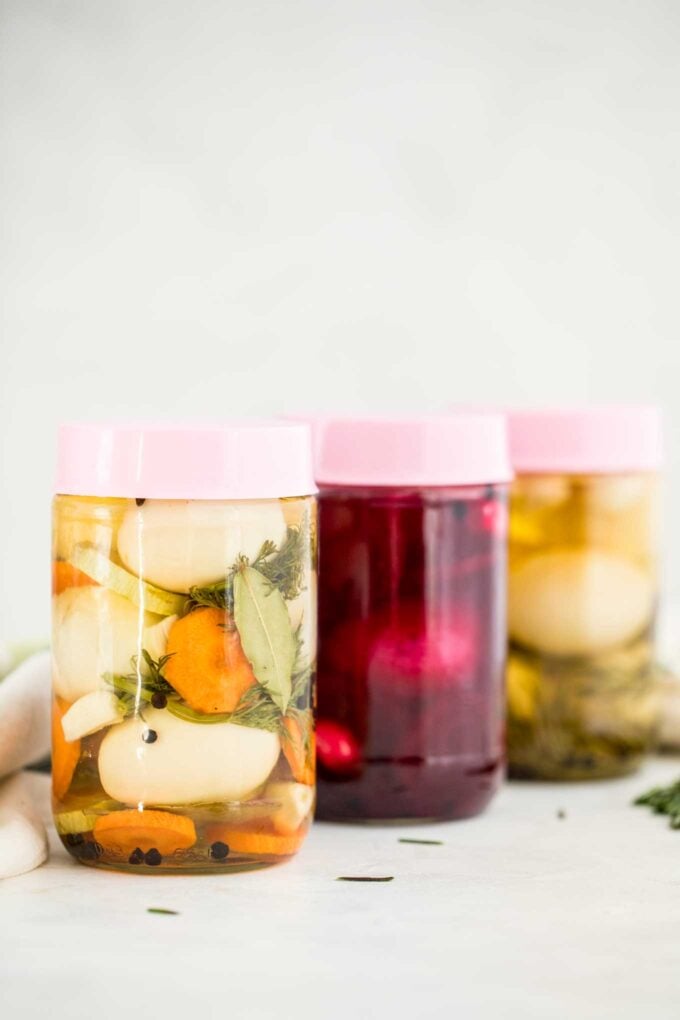 Homemade Pickled Eggs
This Pickled Eggs Recipe is simple to prepare for something so versatile. This dish owes to the fact that it is a combination of sweet, salty, and sour. I like that you can prepare it once and can be preserved and stored in a jar for several months. This makes it very handy and convenient for surprise guests or just to have some healthy snacks ready to serve.
You can serve them in many ways. We like to enjoy them as a sandwich filling, or on a salad, and sometimes with some veggies such as roasted asparagus. However, you can serve them with several variations according to your taste and be creative with it! Also, this dish can be made with jalapeños for a spicier kick or made as to the old-fashioned way with beets.
It is also convenient because it can be made with leftover eggs such as from Easter. If you run out of options of what to do with them, this is the perfect recipe to utilize some! Simply follow this recipe, and they will be preserved in vinegar for months to come!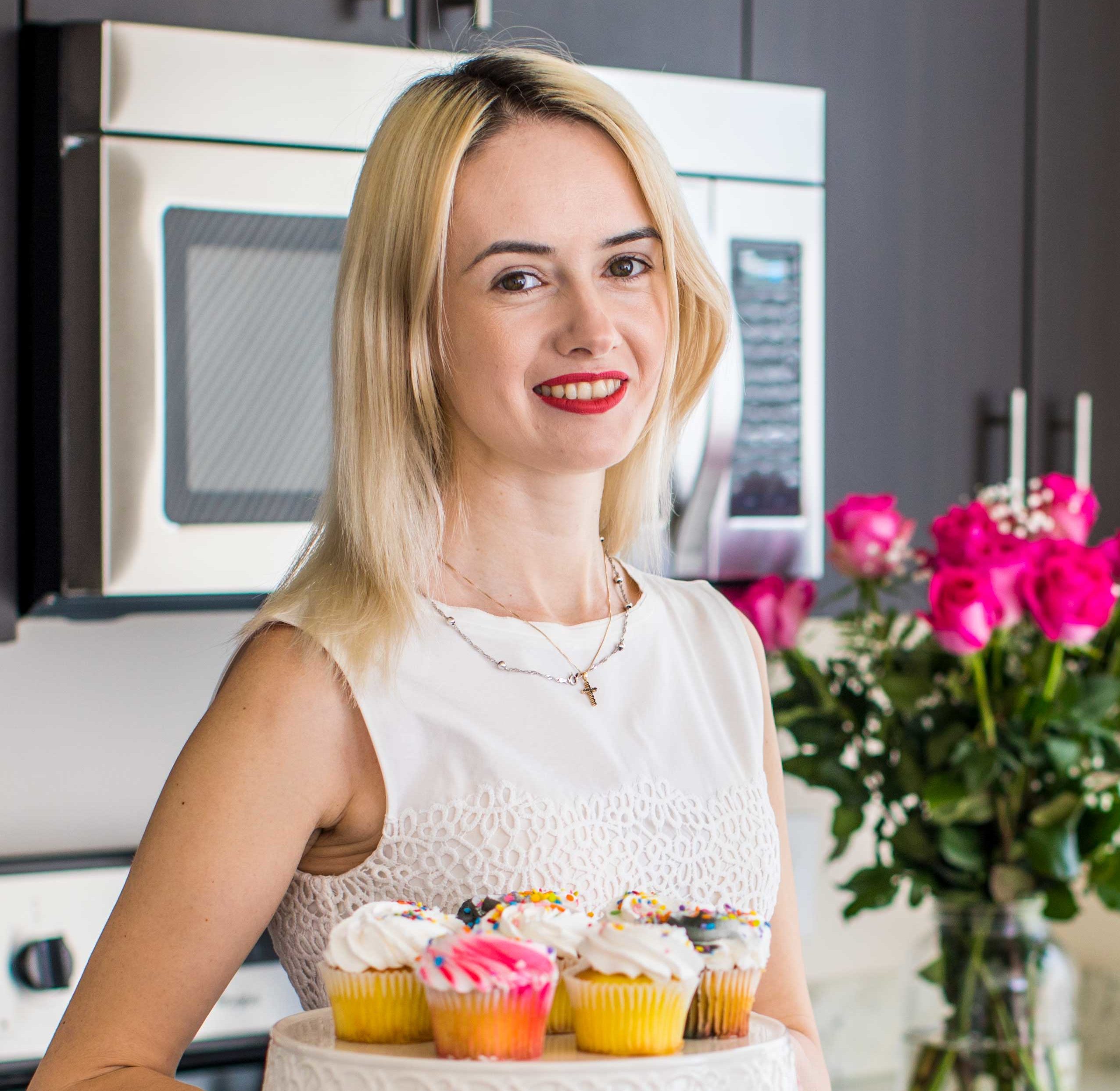 Follow us on Pinterest for more delicious recipes!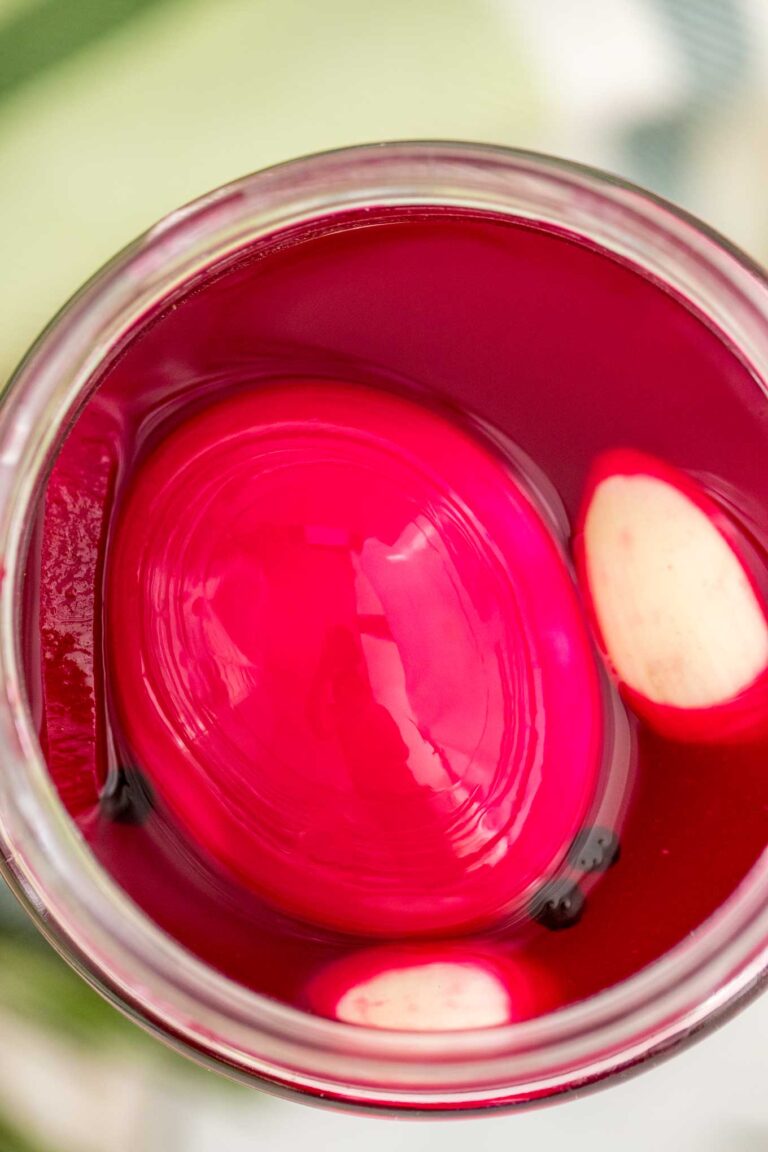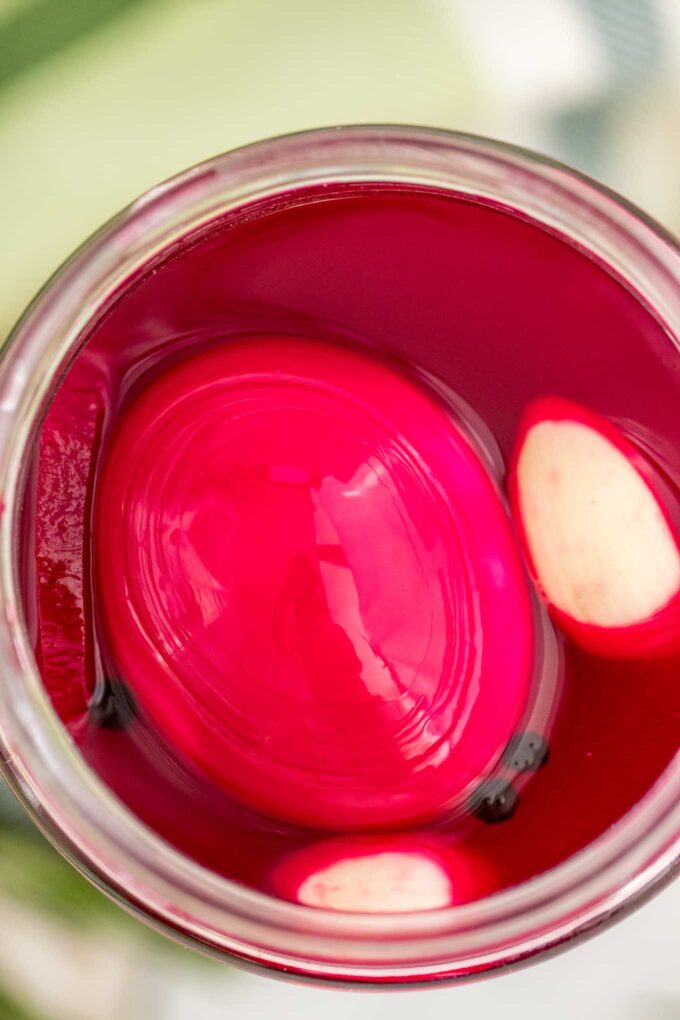 How to make pickled eggs?
This is a very easy and simple recipe to follow. You basically hard boil your eggs, peel the shell off, and marinate in a vinegar, salt, and spices mixture. Then, place them in a jar with the marinated liquid, and refrigerate for weeks or months to come.
What we like about this recipe is how versatile it can be. You can throw other ingredients or favorite spices into it and adjust according to your taste.
How long do pickled eggs last?
Their main purpose of what to be preserved for a long period of time. Therefore, they will last a long time, assuming you will have any left to eat! If properly stored, they will last for about 3-4 months. Keep in mind that they need not be canned in a jar with a tight lid.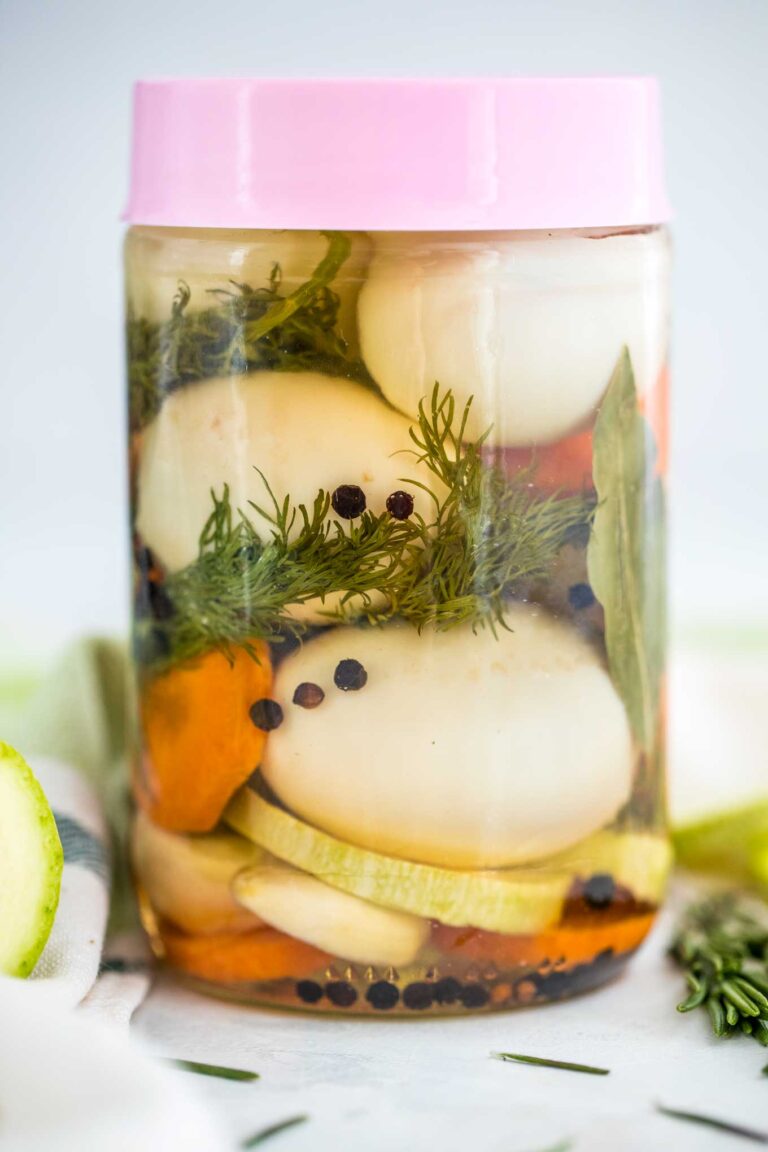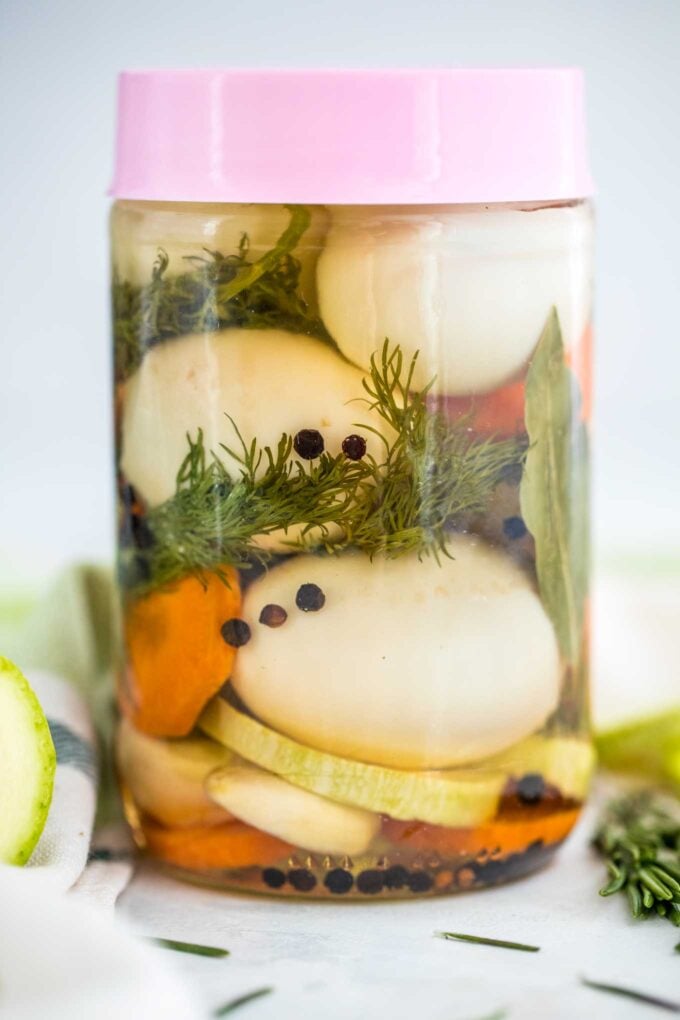 How to make pickled eggs with beets?
Making this recipe with beets is quite delicious. Actually, it is one of our favorite ways to enjoy them. To prepare this delectable dish you will need the following:
Eggs, hardboiled and peeled
Can of beets in liquid (separated)
3/4 cup cider vinegar
1 cup white sugar
6 cloves garlic
Pinch of salt
Pinch of black pepper
Place eggs and beets in a mason jar or glass container. Set aside.
In a saucepan, combine the vinegar, sugar, beet juice, salt, and pepper. Bring to a boil, then lower heat and simmer for about 5 mins. Pour over the eggs and beets, cover, and refrigerate. Wait for 48 hours and it is ready to use.
What do pickled eggs taste like?
They are wonderful and have a tangy combination of sweet, sour, and salty. This is what makes it so versatile and can be served in many ways.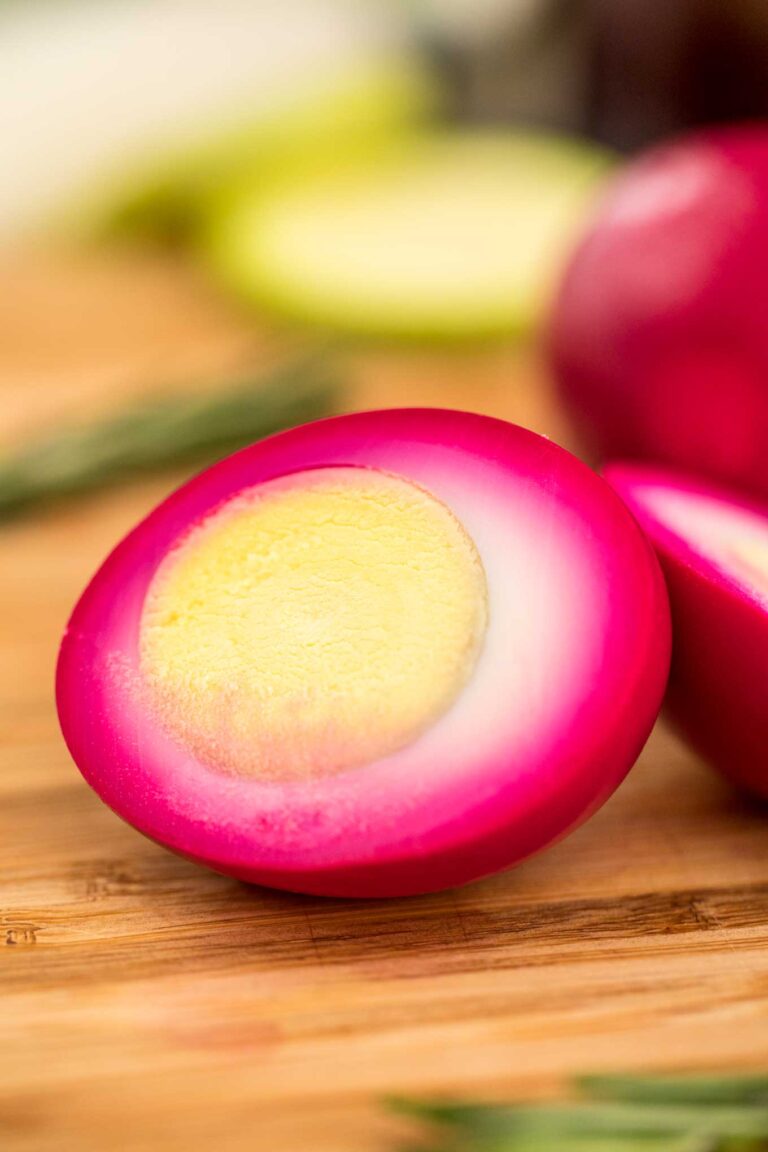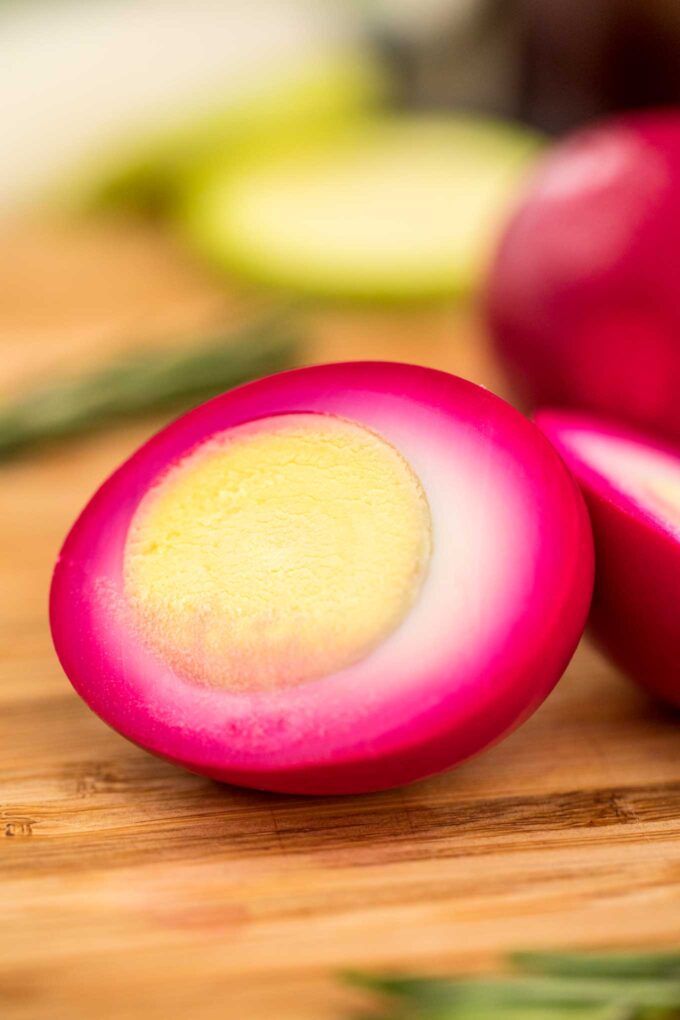 How to make spicy pickled eggs?
To make a spicy version of them, follow the same steps above, and simply add some spices to it. You can use red chilli pepper flakes or some jalapeño slices. Adjust the spiciness based on your preference, and simply add it to the jar liquid.
Pickled Eggs Recipe Tips
We like using BPA free jar for storing them.
To make it easy to peel the eggs, you can mix a teaspoon of vinegar with the water you are boiling the eggs in.
Another way for easy peeling is once they are boiled, place them immediately under iced or cold water for a few minutes. This way, they will peel off very easily.
To preserve them better, ensure to keep them refrigerated at all times. This way you will have a delicious snack whenever you crave it for several months.
Also, do not leave them out at room temperature for more than 2 hours.
Save Recipe
Best Pickled Eggs Recipe
Pickled Eggs are an appetizing and mouth-watering, ready-to-serve snack made from hard-boiled eggs preserved in vinegar and brine.
Author: Catalina Castravet
Serves: 6 eggs
Prep time:

10

minutes
Cook time:

5

minutes
Total time:

15

mins
Ingredients
Pickled Eggs with Beets:
Rosemary Garlic Pickled Eggs:
Dill Pickled Eggs and Veggies:
Instructions
Pickled Eggs with Beets:
Rosemary Garlic Pickled Eggs:
Dill Pickled Eggs and Veggies:
Nutrition information
Calories: 221 Carbohydrates: 34 Protein: 6 Fat: 6 Saturated Fat: 1 Cholesterol: 186 Sodium: 63 Potassium: 84 Sugar: 33 Vitamin A: 260 Calcium: 27 Iron: 0.6
Save Recipe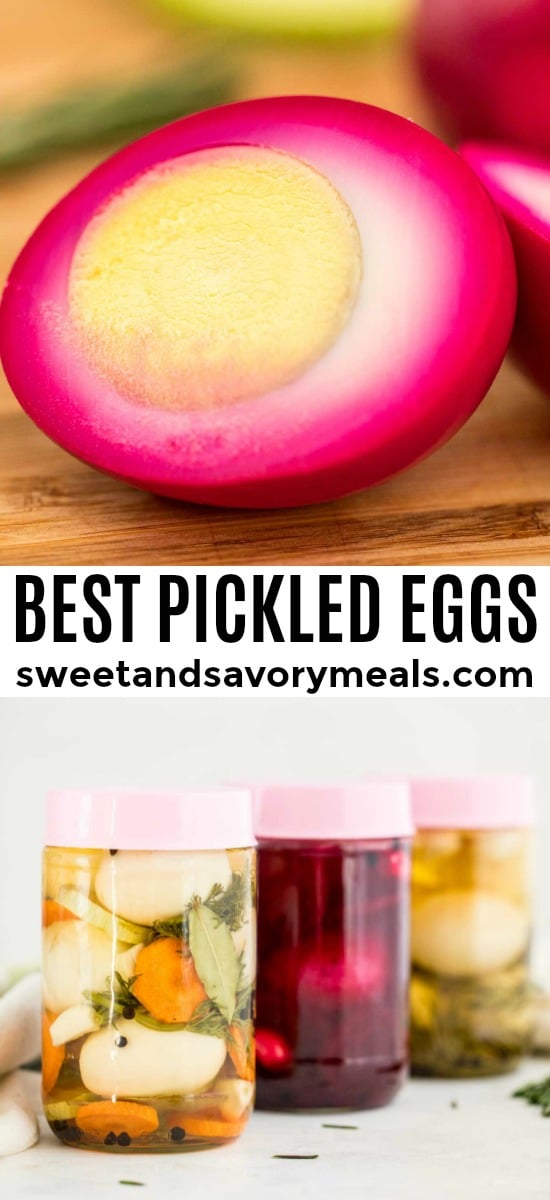 More recipes you might love
Categories: