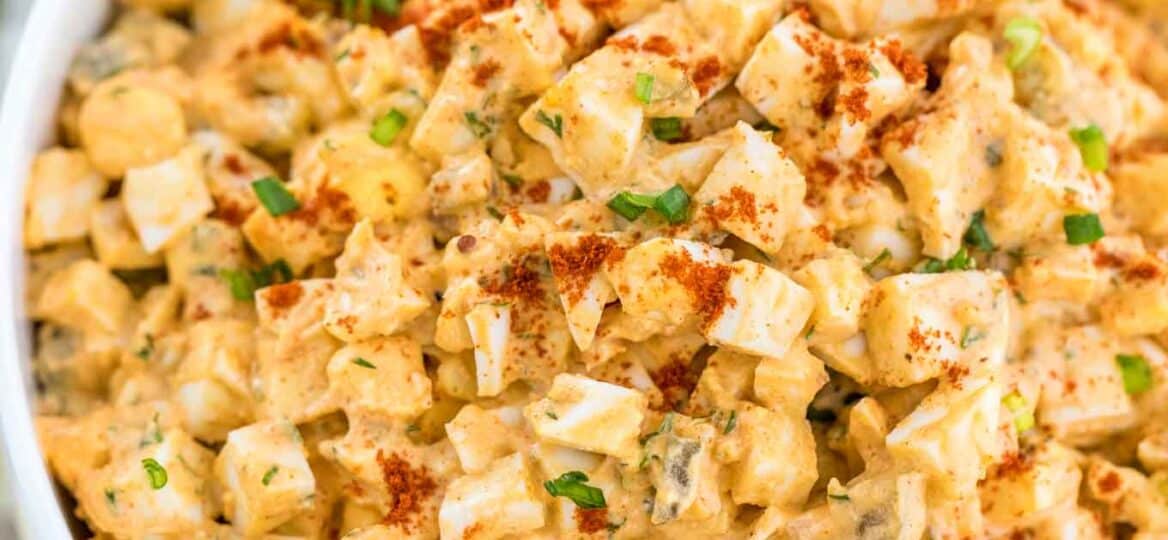 Classic Egg Salad Recipe [video]
This Classic Egg Salad Recipe is perfect to eat at any time of the day. We like it for breakfast on a toast, for lunch wrap, or sandwich.
With Easter around the corner, this is the perfect recipe to make with leftover eggs. We love to serve it with instant pot scalloped potatoes, or with some desserts like hot cross buns, and carrot cake.
Easy Classic Egg Salad Recipe
Egg Salad is great comfort food, that is budget-friendly and packed with proteins. It is super delicious and very easy to make. We love to make this recipe and serve it with two slices of bread, or on lettuce as a wrap. Also, you can add it to salads, or simply eat it with a spoon right out of the dish!
This is such an easy dish to make, yet super tasty and delicious. The base of the salad is hard-boiled eggs, so it's best to make them just right and boil them properly. The rest is easy, just mix in the remaining ingredients, and you are all set.
It is ready in about 20 minutes, and you can make plenty of it and store it in the fridge for days to come. In addition, you can make it ahead of time, and enjoy it during the week, or pack it to school in a lunch box.
What Do You Put In Egg Salad?
This recipe is quite simple and also versatile. We try to keep ours pretty simple, with just mayonnaise, red onion, salt, pepper, paprika, and some chives, for garnish. However, you can also add in some celery and mustard, as they are commonly used in this dish. However, we like ours on a simpler side, and we think this is the best Classic Egg Salad recipe! Other suggestions are listed below:
Diced pickles or pickle juice
Chopped veggies like carrots add a nice texture and color to it
Mustard
Dill
Chives
Sweet relish
Bacon
How to make perfect hard-boiled eggs?
For this recipe, you want to have hard-boiled eggs, and be able to peel them easily. Our favorite way to have them perfectly cooked, and easily peeled is the Instant Pot way. You can follow the easy steps on how to make Boiled Eggs in the Instant Pot.
However, if you prefer the stovetop option, simply follow these steps:
In a pot filled with water, place your eggs. Make sure they are cover water by about 1 inch.
Bring to a boil over medium-high heat, then cover.
Let them boil for about 11-13 minutes, then remove from the heat.
Immediately after removing from heat, place them in cold or ice water for a few minutes. This way, they are super easy to peel.
How long does egg salad stay fresh in the fridge?
Properly stored egg salad in an airtight container will last in the refrigerator for about 3-4 days. Try to refrigerate it right away, and do not keep it for more than 2 hours at room temperature. This is because bacteria will grow rapidly if left for longer than 2 hours at room temperature.
More salad recipes to try:
Egg Salad recipe tips
To infuse the flavor better, we recommend mixing the mayonnaise while the eggs are still warm. However, if you are using leftover eggs, this is not mandatory, the salad will still be delicious.
Also, if you are not a mayo fan, you can replace it with Greek yogurt.
Very fresh eggs can be difficult to peel. Therefore, it is highly recommended to use eggs that have been refrigerated for 7-10 days.
In addition, they are easiest to peel right after cooling or ice-bathing. It is because cooling causes the egg to contract slightly in the shell.
To save some calories, use light mayonnaise and egg.
If you're adding pickles or relish add them just before serving. Also, make sure to drain any liquid prior to adding to the mixture, to avoid a watery egg salad. However, if for some reason you end up with a watery dish, add some more hard-boiled egg to it.
Hard-boiled eggs can be refrigerated safely for up to one week.