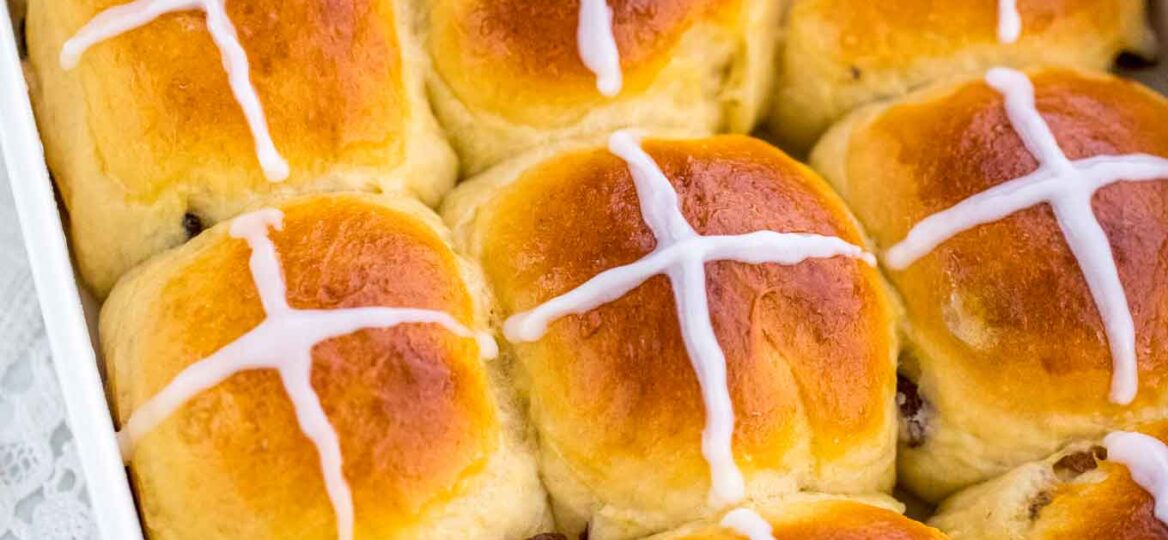 Hot Cross Buns Recipe [Video]
Hot Cross Buns are slightly sweet, with raisins and spiced with cinnamon, and perfectly puffy. It became an Easter tradition to celebrate Good Friday.
There is nothing better than a warm bun on Easter morning. It is our family's favorite treat, and we are always looking forward to enjoying them. You can serve them for breakfast or brunch with deviled eggs, ham and cheese quiche, or with bacon ham, and cheese rolls.
Easy Hot Cross Buns Recipe
Hot Cross Buns were originally a Saxon tradition, but later they became an Easter tradition. They are marked with a cross on top, signifying a crucifix, and are typically served on Good Friday. They are very popular all over the world, and are amongst our favorite sweets to make for this special day!
Although they are very popular to eat for Easter, they can be enjoyed at any time of the year. These buns are sweet, citrusy rolls that are simple to make and are bursting with flavor! We lightly spice the dough with cinnamon and nutmeg and studded with raisins.
Then, we glaze them on top just a bit to add some sweetness to them. They are perfect when served warm, as they are puffy, flaky, and amazingly delicious. Once you bite into them, they simply melt in your mouth!
Why do we call cross buns 'hot'?
They began to be enjoyed in England in the late 1600s and were originally called Good Friday buns. Marked with a cross to symbolize the religious importance of that occasion. This name was given to them because they were meant to be eaten only on Good Friday.
Due to their popularity, they eventually became known worldwide as hot cross buns. The cross on the bun is sometimes made, before baking, with narrow strips. However, it can also be made after baking with a thick mix of icing sugar and milk.
Ingredients in hot cross buns
1/2 cup raisins
3/4 cup very warm milk
1/2 cup white sugar + 1 tablespoon sugar
1/4 cup unsalted butter, softened
1 envelope active dry yeast
2 large eggs, beaten
3 1/2 cups all-purpose flour
1 teaspoon vanilla extract
1/2 tsp salt
Can you eat hot cross buns cold?
Yes. Although we strongly recommend enjoying the warm, right after baking. However, if you have leftovers, you can enjoy them the next day cold or simply microwaving them for about 20 seconds.
What to do with stale hot cross buns?
Alternatively, you can cut them in half and make a really scrumptious French toast or just sauté the halves in butter on a skillet and enjoy with your morning tea or coffee!
Another way to utilize stale buns would be for a bread pudding. Give it a try, it's very delicious!
Do you add raisins in the hot cross buns recipe?
Yes, we love using raising and mixing with the dough. It gives them a tangy taste and a nice texture. The raisins taste best in the rolls when they have been soaked in a bit of warm water for at least 5-10 minutes.
Once soaked, drain them before adding them to the rolled dough. If you are not a fan of raising, feel free to skip them, or substitute them with chocolate chips.
Hot Cross Buns Recipe Expert's Tips:
Use Greek yogurt instead of the plain version for the best texture and flavor. Also, if there's any liquid in the yogurt be sure to drain it.
If your dough is sticky add more flour or use less yogurt.
Similarly, milk can be replaced for the glaze with water.
To make them with self-rising flour, omit the salt and baking powder.
Also, don't use too much sugar and fat in the dough. When it comes to yeast doughs, both sugar and fat can make the rolls less moist, resulting in a tougher texture.
When baking, use parchment paper and spray it with oil to prevent them from sticking to the baking sheet.
Bake them on the top rack, so they don't brown too much on the bottom.
Additionally, you can easily double or triple this recipe to make more. You can also half or quarter it to make less.