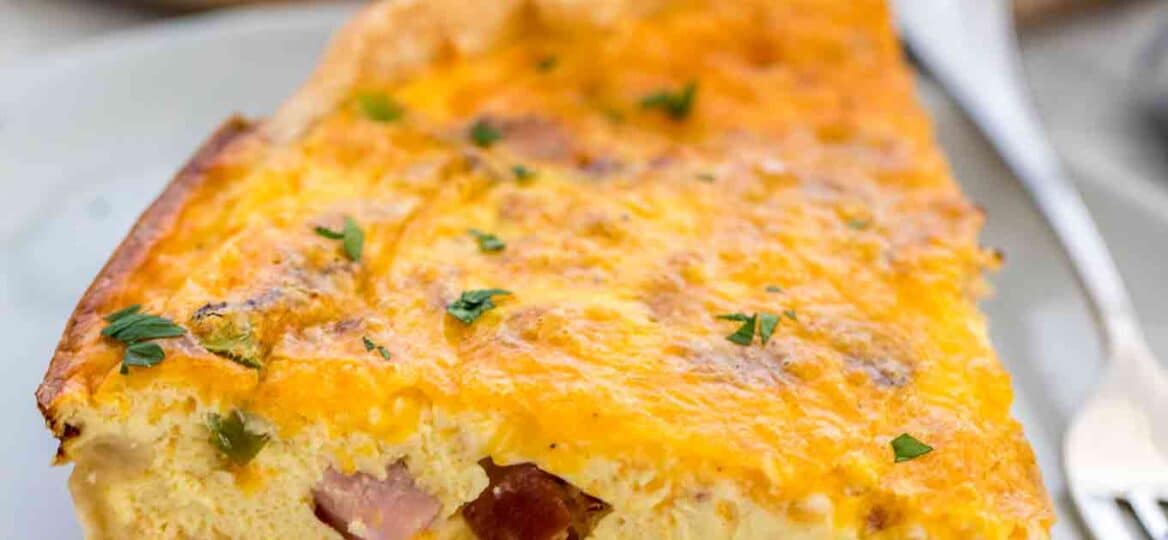 Ham and Cheese Quiche [VIDEO]
Ham and Cheese Quiche is the perfect way to start your mornings! It takes less than 15 minutes to prepare and it's loaded with ham, bacon, cheese, and green onions. It is a full-flavored meal that is easy to make for breakfast, brunch, or even dinner. Check out the full recipe video below.
This is probably one of the most customizable recipes you can have. It can be made in a variety of ways, with all kinds of vegetables, cheeses, meats, or seasonings. Due to its flexibility, this quiche is an ideal meal for any time of the day.
Whether you want to have a delicious holiday breakfast, a Sunday brunch, lunch, or dinner, this is the dish to go. Mix it up with some Keto Pancakes, French Toast, or Bread Pudding for the perfect finish.
Easy Ham and Cheese Quiche
Ham and Cheese Quiche is always a crowd-pleaser, and the first dish to go at any brunch. We try to keep this recipe as simple and easy as possible. We start with premade, refrigerated pie crust, then fill it with a mixture of eggs, ham, cooked bacon, cheese, and green onion. It's that easy! As a result, you will end up with a rich and delicious meal, that goes perfectly for brunches or weekend mornings.
As stated above, this quiche recipe is easily customizable with your favorite fillings and toppings. In other variations, we love using, mushrooms, spinach, peppers, and tomatoes. It gives this homemade meal a nice texture, healthy vitamins, and appealing color.
WHAT IS QUICHE?
It is basically a savory tart made with a pie crust or pastry crust and filled with eggs, cheese, cream, vegetables, meat, or seafood. This dish can be served hot or cold, during any part of the day. It is the perfect meal to host a party, event, or larger gathering. Watch the video below for step by step recipe details.
What are the best quiche fillings?
Pretty much anything you want and like can go into it. However, it is important to remember, that most ingredients used will have to be pre-cooked and cut into smaller pieces. For example, bacon, sausage, ground beef, and ham, all should be pre-cooked and patted off with a paper towel to eliminate the grease.
If using frozen veggies, make sure to thaw and saute them. After, pat them dry with a paper towel to remove excess moisture before using in this recipe.
Do I use milk or cream to make Ham and Cheese Quiche?
This is really based on preference. Using cream will result in a richer and creamier dish. You can also combine them together if desired. To reduce calories, just use a 2% milk or light heavy cream. The custard still comes out wonderful.
It is important to remember not to use too much milk or cream as the eggs might not set the quiche if too much dairy is used. As a general rule, for every egg used, the ratio should be 1/4 cup of dairy. However, if a thicker texture is desired, use more eggs to less the dairy ratio.
Can you make a crustless quiche?
Absolutely! Making this dish crustless will result in Frittata! Basically, you will follow the same recipe steps but omit the piecrust. To do so, just keep the ratios of the egg to dairy similar.
Then, add fillings to an empty dish, and pour the egg mixture over the fillings. Bake for about 45 to 50 minutes until the quiche is cooked through and just slightly wobbly in the center.
Can you make Ham and Cheese Quiche ahead of time?
Absolutely! Once baked, make sure the quiche is cooled down before refrigerating. Then, wrap tightly in plastic wrap or aluminum foil, and refrigerate for up to 3-4 days. When ready to eat, reheat it in the oven. Simply, cover the quiche with foil and bake at 325 degrees F for about 10 minutes or until fully warm.
Recipe Tips:
Don't overcook it. To know when the quiche is ready, stick a toothpick in the center. The toothpick should come out clean.
If using frozen piecrust choose the deep-dish size. To avoid a soggy crust, bake your pie shell first.
In addition, you can make fillings from your favorite foods or from leftovers. Just use a combination of cheese, meat, seafood or poultry and vegetables that fits you best.
Similarly, try adding chopped fresh herbs, such as parsley or basil.
If pie crust is not an option for you, try replacing it with puff pastry.
Also, to reduce calories, use skim milk instead of whole milk or cream, or reduced-fat cheeses. This will reduce fat and calories significantly!
More breakfast recipes: