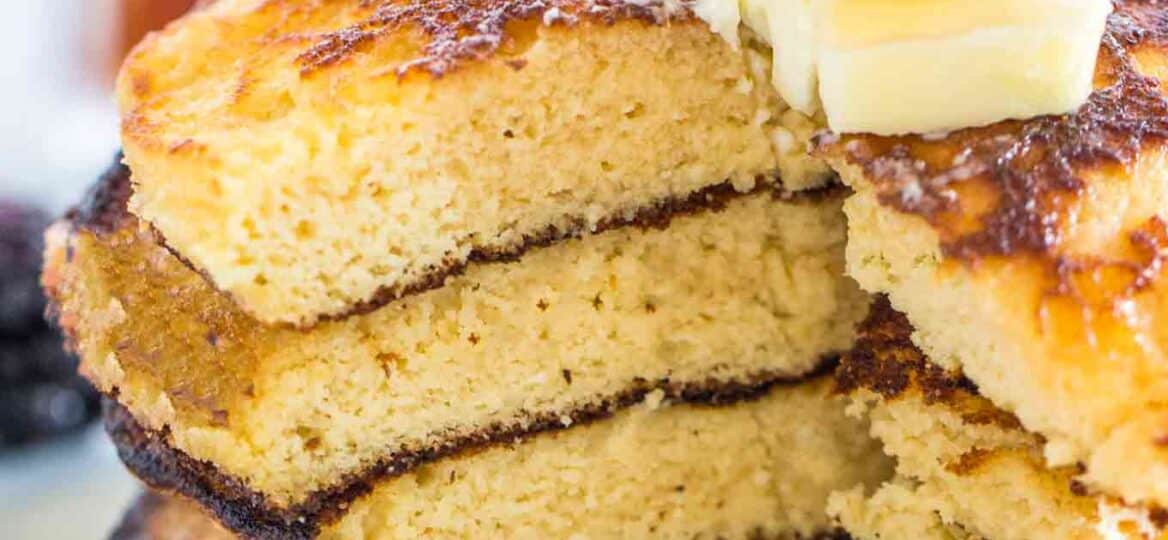 Keto Pancakes – Low Carb [Video]
Keto Pancakes are gluten-free, low carb, and sugar-free. They are perfect if you are trying to watch your carbs or follow a Keto diet. They taste just like normal pancakes, the difference is that they are made with coconut flour, for a lower carb count. You only need 7 ingredients to make these!
These pancakes are easy to make and perfect if you are in the mood to try something different. We have some other keto recipes including Keto Buffalo Shrimp Dip, Keto Italian Chicken Skewers, and Keto Cheesecake.
Low Carb Keto Pancakes
Keto Pancakes have that delicious nutty taste with a bit of added lemon zest. They are extremely fast and easy to make. With only six ingredients including coconut flour, cream cheese, eggs, vanilla extract, and butter they still end up with a nice consistency and flavor.
These pancakes only take two minutes on each side (or until golden) to serve for any meal. This is the perfect healthy alternative to serve your family if you are looking for a different type of breakfast food. They are still enjoyable with any topping, so if you or your children want to accessorize your pancakes with some familiar toppings, that is still possible. Serve them with sugar-free syrup and fresh berries, as they are naturally lower in carbs.
These pancakes are just as delicious as normal pancakes. The only difference is the traditional flour is replaced with coconut flour. Do not be intimidated by coconut flour, this recipe is very easy and it always turns out great. You can still enjoy being healthy with these coconut flour pancakes while also having good taste.
I personally like adding vanilla extract and lemon zest for a little extra flavor. Topping these pancakes with butter gives them that classic breakfast look. I love using this recipe because of how easy and fast I can make it. It's great if you're in a little bit of a time crunch and need to conjure something up quickly.
Can I eat pancakes on a keto diet?
Yes! If you use an alternative flour that is gluten and sugar-free then it will remain friendly to the diet. Coconut flour, almond flour, psyllium husk flour, and cricket flour. Using different flours will make the recipe vary in taste and in cooking time.
Can you have maple syrup on keto?
No, however, you can use alternative syrups that are still as sweet as maple syrup-like stevia or monk fruit because they are calorie and sugar-free. These syrups are just as delicious as maple syrup except they are lighter on the stomach and still follow the keto guidelines.
Is coconut flour good for a low carb and keto diet?
Yes, it is great for a keto diet because it is low in carbs and high in fiber. Using coconut flour will have a different taste than the almond flour. Don't let coconut scare you! The taste of the coconut is subtle and not overbearing.
Is almond flour good for a low carb and keto diet?
Yes, because it is low in carbs and sugar-free. It also tastes great because it's nutty, but still remains light and fluffy like normal pancakes. Almond flour doesn't have to be strictly for pancakes either you can use it as an alternative flour in other desserts as well.
How to make keto pancakes with protein powder?
We like adding a scoop of protein powder to the pancakes to make them more filling. However, keep in mind, that while adding protein powder works, it will change slightly the texture of the pancakes. They won't be as fluffy, but still, taste delicious. Also, equally important, check the carb count on your protein powder, you may be surprised in some cases.
Can you make Keto Pancakes in advance?
Yes, you can make the batter in advance, just stir well before cooking. Also, you can cook the pancakes, cool them and either refrigerate or freeze for later.
How to freeze Keto Pancakes?
Start by making the pancakes make sure you let them cool completely. Wrap tightly in aluminum foil and place in freezer bags. Freeze for up to 3 months. To serve, thaw them in the fridge or toast.