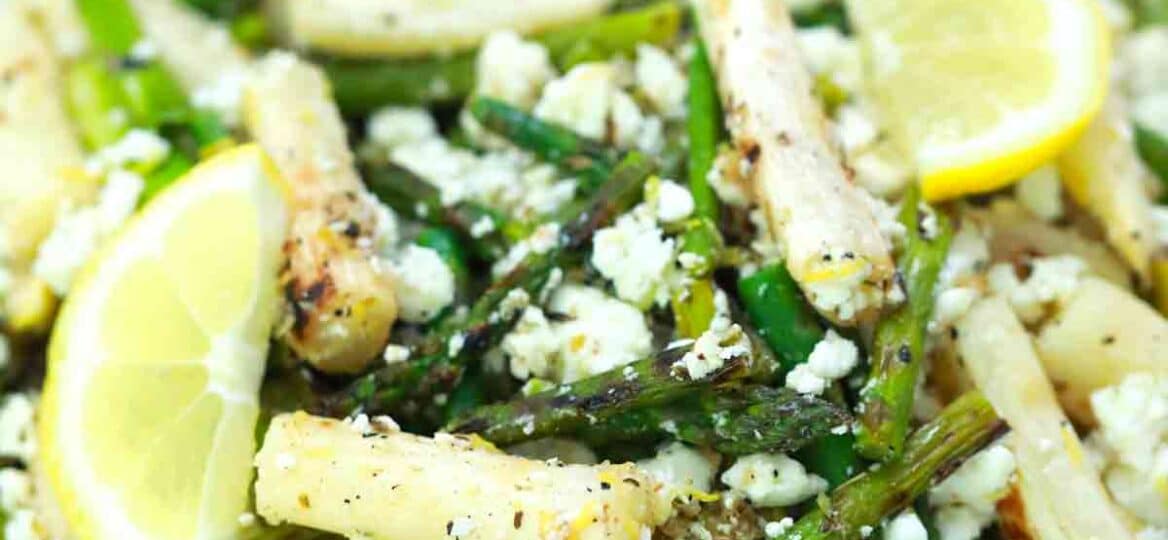 Grilled Asparagus Salad [Video]
Grilled Asparagus Salad is seasoned with spices, then grilled until tender and lightly charred. It's finished with fresh lemon and crumbled feta for a healthy salad that's loaded with flavor.
Since you have the grill fired up already, use it to make these delicious Grilled Pork Pork Chops, Grilled Salmon Skewers, or Grilled Steak to complete the meal!
Asparagus Salad with Feta Recipe
Grilled Asparagus Salad is deceptively simple, but it tastes positively gourmet. The fresh asparagus is tossed in spices and herbs before hitting the hot grill. Then, it's tossed with lemon, olive oil, and feta.
The tangy and salty flavors perfectly complement the smoky and savory vegetables. It tastes like something you can order at a restaurant!
However, this recipe cannot be easier to make. The veggies only need a few minutes on the grill, then it's just a matter of mixing it up with the garnishes. You can also customize it with other ingredients to make it your own.
What is asparagus?
It's a spring veggie with green, pointy, and long stalks. They're perfect for a wide range of cooking methods, such as steaming, grilling, roasting, frying, and more. Health-wise, they're packed with fiber, vitamins, minerals and are known to help with weight loss, inflammation, digestion, and more.
Can you eat raw asparagus?
Yes, it's the healthiest way to enjoy this veggie since none of the nutrients are cooked away. Use thin spears (more tender than thick stalks) sliced or shaved thinly. Marinate in your favorite dressing (acidic ones like lemony dressings tenderize them further), and enjoy.
What do you need to make Grilled Asparagus Salad
Asparagus: For grilling, use very thick stalks. We prefer using equal amounts of white and green to get beautiful color contrast. Rinse before chopping off the ends.

Seasonings: To build the flavor, combine fine-minced fresh garlic, Italian herbs, fresh ground pepper, and kosher salt. Measure out a little oil to help the spices stick to the spears.
Lemon: We're using both zest and juice to brighten up the dish.
Feta cheese (crumbled): This gives our hot salad the perfect salty finish!
How do you make Grilled Asparagus Salad
Season. Toss the prepped talks with all of the seasonings.
Grill. Carefully arrange on your hot grill and cook for about 3 to 4 mins. Chop into bite-sized pieces.
Toss. Mix them all up with the fresh lemon zest and juice plus a splash of olive oil, then toss in the feta.

Serve. Enjoy warm or at room temp. It's delicious either way!
Recipe variations:
Include other vegetables: Grill thick slices of bell peppers, large sweet onions, eggplant, zucchini, squash, and mushrooms, and add to the salad!
Add meat: Turn this into a light and full meal by grilling salmon, shrimp, or chicken, slicing them into strips, and adding them into the salad. Feel free to use beef or pork if you wish.
Tofu: Add grilled tofu or tempeh slices.
Dressing: Customize the flavor by drizzling the veggies with a bit of pesto, balsamic glaze, Italian dressing, Greek salad dressing, or Catalina sauce.
Other cheeses: Aside from feta, you can also use queso fresco, goat cheese, ricotta, or sliced halloumi.
Frequently Asked Questions
Can you eat cold asparagus or asparagus salad?
Yes, they're delicious cold, too! In fact, this recipe is made to be eaten either cold or warm.
Do you have to peel asparagus?
No need to peel it in order to make Grilled Asparagus Salad or other recipes. Once it's cooked, the thin peel becomes tender as well. Just make sure to wash the stalks well to get rid of dirt.
What part of asparagus is poisonous?
Did you know that female asparagus plants bear fruit that looks like red berries? They seem juicy and delicious, but they're actually poisonous. So, stick to eating the stalks, which are the edible part of the plant.
How to choose fresh asparagus?
They should firm with vibrant colors. Feel them in your hands – they shouldn't feel limp, too soft, or unable to stand straight. Finally, look for compact and closed tips.
Is thin or thick better?
It depends on the recipe. For instance, thick spears are best used for roasting, grilling, or broiling since they can withstand heat better versus thin spears that tend to shrivel up and burn when cooked that way.
In contrast, thin spears are ideal for stir-frying and steaming because they are more tender and cook quickly.
What goes well with asparagus salad with feta?
We can't think of anything that doesn't go well with these veggies! But top of the list is bacon, cheese, and creamy sauces, or simple salt and pepper with a squeeze of lemon.
We also love chopping them up for frittatas, blending them into soups, and adding to stir-fries. They're also perfect as a side dish to countless entrees like Baked Chicken Legs, Bacon Wrapped Pork Medallions, and Pan-Seared Steak!
Again, you can serve this dish warm or cold. In addition, we prefer to keep it simple with salt and pepper to taste, plus more lemon on the side. You can also grate some parmesan on top. Enjoy as a light meal or as a side dish.
How do you grill asparagus?
Arrange them perpendicular to the grill so they don't fall through. Then, make sure the grill is preheated, so the vegetables start roasting when they hit the hot grates.
How do you know when it is done cooking?
It will turn bright green and slightly charred on the grill. Equally important is to not take your eyes off them, because they cook up quickly!
How to store leftovers:
Transfer the cooled leftovers to an air-tight container. Store in the fridge, and try to finish within 3 days.
Reheat in the microwave for a few minutes until hot. It's also tasty when a little chilled!
Deliciousness to your inbox
Enjoy weekly hand picked recipes and recommendations