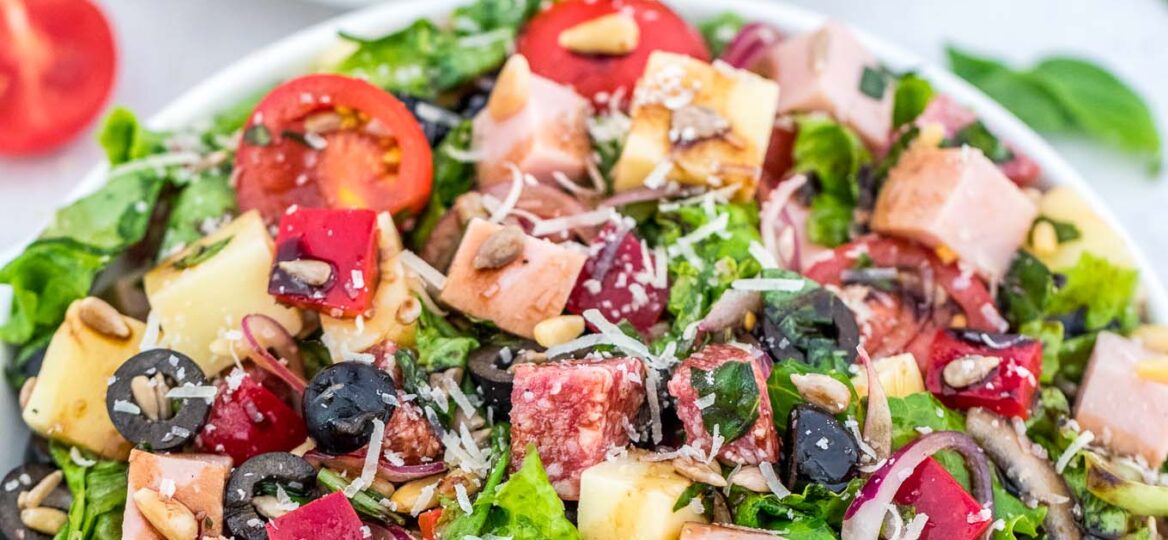 Italian Chopped Salad [video]
Italian Chopped Salad is a merry mix of textures and flavors of fresh vegetables, cold cuts, and cheese that is perfect as an appetizer or a light meal for anyone to enjoy.
It goes perfectly well with other Italian classics like Tuscan Chicken Pasta, Heirloom Tomatoes Pizza, and Chicken and Potatoes to start any dinner right.
Homemade Italian Chopped Salad
Italian Chopped Salad is my go-to meal whenever I want something hearty and healthy. It is actually very filling and can be served on its own.
The secret to the traditional and more authentic recipe is in its dressing. The perfect taste of Italian vinaigrette is achieved by combining red wine vinegar, lemon juice, and olive oil.
Glazing it with a touch of balsamic vinegar makes it sweet and tangy at the same time and it's the perfect finish. The parmesan cheese on top perfectly balances the taste as well.
What I love more about this recipe, is how easy it is to prepare! You just have to combine all the ingredients with the dressing and it is now ready to serve.
What is a chopped salad?
As the name suggests, all ingredients in it are chopped. It is a mix of chopped vegetables, meat, and a yummy dressing.
How do you make Italian Chopped Salad?
You can make this traditional recipe in three easy steps!
Combine all fresh ingredients in a large bowl.
Add the cold cuts and cheese.
In a separate bowl, put together the ingredients for the dressing. Add this to the fresh ingredients and mix well.
Do not forget to drizzle it with balsamic glaze and parmesan cheese.
What meat to use in Italian Chopped Salad?
We love the combination of ham and salami. Alternatively, you may also use pepperoni or prosciutto.
Can you make a vegetarian version?
Definitely. You can simply remove the meat from the ingredient list, replace it with eggs, veggies, or even tofu. It will still taste amazing.
Canned chickpeas are a good replacement for ham and salami. Sun-dried tomatoes will also give the salad extra chewiness and flavor.
Can you make a chopped salad in advance?
If you want to bring it to a potluck, you can start preparing the ingredients at home.
Chop everything in advance. Make sure to store every ingredient in separate ziplock bags.
Prepare the dressing and store it in an airtight container.
Combine everything and toss when ready to serve.
How do you make a light salad dressing?
A light dressing has generally lower calories. Skip the typical creamy dressing and just use vinaigrette.
Homemade vinaigrette is very easy to make. It is a combination of vinegar and oil. It can be seasoned with fresh herbs, salt, and pepper.
We recommend using olive oil instead of vegetable oil. For the vinegar, use ones made from wine as they are lighter.
You can also check our previous post on how to make homemade Italian dressing here.
How do you store a fresh salad?
We all want a fresh-tasting salad. To make sure that they don't get soggy, store them properly before putting them in the fridge.
Use paper towels to wrap the fresh vegetables. Place them in an airtight container or a sealed plastic bag. This way it will last for 5-7 days.
How long can a chopped salad sit out?
It can be left sitting out at room temperature for a maximum of 2 hours.
If you left it longer than that, it is generally not safe for consumption. Besides, it will not taste as good and crisp.
More salad recipes:
Recipe Tips
We like to add nuts and seeds for extra crunch every time you take a bite.
When preparing the dressing, we recommend to let the ingredients sit together for 5-10 minutes to get the most flavor from oregano.
If you are not a fan of vinegar, you may replace it with the same amount of lemon juice. Any citrus juice will also be a good alternative.
Do not mix the dressing with the whole salad if you are not going to consume it all at once.
Deliciousness to your inbox
Enjoy weekly hand picked recipes and recommendations