Homemade Catalina Dressing [video]
This easy Homemade Catalina Dressing is perfect for salads and tastes so much better than the store-bought version. Perfect for dipping, cooking, and salads and it can be made in less than five minutes! All you need is a few simple ingredients that are probably already in your own kitchen. And it is way better than store-bought salad dressings.
Looking for more salad dressing recipes? Try our Greek Salad Dressing made with honey, dijon mustard, and lemon juice, or this Thousand Island Dressing seasoned with sweet pickle juice and garlic. For another sweet and tangy delight, try our Homemade Sweet and Sour Sauce made with pineapple and orange juice.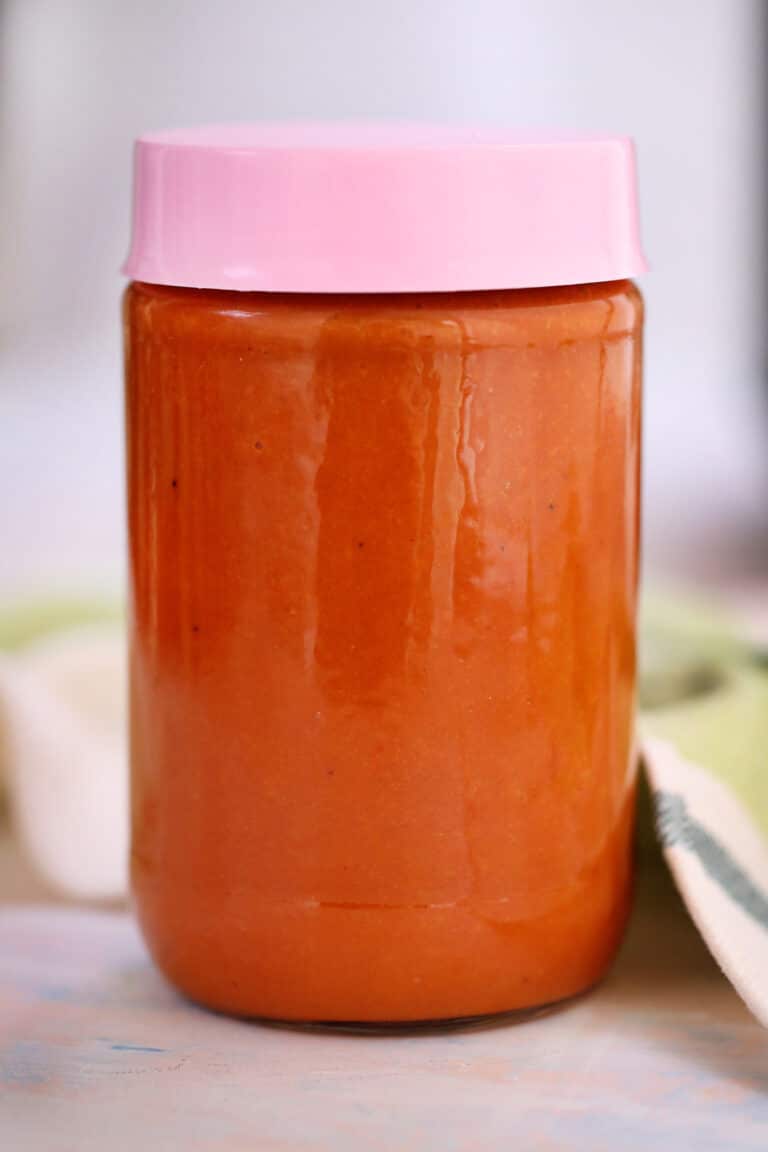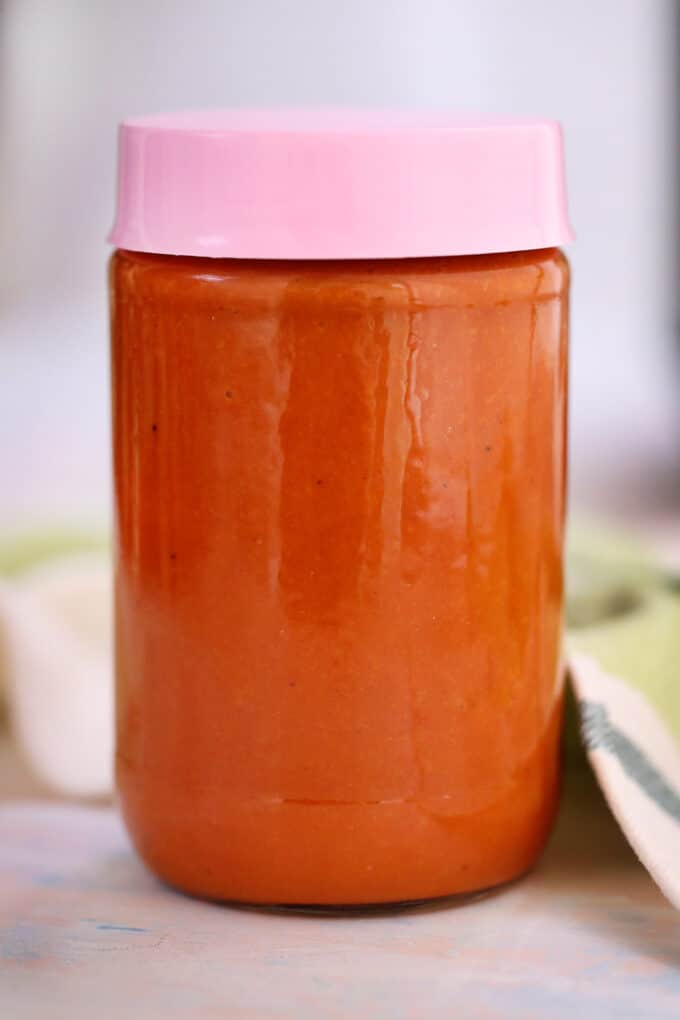 Easy Catalina Salad Dressing Recipe
Any kind of homemade salad dressings you can make quickly with just a few common ingredients is a winner. This one is certainly easy, fast, and inexpensive as far as salad dressings go.
The best dressing is the one that is quick, easy to make with budget-friendly ingredients, and pairs with many dishes. This Homemade Catalina Dressing is just that! It is made with affordable ingredients, a breeze to make, and ready in about 5 minutes.
It goes with many different dishes either as a sauce, dip, or glaze. You can use homemade Catalina dressing instead of Russian or French salad dressing in any recipe too.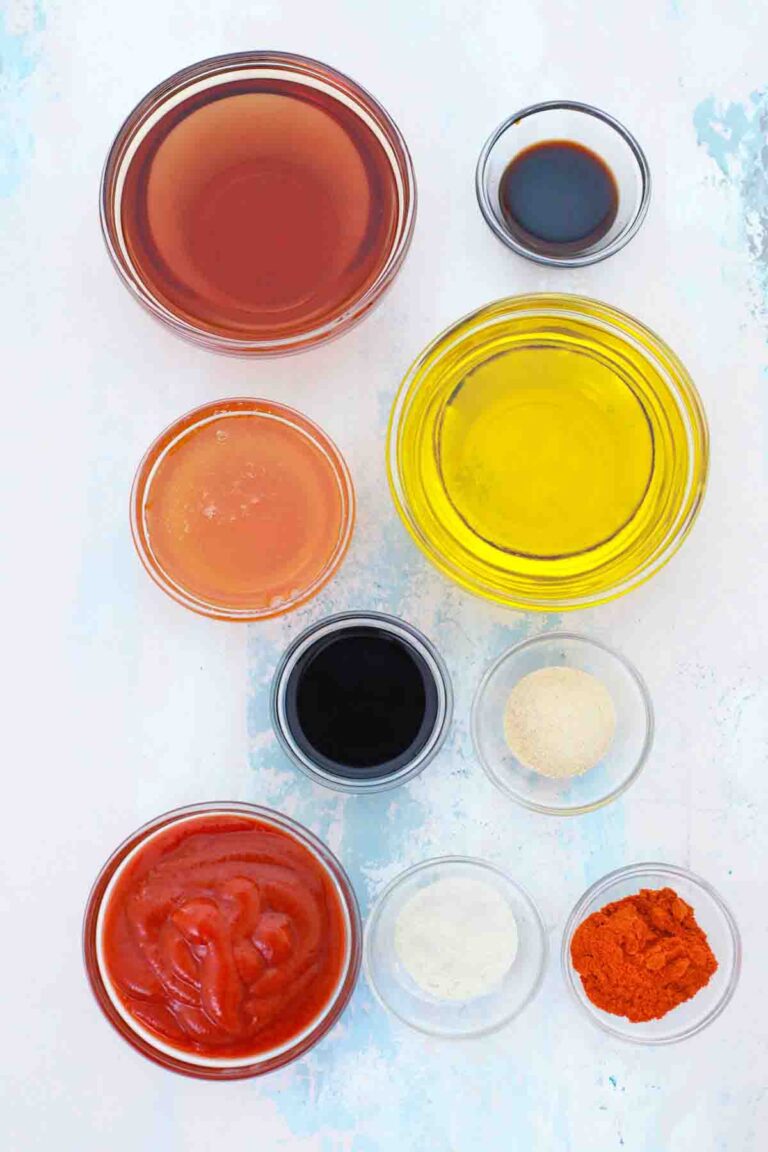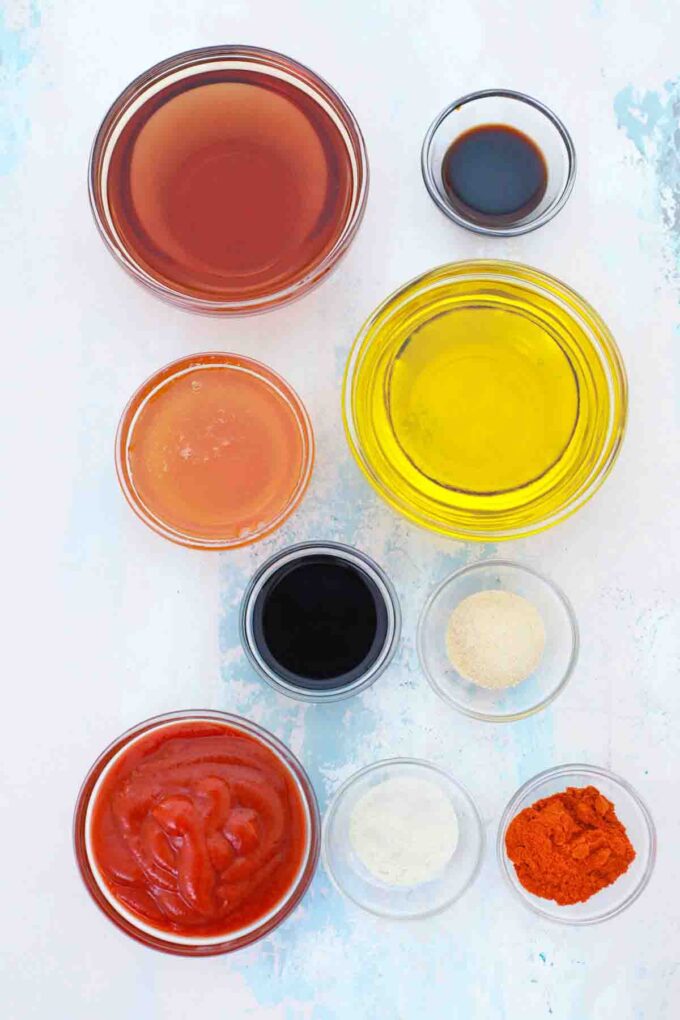 There is no point to buy it anymore from the store when you can easily and conveniently make it at home. The dressing itself is tomato-based, so it has a slightly sweet and tangy flavor. You can play with the ingredient a bit, and adjust the spiciness or sweetness level as you please.
We usually make a larger batch at once and store it in the fridge for weeks to come. This way, it is available whenever we please. Apart from salads, you can use it as a garnish on burgers, cold pasta salads, meatloaf, steaks, or even ribs. The dressing can really be used on anything and anytime.
For more delicious recipes that may benefit from this Catalina salad dressing, try our German potato salad made with red potatoes, pickle juice, and dijon mustard, or easy classic potato salad with sour cream and dill pickles. After all, salad dressings are not just for salads anymore.
We love to use it in various recipes. Some of our favorite way to use it is over a Taco Salad, Italian Chicken and Potatoes, and Fried Chicken.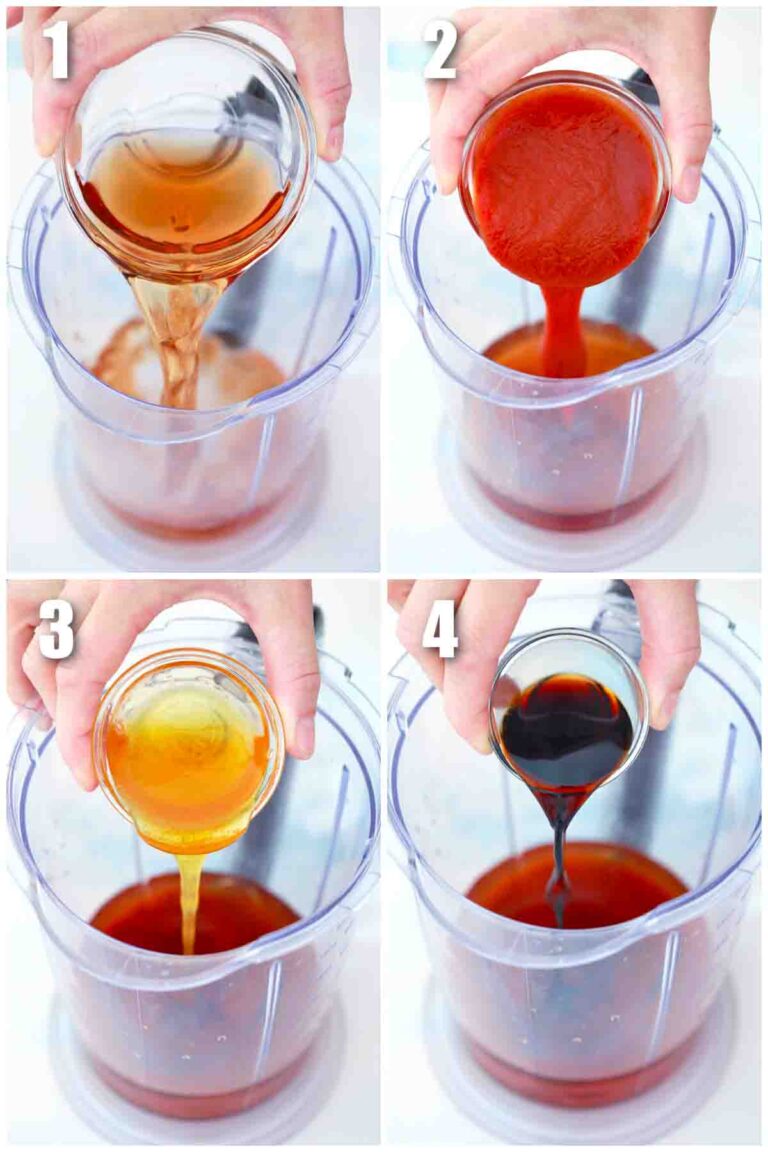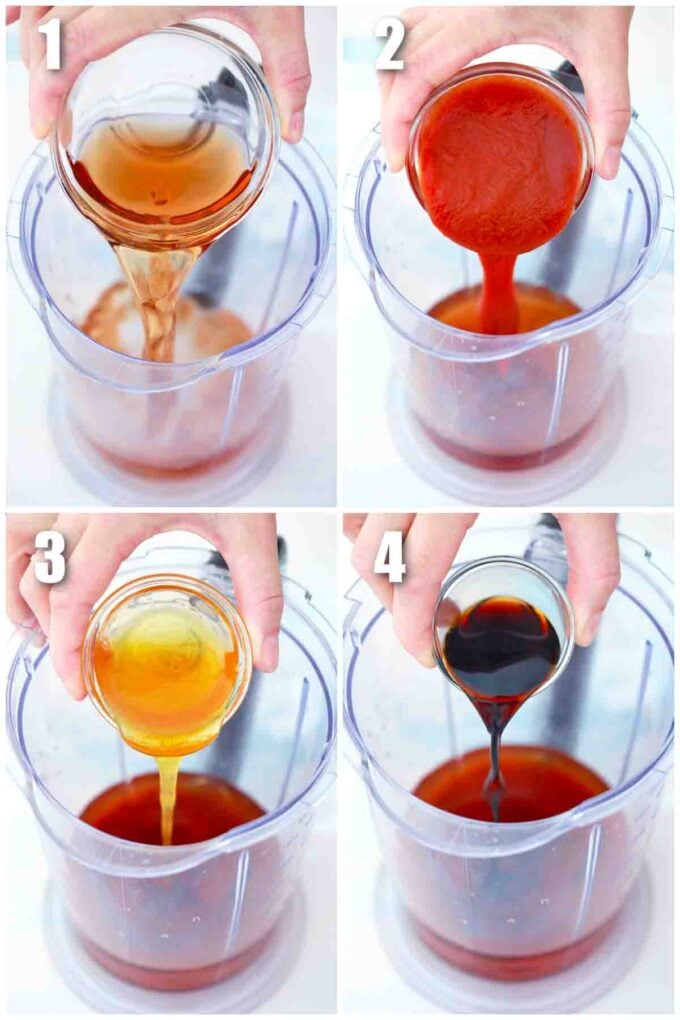 What is Catalina Dressing made of?
You only need a few basic ingredients for this Catalina dressing recipe. You can get the complete instructions and precise measurements by scrolling down to our recipe card.
Worcestershire sauce: This adds a salty depth.
Red wine vinegar: For the perfect amount of tanginess.
Soy sauce: Another way to add a salty flavor to this sweet dressing recipe.
Honey: Agave would work fine for this too.
Smoked paprika: If you don't have smoked paprika, you can use regular paprika but it will lose the smoky flavor.
Ketchup: This is the perfect tomato base for this recipe.
Onion powder: The onion powder has a more concentrated flavor than fresh chopped onion.
Garlic powder: The same for garlic powder, more concentrated than fresh.
Grapeseed oil: Olive oil or some other flavorless oil with a neutral taste will also work here.
Salt and pepper: To taste.
How to make homemade Catalina dressing?
Mix: To begin, put your onion powder, garlic powder, smoked paprika, soy sauce, Worcester sauce, honey, ketchup, and vinegar into a blender or food processor. Blend thoroughly.
Add grapeseed oil: With the blender running on low speed, open the vent in the lid and slowly add grapeseed oil until it is combined.
Season and serve: Finally, taste and add salt and pepper as needed. Then, use it on your salad or another recipe.
Refrigerate: This homemade Catalina dressing will last for up to a month in the fridge in an air-tight container.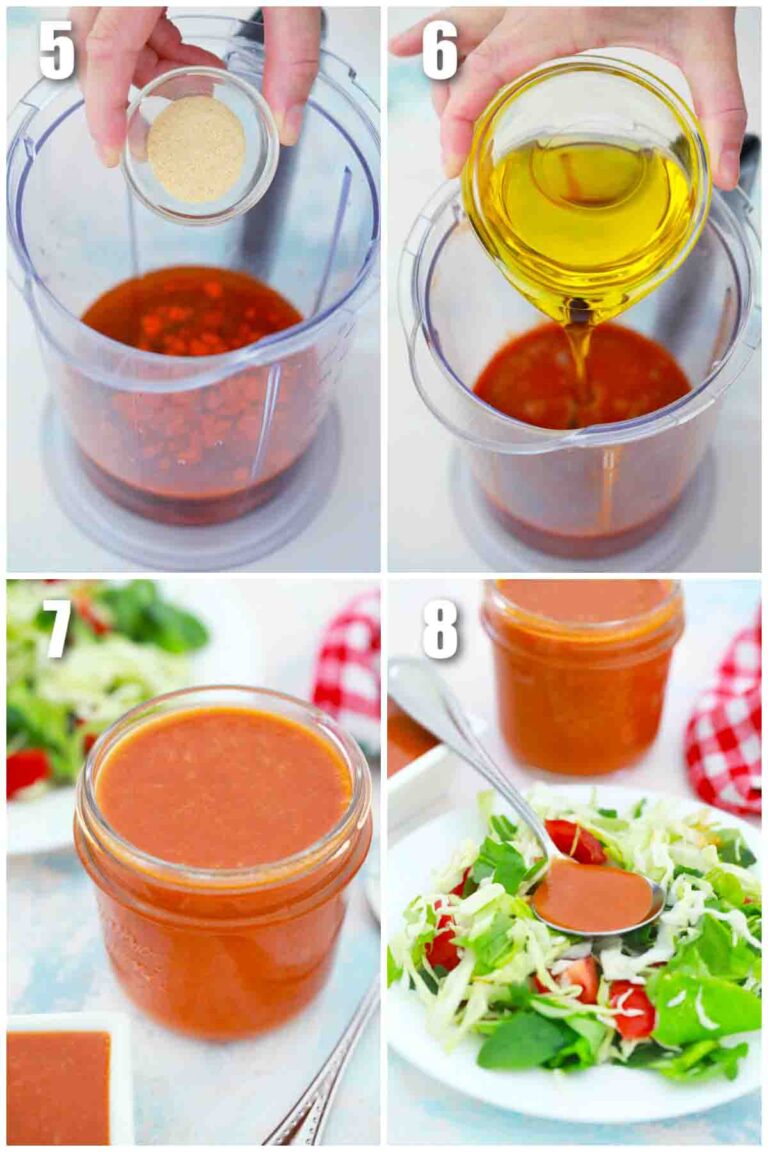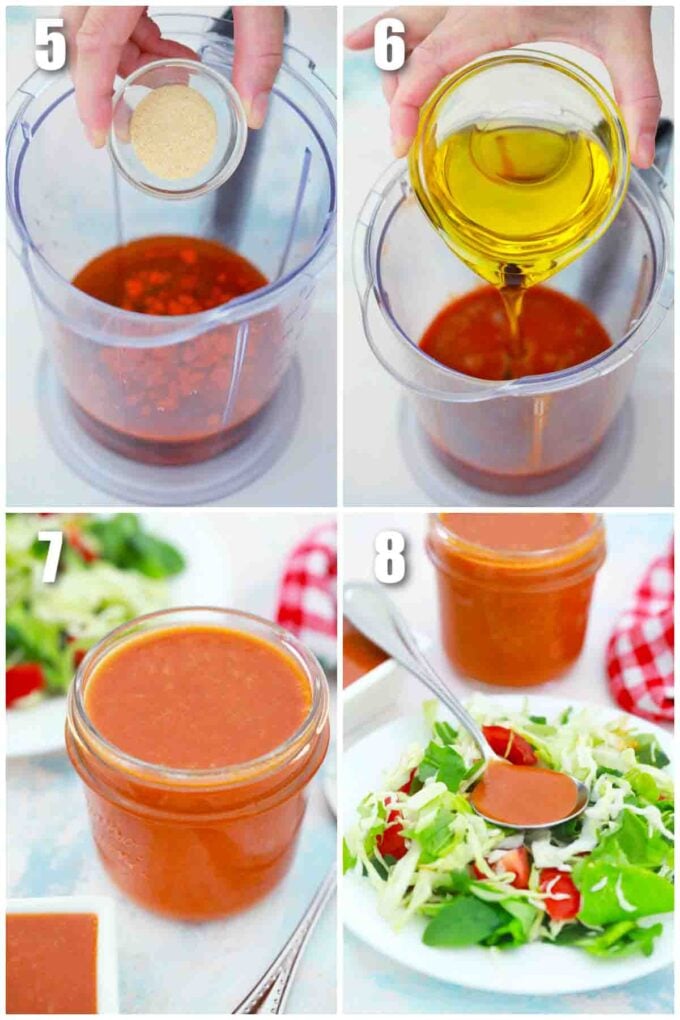 Recipe variations:
Another oil: Feel free to use other flavorless oil instead of grapeseed like vegetable oil, olive oil, avocado oil, or canola oil.
No honey: A good substitute for honey is plain white granulated sugar.
Other vinegar: To play with the flavor a bit, try using another vinegar such as white wine or apple cider vinegar instead of red wine vinegar.
Spicy salad dressing: Add red pepper flakes for a spicy Catalina dressing.
Celery seed: Add a teaspoon of celery seed to your homemade salad dressing recipe for a boost in vitamins and minerals.
Bold dressing: Add extra onion powder and apple cider vinegar for a bolder version.
How to serve:
Because it is so easy to make it, there is no excuse not to have some available in the fridge at all times. You can use it on so many things besides just salads. The whole family will love this delicious salad dressing on everything from salads to desserts. Here are some great ideas to try: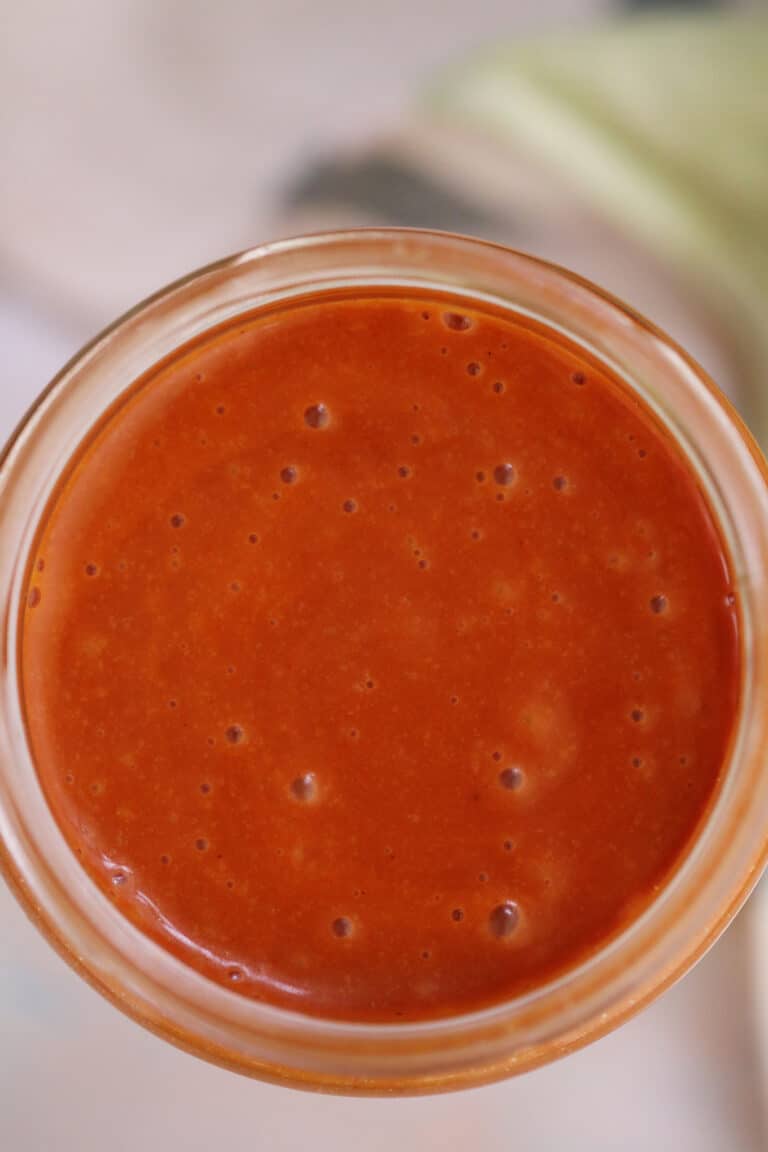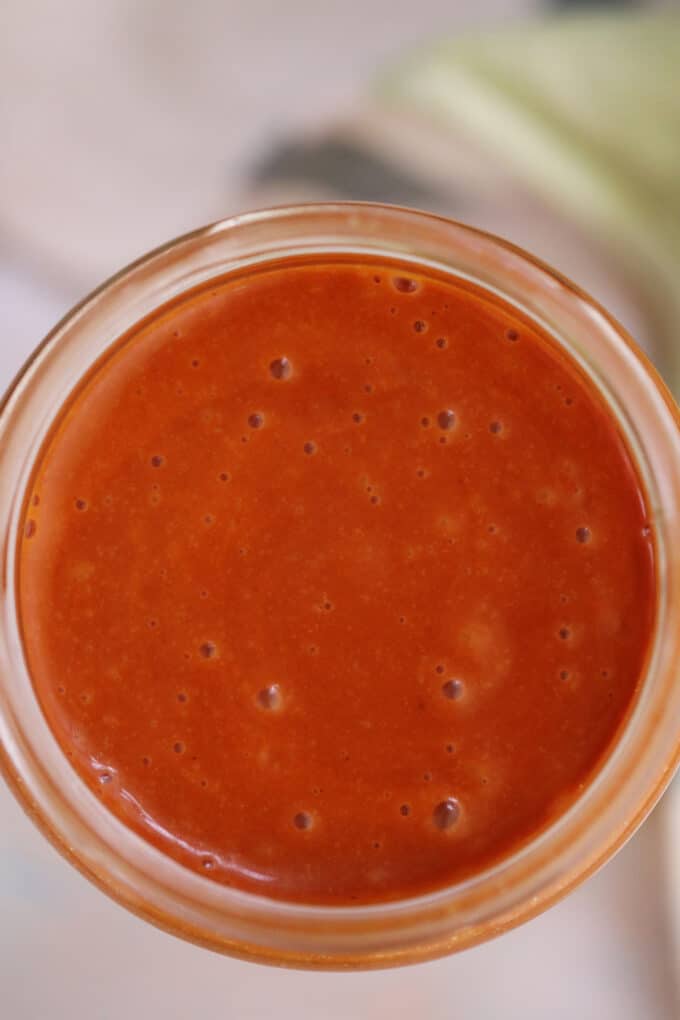 Frequently asked questions
What is the difference between French and Catalina dressing?
French dressing is very similar to Catalina dressing in many ways. They both have ketchup, vinegar, and a few seasonings. However, Catalina also has Worcestershire sauce, soy sauce, and grapeseed oil. Also, our homemade Catalina dressing recipe uses honey instead of sugar.
Is Catalina the same thing as Russian dressing?
Although they are similar, the Russian dressing has chili sauce and mayo in it while Catalina dressing uses vinegar, oil, and ketchup. Some recipes for Russian also call for horseradish. With the chili sauce and horseradish, you will find more of a spicy flavor in the Russian sauce.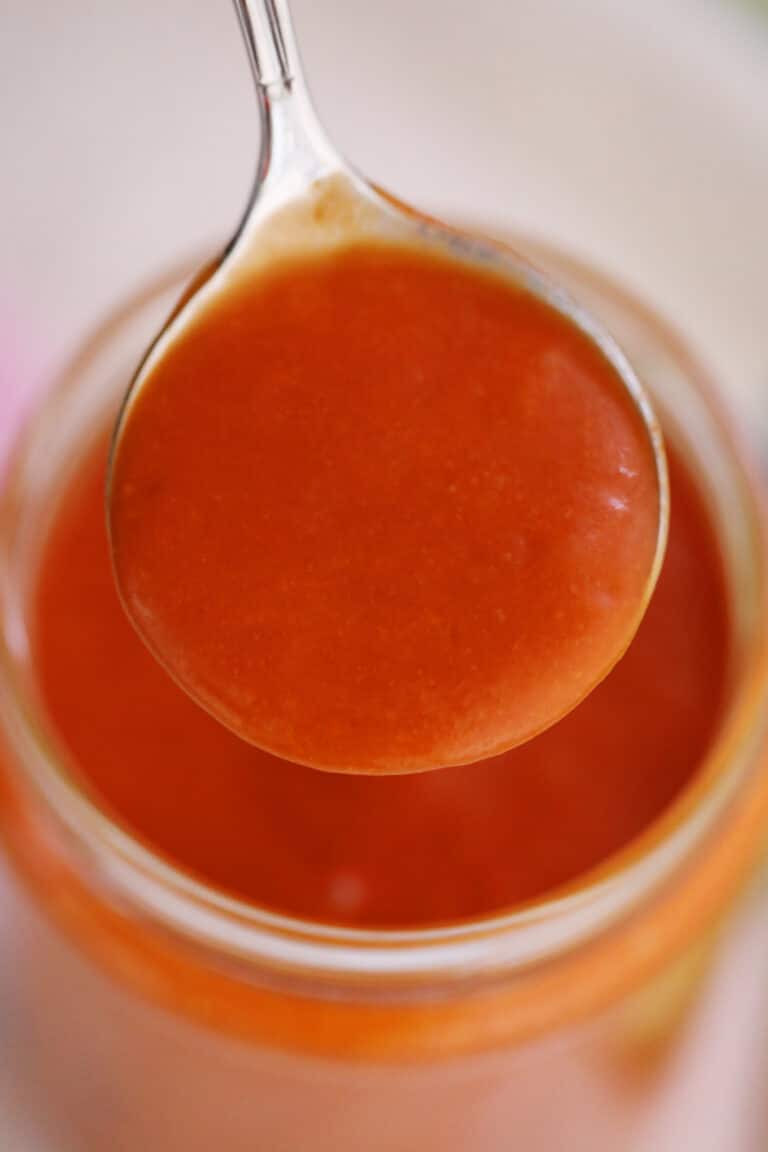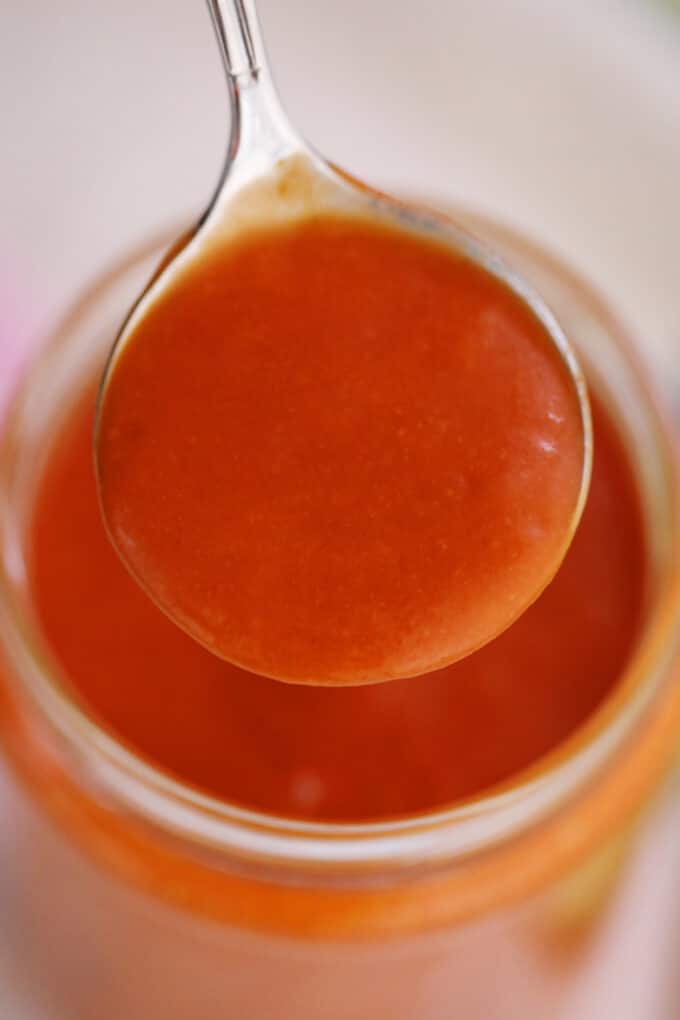 Why is it called Catalina dressing?
Many believe that Catalina dressing was first created in Catalonia, Spain, which is where the name came from. Others believe that the Kraft Company came up with it first. Kraft bought the Milani Company in 1925 and Catalina was their version of a spicy French dressing.
What are the nutrition facts of Catalina dressing?
Catalina dressing is very healthy and dairy-free, which is great for those who are lactose intolerant. Using honey instead of granulated sugar makes this homemade salad dressing even healthier.
You only get 360 calories per serving and just 30 grams of carbs. Also, there is no saturated fat and lots of vitamin A, calcium, and potassium.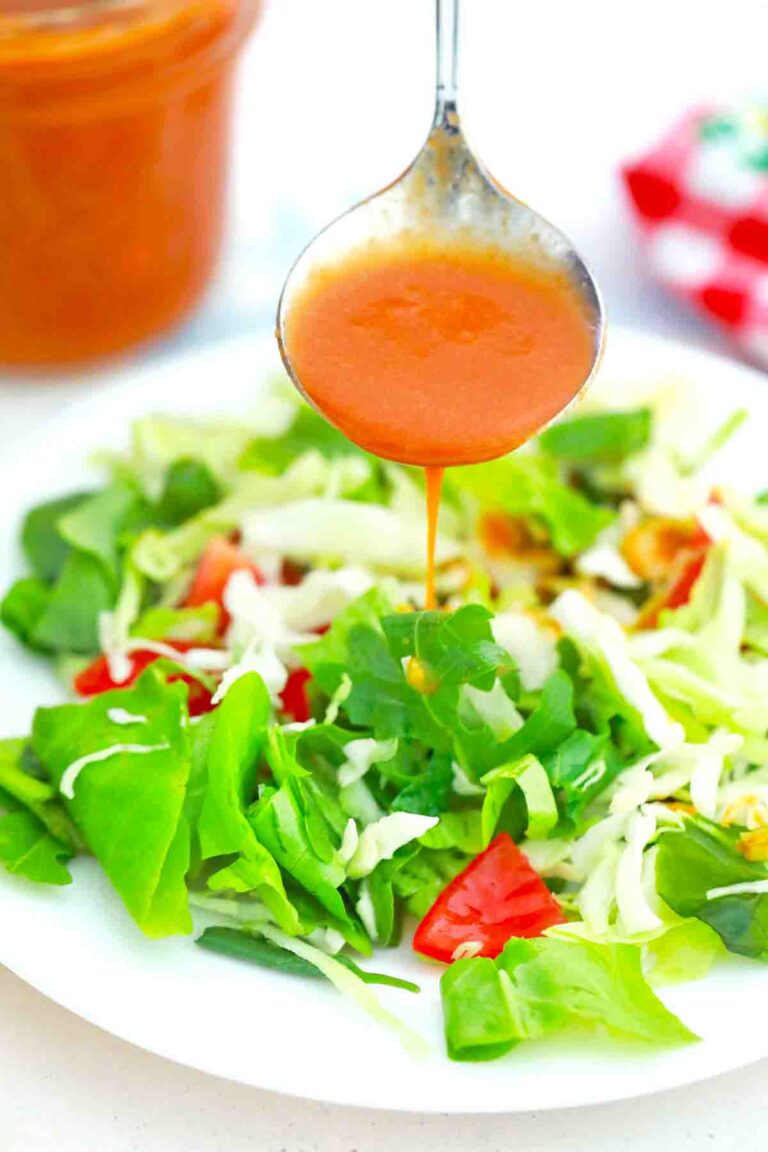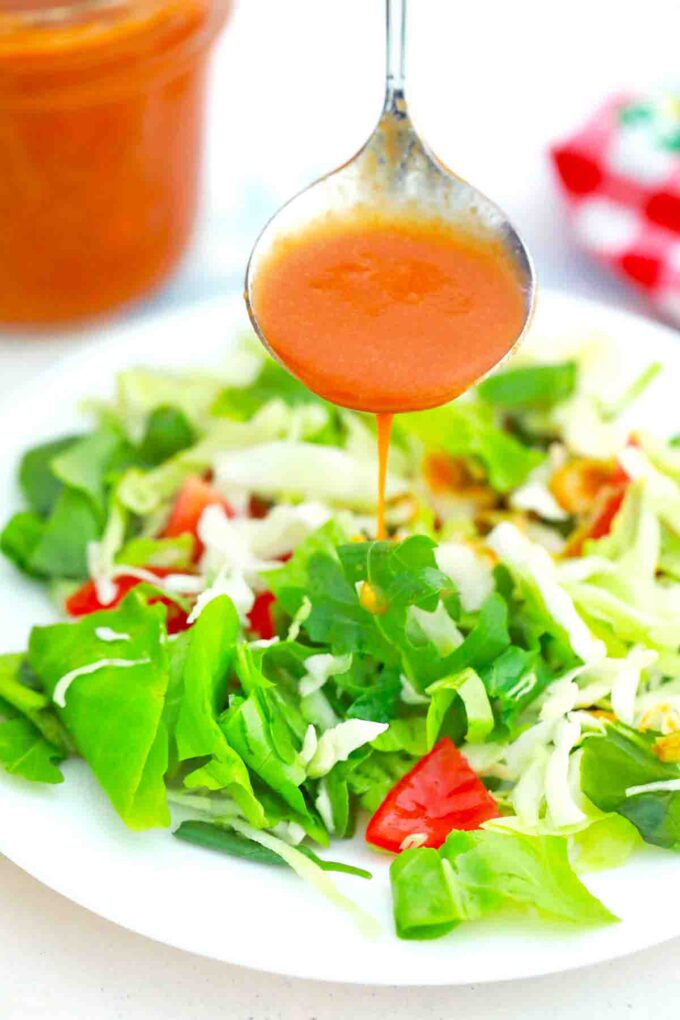 How to store leftovers:
Store: Homemade Catalina salad dressing will stay fresh in the fridge for two weeks. Use a glass jar with a lid such as a Ball canning jar.
Freeze: Make extra and freeze it for up to three months in an air-tight container.
Thaw: Thaw your frozen salad dressing in the fridge overnight for best results.
More salad dressing recipes:
Salad dressing making tips:
If you do not have a food processor or regular blender, you can use a handheld blender.
Another option would be to whisk everything together in a large bowl.
Go easy on the salt until you taste it because the soy sauce and Worcestershire sauce are both salty.
Alternatively, if you use low sodium soy sauce and Worcestershire sauce, you may need more salt.
If you really want to have bottled dressing, no problem. Put it in a glass sauce bottle or serving cruet.
There are many Catalina dressings on the market but this one is so much better than store-bought and you can control what goes into it.
Because of the tomato base, this recipe goes great with just about any beef, chicken, or pork dish.
Out of red wine vinegar? That's okay, you can use white wine vinegar or apple cider vinegar.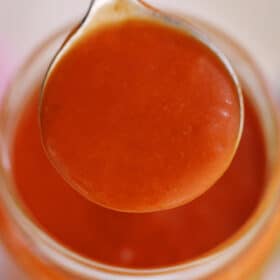 Homemade Catalina Dressing Recipe
Homemade Catalina Dressing is perfect for salads, tastes so much better than the store-bought version. Flavorful and ready in 5 minutes!
Save
Share
Print
Pin
Rate
Ingredients
1/2

cup

red wine vinegar

1/3

cup

ketchup

1/3

cup

honey

1

teaspoon

Worcestershire sauce

1

teaspoon

soy sauce

1

teaspoon

smoked paprika

1/2

teaspoon

onion powder

1/2

teaspoon

garlic powder

1/2

cup

grapeseed oil

(or olive oil)
Instructions
Add the vinegar, ketchup, honey, Worcestershire sauce, soy sauce, paprika, garlic powder, and onion powder to a blender. Cover and puree.

With the blender running on low speed, open the vent in the lid and slowly add the oil and blend until combined. Taste and adjust for salt and pepper.

Refrigerate in an air-tight container for up to a month.
Nutrition
Calories:
360
kcal
|
Carbohydrates:
30
g
|
Protein:
1
g
|
Fat:
27
g
|
Saturated Fat:
3
g
|
Sodium:
284
mg
|
Potassium:
113
mg
|
Fiber:
1
g
|
Sugar:
28
g
|
Vitamin A:
349
IU
|
Vitamin C:
1
mg
|
Calcium:
3
mg
|
Iron:
1
mg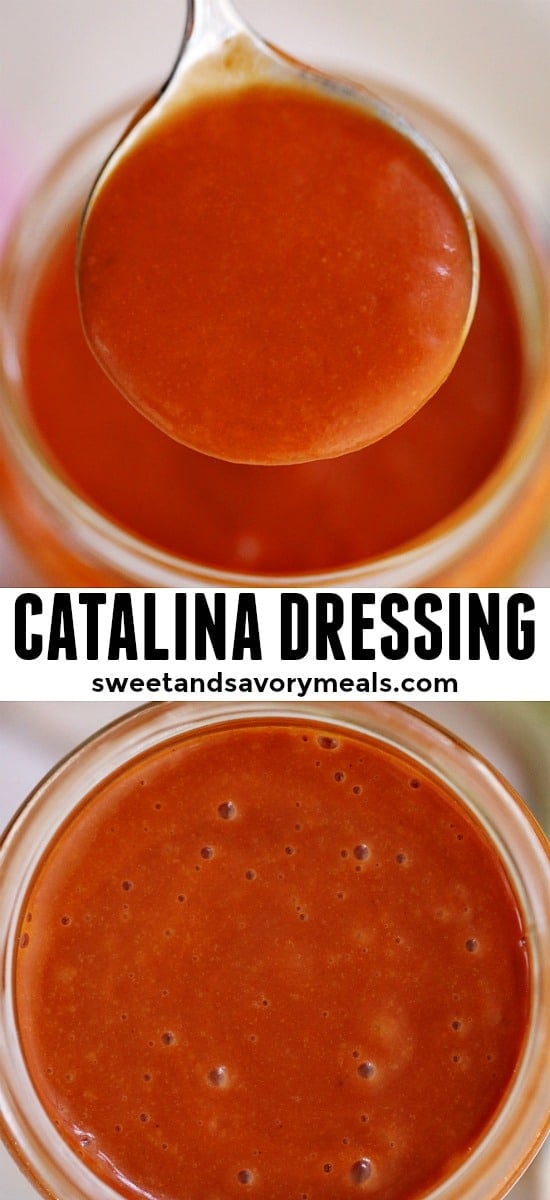 More recipes you might love