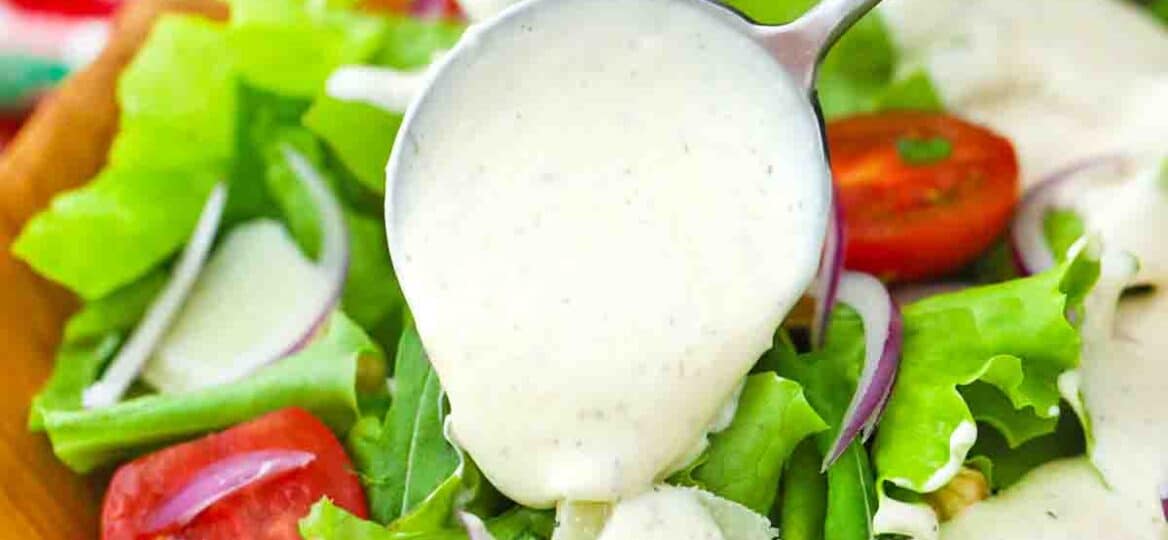 BEST Creamy Parmesan Dressing Recipe
Creamy Parmesan Dressing is the perfect addition to any salad or meal or used as a dipping sauce, made with fresh ingredients, it's a game changer. The creaminess of the Greek yogurt and mayonnaise is seasoned with Dijon mustard, Worcestershire sauce, and garlic as well as white wine vinegar, fresh lemon juice, and dill. If you like to make homemade salad dressings, you have to try this one.
It was the Egyptians who first used a dressing on their salads. They typically used vinegar, wine, and oil mixed with oriental spices. Romans and Greeks were the first to start using it on other veggies. Today, there are dozens of types and versions of salad dressing including blue cheese, Italian, French, Caesar, Russian, and ranch.
Making this yummy creamy parmesan salad dressing recipe is so simple, you only need a handful of basic ingredients and a few minutes of your time. If you have some Greek yogurt, mayonnaise, Dijon mustard, and Worcestershire sauce, you are well on your way to making this delicious dressing.
Ingredients needed:
For this creamy parmesan dressing recipe, gather the ingredients listed here. Then, scroll down to find our handy recipe card for complete instructions and precise measurements.
Greek yogurt
Dijon mustard
Mayonnaise
Worcestershire sauce
Grated parmesan cheese
White wine vinegar
Lemon juice
Minced garlic cloves
Fresh cracked peppercorn
Dried dill
Salt: To taste.
How to make creamy parmesan dressing from scratch?
Prep your ingredients: The first step is to get all of the ingredients ready by cracking the peppercorns, mincing the garlic cloves, and grating your own fresh parmesan cheese. You could use store-bought shredded cheese, but it will not taste as fresh.
Puree it all: Then, toss all of the ingredients into a blender or food processor and pulse until creamy and free of chunks.
Serve or chill: Serve immediately or chill in the fridge until you are ready to use it.
Recipe variations:
Add tomatoes: To make this salad dressing even better, toss some grape tomatoes into the mixture before blending.
Heat it up: If you like spicy food, add a pinch of red pepper flakes or cayenne pepper.
Make it better: Everything is better with bacon so add some to your creamy parmesan dressing.
Other meat: You could add other meats as well like sausage, beef, or pork. Just chop it into cubes and add it to the food processor with the rest of the ingredients.
More flavor: For even more flavors, add your own favorite herbs and spices like onion powder, thyme, rosemary, and smoked paprika.
Make it a meal: Why not make it a meal? Add chicken or some other meat as well as some of your favorite vegetables. You can even throw in some nuts like chopped pecans or walnuts.
Sweet dressing: For a sweeter salad dressing, sprinkle in some white or powdered sugar or brown sugar.
How to serve:
Whether you are planning to use this creamy parmesan dressing on a salad, in a meal, or as a dip, you can make it taste different by changing one or two things or adding or removing ingredients. With its mild and creamy flavor, you can make it a base for any entree as well. Try one of our great serving ideas or share some of your own in the comments section.
Toss some dried cranberries or raisins in your salad dressing for a sweet and chewy twist.
This creamy dressing goes great with salad greens of any kind such as romaine lettuce or spinach. Try our Greek salad or this pear salad recipe.
Mix parmesan dressing with tuna to make a unique tuna salad sandwich.
You can also use this homemade dressing as a topping for meat such as grilled chicken or pork. Try this recipe for grilled pork tenderloin that would be great topped with dressing.
Our flavorful dressing is also excellent for dipping your favorite veggies, crackers, or chips.
The fresh ingredients give this dressing an amazing flavor that even works as a sandwich spread. It would be perfect on our homemade corned beef sandwiches.
Toss in some healthy seeds like chia, hemp, sesame, sunflower, or flaxseeds for extra crunch and vitamins.
Frequently asked questions
Can I use Miracle Whip instead of regular mayo?
In most cases, you can substitute mayonnaise with Miracle Whip. However, this creamy parmesan dressing is supposed to be more savory than sweet. Miracle Whip is a lot sweeter than regular mayonnaise. But if you like your homemade salad dressing on the sweet side, it will work out fine.
What is the difference between parmesan in a can and shredded parmesan cheese?
Although canned dry parmesan in a can is cheaper and easier, it is not better in any way when you are using it in a recipe. It can be used on spaghetti in a pinch, but not when making salad dressing. First of all, it is powdery and does not melt like shredded cheese. Also, it has a gritty texture, possibly from the sawdust additives they use to stop coagulation.
Can I make this dairy-free?
Yes, nowadays there are non-dairy versions of everything. This includes Greek yogurt. But it may change the texture and flavors of your dressing. Try Silk Greek Yogurt, which is one of the most popular. There are also a lot of dairy-free and vegan mayos on the market that are really good. Duke's is supposed to be the best. Dairy-free parmesan cheese is also available. However, most of them are the dry canned variety.
Why is my salad dressing so thin?
First, you have to be sure you have the right amount of each ingredient. Every recipe is like a scientific experiment. You have to use exactly what the recipe calls for. Also, do not skip any ingredients. Dijon mustard is an important emulsifier. Also, if you use regular yogurt instead of Greek, it will be a lot thinner. Add some sour cream to thicken it up.
What is a wedge salad?
You will most often see a wedge salad at the more fancy steak restaurants. It is made from a cold wedge of iceberg lettuce drizzled with salad dressing and topped with your choice of toppings. The most common toppings are green onions, shredded cheese, grape tomatoes, and crumbled blue cheese.
What are the nutrition facts in this recipe?
The average serving of this dressing is one tablespoon. Each tablespoon has 80 calories, 9 grams fat, 2 grams saturated fat, 100 mg sodium, 1 gram of sugar, 9 mg cholesterol, and 1 gram of carbohydrates. On the good side, you also get 2 grams protein, 15 mg potassium, 2 grams fiber, 85 units of vitamin A, 2 mg vitamin C, 36 mg calcium, and 1 mg of iron.
How to store leftovers:
Store: You can store your leftover creamy parmesan salad dressing in an airtight container like a mason jar in the refrigerator for up to a week.
Freeze: Freezing is not recommended.
More homemade salad dressings:
Recipe tips:
Shorten prep time and make this delicious dressing super easy by using store-bought parmesan cheese instead of grating your own. It will still be good stuff, just not as flavorful.
Do not forget to add salt and pepper to your creamy parmesan salad dressing. However, you may not need any pepper if you used peppercorns.
Drizzle this on anything you feel needs to have more flavor.
If your salad dressing is too thin, add more Greek yogurt or a 1/2 cup of sour cream.
Is your dressing too thick? Go ahead and whisk in some milk.
This salad dressing is much better chilled. Put it in the fridge for at least four hours before using or make it the night before.
Looking for other sauces to try? We have tons of recipes for salads, dressings, and sauces on our food blog.
Creamy Parmesan Dressing
Ingredients
1

cup

mayonnaise

1/3

cup

Greek yogurt

4

cloves

garlic

minced

2

tablespoons

lemon juice

1

cup

parmesan cheese

shredded

2

teaspoons

white wine vinegar

1

teaspoon

Worcestershire sauce

1

teaspoon

fresh cracked peppercorn

1/4

teaspoon

dried dill

2

teaspoons

Dijon mustard

Salt

to taste
Instructions
Add all the ingredients to a food processor or high-speed blender and pulse until creamy and smooth.

Serve immediately or add to a mason jar, cover with a lid, and refrigerate until ready to use.
Deliciousness to your inbox
Enjoy weekly hand picked recipes and recommendations