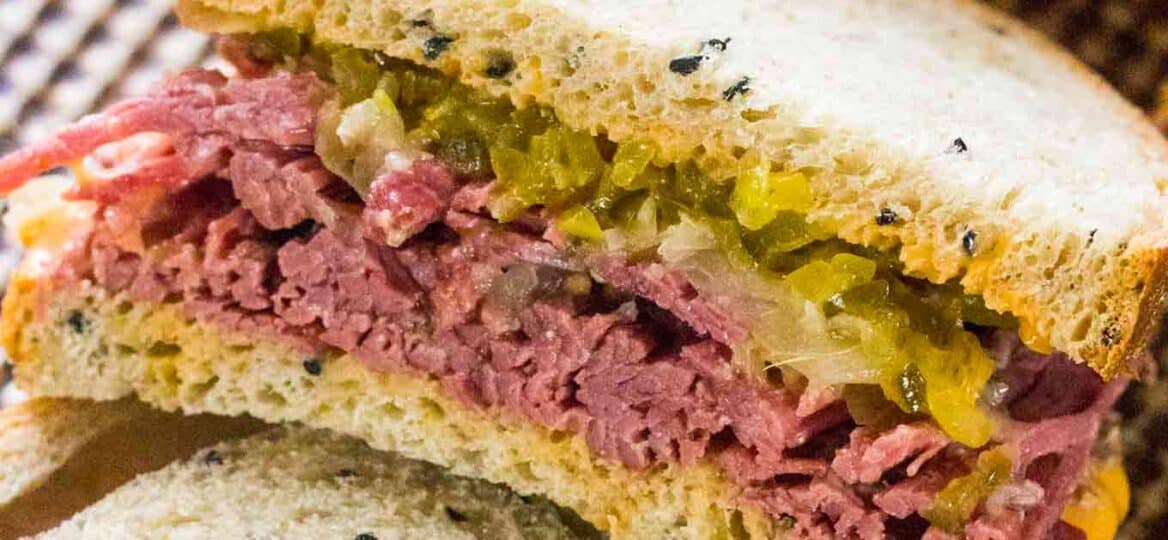 Homemade Corned Beef Sandwiches
Corned Beef Sandwiches are the homemade take on the classic deli sandwiches of corned beef with toasted rye bread, sauerkraut and Russian dressing.
We have some delicious and popular Corned Beef recipes on the blog. You can make Slow Cooker Corned Beef or Instant Pot Corned Beef recipe. Corned beef leftovers don't have to be boring when you can make these delicious sandwiches for lunch or dinner.
Easy Corned Beef Sandwiches
Sandwiches and Corned Beef are my weakness. I live in New York City, and we have lots of deli shops here. We also have a lot of Jewish eateries. Do you know what those two have in common? They serve amazing sandwiches! Also, a good deli sandwich will make you come back for more and more every single time.
Every time I am at a Jewish dinner, I have a hard time deciding between the pastrami sandwich and the corned beef sandwich. Most of the time I will choose the latter because Corned Beef Sandwiches are my absolute favorite.
With this easy recipe, you can make them anytime you want! I love using Slow Cooker Corned Beef in this recipe and highly recommend you make it too!
What Do You Put On Corned Beef Sandwiches?
These flavorful and delicious sandwiches are perfect any day of the week. You can enjoy them for St. Patrick's day, to host a party, or game day. You will need:
Rye Bread – well, this is not IN, but classic corned beef sandwiches are made on rye bread.
Russian Dressing
Dill Pickle Relish
Sauerkraut
Swiss Cheese – this one is optional, a Jewish eatery will never serve their sandwiches with cheese.
How Do You Cook Corned Beef?
In the Slow Cooker, it takes about 8-10 hours on low and this is the recipe I always make!
Oven option – it will take about 4-6 hours, depends how big is the brisket.
In the Pressure Cooker – it will take about 1.5 hours, try my Instant Pot Corned Beef recipe.
Other St. Patrick's Day Favorites:
We have some other delicious and amazing recipes that are perfect for St. Patrick's Day. Some of our all-time favorite Irish inspired recipes are:
More Delicious Sandwich Recipes: