Fried Cabbage and Noodles (Haluski)
Fried Cabbage and Noodles or Polish Haluski is a simple, pan-fried meal, made with cabbage, noodles, caramelized onions, and butter. This easy-to-make comfort is filling, budget-friendly, and ready in about 30 minutes.
Cabbage recipes like this one are great for busy weeknight dinners when you want something delicious and quick too. They are made with simple ingredients, that most of the time you can find in your pantry. Try our Cabbage and Sausage recipe to see how easy it is to make.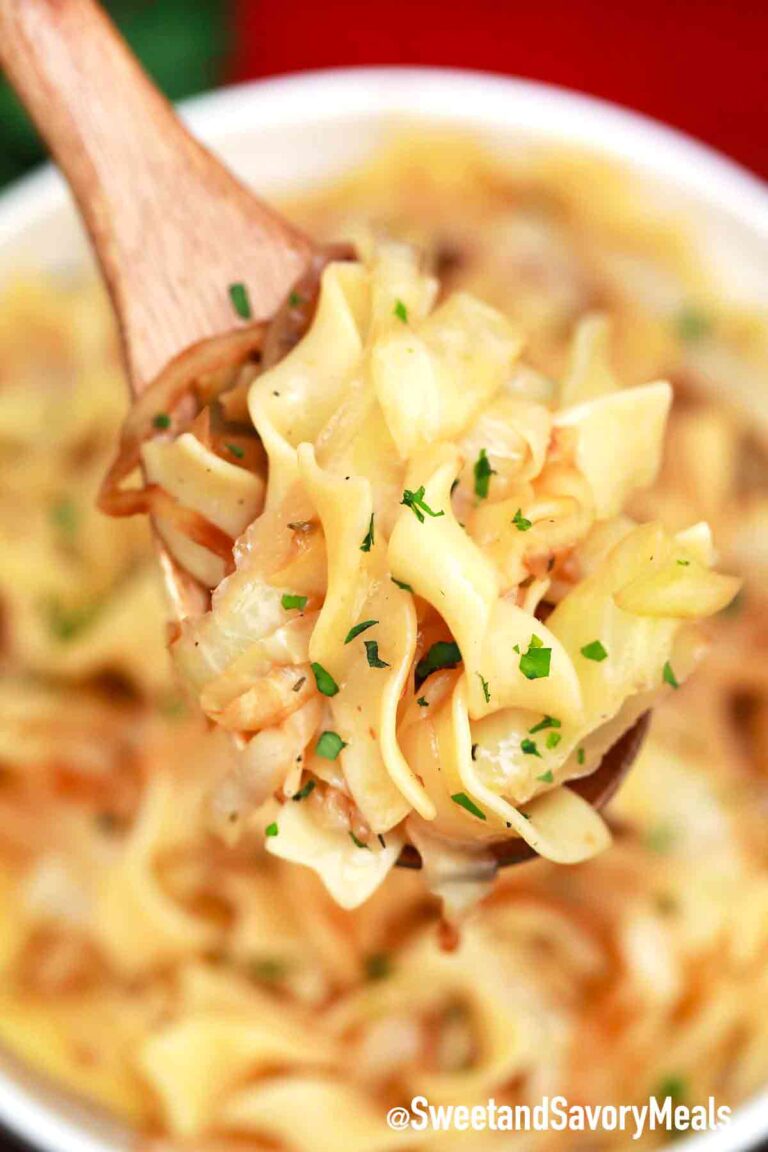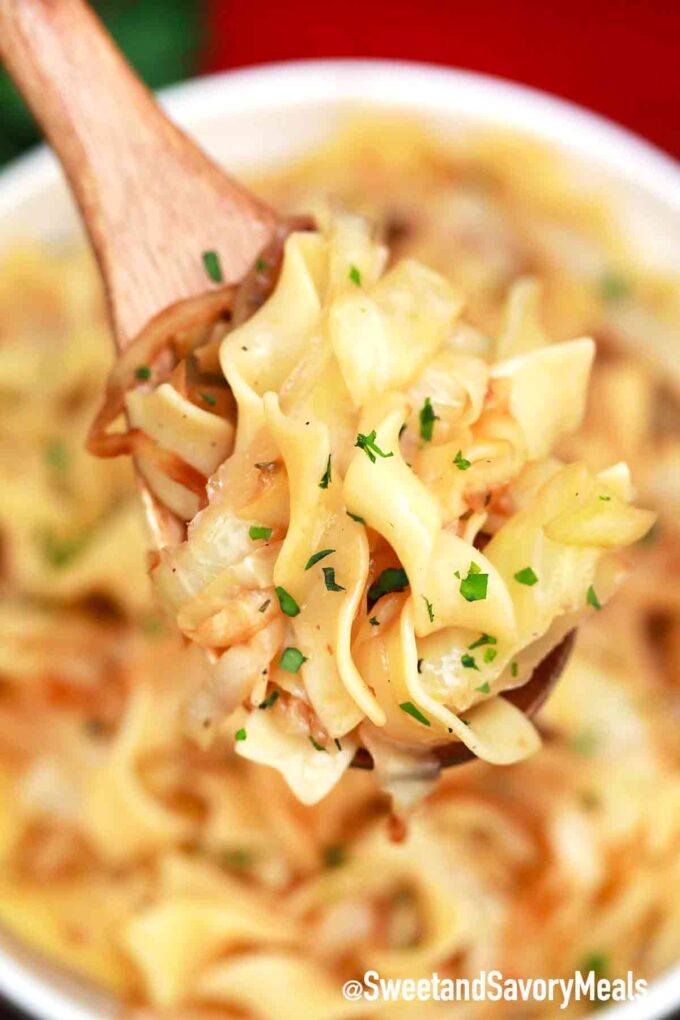 This comforting dish is what I'd imagine an old-fashioned Polish family would serve at their table. It's simple and hearty fare, but there's something so tasty about a plate of sautéed cabbage and buttery noodles. My entire family gobbles up this dish and always asks for more every time we have it for dinner.
Apart from being insanely easy to make, it is super cheap and delicious. Also, this can easily be a great side dish or base for a bigger meal. Traditional Haluski recipe pairs well with most entrées.
This is one of those great recipes that the whole family loves and keeps asking for more. The best part is that fried cabbage and noodles is such a versatile recipe, that it will quickly become one of your favorite dishes.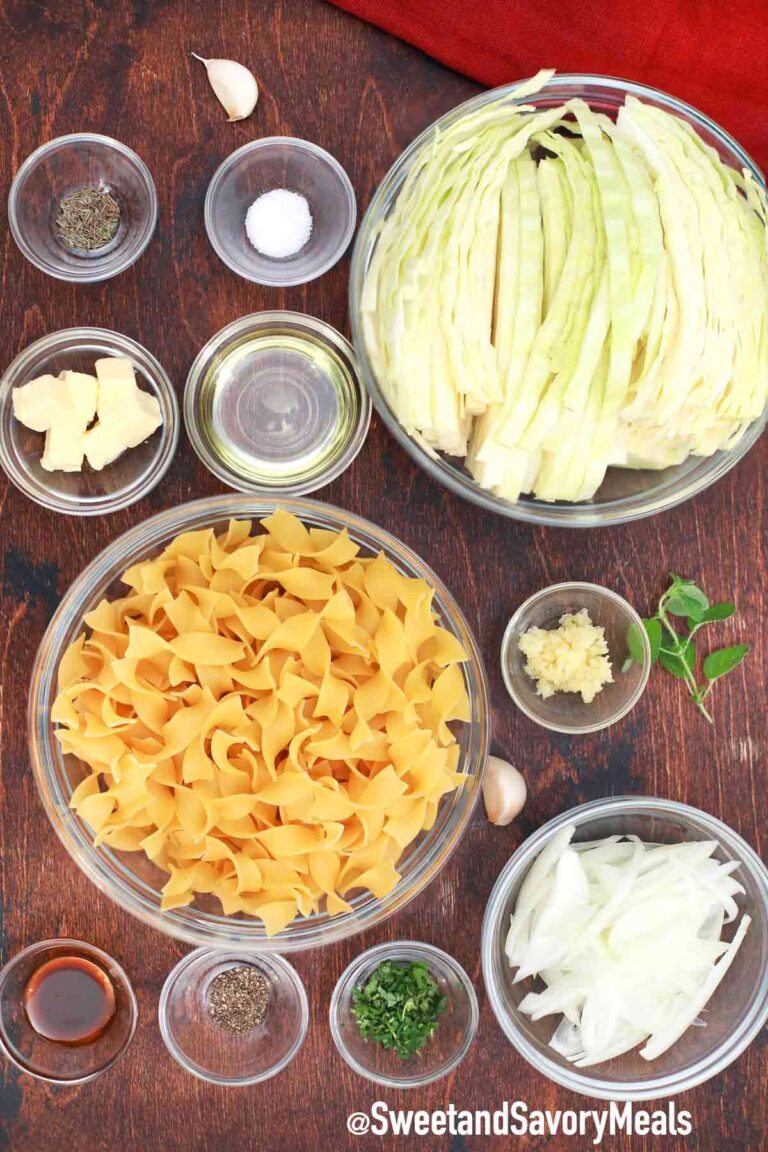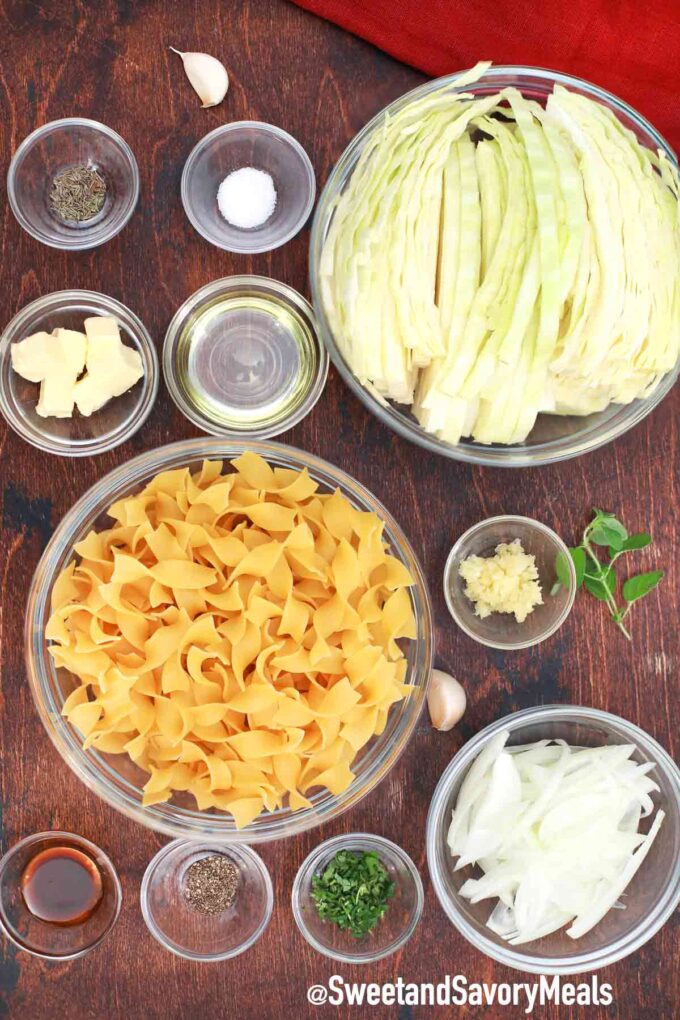 Haluski Ingredients:
Green cabbage
Wide egg noodles
Olive oil: Or use vegetable oil for frying.
Yellow onion: White or sweet sliced onions will work as well.
Fresh garlic: Adds extra flavor to the stir fry sauce, if you don't have fresh garlic on hand, use garlic powder.
Dried thyme: I like adding extra flavor to this delicious comfort food by adding my favorite dried herbs.
Fresh oregano: Elevate this easy recipe with simple things like chopped fresh herbs!
Butter: The noodles are extra yummy when coated in lots of melted butter.
Worcestershire sauce: This is a secret ingredient in this meatless meal, that adds some tanginess to the cabbage mixture.
Kosher salt
Ground black pepper
A pot of water: To cook the pasta.
How to make Fried Cabbage and Noodles from scratch?
Cook egg noodles: In a large pot, bring water to a boil and cook noodles according to package directions. Cook for a few minutes less, aiming for al dente. The pasta will continue to cook when added to the skillet with the veggies. Drain the cooked egg noodles and set them aside.
Sauté the aromatics. First, place a large skillet over medium-high heat and add the oil. Next, add onions and brown them stirring occasionally. Afterward, add the fresh garlic and herbs.
Add cabbage: Next, add the cabbage and Worcestershire saute, sautéing until nicely brown. After that, deglaze the pan with a quarter cup of water and continue cooking until the cabbage is tender.
Add the noodles. Add the drained noodles to the pan along with some black pepper and salt. Stir until butter is melted, taste, and add additional salt if needed.
Serve. Finally, enjoy it hot topped with some chopped parsley and oregano. It's also amazing with some sour cream stirred in!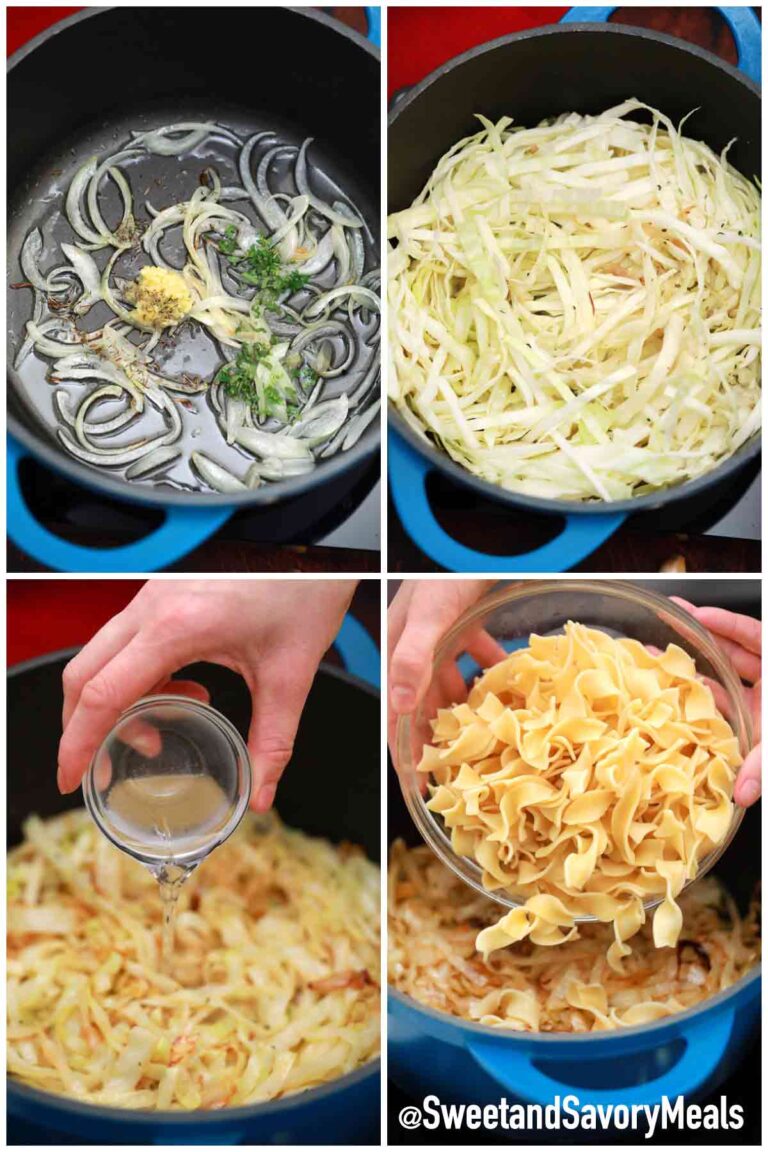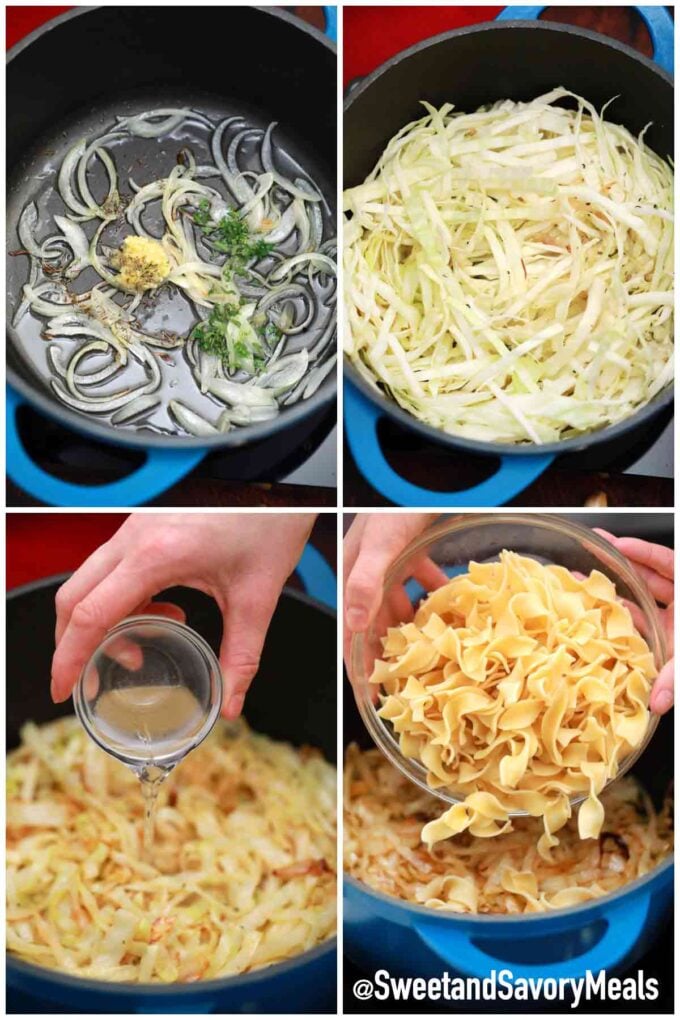 Recipe Variations:
Add meat: Brown some ground beef, pork, or chicken before sautéing the veggies for a complete one-skillet meal.
Bacon: Everything is better with bacon, fry some, and after that cook the veggies in the bacon grease. Cooked bacon is a great addition and makes this noodles dish extra tasty.
Vegan: Use vegan egg noodles and non-dairy butter for a vegan version.
Add cheese: For a richer and creamier texture, stir in some cottage cheese or sour cream into this delicious dish. As an alternative, sprinkle some parmesan cheese on top.
Use other pasta: Don't have any egg noodles on hand? Spaghetti, linguine, or fettuccine will do in a pinch.
Add vegetables: Also, this Polish dish is a great way to use up the veggies in your crisper! Throw in some chopped mushrooms, baby spinach, broccoli or cauliflower, or peas for a more nutritious and comforting meal.
Gluten-Free: As an alternative, make this simple dish gluten-free, by using gluten-free pasta.
Whole-wheat: Similarly, to add more dietary fiber to this easy dish, use whole wheat pasta.
Spicier: Also, for a spicier kick add some chopped jalapeños or red pepper flakes.
Seasonings: Another option is to add some caraway seeds, cumin, or other spices and herbs that you enjoy!
How to serve:
This delicious noodles recipe is great when coated in lots of butter! Since it is so versatile, it pairs well with so many dishes. Either pair it with your preferred main dishes or make a spread of different side dishes for a tasty family feast.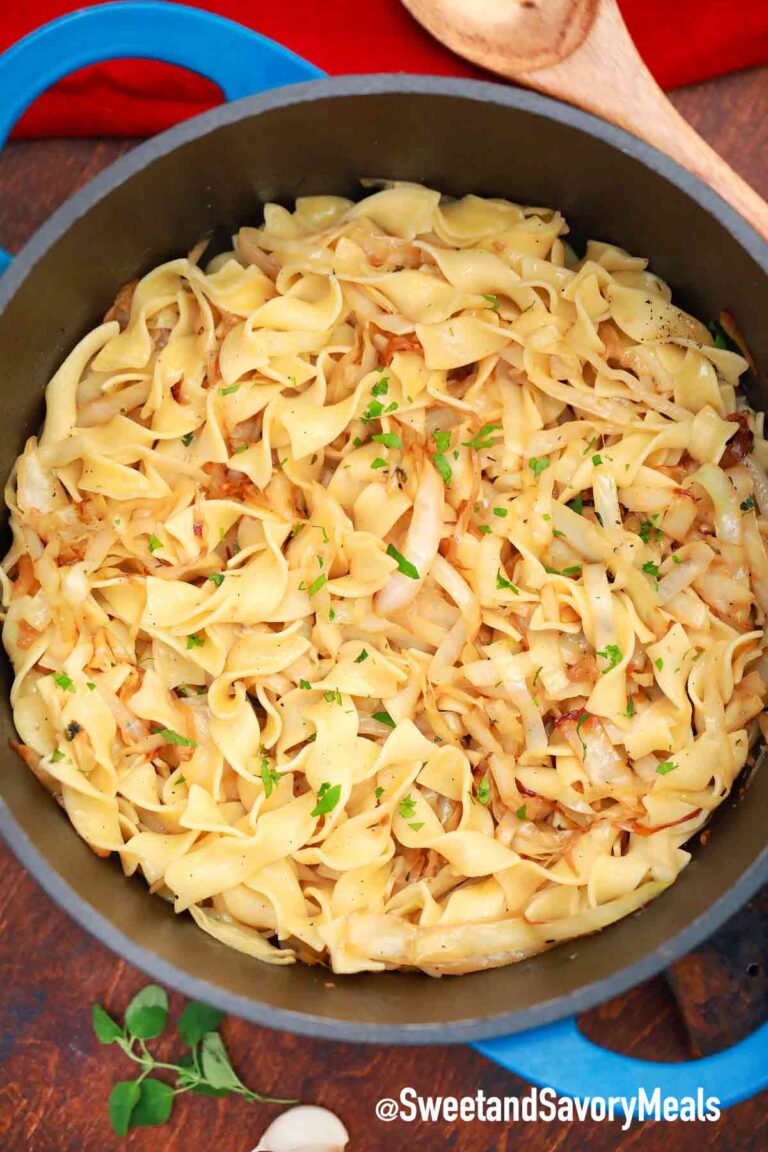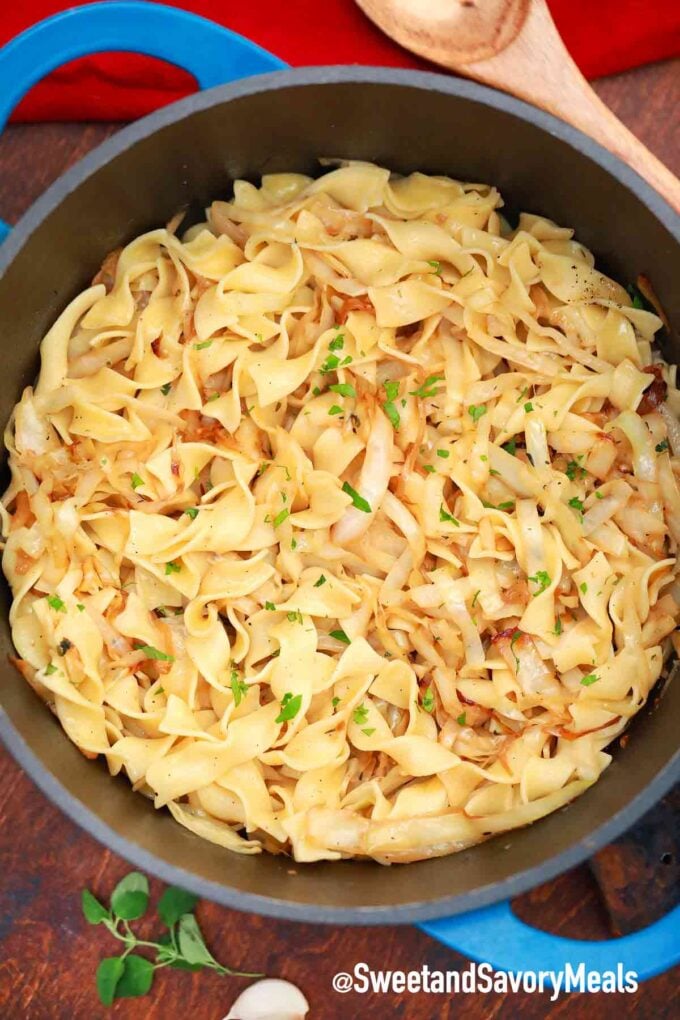 Frequently Asked Questions
What nationality is Haluski from?
The dish has Slovakian and Polish roots and is a staple in Eastern Europe. Aside from being a regular weekday meal, it's also popular as a meatless entrée during Lent.
Traditional versions used homemade dumplings added to sautéed vegetables, but we're using egg noodles for ease and convenience.
How to cut cabbage for noodles?
Start by removing the first layer of outer leaves. Those usually are dirty and bruised.
First, use a long and sharp knife to slice it in half and after that into quarters. After that, using a pairing knife, remove and discard the core from each wedge. When cutting the core, make sure you place the wedge on a cutting board and hold it well with your hand. Since the core is very tough, be careful when slicing it.
Next, I like slicing it into half-inch strips, similar to the size of most egg noodles. This way, they cook quickly, and you can twirl both the pasta and the veggies in one big bite!
What is the difference between Kluski noodles and egg noodles?
They are very similar, except Kluski pasta is made with more eggs. So, for traditional egg noodles, you usually need 2-3 eggs for 2 cups of flour. To make Kluski, you need 4-5 eggs for every 2 cups of flour.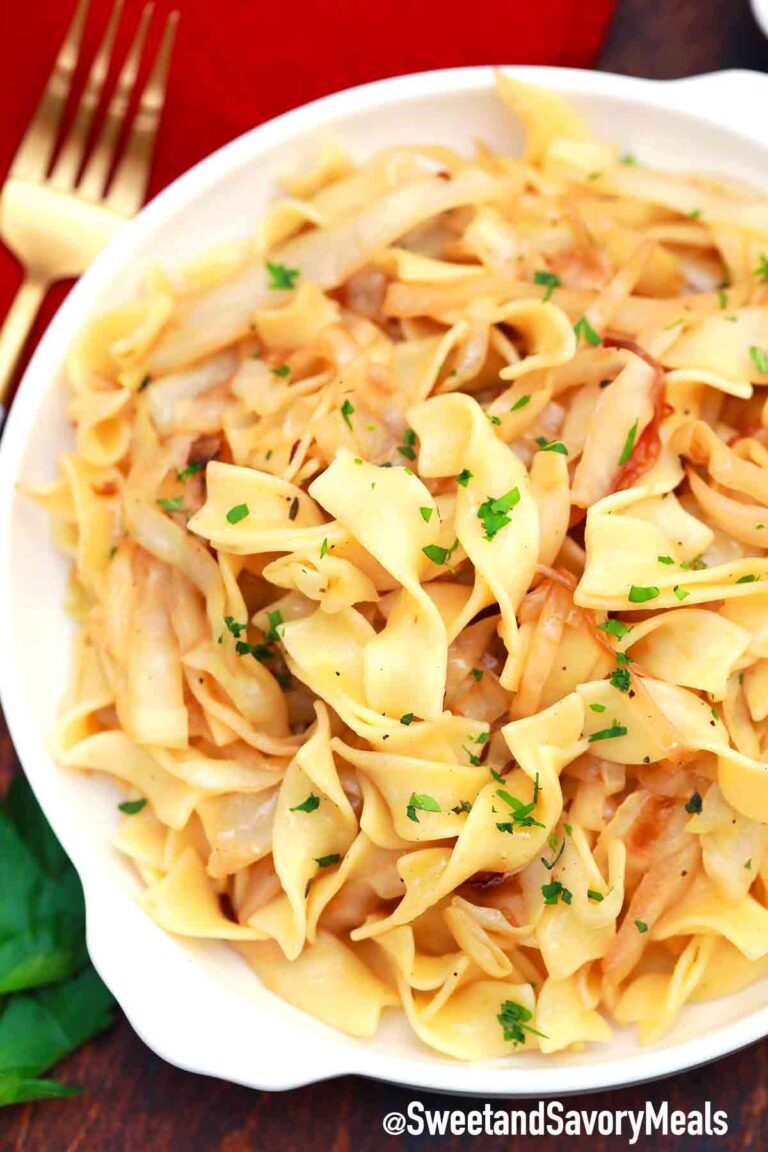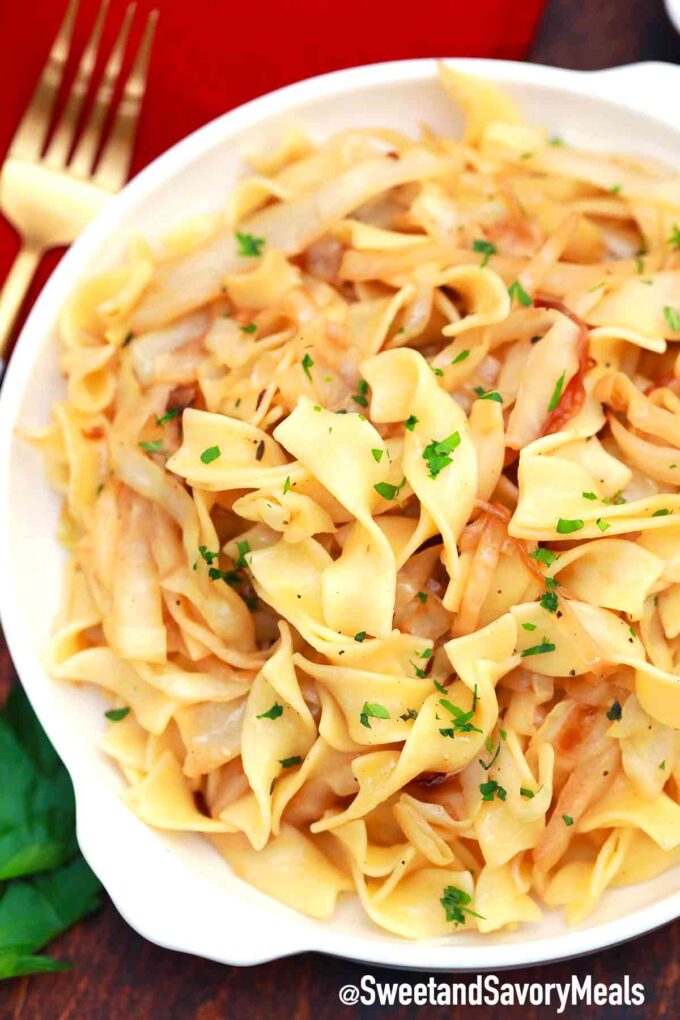 How to store leftovers:
Actually, the leftovers are delicious, easy to store, and taste great after reheating. Alternatively, we recommend you make a double batch of this recipe and store or freeze some for later.
Refrigerate: First, cool down the entire dish. After that, transfer fried cabbage and noodles to a well-sealed container. Keep it in the refrigerator, and consume within 3 to 4 days or earlier for best texture and taste.
Freeze:

Again, make sure the entire dish is completely cool. Then, transfer the cabbage noodles to a freezer bag or freezer-safe airtight container. After that, freeze for up to 3 months.

Thaw: Plan in advance and transfer the meal from the freezer to the fridge and thaw it overnight.
Reheat: To reheat, place a skillet over medium heat, add a tablespoon of butter and saute it until hot. As another option, microwave it for a few minutes.
More Cabbage Recipes:
Recipe Tips:
Use green cabbage, it is excellent for this dish since its mild taste won't overpower the rest of the ingredients. Also, it turns sweeter as it cooks, which really complements the butter, pepper, and herbs we use to season everything with.
Make sure to undercook the pasta by a minute or two. Otherwise, it will get soggy when you continue to cook it with the veggies.
Also, use a large saute pan or wok that would fit well all the ingredients.
Slice the veggies thinly so they cook quicker.
Also, I recommend using fresh garlic and herbs for extra flavor.
Similarly, make sure that the cabbage you are using is fresh. Hence, check it black spots on the leaves and look for the leaves to be crisp and not wilted.
Do not rush through this recipe, cooking the onion and the aromatics properly is key. Actually, the onion adds a lot of flavors.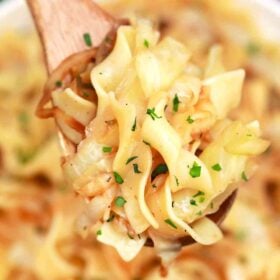 Fried Cabbage and Noodles
Fried Cabbage and Noodles (Haluski) is a simple, comforting meal made of buttery noodles and vegetables. Super filling and easy on the pocket!
Save
Share
Print
Pin
Rate
Ingredients
2

tablespoons

olive oil

1

yellow onion

(thinly sliced)

4

cloves

garlic

(minced)

1

tablespoon

Worcestershire sauce

1

teaspoon

fresh oregano

(chopped)

1/2

teaspoon

dried thyme

8

oz.

wide egg noodles

1/2

head cabbage

(about 4-5 cups - sliced thinly or into wide strips)

2

tablespoons

butter

Salt and pepper

(to taste)
Instructions
Place a large pot over medium-high heat and add the oil. Once the oil is hot, add the onion, saute until soft, and browned for about 5-6 minutes.

Add garlic, oregano and thyme, stir and cook for 30 seconds.

Add Worcestershire sauce and the sliced cabbage to the pot, season with salt. Saute until cabbage has browned and then add 1/4 cup water. Continue to sauté the cabbage until it is tender, about 15 minutes, and use the water to dissolve any browned bits off the bottom of the pot.

In the meantime, bring a pot of water to a boil and cook the noodles per package directions. Make sure to cook 1-2 minutes less, for al dente. Drain and set aside.

Once the cabbage is tender, remove it from heat and gently stir in the cooked and drained noodles. Add butter, and season with salt and pepper. Stir to combine, until the butter is melted.

Taste and adjust for salt and pepper.

Serve warm garnished with chopped parsley and oregano.
Nutrition
Calories:
383
kcal
|
Carbohydrates:
51
g
|
Protein:
10
g
|
Fat:
16
g
|
Saturated Fat:
3
g
|
Cholesterol:
48
mg
|
Sodium:
141
mg
|
Potassium:
405
mg
|
Fiber:
5
g
|
Sugar:
6
g
|
Vitamin A:
397
IU
|
Vitamin C:
44
mg
|
Calcium:
84
mg
|
Iron:
2
mg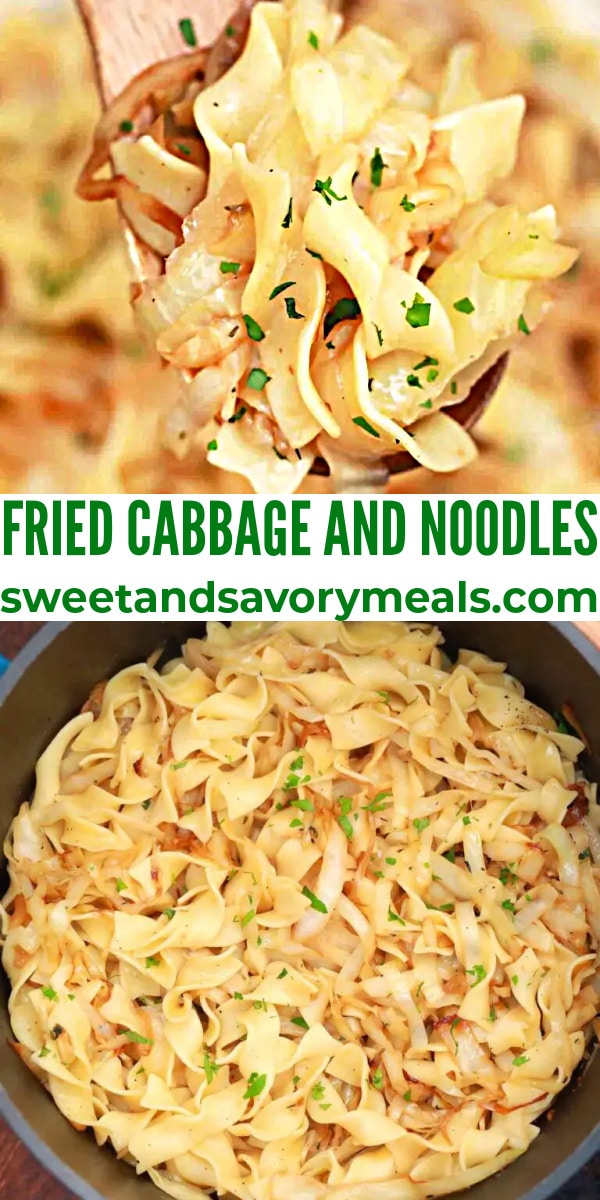 More recipes you might love