Sauteed Cabbage Recipe [Video]
Sauteed Cabbage is a rustic side dish with tender, caramelized cabbage flavored with garlic, herbs, and fresh lemon. It's almost impossible to believe that cabbage can be this good!
No meal is complete without a tasty vegetable side dish! Panda Express Mixed Veggies (Copycat), Rainbow Vegetables, and Roasted Cauliflower feature familiar flavors that pair perfectly with most main dishes.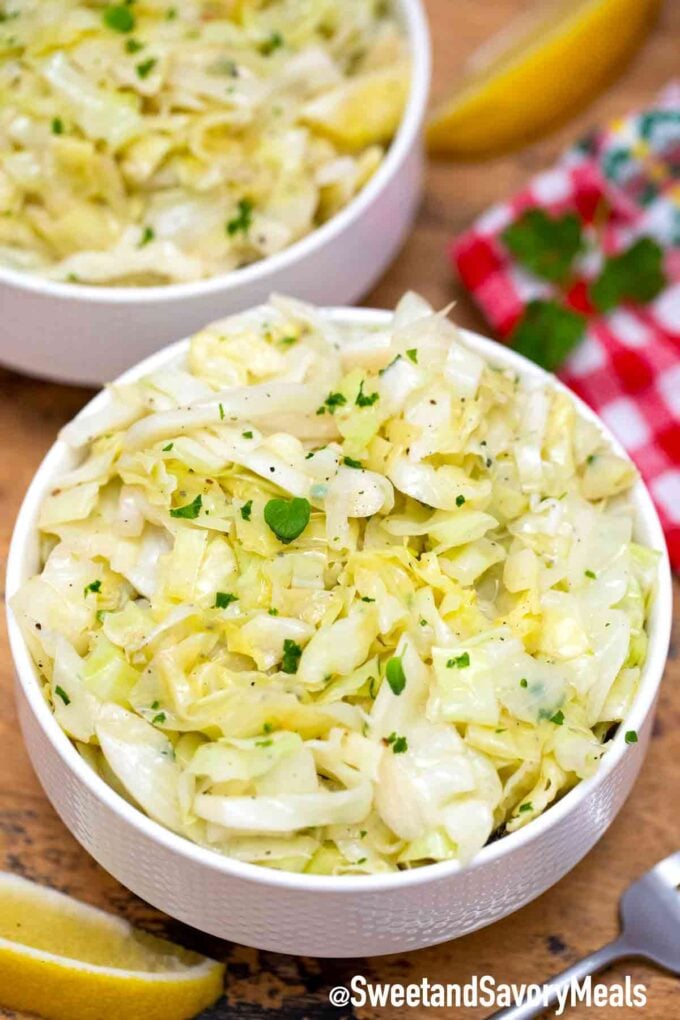 Healthy Sauteed Cabbage
Sauteed Cabbage may not sound like the most exciting dish, but the first time I made it, I was blown away by how delicious it is. The veggies become crispy-soft with amazing browned bits from stir-frying.
It's buttery and garlicky with a slight tang from the apple cider vinegar. Right at the end, it gets a huge boost of flavor from fresh herbs and a squeeze of lemon.
I'll be honest with you— I couldn't stop myself eating a few forkfuls right out of the pan!
Besides being unbelievably tasty, it's so quick and easy too. Done in less than 20 mins with minimal prep and ingredients. This can be a great and budget-friendly side dish you can serve with any type of meat or tofu.
Is sauteed cabbage healthy?
Definitely! This dish is low-carb, low-calorie, and high in fibers, antioxidants, and nutrients. The aromatics, herbs, and apple cider vinegar add tons of flavor without adding calories and fat.
It's so filling too, so you can eat a lot without feeling guilty! If you're trying to lose weight or want to eat healthier, this dish is an excellent addition to your regular meals.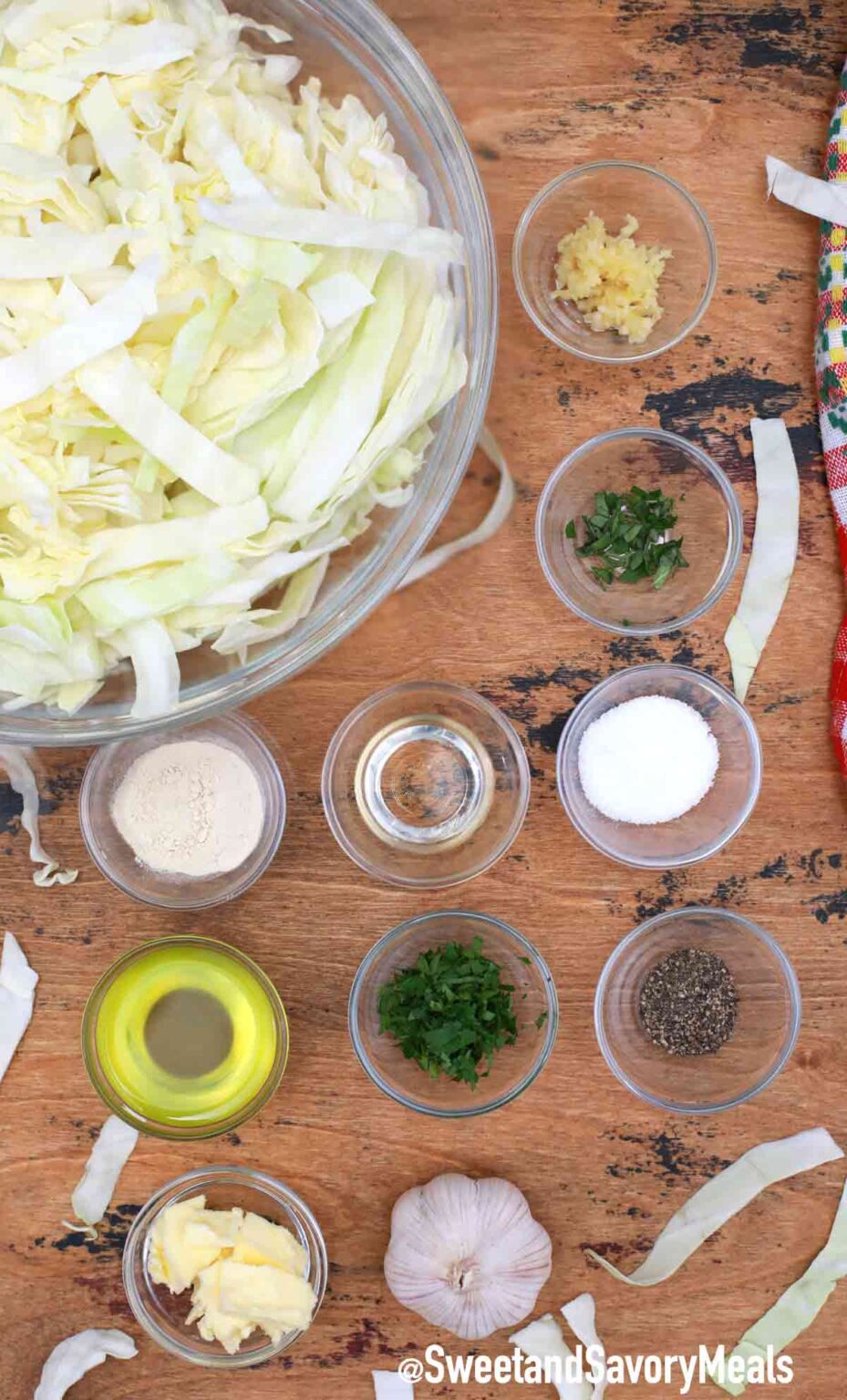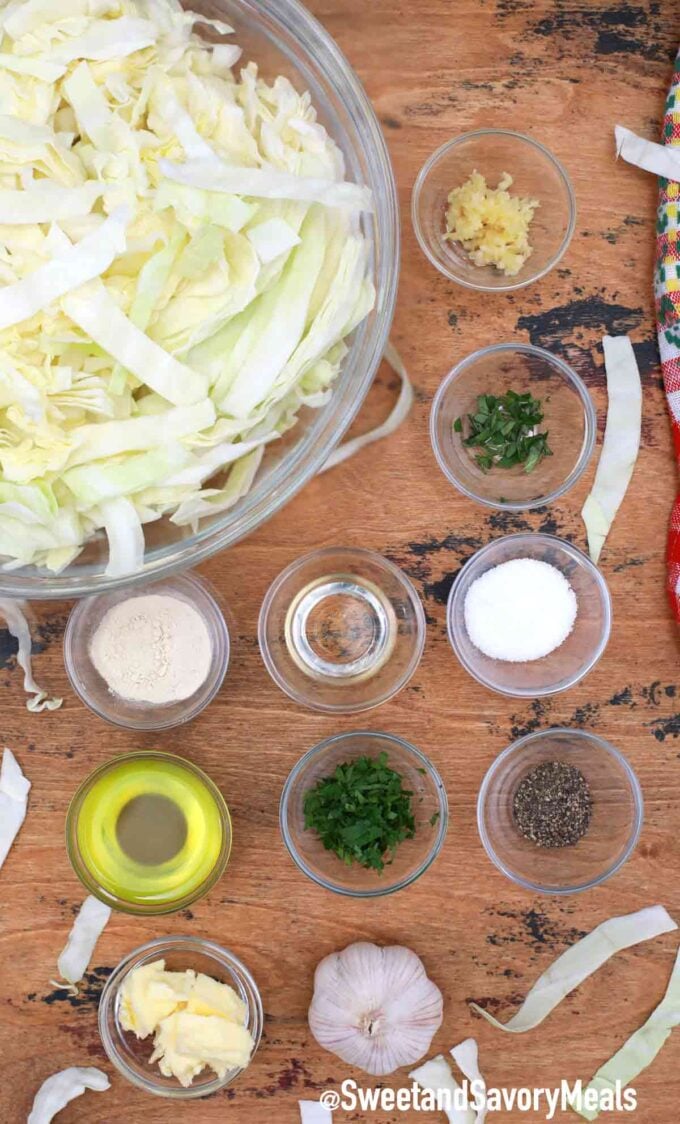 What kind of cabbage should be used?
For this recipe, just get the regular green variety. I love how its natural sweetness shines in this dish! When buying, check for any discoloration. It should also feel heavy, and the leaves should be packed tightly.
How do you make sauteed cabbage?
Cut the vegetable into fine ribbons. Cut the head in half, then get rid of the core. Slice the remaining head into very thin ribbons.
Sauté. Stir-fry in hot butter and oil, along with the fresh garlic, powdered onion, and seasonings. Don't move it around too much— let it sit for a minute or two before stirring so it can sear and develop caramelized, brown bits. Turn off the stove, and stir a splash of apple cider vinegar into the vegetables.
Serve. Plate it up with chopped herbs on top and a healthy squeeze of lemon all over. Enjoy hot!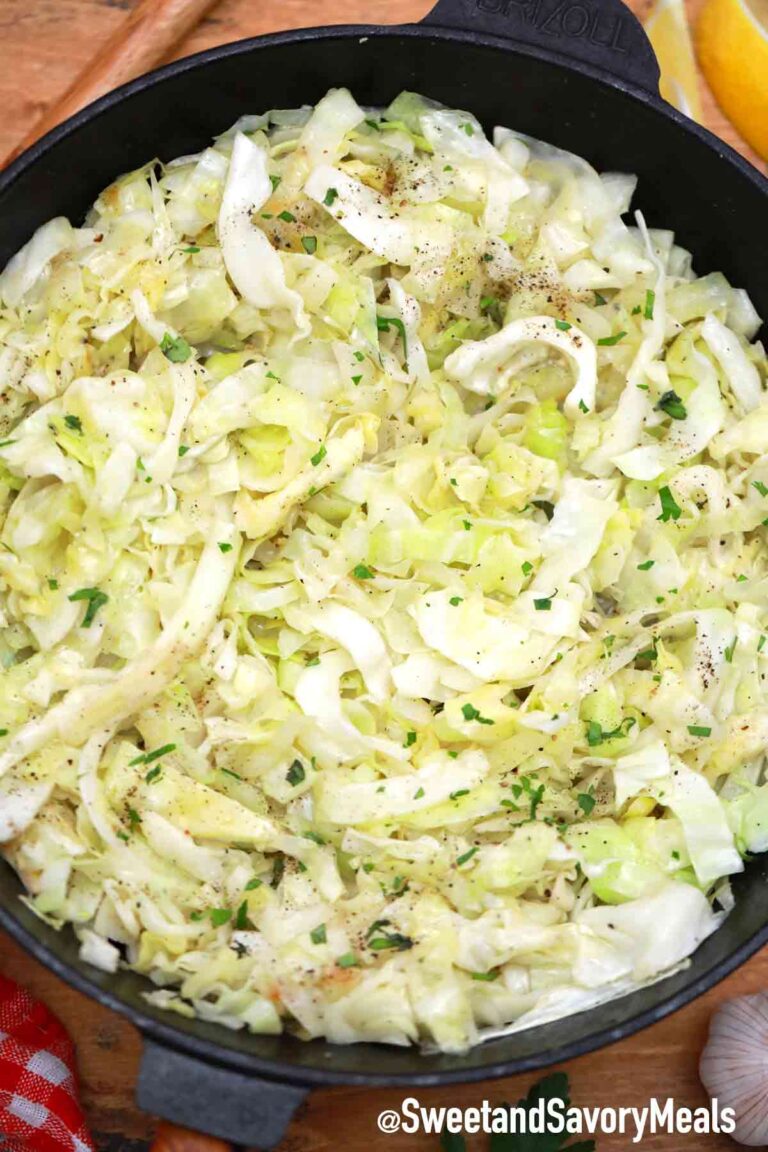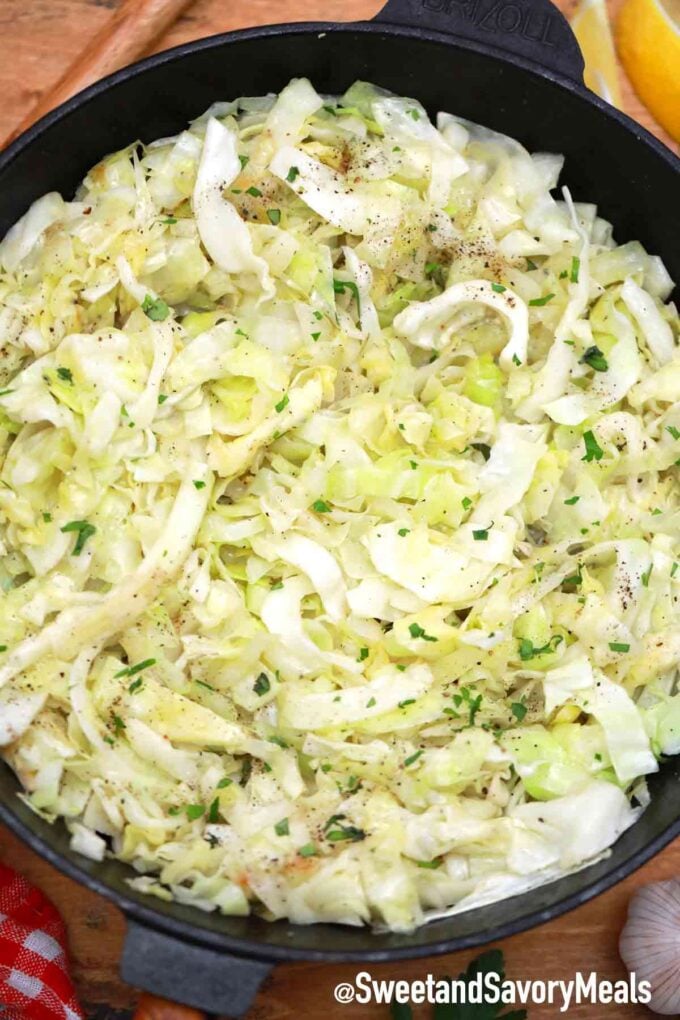 Recipe variations:
Add meat: Saute some chicken breast, thin strips of beef, or thin slices of pork along with the veggies. You can also add bacon, or just follow this recipe for Easy Bacon Fried Cabbage! Ground meat or crumbled sausages would be good too! I also enjoy making this recipe with some firm tofu. It is delicious served along with seafood. Also, it is the perfect side for some homemade corned beef.
Add other vegetables: Make it healthier and more colorful by adding other veggies like thin carrot slices, baby corn, spinach, bell peppers, broccoli florets, and fresh snow peas.
Try other seasonings: Sprinkle a bit of taco or Cajun seasoning, other herbs like basil, or make it spicy with some pepper flakes.
How many carbs are in sauteed cabbage?
Very little, at around 9g of carbs per serving! If you're watching your carbs, this dish is a delicious way to stick to your diet while still enjoying great food.
What goes well with cabbage?
Almost entrée, really! It's particularly phenomenal with this Garlic Butter Swai Fish, Crispy Baked Pork Chops, Beef Roast, and Fried Chicken. Craving a lighter meal? Enjoy it with the Best Ever Grilled Chicken and this simple Grilled Salmon.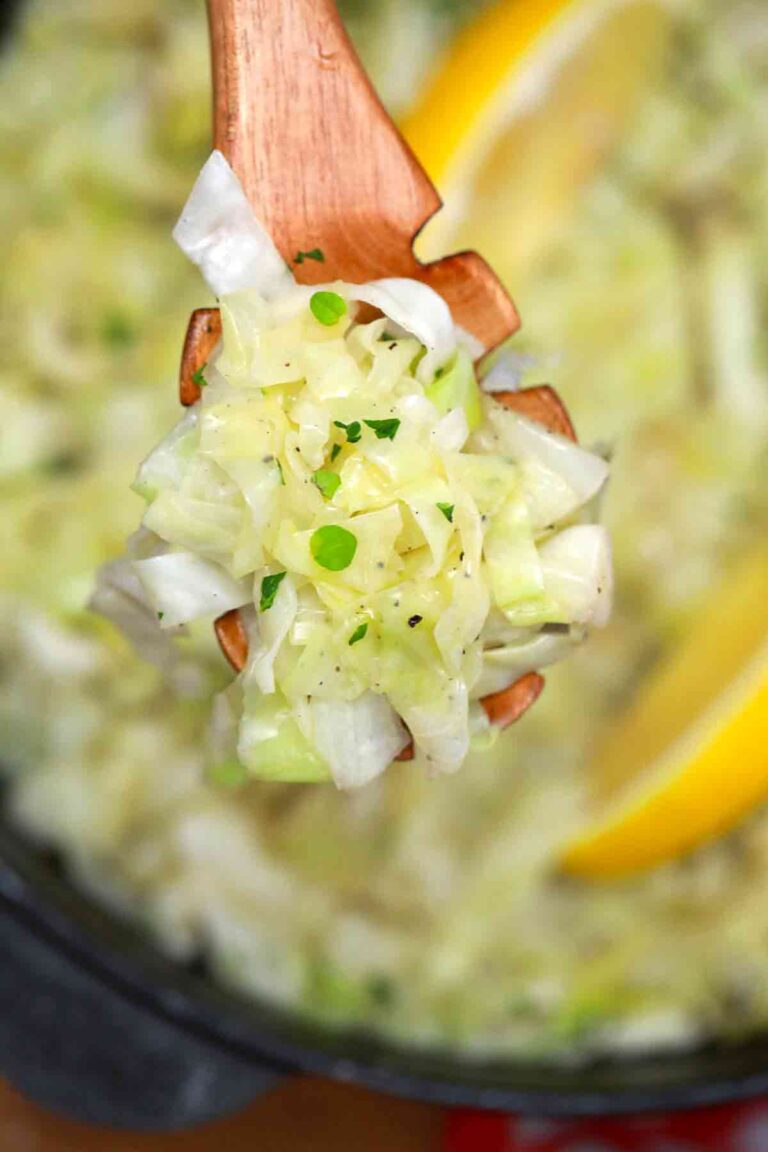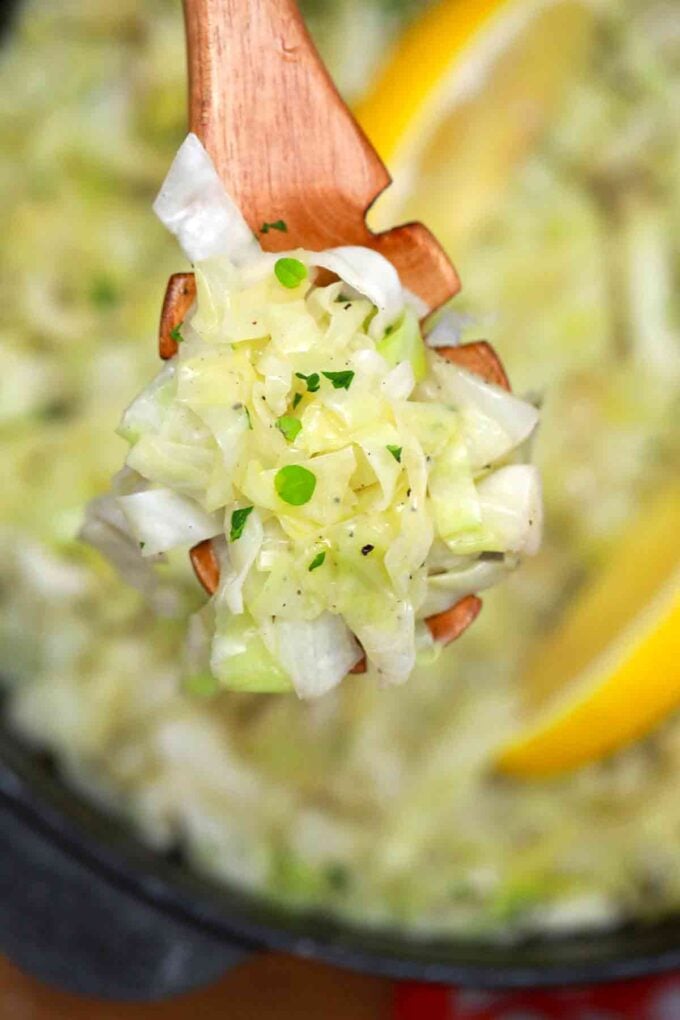 Does cabbage reduce when cooked?
Yes, similar to spinach! It wilts as it cooks, and usually ends up at half of its original uncooked volume. So, if you're making this for a crowd, you may want to make a bigger batch than you think.
How to store:
Wait for it to cool down completely before transferring to an air-tight storage container.
Eat within 2 days if you're storing it in the refrigerator. For longer storage, freeze it and consume within 3 weeks to a month.
To reheat, thaw, then microwave until hot.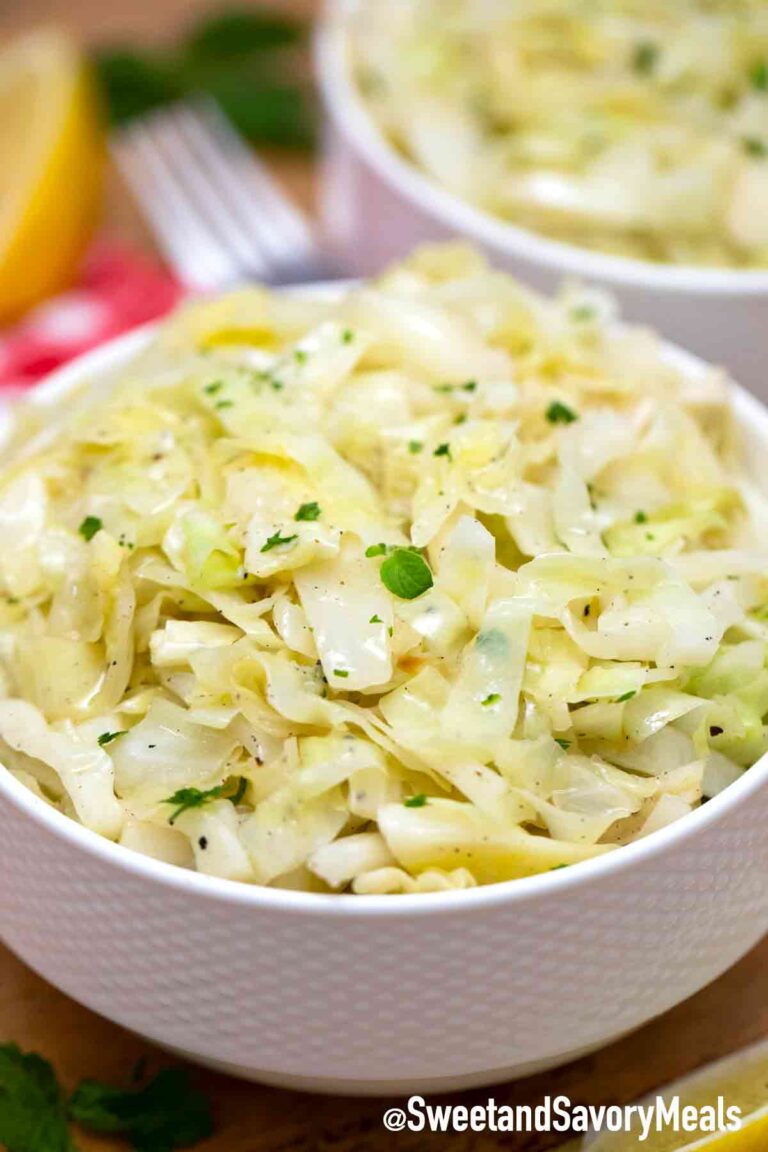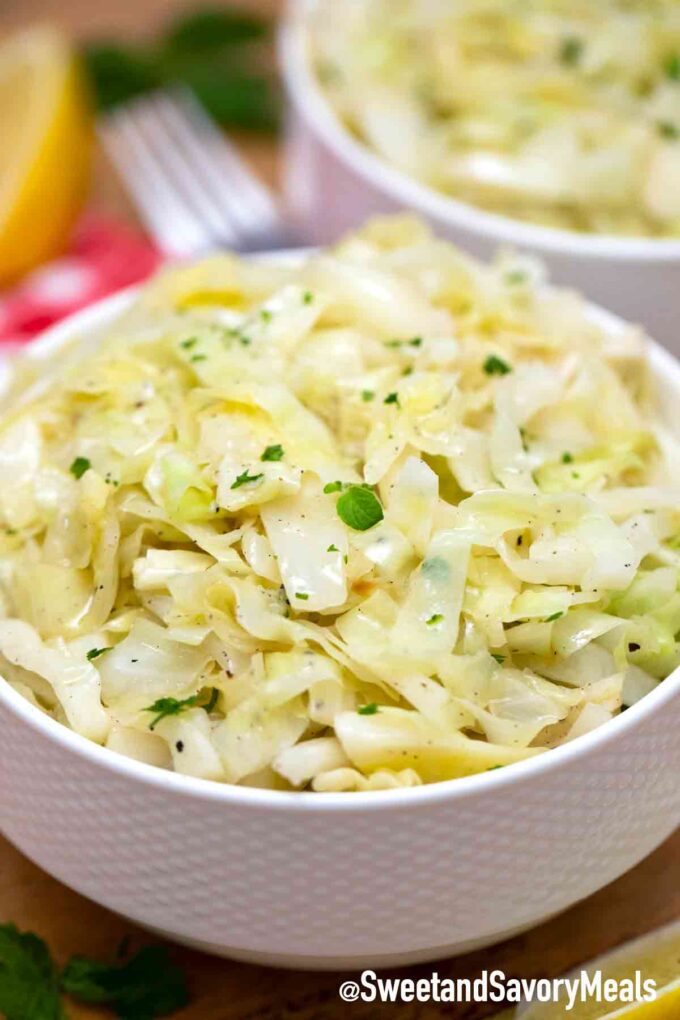 More Recipes:
Recipe tips:
Don't move the veggies around too much! Give them time to caramelize and get beautifully brown before stirring them around.
Add sliced yellow onions for more flavor.
Try grating the fresh garlic so that they're almost pureed and melt into the veggies.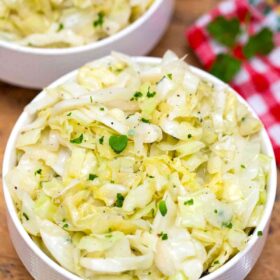 Sauteed Cabbage
Sauteed Cabbage is a rustic side dish with tender, caramelized cabbage flavored with garlic, herbs, and fresh lemon.
Save
Share
Print
Pin
Rate
Ingredients
1

small head green cabbage

(about 2 - 2 1/2 pounds)

2

tablespoons

extra virgin olive oil

1

tablespoon

unsalted butter

1 1/2

teaspoons

kosher salt

1/2

teaspoon

freshly ground black pepper

1

teaspoon

onion powder

1/2

tablespoon

apple cider vinegar

3

cloves

garlic

(minced)

1

lemon wedge

1

tablespoon

chopped fresh oregano

1

tablespoon

chopped fresh parsley
Instructions
Cut the cabbage in half through its core. Slice each half as thinly as possible into fine ribbons, slice around the core, and discard it.

Heat a large saute pan or cast iron pan, a Dutch oven will work too, over medium-high heat. Add olive oil and butter, stir to melt. Once the butter is melted, add the cabbage, minced garlic, onion powder, salt, and pepper.

Saute for 10 to 15 minutes, stirring occasionally, until the cabbage is tender and it begins to brown.

Remove from the heat when done cooking and stir in the apple cider vinegar. Taste and adjust for salt and pepper if needed.

Squeeze the lemon wedge on top of the cabbage, taste, and if it needed more acidity add more lemon juice.

Sprinkle with fresh chopped oregano and parsley and serve.
Nutrition
Calories:
98
kcal
|
Carbohydrates:
1
g
|
Protein:
1
g
|
Fat:
11
g
|
Saturated Fat:
3
g
|
Cholesterol:
8
mg
|
Sodium:
898
mg
|
Fiber:
1
g
|
Sugar:
1
g
|
Vitamin A:
87
IU
|
Vitamin C:
2
mg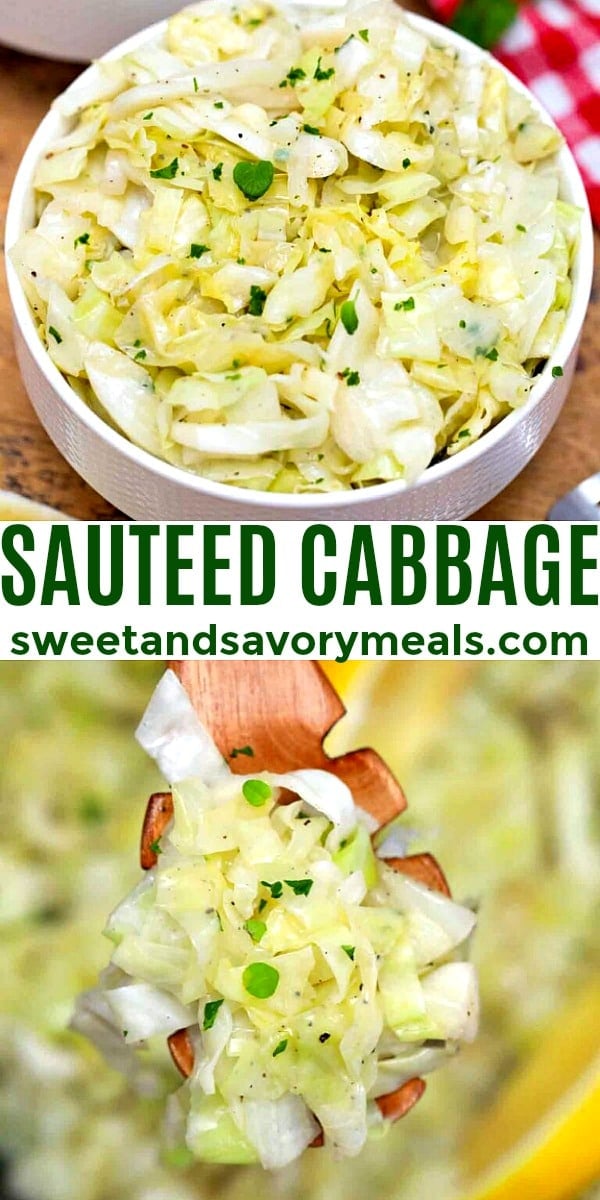 More recipes you might love