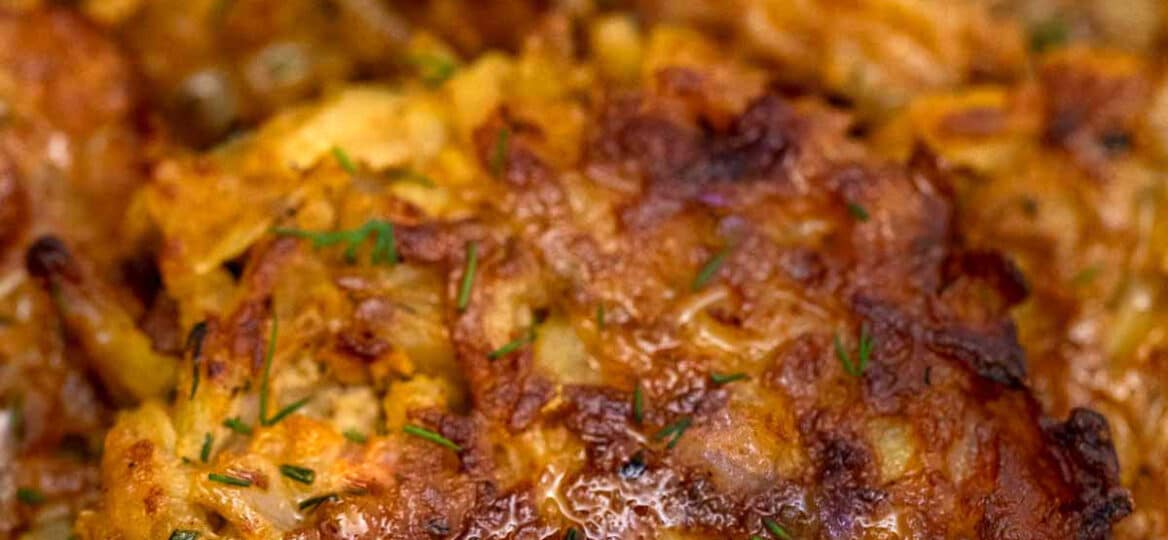 Potato Pancakes Recipe [Video]
Potato Pancakes are filling, flavorful, and they taste the best when freshly cooked! Make these for breakfast, or any meal, in just 30 minutes!
I like how simple this comfort food is from its ingredients down to the procedure. If you are a potato lover like me, then, you will surely enjoy this dish and my other favorites, Tater Tots, Hash Browns, and Potato Gratin!
Breakfast Potato Pancakes Recipe
Potato Pancakes come in all forms and sizes and shape around the world. Usually associated with the Eastern European cuisine, but even Asians have their version.
The dish tastes good even when there are only a few ingredients. It is savory without being overwhelming. You can taste the subtle onion flavors in there and adding paprika adds a nice twist.
I also like the texture, chewing and the perfect crispy exterior to be welcomed with the fluffy interior is like biting into a fried cloud!
What is the difference between potato pancakes and latkes?
A potato pancake is a kind of latke, but not all latkes are potato pancakes. The term is interchangeable in many places, especially here in America and that is the result of associating this vegetable with this dish.
The spuds only grew popular in Europe in the 19th century. But long before that, Jews have been making latkes from whatever is available. It may be from other crops like turnips or carrots. And when they came to America, there were many spuds, and then used them for their latkes.
What potatoes are best to use for pancakes?
The best ones are starchy ones so that they crisp up nicely. For this recipe, I recommend using the trusty russet or Idaho. They have low moisture content which is ideal for frying.
You can also use Yukon Gold. They are not as starchy but not so waxy either. They can be used in many dishes like this one.
How to make the best Potato Pancakes?
Prepare the spuds: Squeeze out as much moisture as you can from the grated spuds and onions. Then, transfer them into a bowl.
Prepare the egg mixture: Mix the egg, flour, and the rest of the ingredients (except the oil for frying) in a small bowl.
Combine: Pour the egg mixture over the spuds and onions then, mix thoroughly.
Fry: Get 1/4 cup of the spud mixture and put it into the hot oil. It should sizzle as it enters the oil which means that the oil is hot enough. Continue putting portions until you make four in one batch. Press on them to flatten them such that each one resembles a pancake. It should take about 3 to 5 minutes to cook per side.
Add oil: Fry in batches and you may need to add oil in between.
Serve: Drain any oil and serve warm with your favorite topping.
Best Potato Pancakes Toppings
Usually, you would want to reach for the sour cream or applesauce for this dish. But if you are looking to switch things up, grab these instead:
ham and cheese
smoked salmon and creme fraiche
cheddar and sriracha
maple syrup and berries or mangoes or any fruit of your choice
egg with some hollandaise sauce and chives
Greek yogurt
bacon or pancetta
sauerkraut
caramelized onions
Can you make Potato Pancakes ahead?
Yes! They will stay good for up to a day or two in the fridge or for up to 2 weeks wrapped and frozen. To store in the freezer, freeze them first on a baking sheet then, transfer each piece into a freezer bag. To reheat, simply pop them in the oven heated to about 350 degrees Fahrenheit.
But of course, they the best when eaten fresh so here is another make-ahead tip for you: grate the spuds and refrigerate them submerged in water hours before cooking. Then, just squeeze out the water right before cooking.
Recipe Tips
Mix in some cayenne pepper for a spicy kick.
Grating the spuds could take some time. One way to speed things up is by using the food processor.
You can skip removing the skin of the spuds, just scrub them clean. Also, it is best to use organic ones when going this route.
Make potato pancakes with mashed potatoes. Make it a 50-50 or, use leftover mashed potatoes entirely.
Deliciousness to your inbox
Enjoy weekly hand picked recipes and recommendations