Creamy Potato Gratin [Video]
Potato Gratin combines French and Italian flavors in the most delicious, easy to make and comforting potato dish. Thinly sliced potatoes are cooked in a creamy and irresistible Alfredo sauce.
We love making easy side dishes that would be great for parties or day to day dinners. Other reader favorites include Bacon Ranch and Cheese Mashed Potatoes, Instant Pot Mashed Sweet Potatoes and Cheesy Scalloped Potatoes.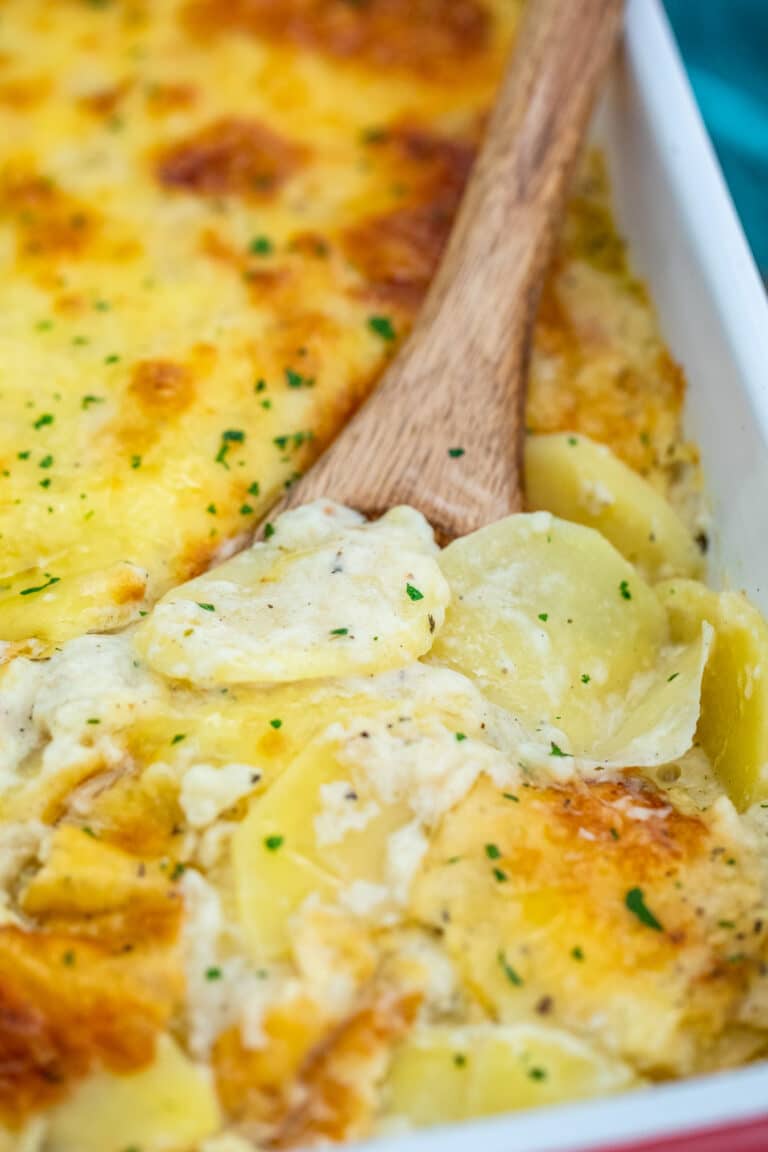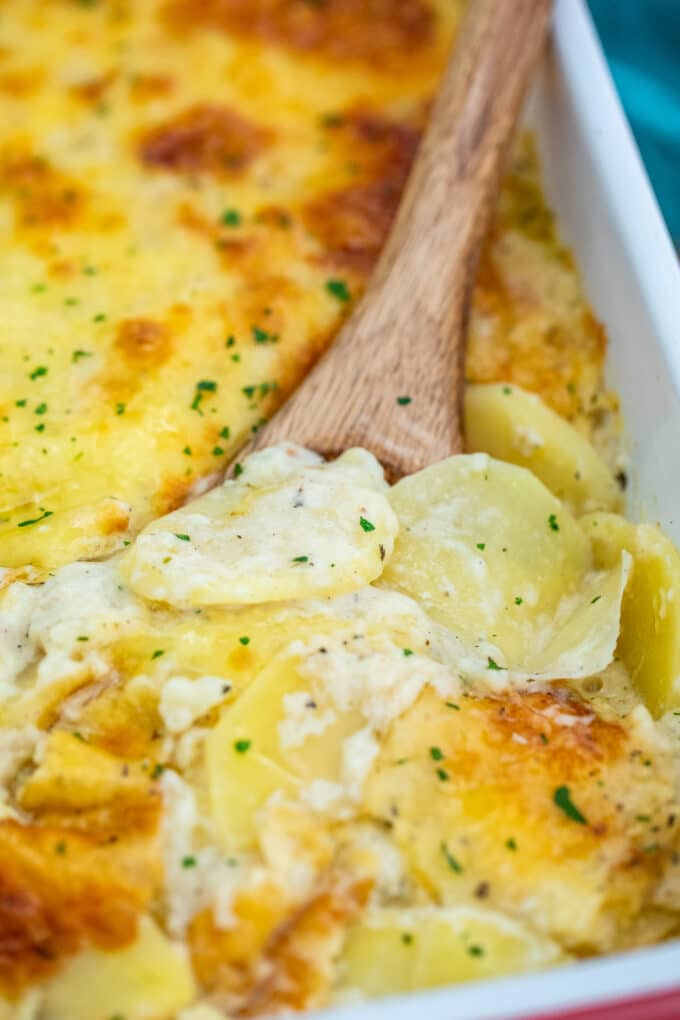 Potato Gratin Recipe
This Potato Gratin is my new way of serving delicious potatoes, it is full of flavor and also delicious. This recipe is also incredibly easy to make, especially if you have a mandoline to slice the potatoes.
Everyone who tried this dish was amazed and fell in love with the amazing Italian flavors it packs. This recipe is my Italian take on the classic side dish that is loaded with fresh Italian cheese and herbs.
What is Potato Gratin?
Gratin is a well known culinary technique in which an ingredient is thinly sliced, usually layered and topped with a browned crust made of grated cheese, or a sauce. It originated in French cuisine and is usually baked.
Is Potato Gratin the same as dauphinoise?
The main difference is that the gratin is usually made using pre-cooked potatoes, that are cooked in cream and topped with cheese. While Gratin Dauphinoise is made of thinly-sliced, not pre-cooked potatoes that cook in cream.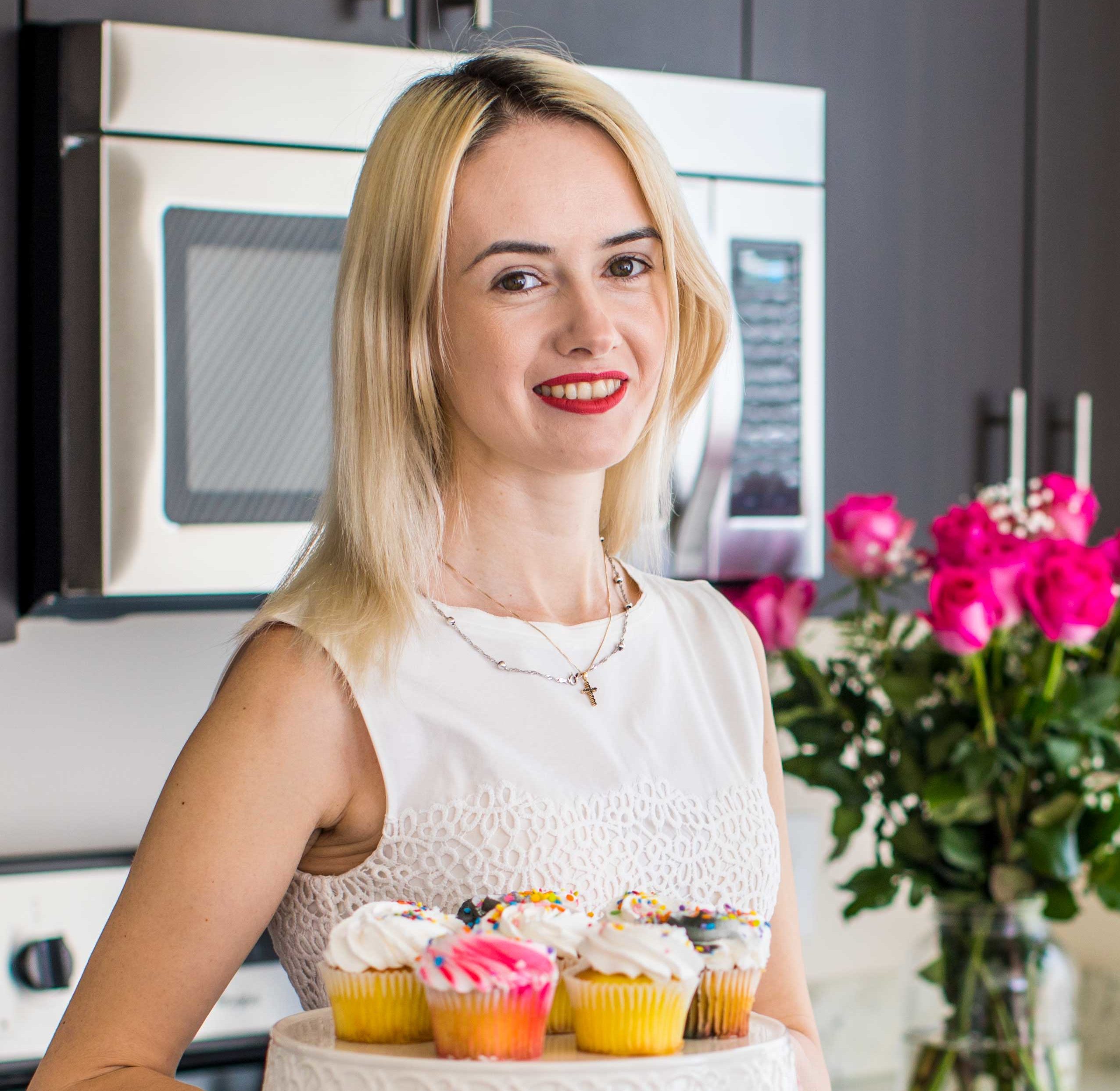 Follow us on Pinterest for more delicious recipes!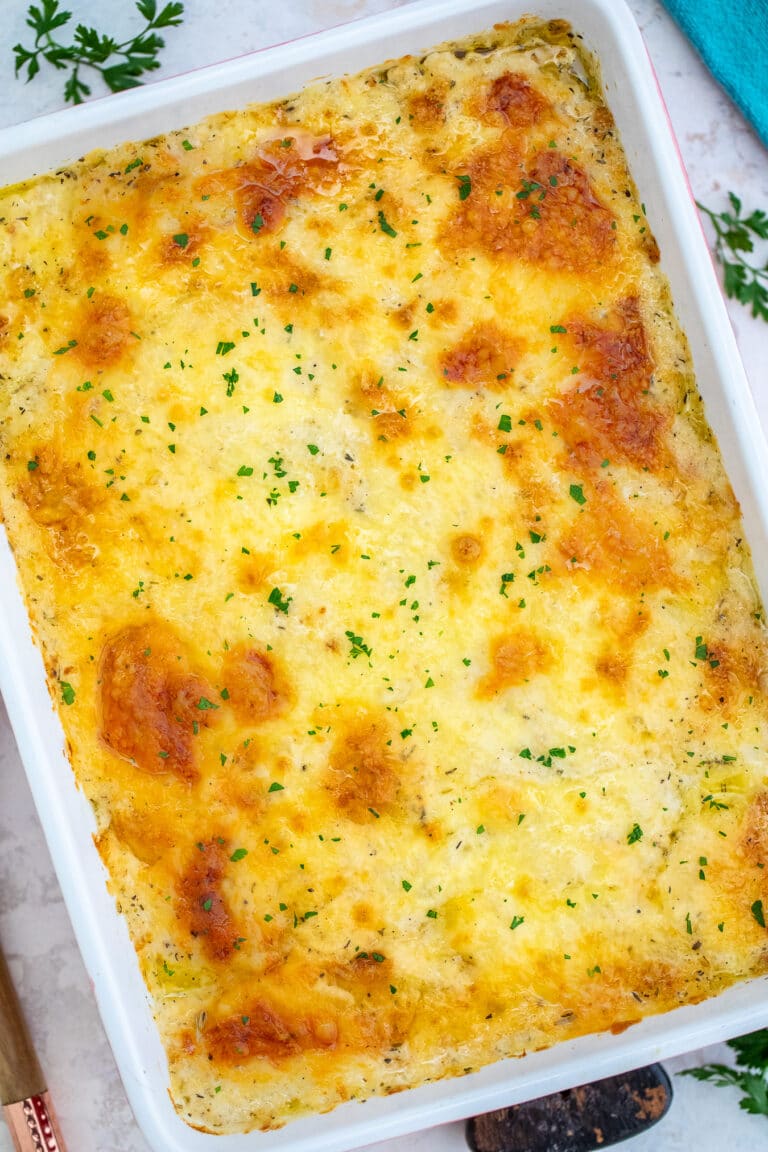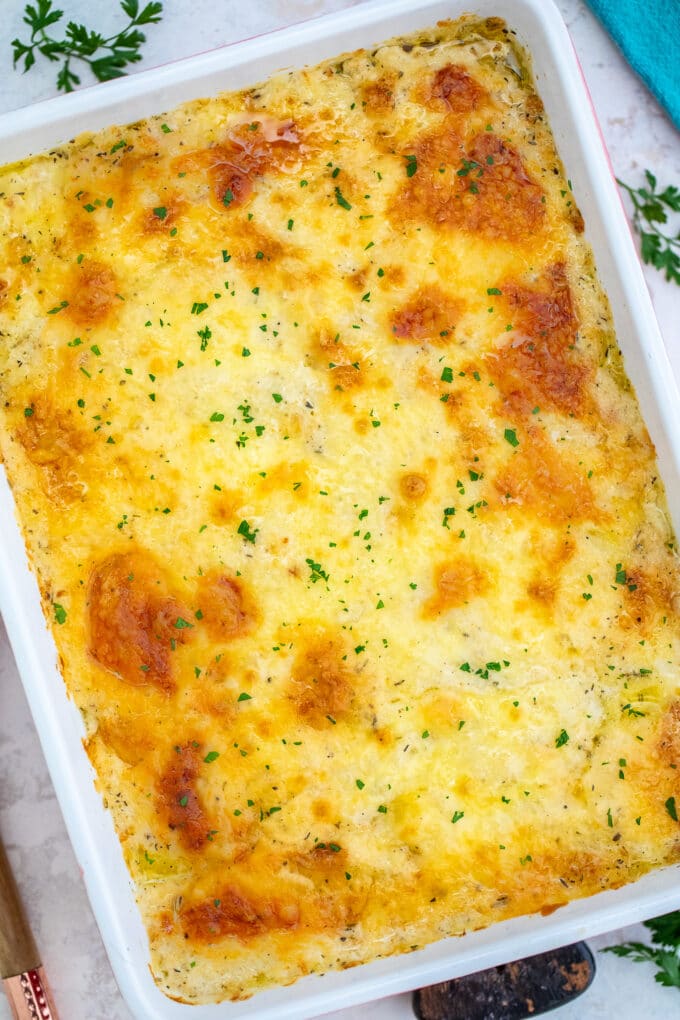 Why You'll Love This Potato Gratin:
First, it's bursting with flavor and coated in the most delicious cheesy and creamy sauce.
Also, it's incredibly easy to make and perfect for a crowd.
Hearty and tasty it can be served as a side dish or a vegetarian meal accompanied by a salad.
In addition, leftovers are delicious.
A favorite at Thanksgiving, Christmas or Easter dinner.
Easy to take to a party.
How do you make Potato Gratin:
For a step-by-step video tutorial, watch the recipe video attached. But the general steps are as follows:
Prepare the Potatoes: First, clean, peel and slice the potatoes. You can also use pre-cooked potatoes, this will reduce the baking time in half.
Make the Sauce: Next, follow the instructions to make the Bechamel sauce. It is simply made by creating a roux and after that adding the milk, cheese, and seasoning.
Combine: After that, combine the sauce with the potatoes and bake.
Tools used to make this Recipe:
Mandoline – a lifesaver when it comes to slicing veggies
9×9 inch pan – I use it for many recipes, brownies, fudge, and blondies. Its quality is great and I like the perfect measurements, it works great for smaller batch recipes.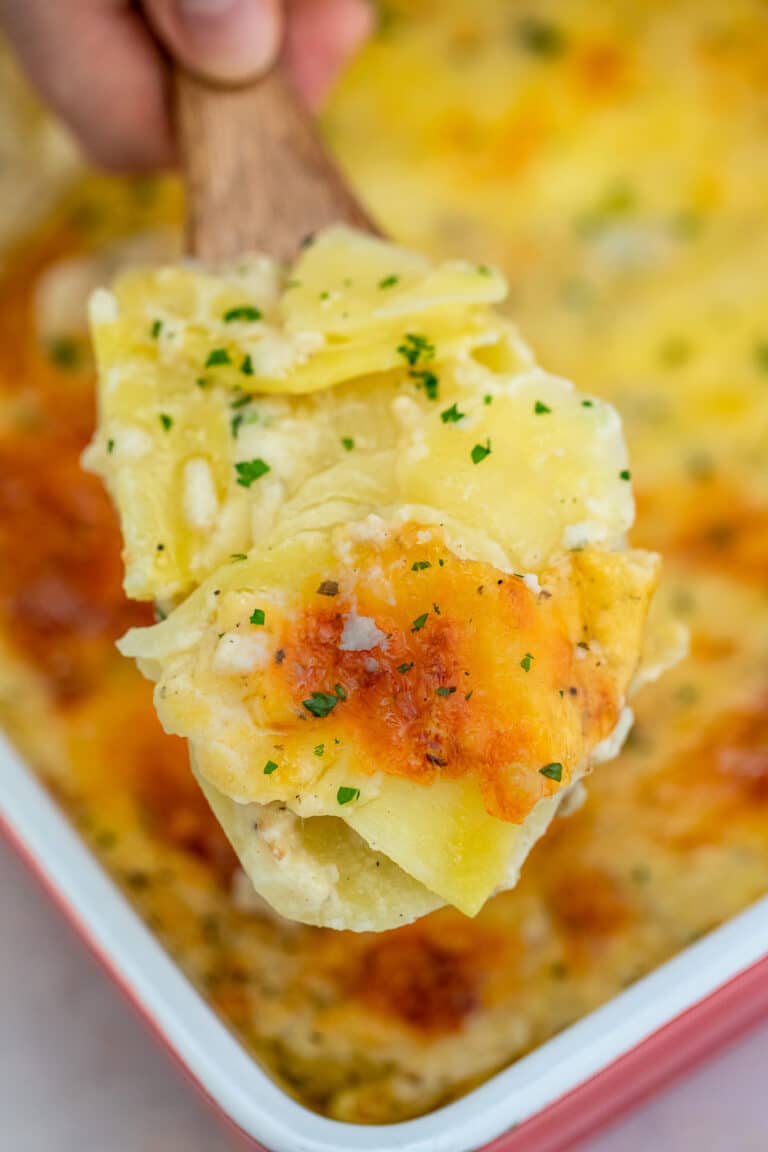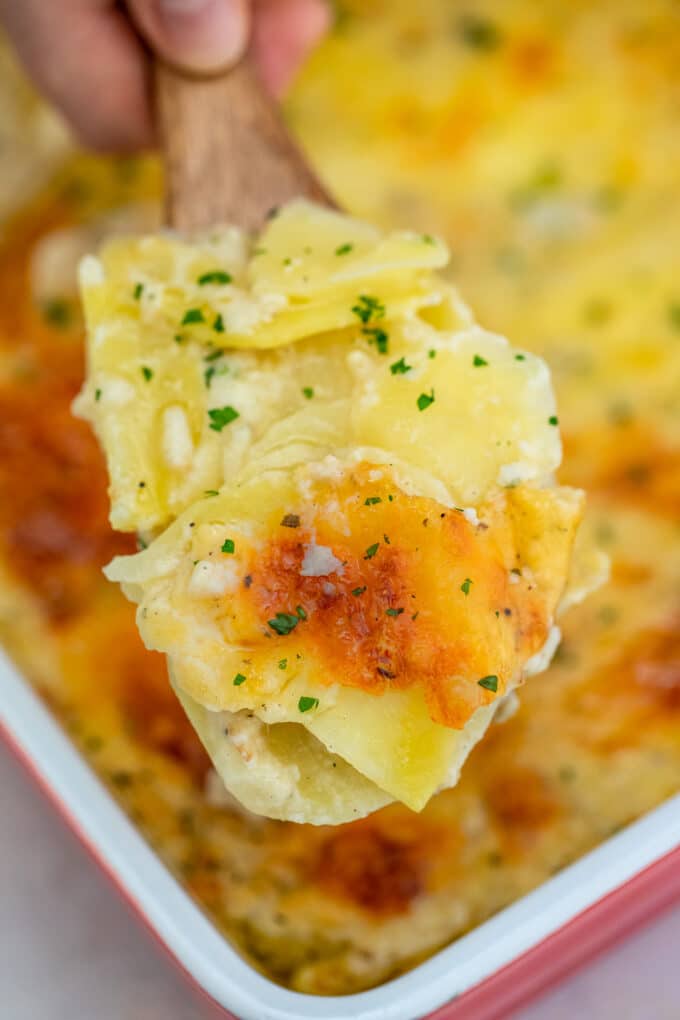 Potato Gratin Recipe Tips:
The Italian seasoning is key here because it's what will give the sauce that amazing aroma. Hence, don't be shy about using it.
Also, I recommend using full-fat cream or whole milk. Because, in a recipe that is so cheesy and creamy, you really don't want to take shortcuts or cutting calories.
The potatoes should be thinly sliced, but not paper-thin, a mandolin slicer would be very helpful.
If you prefer the sauce spicier, you can add some cayenne pepper, taste and adjust.
In addition, other delicious mix-ins would be bacon crumbs or jalapeno peppers.
Use full-fat mozzarella cheese for the most luxurious creamy texture.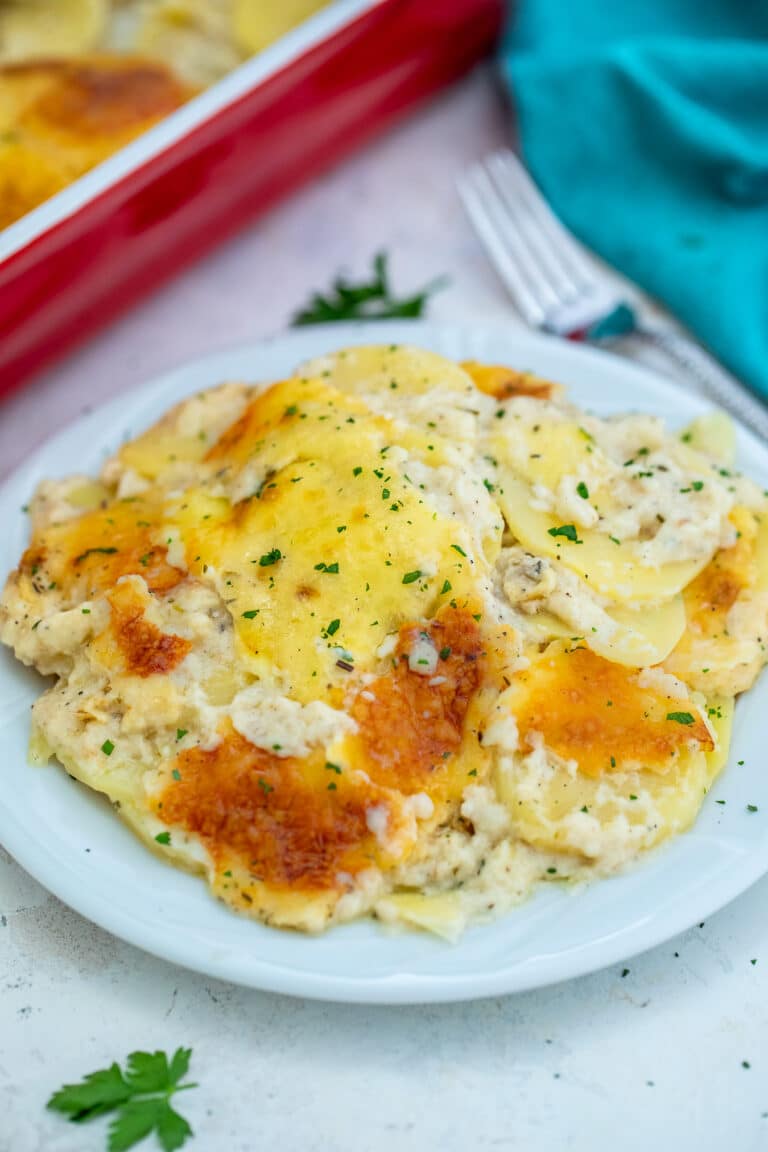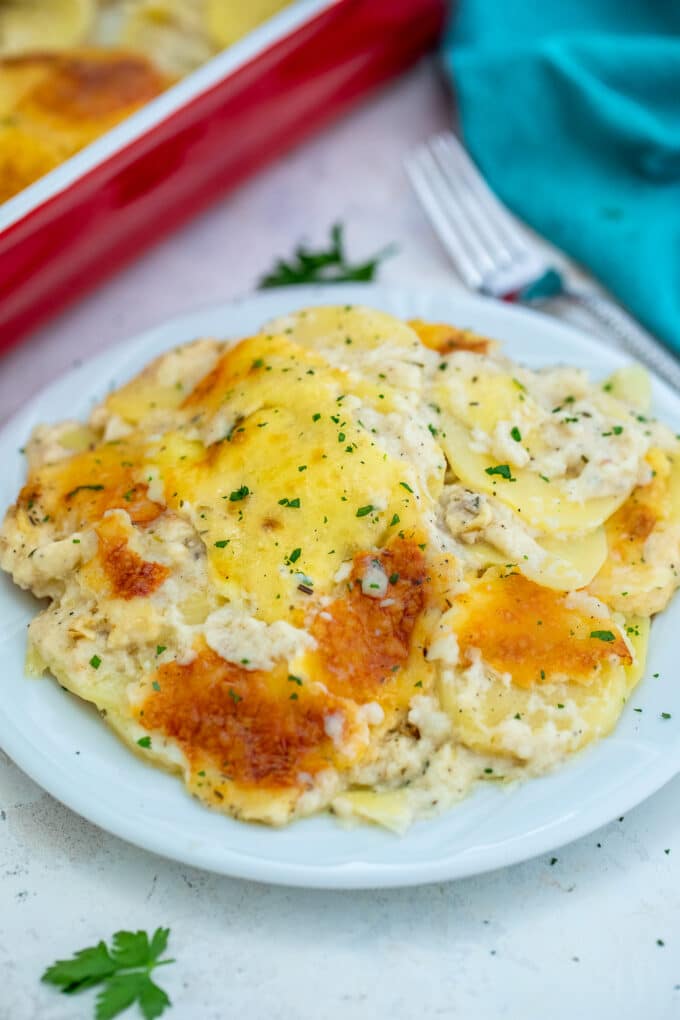 What to serve with it?
This is the perfect side dish to serve with:
HOW TO FREEZE Potato Gratin?
To freeze leftover, transfer the mixture to a buttered 9-by-13-inch freezer-to-oven baking dish. Then, cover tightly with aluminum foil. Freeze for up to 3 months.
To reheat, place into a casserole dish and bake frozen and covered with foil, at 350°F, for up to 1 hour.
Save Recipe
Author: Catalina Castravet
Serves: 8 servings
Prep time:

15

minutes
Cook time:

1

hour

30

minutes
Total time:

1

hr

45

mins
Ingredients
5 tablespoons unsalted butter
1 medium onion (finely chopped)
1/4 cup all-purpose flour
1/2 teaspoon coarse salt
1 teaspoon Italian Seasoning
1/2 teaspoon black pepper
4 cups whole milk
2 1/2 cups mozzarella cheese (shredded)
6 cups thinly sliced peeled potatoes (about 5-6 medium potatoes)
Instructions
Preheat oven to 375 degrees F.

Grease a 9x13 inches deep baking dish and set aside.

In a medium saucepan, melt butter over medium heat, add onion and cook until softened, about 6 minutes.
Add flour, salt, pepper and Italian seasoning and cook, stirring frequently, until mixture is pale golden for about 5 minutes.
Whisking constantly, pour in 2 cups of milk, cook for a few minutes and add the remaining 2 cups of milk, whisk until smooth. Cook mixture stirring constantly until it starts to boil.
Reduce heat to low and simmer gently, stirring occasionally, until the sauce thickens and is very creamy, about 8 - 10 minutes. Taste and adjust for salt and pepper.

Remove from heat and stir in 1 1/2 cup of shredded cheese until melted.

Mix the potatoes with the béchamel sauce and transfer the mixture to the baking dish, top with the remaining 1 cup of mozzarella cheese and transfer the dish into the oven.
Bake for 1 hour or 1 hour and 10 minutes until the potatoes are tender.
Serve and enjoy!
Calories: 251 Carbohydrates: 27 Protein: 17 Fat: 8 Saturated Fat: 5 Cholesterol: 30 Sodium: 505 Potassium: 781 Fiber: 4 Sugar: 7 Vitamin A: 610 Vitamin C: 16 Calcium: 501 Iron: 4.8
Save Recipe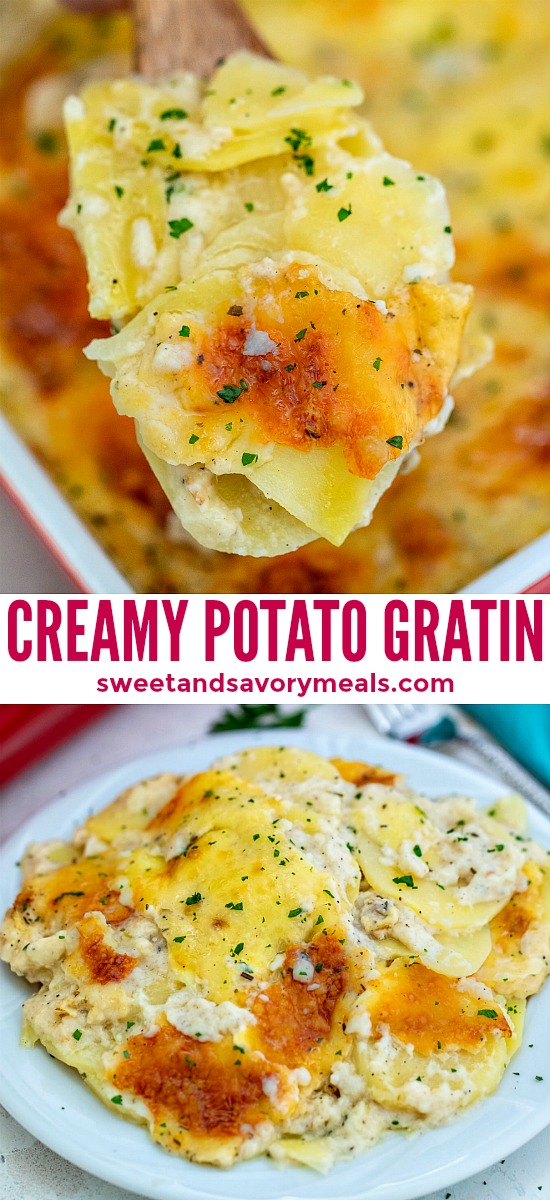 More recipes you might love