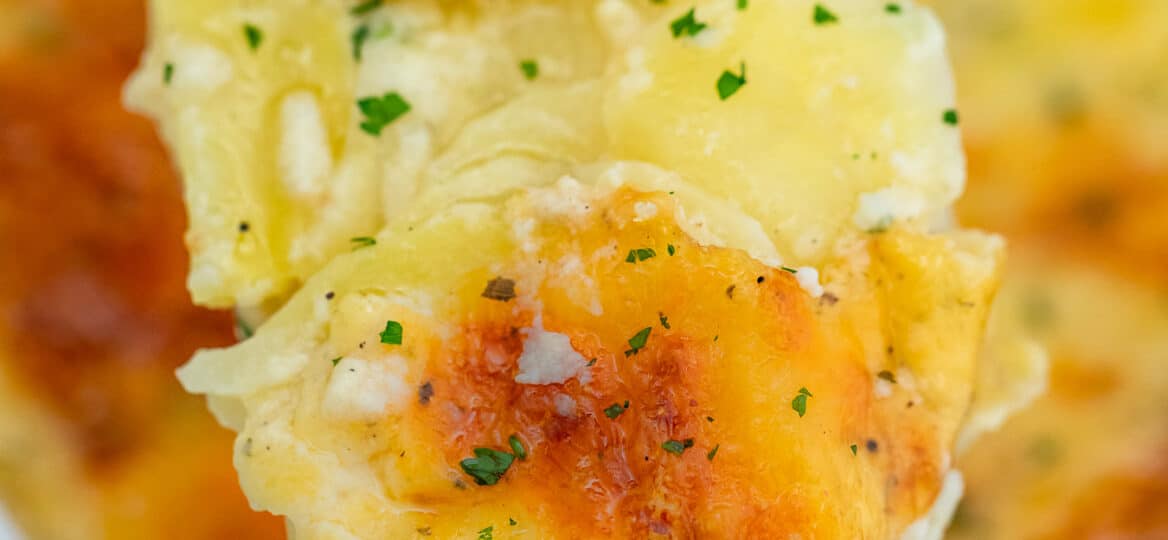 Creamy Potato Gratin [Video]
Potato Gratin combines French and Italian flavors in the most delicious, easy-to-make, and comforting potato dish. Thinly sliced potatoes are cooked in a creamy and irresistible Alfredo sauce till perfectly golden brown!
We love making easy side dishes that would be great for parties or day-to-day dinners. Other reader favorites include Bacon Ranch and Cheese Mashed Potatoes, Instant Pot Mashed Sweet Potatoes, and Cheesy Scalloped Potatoes.
Creamy Au Gratin Potatoes Recipe
This Potato Au Gratin Casserole is my new way of serving delicious potatoes for Christmas dinner or holidays! It is the ultimate comfort food that is full of flavors and cooked in a delicious creamy sauce till golden brown. This indulgent potato side dish was adapted it from Julia Child's original recipe.
I like making it with either parmesan or mozzarella cheese. Over the year, I found that the parmesan cheese mixture elevates the flavors resulting in ultra-tender potatoes. However, feel free to use different cheeses or your favorite types. Great alternatives would be cheddar cheese, sharp cheddar, or even gruyere cheese.
Also, this recipe is incredibly easy to make, especially if you have a mandoline to slice the spuds. Everyone who tried this dish was amazed and fell in love with the amazing Italian and French flavors it packs. Give this recipe a try, as it is guaranteed to be everyone's favorite side dish for dinners or holidays!
Why You'll Love These Creamy Potatoes:
First, it's bursting with flavor and coated in the most delicious cheesy and creamy sauce.
Also, it's incredibly easy to make and perfect for a large crowd or special occasion.
Hearty and tasty it can be served as a side dish or a vegetarian meal accompanied by a salad.
In addition, leftovers are delicious.
A favorite at Thanksgiving, Christmas, or Easter dinner.
Easy to take to a party.
How to make Potato au Gratin?
For a step-by-step tutorial, watch the recipe video attached. But the general steps are as follows:
Preheat oven: First, preheat the oven to 375 degrees F.
Prepare the Potatoes: Next, clean, and peel potatoes. Then, using an inexpensive mandoline slicer, thinly slice the spuds. You can also use pre-cooked potatoes, this will reduce the baking time in half.
Make the Creamy Cheese Sauce: Then, in a large saucepan over medium-low heat, melt butter. Follow the recipe card instructions to make the Bechamel sauce. It is simply made by creating a roux using all-purpose flour, and after that adding the milk, cheese, and seasoning.
Combine: After that, pour the cream mixture over the potatoes and combine them. Then, transfer them into a prepared baking dish and bake till golden brown and crisp edges.
Serve: Enjoy them warm!
What is Potato Gratin?
Also known as Dauphinoise Potatoes, this is a classic French cuisine and a side dish made with layers upon layers of finely sliced potatoes, heavy cream or milk, butter, and plenty of cheese!
Nowadays, the au gratin technique is widely used worldwide where an ingredient is thinly sliced, usually layered, and topped with a browned crust made of grated cheese, or a sauce. This technique can be applied to other ingredients apart from potatoes as well.
Is it the same as dauphinoise?
The main difference is that the potato gratin is usually made using pre-cooked potatoes, that are cooked in cream and topped with cheese. While Gratin Dauphinoise is made of thinly sliced and not pre-cooked spuds that cook in cream.
Best kind of potatoes to use:
For the best results, go with starchy potatoes. You want the spuds to get soft and tender when cooked with the cream sauce. Therefore, go with russet potatoes, King Edward, or Yukon gold, or Dutch creams.
Can I use other types of cheese in potato gratin?
Yes! Feel free to experiment with different types of cheese that you love. The best choices would be Gruyere, cheddar, Parmesan, or a combination of these cheeses.
Why does my potato gratin curdle?
The main reason for curdling is caused by cooking the dish at high heat. I bake the casserole at 375 degrees F, and to keep it together, it is best to tackle it before it goes into the preheated oven.
Also, do not use old potatoes, and do not soak them for too long. The liquid from the potatoes will lower the fat content from the milk mixture. This will cause the spuds to get spongy to the point where they absorb too much water and don't have enough fat, which might cause them to curdle as well.
What to serve with potato gratin?
This is the perfect side dish to serve with:
How to store leftovers?
Serve: After cooking, serve them right away. It will stay good at room temperature for up to 3 hours.
Store: To store leftovers, transfer them to an airtight container. Then, refrigerate them in the fridge for 3-5 days.
Freeze: Transfer the mixture to a buttered 9-by-13-inch freezer-to-oven baking dish. Then, cover tightly with aluminum foil. Freeze for up to 3 months.
Reheat: Place into a casserole dish and bake frozen and covered with foil, at 350°F, for up to 30 minutes, or until fully warm.
More comforting side dishes:
Tools used to make this recipe:
Mandoline – a lifesaver when it comes to slicing veggies
9×9 inch pan – I use it for many recipes, brownies, fudge, and blondies. Its quality is great and I like the perfect measurements, it works great for smaller-batch recipes.