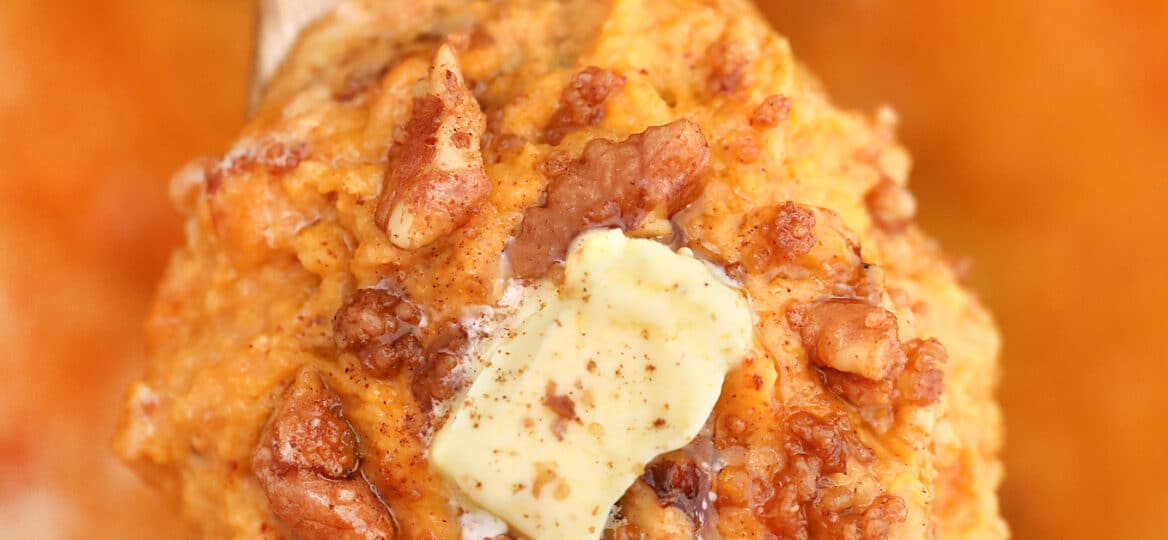 Instant Pot Mashed Sweet Potatoes [Video]
Instant Pot Mashed Sweet Potatoes are creamy and buttery, with crunchy brown sugar and walnut topping! It is the perfect side dish to serve at a delicious Thanksgiving dinner. In addition, this is the foolproof way to make perfect pressure cooker sweet potatoes.
Instant pot recipes for side dishes are such a time saver! Imagine if you use your oven to cook the main meal, and quickly use your pressure cooker, it saves you time and effort. One of our favorite side dishes is these Instant Pot Sweet Potatoes, they go well with about anything, sometimes I even have them as a snack. This is truly the best way to cook them. Keep reading to find other delicious ways to serve your favorite vegetable.
Instant Pot Mashed Sweet Potatoes can be done well under an hour which makes it a perfect weeknight recipe. Not only are they simple to prepare, but you will need only a handful of ingredients to make this perfect healthy side dish.
What I like about using the Instant Pot for this dish is how it can be effective in softening the sweet potatoes. Then, using its SAUTE function for further cooking everything in the same pot!
This sweet potato recipe is a great side dish for a holiday meal. With its perfect texture and warming fall flavors, this is also a healthy way to add more delicious dishes part of your weeknight dinner menu.
Since pressure cooking is highly effective, there are two ways in which we can prepare sweet potatoes. The first option is to peel and cut them into 2-inch cubes. The second option is to just cut lengthwise without removing the skin.
I prefer the second because it is simpler, but it does not hurt to opt for the first option either. The bottom line is that this dish is a no-brainer, easy to make and so good that the whole family will love it!
Ingredients needed:
Large sweet potatoes
Unsalted butter
Liquid: You will need water or vegetable broth, and heavy cream.
Warm spices: Cinnamon and nutmeg
Seasoning: Salt and brown sugar.
Nuts: Walnuts or chopped pecans.
How do you make Instant Pot Sweet Mashed Potatoes?
Prep: First, prepare the spuds by cutting them. After that, add the trivet or a steamer basket and a cup of water to the inner pot of the electric pressure cooker.
Add the spuds: Afterward, arrange the prepared sweet potato pieces onto the trivet.
Pressure Cook: Close the lid and seal the valve. Set the timer to pressure cook on high pressure for 14 minutes. After it beeps, the pressure cooking process will start.
Natural Pressure Release: Once the cooking has been completed, do a full natural release, which means that you let the pressure dissipate naturally before opening the valve.
Saute setting: Open the instant pot carefully, and remove the spuds, the trivet, and discard the water. Then, add the bright orange flesh of the spuds back to the bottom of your instant pot. Select the Saute mode and then, add in the rest of the ingredients except for the topping ingredients. Stir veery well to combine.
Mash: Mash everything using a potato masher or a hand mixer. Also, you can use an immersion blender.
Serve: Garnish with the toppings and serve.
Recipe Variations:
Vegan: While we use heavy cream in this recipe, you can easily replace it with coconut milk. Also, use vegan butter for a vegan variation. Using coconut milk is delicious, regardless if you want to veganize this easy recipe or not. In addition, feel free to use your favorite non-dairy milk to make these pressure cooker mashed sweet potatoes.
Fresh herbs: To add extra savory flavors to this instant pot sweet potato mash, saute some minced garlic with sage, rosemary, and some thyme. This incredible mixture will make the creamy puree extra delicious.
Sweetness: In addition, you can also add either some more brown sugar, molasses, or a touch of maple syrup.
Slow Cooker: As an alternative, you can cook the sweet taters in the crockpot using this Crockpot Mashed Sweet Potaoes recipe.
White potatoes: If you are not a fan of sweet taters, make these Instant Pot Mashed Potatoes.
Are Sweet Potatoes Healthy?
It is a kind of tuber in which the roots become the edible part of the plant. It is like the regular spuds, but the leaves are edible, too, while those of the regular spuds are poisonous.
Around the world, it is known to be a staple food. It grows abundantly even in drier regions. In fact, it can get damaged by frost.
This type of spud has fewer calories than regular ones despite having more sugar. This makes it ideal for people trying to lose weight as it is not bland, and yet, it is packed with vitamins, nutrients, and antioxidants. It is rich in vitamin A and it also has a lot of fiber that helps digestion.
What is a Natural Pressure Release?
It is when you wait for the pressure to naturally dissipate, hence, the name Natural Pressure Release or NPR. This is done by simply waiting for the valve to float without initiating to move it. When you open the pressure valve to release the steam, it is called a Quick Release.
How long do you pressure cook sweet potatoes?
This depends on the amount and size of the spuds. Usually, the 14-minute pressure cooking time indicated in this recipe pertains to cooking about two pounds of the vegetable.
Allow another 10 minutes for the pressure to build up, and another 10 minutes for the NPR. So, plan ahead using these estimates!
How to store leftovers:
Refrigerate: First, let the leftovers fully cool and after that add them to an airtight container. In the fridge, they will stay good for 3 to 5 days.
Freezer: To extend the shelf life, you can freeze the leftovers and it will stay good for up to 3 months. Put them first in freezer bags or plastic containers with a sprinkle of lemon juice or lime juice to prevent them from oxidizing and discoloring. Also, cool completely before storing.
To reheat: Thaw in the fridge overnight and it will keep good for 3 to 4 days but if thawed directly using the microwave or in water, consume immediately.
Reheat: The easiest way to reheat the leftovers is by using the microwave or the stovetop. In addition, add a little bit of cream or whole milk if needed and adjust for salt and ground black pepper.
More side dishes:
Cooking Tips:
If you do not have heavy cream, you can use any of these: sour cream, buttermilk, milk, or half-and-half. All these contribute to a creamy dish!
A masher is preferred but to make it silkier, you can use a food processor to mash. If you have none of these things, using a fork would be okay.
To determine whether the spuds are soft enough, use a fork. You must be able to prick the pieces effortlessly.
Instant Pot Mashed Sweet Potatoes
Ingredients
Pressure Cook:
2

pounds

sweet potatoes

washed and sliced lengthwise

1

cup

water
After Pressure Cooking:
4

tablespoons

butter

2

tablespoons

light brown sugar

2/3

cup

heavy cream

more if needed

1 1/2

teaspoons

salt

1

teaspoon

cinnamon

to taste

1/2

teaspoon

nutmeg

to taste
Cinnamon Sugar Walnut Topping (optional):
1/4

cup

unsalted butter

1/4

cup

light brown sugar

1/2

teaspoon

ground cinnamon

1

cup

walnuts

chopped
Instructions
Pressure Cook:
Place the metal trivet in the insert of the Instant Pot and add 1 cup of water.

Wash the sweet potatoes, clean and slice them in half lengthwise. Arrange them on the trivet cut side up. You can stack them up.

Close the lid, turn the valve onto "sealing" position, and pressure cook for 14 minutes.

Once the time is up, let the Instant Pot release the pressure naturally.

Open the lid and remove the sweet potatoes from the IP. Remove the trivet and discard the water.
After Pressure Cooking:
Scoop the flesh out of the sweet potatoes into the Instant Pot.

Select Saute and add the "After Pressure Cooking" ingredients. Stir to combine, until sugar and butter are melted.

Turn off Instant Pot.

Mash the sweet potatoes with a potato masher, a whisk or even use a hand mixer to make them fluffier.
Cinnamon Sugar Walnuts:
Place a small skillet over medium heat. Add butter and melt.

Add brown sugar, cinnamon, chopped walnuts and stir to combine.

Serve on top of sweet mashed potatoes.
Deliciousness to your inbox
Enjoy weekly hand picked recipes and recommendations