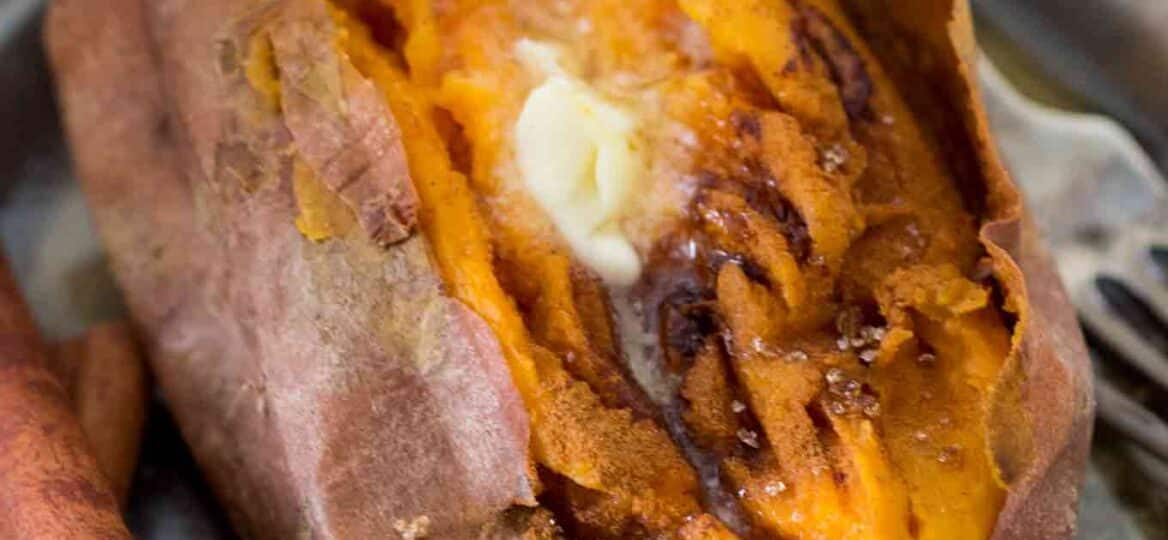 Perfect Instant Pot Sweet Potatoes [VIDEO]
Instant Pot Sweet Potatoes are tender, fluffy, perfectly creamy inside, and incredibly delicious. Make them in a fraction of the time in the pressure cooker with just two ingredients.
Instant pot recipes are such a time saver, especially on busy weeknights, or when you have to cook for a crowd. There are so many ways you can cook potatoes under pressure, you will find a variety of recipes on our blog to choose from. Some of our favorites include this Sweet Potato Soup and check how you can make Scalloped Potatoes in the pressure cooker.
Instant Pot Sweet Potatoes are pretty much the best and most convenient way to steam a sweet potato. It is a quick and easy method to prepare them, especially during the busy holiday season. I love adding a few and having them for a quick lunch or on the side of a delicious main course for dinner.
The texture is just perfect, so fluffy and so tender. Also, it takes just about 30 minutes to make them, which is very convenient during busy weekdays. This recipe is very versatile and you can follow the same steps to make baby food purees. It is super convenient and simple!
I just love having them for lunch with some butter, cinnamon, and lots of brown sugar. You should also absolutely try these amazing Instant Pot Mashed Potatoes that are very creamy and fluffy.
This healthy side dish is one of the easiest sweet potato recipes. I like how versatile it is, you can make them on a busy weeknight to serve with your main dish. In addition, you can use them to make a sweet potato casserole or instant pot mashed sweet potatoes.
This sweet potato recipe is a keeper, as you can serve it as is or incorporate it in many other dishes. The result is amazing every single time.
How do you make the best Instant Pot Sweet Potatoes?
Making perfect sweet potatoes is super easy. You will only need two ingredients: the taters and cold water. Also, we highly recommend using a metal trivet, steamer basket, or steamer rack.
Rinse and Scrub: First, ensure to rinse them under cold water and give them a nice scrub. Since they usually have dirt on them, you want to clean them properly.
Add water: After that, add the water to the bottom of the pot, and then add the trivet inner pot. Next, arrange the spuds onto the trivet.
Pressure cook: Lastly, close the lid, and seal the pressure valve. Finally, pressure cook them on high pressure based on size and the timetable below.
Natural pressure release: Once done cooking, do a 10-minute natural release.
Quick pressure release: Afterward, quickly release the remaining pressure by opening the valve.
Serve: Open the instant pot carefully, and serve the potatoes with your favorite toppings.
Recipe Variations:
The same cooking steps and methods can be applied to other types of potatoes when cooked under pressure.
Other spuds: For example, feel free to use regular potatoes. You can follow this IP baked potatoes recipe on how to bake Idaho, Yukon Gold, and Russet potatoes.
Smaller: Also, the same principle will apply to cooking small baby red potatoes and small Dutch baby (golden/ yellow) spuds this way. However, please note that the cooking time will be reduced to about 10 minutes, plus NPR.
Combo: You can even combine various types in the same pot! Because I prefer the sweet ones and my husband likes the russet type, we usually cook them together. Just ensure that they are pretty much similar in size. Alternatively, if there is a huge variation in size, feel free to cut the larger ones in half, and then cook together.
Slow cooker: Similarly, if you do not own an instant pot, make crockpot baked potatoes instead.
Cooking time suggestions:
The cooking time is dependent on the width and size of your sweet potatoes. Below you can find the suggested cooking time based on potato size:
small (2 inches or less in width): Cook for about 15 minutes + 10 minutes natural pressure release
medium (2-3 inches in width): Cook for about 25-30 minutes + 10-minute natural pressure release
large (3-4 inches in width): Cook for about 50-60 minutes * + 10-minute natural pressure release
Toppings suggestions:
A little butter, mini marshmallows, cinnamon, maple syrup, or brown sugar – for a sweet version.
Refried beans, black beans, salsa, cheese, cilantro, green onions, and sour cream.
Cheddar cheese, cream cheese, and jalapeno poppers.
Leftover chili beans and parsley.
Bacon, chives, and sour cream.
Do I need to peel sweet potatoes before cooking them in the pressure cooker?
It's not necessary to peel sweet potatoes before cooking them in an Instant Pot. The skin can be easily removed after cooking if desired. However, washing them thoroughly before cooking is recommended.
Can I cook sweet potatoes without using a trivet or steamer basket?
Yes, you can cook them directly in the water in the Instant Pot without using a trivet or steamer basket. However, using a trivet or basket helps prevent the sweet potatoes from sitting in the water, which can result in a slightly better texture.
How to make mashed sweet potato?
After you cook them in the pressure cooker, remove them from the pot and let them fully cool.
Then, remove the skin, and add the flesh to a large bowl.
Lastly, mash them with a fork or potato masher, add some melted butter, and season appropriately.
How many potatoes can you add to cook into the Instant Pot?
I like to add them only in one layer on top of the trivet, I usually prefer to add 4 small or medium ones when cooking them.
You can add a few more and stack them, but make sure the sweet potatoes don't stay in the water, they will get mushy, also don't over-crowd the pot.
What is a 10 Minutes Natural Pressure Release?
Natural release means letting the Instant Pot release its pressure naturally after cooking is complete. This helps prevent the sweet potatoes from becoming too soft.
Once the cooking time is done, simply leave the Instant Pot alone for about 10-15 minutes before carefully turning the pressure release valve to release any remaining pressure.
What to serve with sweet potatoes?
These tender sweet potatoes make for an excellent side dish, as they are quite healthy and delicious. This would be a great side dish for Thanksgiving dinner.
One of our favorite way to serve this dish is on a platter with some delicious Oven Roasted Turkey Breasts.
Alternatively, you can serve them with a simple yet tasty dinner like this Beef Meatloaf or Oven Baked Chicken Breast.
Another option is to serve them as a vegetarian main dish. They are quite filling, add some beans on top for a protein boost.
Also, we enjoy serving them as a snack or healthy dessert, by topping them with brown sugar, marshmallows, and chocolate chips and broiling them for a few minutes.
In addition, they are great served on top of a filling salad.
How to store leftovers:
Refrigerate: Also, if you have leftovers, first let them fully cool, afterward, feel free to store them in an airtight container. They will last in the fridge for up to 5 days.
Freeze: We recommend mashing the whole sweet potatoes before freezing. Add the mixture to a freezer-safe bag or container and freeze for up to 3 months.
Thaw: Before reheating, thaw the mixture in the fridge overnight. Similarly, you can reheat the delicious sweet potatoes on the stove.
Reheat: Simply reheat in the microwave before serving.
More Easy Side Dishes to try:
Cooking Tips:
First, try getting organic spuds, this way, you can eat them with the skin if desired.
In addition, you do not need to poke holes in them before cooking. We have never poked holes in them when cooking under pressure, and they come out perfectly cooked.
To select the best taters from the local grocery store, always try picking a firm one. Also, we recommend skipping the tan or purple-skinned type (known as the "dry" varieties). From our experience, the best one that works well here is the orange or red-skinned type. This variety is known to be moist, with a fluffy and creamy texture. Either Red Garnet or Jewel should work perfectly well.
Instant Pot Sweet Potatoes
Ingredients
2

– 4 whole sweet potatoes

small or medium size

1

cup/250ml cold water
Instructions
Rinse and scrub the sweet potatoes well in cold water.

Add the cold water to the Instant Pot and add a trivet or steamer rack.

Arrange the whole potatoes on the rack, and close the lid. Make sure you seal the valve.

Pressure cook them based on size:

Small size - 18 minutes; Medium size - 25 minutes (the most common ones you find at the grocery store); Extra large, long sweet potatoes - 35 minutes

Once they are cooked and the IP beeps, do a 10-minute Natural Release. Open the lid carefully and serve them with your desired toppings.
Deliciousness to your inbox
Enjoy weekly hand picked recipes and recommendations